At a Glance
Expert's Rating
Pros
Clean interface
Raw layer support without requiring a separate rendering step
Fast performance that takes advantage of latest macOS technologies
Cons
Layers Thumbnails view can be confusing
No true adjustment layers that affect multiple layers below
Early bugs are still being worked out
Our Verdict
Best Prices Today: Pixelmator Pro 1.0 Whirlwind
Pixelmator is an impressive image editor. In my review of version 3.5, I wrote, "Pixelmator represents that percentage of Photoshop's features most people actually use on a regular basis."
But some developers just can't leave well enough alone. That's good news for photographers and designers looking for an inexpensive ($60) Photoshop alternative. Pixelmator Pro 1.0 Whirlwind ( Mac App Store link) is an all new application designed with more demanding needs in mind. Although there's plenty of feature overlap between it and Pixelmator, Pixelmator Pro is a fresh start.
Float away, palettes
Pixelmator Pro presents an effectively clean and sparse experience, keeping your focus on the image. Editing tools appear in a single panel at the right side of the window. The entire left edge is devoted entirely to layers, represented as thumbnails.
But the layers interface can be too minimal. There's no visual indicator that a layer has a mask; you must double-click the thumbnail to reveal it. Hiding a layer requires you to right-click and choose Hide, making the thumbnail shrink to a narrow horizontal line. Fortunately, changing the view from Thumbnails to List reveals a more useful interface, with visible masks and buttons for hiding and locking each layer, but at the expense of discernable previews. I don't object to the intention behind the Thumbnails view, but if you have more than a handful of layers, many of which could be hidden at any one time, it's easy to lose track.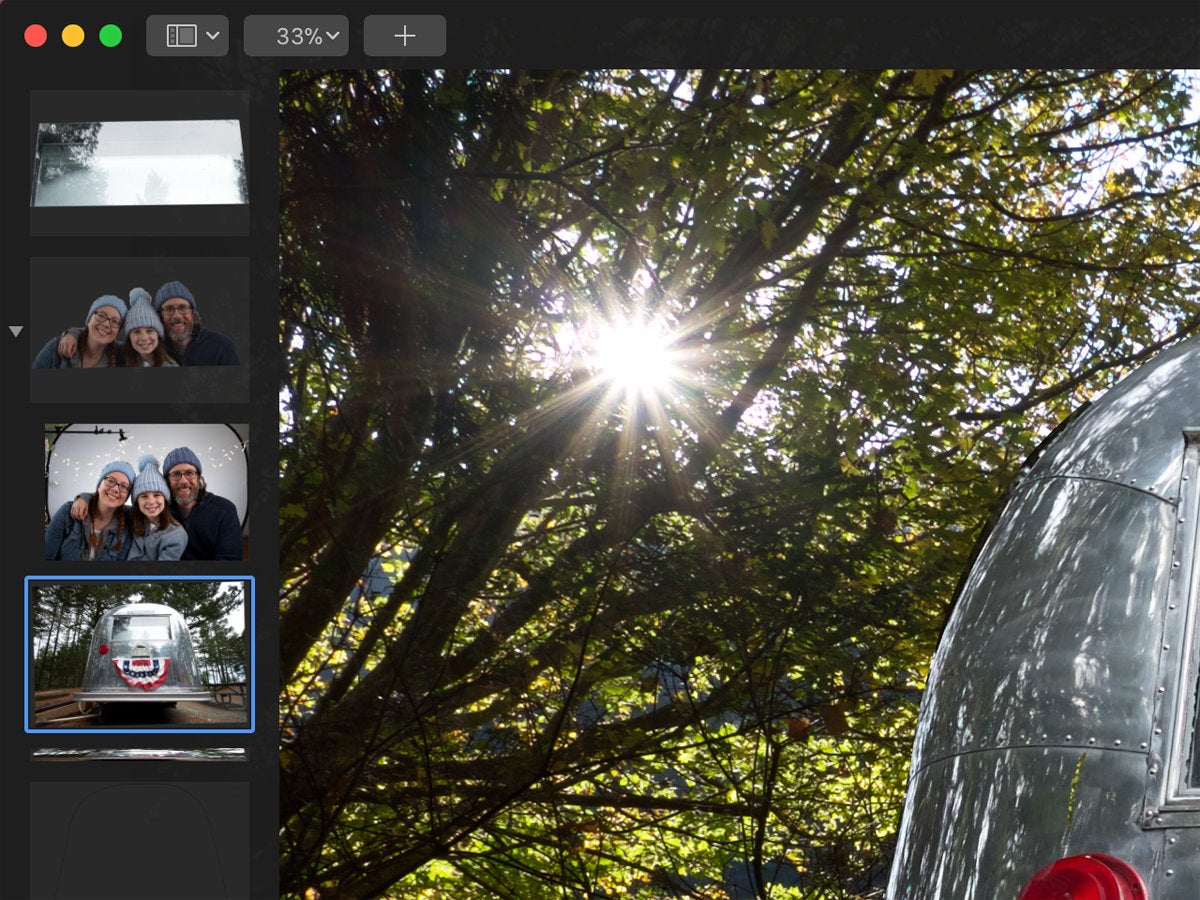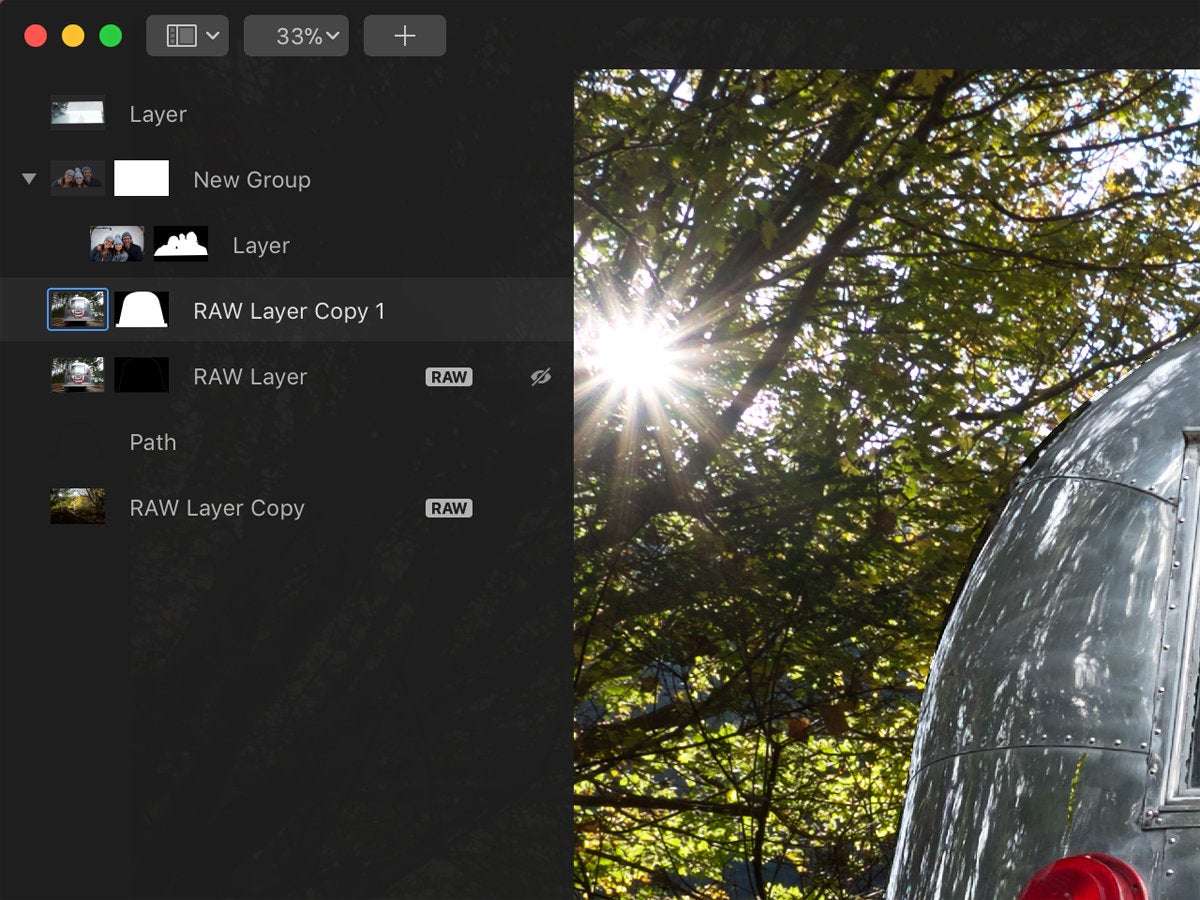 Pixelmator Pro has a unique way of showing control points for effects. When you apply a new effect, such as a vignette, a control point appears in the middle of the screen, adhered to a virtual thread connecting it to the Vignette controls in the Effects panel—it even pops with a little physics-simulated bounce. In this case, the point controls the center of the vignette area. Other controls, like the Perspective Transform, tie multiple control points to sections of the effect, like Top Left, Top Right, and so on.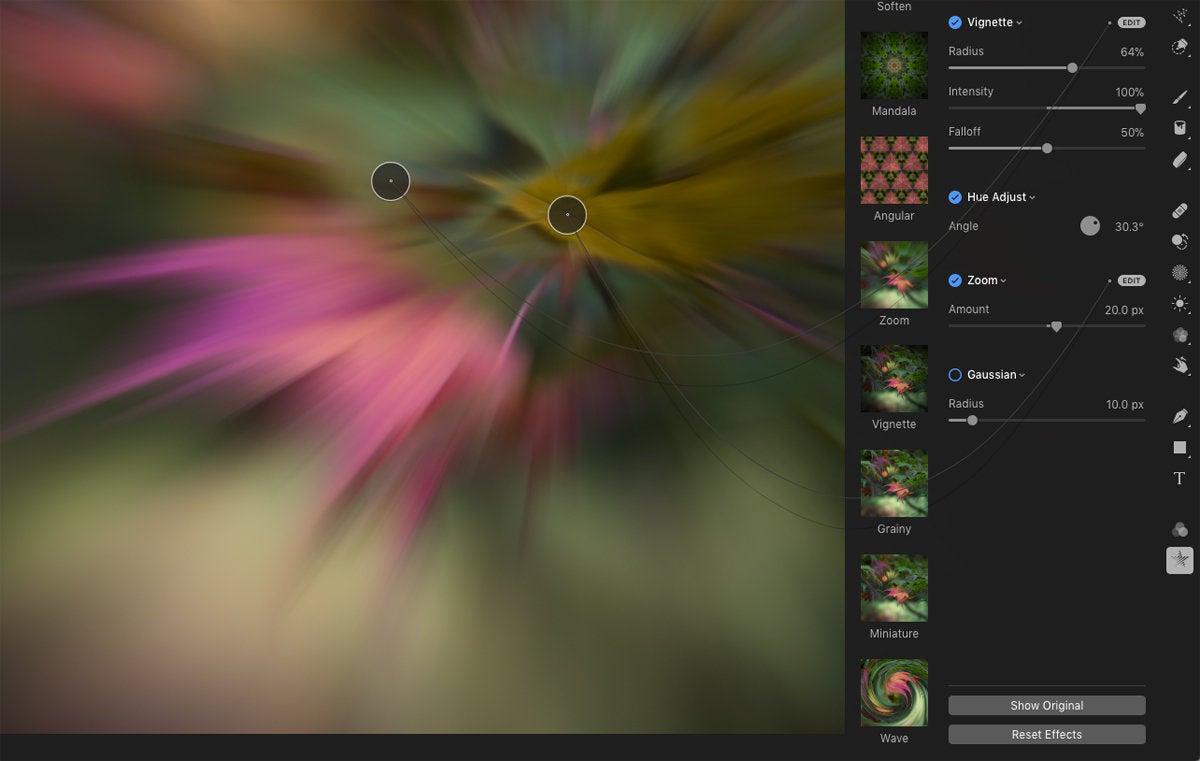 Despite the overall look, floating palettes aren't entirely excised. Gradients, Shapes, Document Info, and Colors (the system palette) all float freely when they're needed. Multiple open documents are in their own windows, though you can collect them all into tabs in a single window. But for the most part, the interface doesn't feel like you're playing palette Tetris.
Know your pro
What's pro about Pixelmator Pro? First, nearly all of its color and tonal adjustments, as well as extensive effects, are non-destructive. When you edit aspects such as exposure or saturation, or add an effect like a vignette, the changes aren't burned into the image's pixels. They can be changed or removed at any time on a per-layer basis.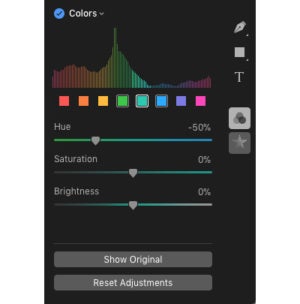 There are also little helpful touches, such as the Colors histogram. Have you ever attempted to adjust a color in an image, but you don't see much of an effect? Making green areas more green, for instance, sometimes requires decreasing the blue or cyan tones, but that's not always visually evident. When you're manipulating colors, the Colors histogram gives you a sense of how prevalent the colors are within the image to help you target which ones to adjust.
Some of the selection-specific tools and brushes, while still technically non-destructive, aren't as flexible as the effects and color adjustments. For example, after using the Repair tool to paint away blemishes or unwanted objects, you can reset the fixes you made, but doing so wipes away all repairs throughout your project; you can't remove just the ones you made to specific layers.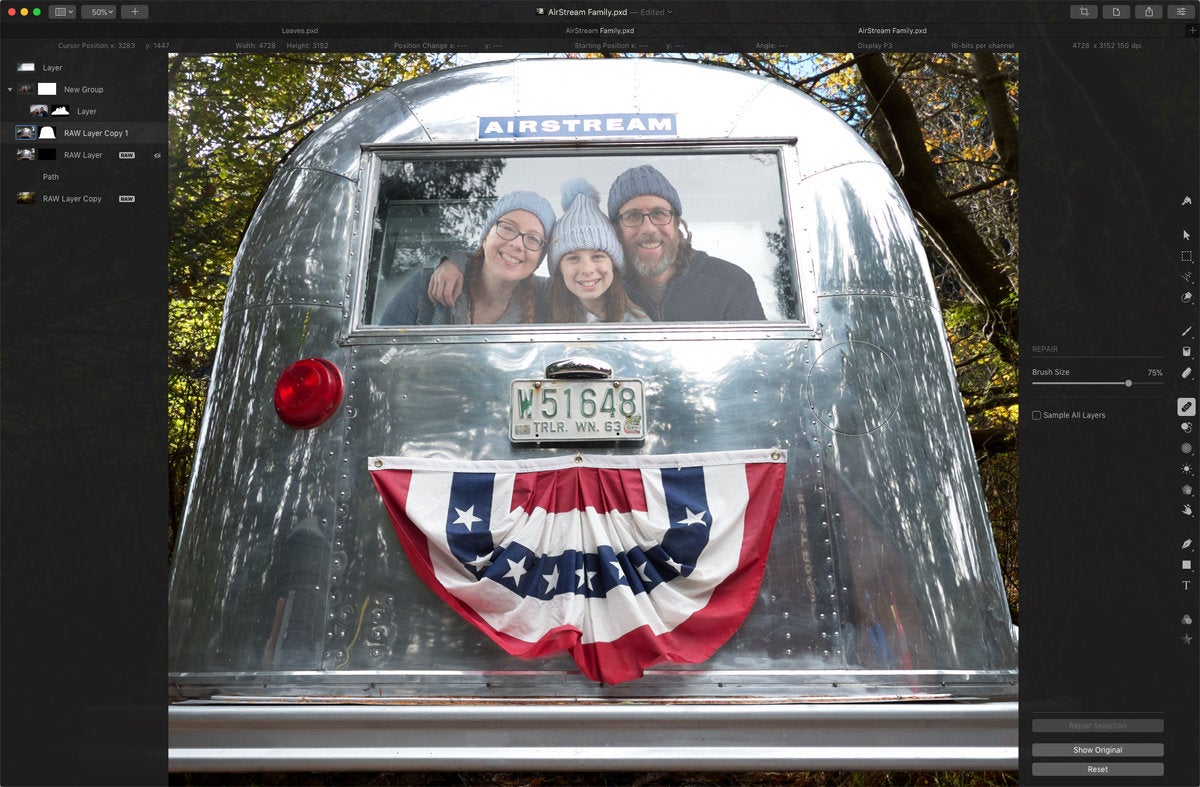 Pixelmator Pro's layer-based focus has a quirk, too. If you want to apply an adjustment to the entire image, such as making it black and white, you must add the Black & White adjustment to each layer; there are no specific adjustment layers that affect all layers below it (as in Photoshop). The workaround is to merge the layers and apply the effect to that composite layer.
Performance-wise, the application takes advantage of the latest macOS technologies and features, such as Metal 2, Wide Color support, restoring previous incarnations of a file using the macOS Versions feature, and more. Editing was snappy on my late 2016 MacBook Pro with Touch Bar, although I did encounter some bugs (one that crashed the app and one that inexplicably altered colors when something was deselected; both were reported to the developers and fixed in a subsequent update).
Bottom line
It's good to see that the team behind Pixelmator looked at their well-regarded application and said, "We think we can do better." Pixelmator Pro is a good start, although one with a few early-version hiccups to work out. The impression I get is that Pixelmator Pro, in its 1.0 incarnation, is overall a brisk and capable image editor, but it's still brittle in places. I look forward to seeing how it develops.
Best Prices TodayPixelmator Pro 1.0 Whirlwind