Macworld reader Gavin, was on a cruise with his wife when she asked him, an IT professional, for help getting Safari's Reading List to work offline, as they had no internet connectivity. She'd saved articles to it to read later. (I know: someone saved articles to read later and then actually tried to read those articles later. It happens! Even to me sometimes.)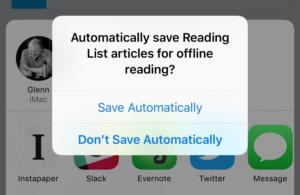 She wasn't missing anything. Despite seemingly having all the right settings enabled to sync her Reading List across all the devices connected to her iCloud account, her marked items didn't show up and weren't available. What gives?
Turns out, Safari for both macOS and iOS have a setting you may never have noticed, since we so often have internet access (and perhaps so rarely consult Reading List).
In Safari for macOS, choose Safari > Preferences and then click Advanced. You can then check next to the Reading List label Save Articles for Offline Reading. If that option isn't checked, you can also view the Reading List in the sidebar, right-click an item, and choose Save Offline.
With iOS Safari, you navigate to Settings > Safari and swipe down to the bottom, and then tap the switch to on for Automatically Save Offline. If you have that option disabled, which it is by default, you're prompted the first time you choose Add to Reading List from the Sharing sheet whether or not to save items from then for offline reading automatically.

Ask Mac 911
We've compiled a list of the questions we get asked most frequently along with answers and links to columns: read our super FAQ to see if your question is covered. If not, we're always looking for new problems to solve! Email yours to mac911@macworld.com including screen captures as appropriate, and whether you want your full name used. Every question won't be answered, we don't reply to email, and we cannot provide direct troubleshooting advice.