At a Glance
Expert's Rating
Pros
Supports all major platforms that allow third-party apps
Saves drafts, avoiding web browser crashes
Allows easy inclusion of Mac-stored media
Manages multiple blogs in a single window
Cons
No Markdown formatting bar, only HTML/rich text
Our Verdict
MarsEdit 4 is a needed update to an app relied upon by literally a generation of bloggers, with new features and expanded support that will win new users.
Best Prices Today: MarsEdit 4
Does anyone still blog? Twitter, Facebook, and even Tumblr may have swallowed much of blogging's oomph, but it's still out there. It's probably more accurate to say that blogging morphed into different kinds of things that seemed less blog-like. Many publications use WordPress or other "blog" engines to power their sites.
This explains the persistence of MarsEdit, a blog composing, previewing, and posting tool that was recently upgraded to version 4. This version comes nearly eight years after the previous one, but it will delight existing users and should attract folks dissatisfied with web-based posting.
At its core, MarsEdit is a way to easily compose entries and store local drafts as you work, while bringing in media and managing rich formatting. This all happens in a word-processing-style environment that's native-app-fast, works offline, and is comfortable for and familiar to Mac users.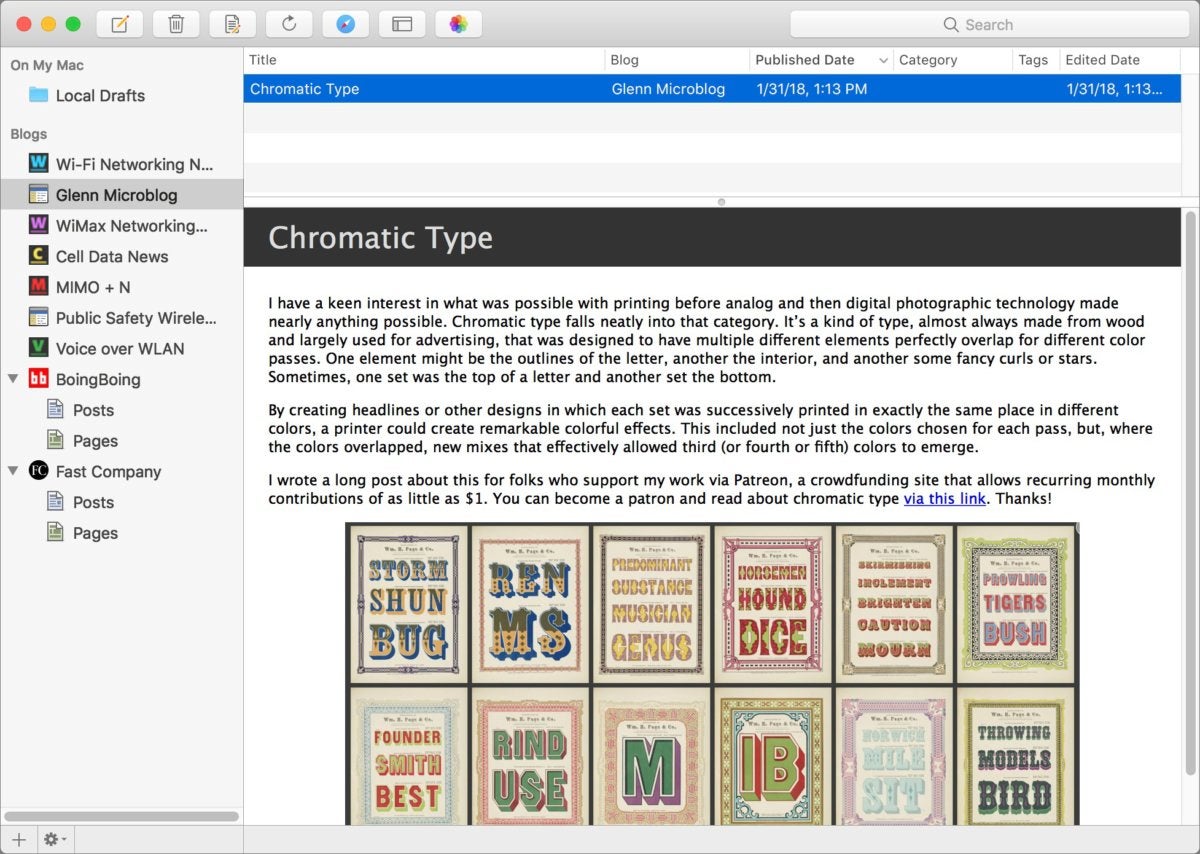 MarsEdit 4: New features
MarsEdit 4 continues to be a familiar engine for those who have used it. You configure blogs by entering its URL, which is enough for MarsEdit in many cases to sort out what platform you're using and what credentials it needs from you without mucking around further. Once you've entered a user name and password, you can proceed. (Some hosted blogs may require a app-specific password or an API key that you obtain from your account. MarsEdit doesn't prompt you where to look, so if a login fails, check your blog account's details.)
Version 4 supports blogging engines that date back to the earliest centrally-hosted and self-hosted platform days, like Movable Type, TypePad, and Blogger, as well as "newer" ones like Tumblr and WordPress. There's also richer support for WordPress, a dominant platform that continues to evolve. However, you can use a variety of other platforms that support standard MetaWeblog and AtomPub interfaces, which sweep in truly modern services, such as Micro.blog.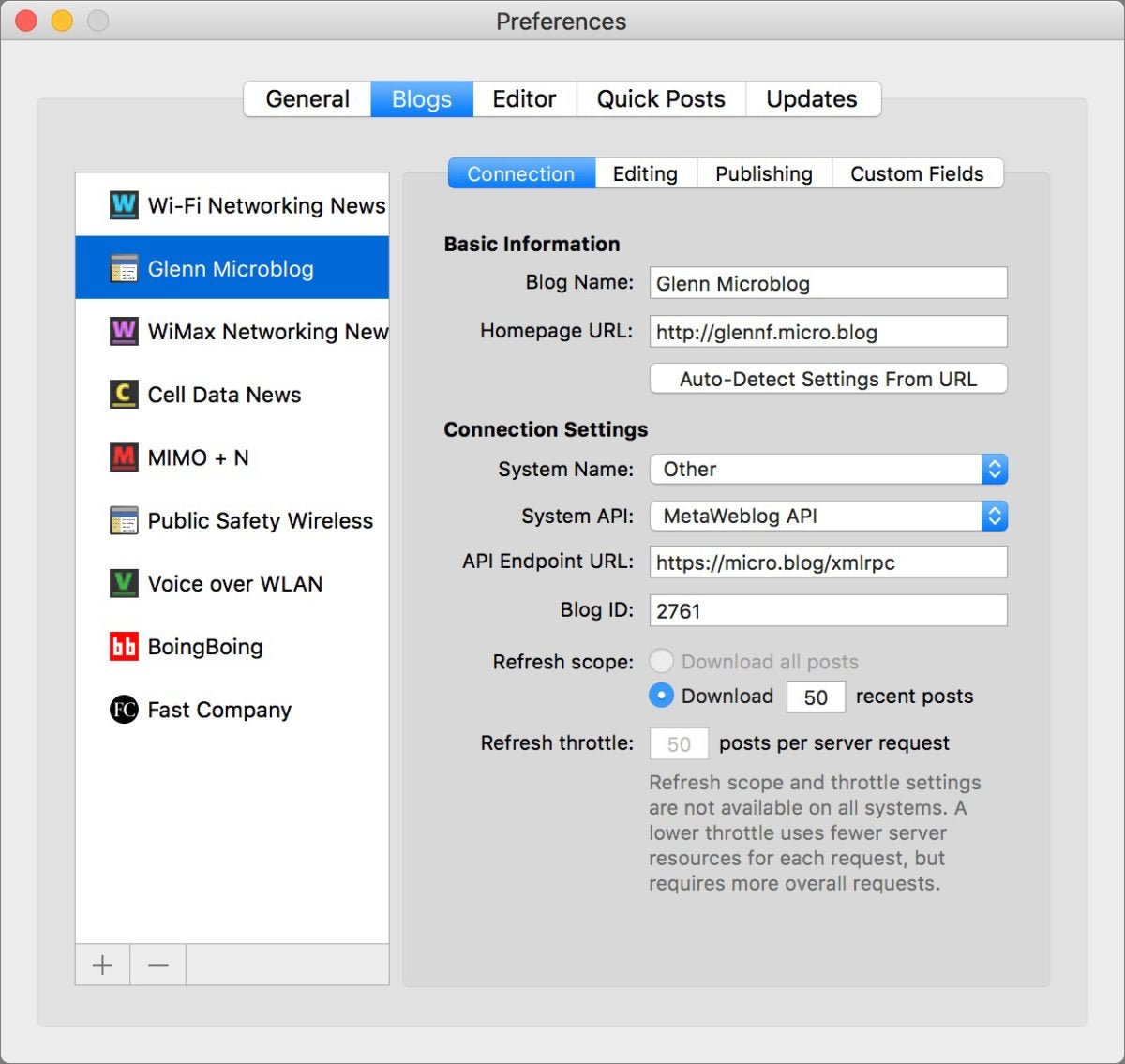 I discovered in testing with a few WordPress blogs that MarsEdit has a lot of tricks up its sleeve to deal with multiple layers of authentication that some publications employ, but sometimes it's defeated. For one publication, there's an "HTTP authentication" step (the pop-up window that gives you access to the website), then a pre-blog login page, then a WordPress login. I don't blame MarsEdit for being stymied, and I'd need to talk to the system admin for a workaround. With another multi-level-entry site, MarsEdit coped just fine. You might encounter this with securely configured corporate accounts, but are unlikely to have it happen with blogs you set up and run yourself.
Once connected, MarsEdit pulls in the titles of previous posts, if any, and you can edit those. It can also download the complete archive for most blogs of everything you ever posted, giving you an effective local copy and backup. This is great in general, but also makes it possible for you to migrate posts.
You can, of course, also create new posts, and save them locally as drafts while in progress. At one point, I had a set of several related wireless/mobile self-hosted MovableType-based blogs that I used MarsEdit to manage. Version 4 brought in all those settings and posts (and some nostalgia).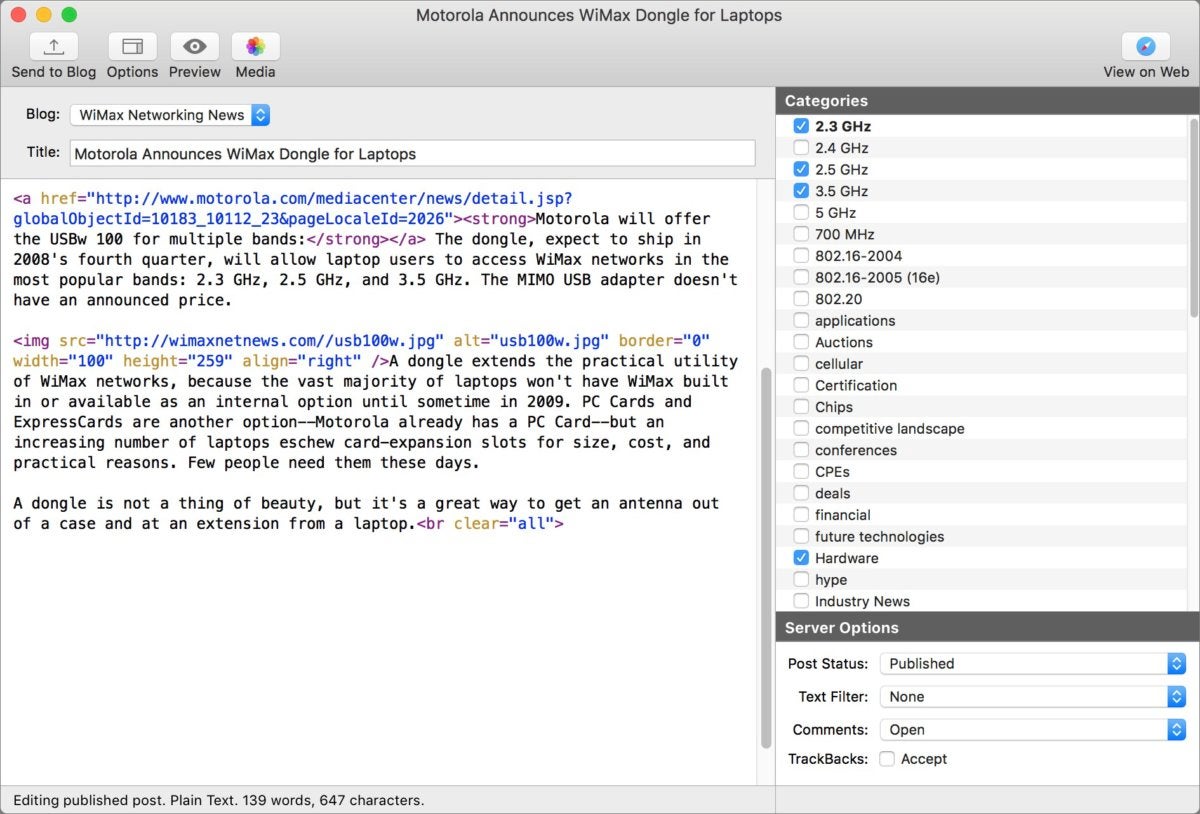 Blog services often support formatting text in one or more methods, whether it's plain text, HTML, Markdown, or Textile. You can use the Text Filter menu in MarsEdit to choose which type of formatting you're using, which then allows a preview of what you're composing or editing.
While there's a formatting bar with some frequently used items and a Format menu with many more—which allows custom entries to be added along with keystroke triggers—it's all for HTML. The app supports Markdown for previewing, but doesn't color code it in the editor and its formatting controls won't insert Markdown elements when you're writing Markdown. That seems like a lack that could be fixed, and the developer says it's under consideration.
MarsEdit lets you drag images in from the Finder or select them through a media browser, and then change the file title, the ALT text tag, and other fields, and resize an image. This can then be inserted into a blog entry and, if the publishing engine of the platform supports it, directly uploaded. You can also view images already placed in a blog and drag them into a post anew, but you can't resize or modify them at that point.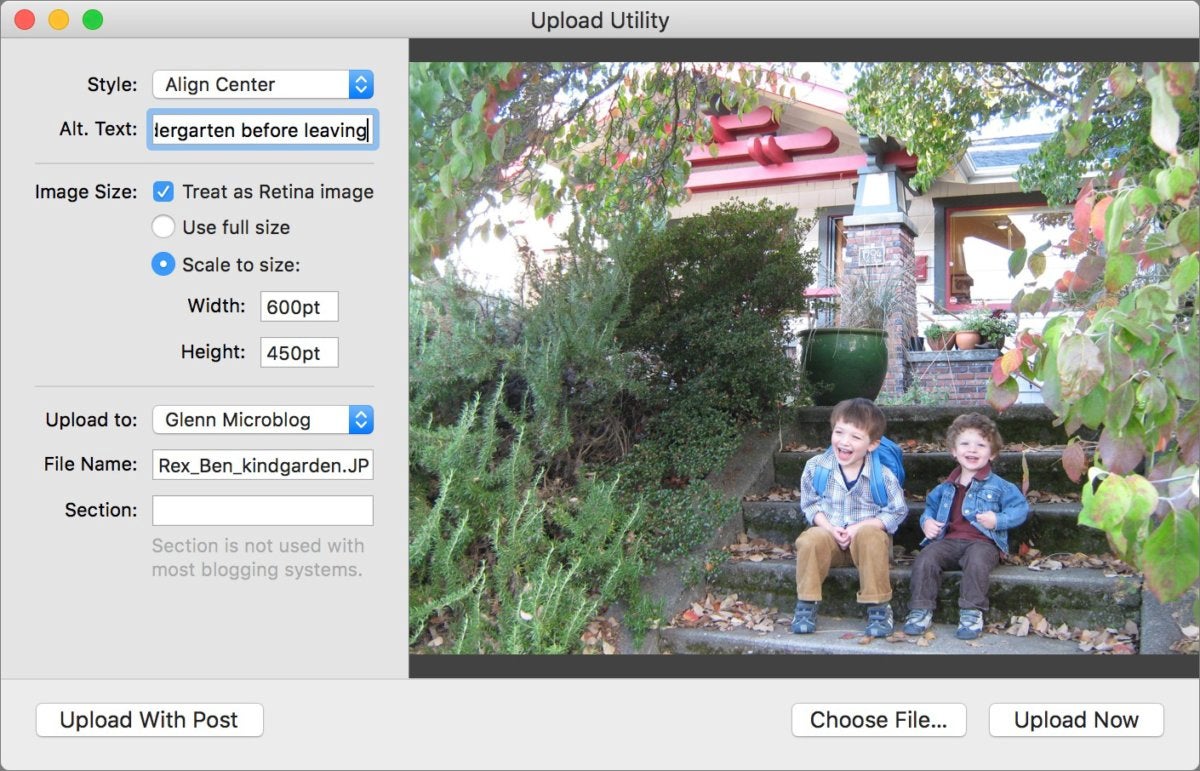 The preview feature of MarsEdit has always been a strong point, and the latest version updates as quickly as you type. Using included templates, MarsEdit takes your locally drafted post and simulates what it will look like on the Web site. If the template doesn't match closely enough, you can click an Edit Template button to make changes. The app can also create a dummy post, extract the HTML around the elements it inserts, and then delete that post to create a better template.
If you're managing multiple blogs, MarsEdit is a boon, because you don't have to switch among different websites and interfaces, reducing your learning and retention curve while also offering tools as good or better than those found in many blogging platforms. I find the distraction less in MarsEdit, too, so I'd prefer to write and edit there. You can also work offline with MarsEdit, rather than switching to a word processing that you have to copy and paste into a blog entry later.
A nifty addition to version 4 lets you turn selections in Safari into draft posts with a single button click. This requires installing a Safari extension—and remember to quit both MarsEdit and Safari and launch them again after installing. Then you simply select text, click the MarsEdit button in the toolbar, and MarsEdit uses a template that you can modify to pull in the page title, URL, and selected text.
MarsEdit includes an editing feature that I have begged other text editors to include: a "typewriter scrolling" mode that acts as if you have a piece of paper in which the currently active line is always vertically centered in the editor window. If you like to have a tall editing window and have a long post, compressing your neck to stare at the bottom is a pain, instead of referring the same comfortable center point for all composition.
Bottom line
I don't consider the term blogger an insult, but I don't really consider my online writing "blogging" anymore, either. And MarsEdit 4 can more aptly be called a content-management system's content managing system: it shaves off the rough edges of web-based interfaces, letting you focus on composing messages and shaping their appearance.
Best Prices Today: MarsEdit 4