We love our AirPods (and love the AirPods Pro even more). Judging by the millions sold every year, you love them, too. But they're sort of…plain. Plain white case, plain white buds. Fortunately, there's a whole cottage industry of AirPod accessories to improve the look—and performance—of your wireless headphones. Here are some fun and useful ways to beef up your 'buds.
AirPod straps
Yeah, the whole point of the AirPods is that they are true wireless headphones, not like the many dozens of Bluetooth earbuds sold over the years with a short cable stretching behind your head.
But what if you want that cable sometimes? What if you're worried that your workout is going to jostle an earbud out and it'll be lost forever? While we have never experienced that, a little insurance isn't expensive. Clip-on straps typically cost around $10 or so.
Spigen Compact AirPods Strap Never Lose Your AirPods PATENT PENDING iPhone 7 / iPhone 7 Plus Air Pods Strap Wire Cable Connector for Apple Airpods – Exclusive for Apple iPhone 7 / iPhone 7 Plus
Price When Reviewed:
$9.99
Spigen's strap is popular, but some of the lesser-known options add little magnets to hold your earbuds together when you're not wearing them.
FONY Airpods Magnetic Strap Anti-Lost Airpods Strap Sport String Silicone Cable Connector – Airpods Accessories for Airpods 2 & 1 (Gray)
There are three things you should know before buying a strap for your AirPods. First, the added weight tugging on the end of the stems may cause them to fall out of your ears more easily. AirPods stay in place in part because of their feather-light weight.
Second, you will of course have to take off the strap when you put your AirPods back in the case to charge them.
Third, because of the "squeeze the stems" controls on the AirPods Pro, many straps are either not compatible with them, or they say they're compatible but you lose the ability to use the stem-squeezing controls.
AirPod tips and wings
Apple's earphone design is comfortable enough, but our ears come in many shapes and sizes. And if you bounce around a lot during your workout, it doesn't hurt to have a little extra something to keep the pods in place.
Slip-on silicone AirPod tips create a soft and snug fit in your ear canal (which often improves sound quality), and wingtips hold on to the concha in your outer ear, keeping them in place through even the most vigorous activity. These really are some of the most useful AirPod accessories you can buy.
EarBuddyz Ultra Ear Hooks and Covers Compatible with Apple AirPods 1 & AirPods 2 or EarPods Featuring Bass Enhancement Technology (Medium, White)
There are lots of brands out there selling slightly different styles, but they all share one thing in common: You'll have to remove them to put your AirPods back in the charging case.
SoftCONNECT by Comply – Soft Foam Tips – Compatible with Apple AirPods (1 & 2) and Earpods (2 Pairs & Storage Pouch)
You can buy covers that add in-ear tips only, or covers that provide earhooks only, or covers that provide both. Just make sure you buy a brand that has cutouts for the AirPods' sensors. Silicone tips made for the regular wired EarPods that came with your iPhone will usually fit AirPods, but if they cover the sensors, your AirPods won't work properly.
AhaStyle Silicone Ear Hooks Earbuds Covers[Sound Quality Enhancement] Compatible with Apple AirPods 2 and 1 or EarPods[2 Pairs- Large & Small](Clear)
To date, we haven't seen third-party replacement tips for the AirPods Pro's own ear tips, which have a proprietary connection. If you lose yours, Apple charges a very reasonable $4 for a replacement set.
AirPods ear hooks
Want something more secure than an in-ear tip or little wings to keep your AirPods in place? Something that might help keep your AirPods secure during more vigorous activity?
You can buy snap-on ear hooks for your AirPods that wrap around behind your ears, as many workout-oriented headphones do (the Powerbeats Pro, for example).
AhaStyle Silicone Ear Hooks Anti-Slip Sport Hooks [Magnetic Assembling] Compatible with Apple AirPods 2 & 1(White)
Of course, you'll need to remove the ear hooks when you return your AirPods to their case to charge, so this is the sort of product you may want to only use occasionally. If you think you'll want to use ear hooks every day, you may be better off with a pair of wireless earbuds that have them integrated and a case that fits them, like the Powerbeats Pro.
elago AirPods EarHook [White] – Lightweight, Perfect for Outdoor Activities, Long-Lasting Comfort, for Apple AirPods 2 & 1
While some ear hooks claim compatibility with the AirPods Pro, I would proceed with caution when considering such a purchase. The shorter stems make for a different fit, and the AirPods Pro have force-sensitive sensors on the stems; you're meant to squeeze the stems as a means of controlling playback.
Even if a pair of ear hooks fit the AirPods Pro, they will almost certainly eliminate the ability to control playback by squeezing the stems, and might even register as a squeeze themselves, constantly producing false activations.
AirPods and AirPods Pro case covers
One of the secrets to AirPods' success is its tiny charging case—about the size of a pack of dental floss. It's easy to toss into a purse, bag, or pocket and so small, smooth, and rounded you can just forget about it.
But together with that "toss it in your bag" design comes "I tossed it in my bag" wear and tear. Before long your AirPods case will be covered in scratches, bumps, scrapes, and scuffs. This is solved easily enough with a protective silicone case.
PodSkinz AirPods Case Protective Silicone Cover and Skin for Apple Airpods Charging Case (Black)
Price When Reviewed:
$21.95
A basic silicone case costs ten bucks or less. PodSkinz is a popular and well-received model from the same folks to make the excellent EarBuddyz, and they come in a variety of colors.
This is a perfect opportunity to add a little extra functionality to your AirPods. Some cases include keychains or carabiners, making them just a little more convenient to stow in your pocket or clip onto a bag. They cost a bit more, but it might be worth it.
Catalyst Premium Quality Waterproof Shock Resistant Case for Apple AirPods (Slate Gray)
Price When Reviewed:
$24.99
Catalyst is the popular choice in carabiner-case with lots of shock protection, and it comes in a variety of sporty colors, but it's a little more expensive than most of its competitors.
AirPods Pro, being newer, don't have quite as many case options available. If you want a simple case with a lot of color options, check out Hitalkin's lineup.
HATALKIN Case Compatible with Airpods Pro Case Premium Silicone Airpod Pro Case Protective Cover for Airpods 3 (Front LED Visible) (Won't Affect Wireless Charging) (Black)
You may instead prefer something that's not quite as compact but is more durable, with a hook or carabiner attached. ESR has several such cases available.
ESR Upgraded Protective Cover for AirPods Pro Case, Bounce Carrying Case with Keychain for 2019 AirPods Pro Charging Case [Visible Front LED] Shock-Absorbing Soft Slim Silicone Case Skin (Black)
Note that if you have the AirPods case with wireless charging (or the AirPods Pro, which all have wireless charging) you will want to make sure the case doesn't have any metal plates in it, and that the rear hinge side is flat. Otherwise, the case will likely prevent you from being able to wirelessly charge your AirPods or AirPods Pro case.
AirPod skins
Plain white doesn't do it for you? For $10 or less you can get a vinyl wrap that changes the look of your AirPods.
Typically, these skins cover the stem and part of the "pod" part, but leave plenty of the pod uncovered. The idea is to provide a normal, natural, comfortable fit and not to cover up any of the sensors.
Airpod Skins Protective Wraps – Minimal Stylish Covers to Customize & Protect your Apple AirPods (Matte Black)
Price When Reviewed:
$17.95
Make sure the skins you buy don't cover any of the sensors, and are guaranteed to continue to allow your AirPods to fit inside the case. As long as the vinyl skin is fairly thin, that shouldn't be a problem.
MasiBloom Bluetooth Headset Protective Sticker Protector Decal Skin Cover for Apple AirPods 2 & 1 with Charging Case, NOT Compatible with AirPods 2 Wireless Charging Case(for Apple AirPods, Wave)
Popular phone skin maker dbrand offers skins for AirPods and AirPods Pro cases but not the earbuds themselves. Slickwraps has dozens of colors and styles for both AirPods and AirPods Pro, typically for less than $20. Plus, you build a skin with your own images and text for about $25.
Colored AirPods
Skins not permanent enough for you? Not detailed enough? You can permanently change the color of the plastic on your AirPods! The latest solvent-based painting techniques can give you a product that you would swear is actually made out of colored plastic. It's amazing, but it isn't cheap.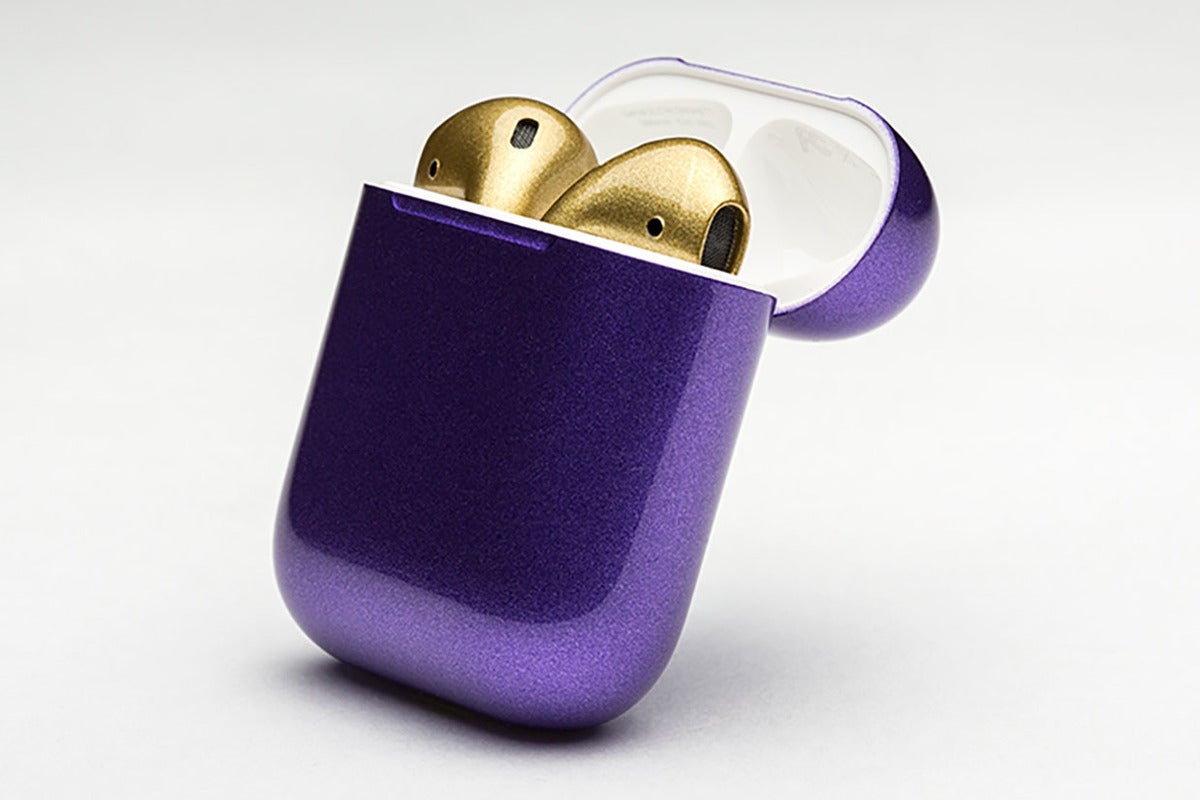 ColorWare will let you order AirPods or AirPods Pro in a huge variety of colors and finishes. You can even color the case, left earbud, and right earbud individually, and add engraving. Prices start at $369 for second-generation AirPods with Wireless Charging Case, and $439 for AirPods Pro, but you can save a few bucks if only color some of the parts. Delivery takes about two weeks, and the AirPods Pro won't be available until late January.
Apple AirPods Pro
Price When Reviewed:
$249
u003Carticleu003Entu003Csection class=u0022pageu0022u003Enu003Cpu003EYou don't buy AirPods (or AirPods Pro) because they deliver the ultimate listening experience. You buy them because they sound good, are super easy to connect to all your Apple gear, are incredibly compact, work hands-free with Siri, and are incredibly comfortable.u003C/pu003Enu003Cpu003EIt's not hard to find wireless earbuds that do one or two things better than the AirPods Pro, but for users of Apple products, it's really hard to find earbuds that do so many things so right.The AirPods Pro live at the sweet spot of comfort, ease of use, features, and sound quality. u003C/pu003Enu003Cpu003Eu003Cstrongu003EPros: u003C/strongu003Eu003C/pu003Enu003Culu003Enu003Cliu003EExcellent fit and comfortu003C/liu003Enu003Cliu003ECompact wireless charging caseu003C/liu003Enu003Cliu003EGood active noise cancellationu003C/liu003Enu003C/ulu003Enu003Cpu003Eu003Cstrongu003ECons:u003C/strongu003Eu003C/pu003Enu003Culu003Enu003Cliu003ESound quality is a little bland for the priceu003C/liu003Enu003Cliu003EBattery life is just okayu003C/liu003Enu003C/ulu003Enu003Cpu003E u003C/pu003Enu003Cpu003E u003C/pu003Entu003C/sectionu003Enu003C/articleu003E
Read our full
Apple AirPods Pro review
AirPods (2nd-generation)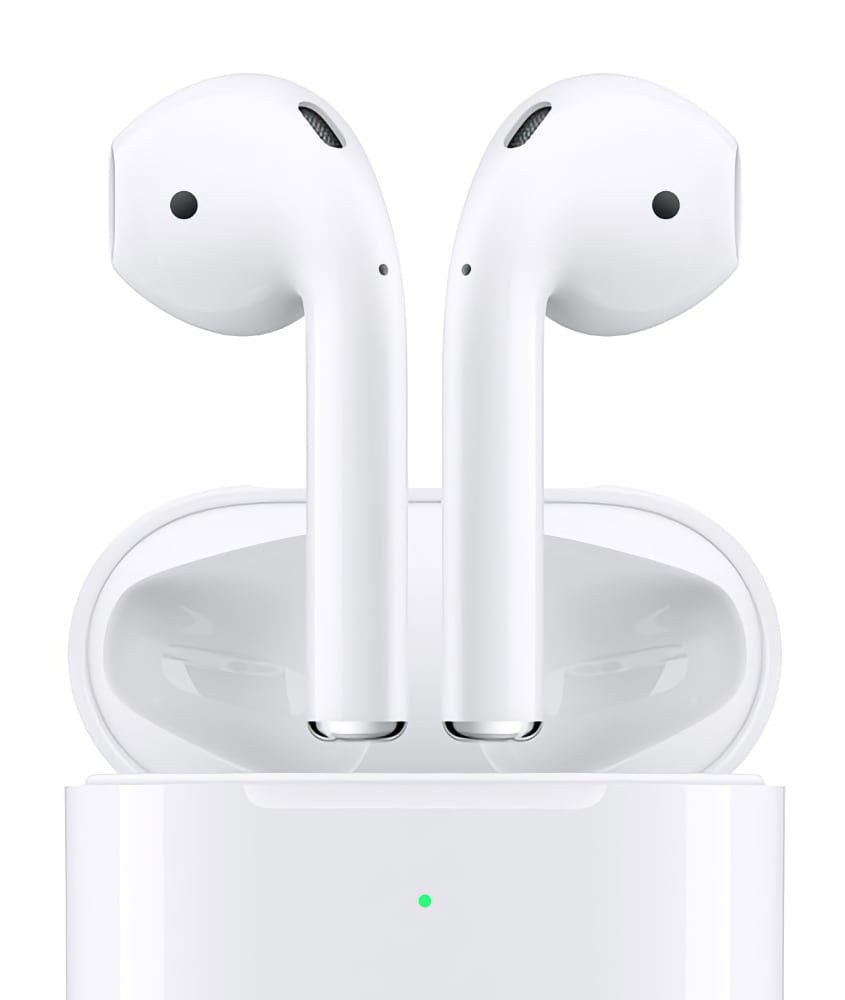 Price When Reviewed:
$129
Read our full
AirPods (2nd-generation) review