At a Glance
Expert's Rating
Pros
Easy-to-use software interface
Double-encrypted connection option provides additional data security
Subscriptions can be purchased with Bitcoin
Large number of servers and international server locations
Outstanding connection speeds
Cons
Torrenting limited to a small number of servers
Pricey month-to-month subscriptions
Our Verdict
NordVPN is a compelling option for VPN service due to a well-rounded set of features and competitive pricing. The company is also branching out beyond VPNs to other key services including a password manager and desktop file encryption service.
Best Prices Today: NordVPN
See a review of the latest version of NordVPN for a current evaluation of this service.
Launched in 2008, NordVPN is arguably one of the more popular, high-profile VPN service providers operating today. While payments for service are processed through CloudVPN—a company based in the United States—NordVPN is based in Panama (a country that doesn't participate in the Five Eyes, Nine Eyes, or Fourteen Eyes communications interception/sharing agreements). Accordingly, users should be safe from untargeted government data trawling.
Note: This review is part of our best VPNs roundup. Go there for details about competing products and how we tested them.
Update 10/28/2019: NordVPN recently revealed that one of its servers was hacked in early 2018. This news event does not change our recommendation as the risk to users was very low. The attack was against a single misconfigured server run by one of NordVPN's contractors in Finland. The hackers were able to extract an expired TLS key, which cannot be used to decrypt user traffic. No customer account information was revealed during the intrusion. The hackers could've used the stolen TLS keys to impersonate the NordVPN website in a targeted attack, but it appears that didn't happen. For anyone who is concerned about the attack, an option is to go with a VPN service that is directly responsible for its server network and does not use third parties, such as Mullvad or VyprVPN.
NordVPN: Security, software, servers, and speed
NordVPN takes security seriously. The company's Mac client defaults to IKEv2/IPsec security, and other industry standards are also supported. IKEv2/IPsec utilizes AES-256-GCM encryption—if it's good enough for the military, it's likely good enough for you.
Anyone with a good reason to be paranoid will be happy to know that the company offers a number of connections that employ double encryption. That option pushes your data through two servers instead of one, ensuring that the information you access will be sent/received—albeit very slowly—in the most secure manner possible.
The company also offers a few security extras, such as a software kill-switch baked into its desktop app to stop all web traffic if your computer is disconnected from a VPN, ad-blocking functionality, and automatic blacklisting of webpages with questionable security practices or that pose a phishing threat.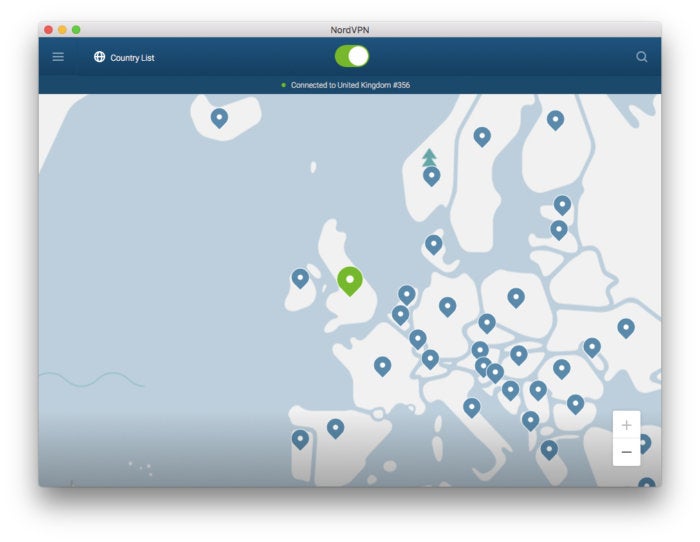 At the time of this review, NordVPN's website claimed that the service had over 2,863 servers in 59 countries. Many of these servers aren't owned by the service, but this is relatively common amongst VPN providers. If you're interested in dealing with a VPN service that owns all of the server hardware it operates on, check out VyprVPN. This means that you'll be able to spoof your location in a large number of countries, with less chance of experiencing drops in your speed due to too many individuals accessing the company's servers at the same time.
You can link up to six devices at a time to NordVPN's servers. We found that the company's Mac software client was easy to use. The company also offers apps for iOS, Android and Windows.
During testing, connecting to NordVPN's servers resulted in the following upload/download speed reductions versus connecting to the internet without a VPN.
Server location
Download
speed
decrease
Upload
speed
decrease
U.S.
23%
55%
U.K. (England)
9%
51%
European (Switzerland)
13%
23%
Oceanic (Australia)
19%
73%
Asia (Japan)
29%
57%
Learn more about how we tested VPN software.
NordVPN pricing
NordVPN offers three different pricing options. A one-year plan costs $5.75 per month, while a two-year plan is $3.29 per month. To get these monthly rates, you'll have to pay for the entire term of service upfront ($69 for one year, $79 for two years). It's possible to buy into the service one month at a time, but you'll pay a punishing $12 per month for the privilege. That's $143.40 per year. Ouch.
No matter which plan you opt for, NordVPN offers a 30-day money-back guarantee. Payment can be made through a number of options including credit card, PayPal, or Bitcoin. Be aware that NordVPN's payment processor, CloudVPN Inc., stores payment information—anyone interested in a maximum amount on online anonymity should pay for their service using Bitcoin.
Bottom line
While not perfect, NordVPN is a compelling option for VPN service due to its mostly competitive pricing, massive number of available servers and server locations, easy-to-use interface, and slew of options to protect users' online privacy.
Editor's Note: Because online services are often iterative, gaining new features and performance improvements over time, this review is subject to change in order to accurately reflect the current state of the service. Any changes to text or our final review verdict will be noted at the top of this article.
Best Prices Today: NordVPN