At a Glance
Expert's Rating
Pros
Easy-to-use interface
AES-256-bit encryption
Easy-to-understand subscription structure
Fast European connections
Cons
Office located in Canada, a Five Eyes intelligence sharing country
Canadian law can compel TunnelBear to hand over user credit card information, home address, and account associated email address
Not torrent-friendly
Typically unable to bypass Netflix region locking
Servers located in only 20 countries
Our Verdict
TunnelBear is likable for its quirky branding and European connection speeds, but the company's base in a Five Eye country is a concern from a user privacy standpoint. Security-minded individuals should look elsewhere for a VPN service.
Best Prices Today: TunnelBear
Unsure if you'll use a VPN often enough to warrant paying for it, or only occasionally require the security that using one provides? TunnelBear could be the service that you're looking for.
Based in Toronto, Canada, the company has a strict no-logging policy that pertains to user IP addresses, DNS queries, or information you accessed online while connected to its servers. However, TunnelBear is obliged by Canadian law to hand over user names, email addresses, the amount of data used while accessing their servers, and credit-card information should law enforcement or a federal agency come knocking. Also, because Canada participates in the Five Eye program, this information could be accessed by American agencies, too. That said, most people will have little to fear from these circumstances. (On March 8, 2018, McAfee announced that it aquired TunnelBear for an undisclosed amount.)
Note: This review is part of our best VPNs roundup. Go there for details about competing products and how we tested them.
TunnelBear: Security, software, servers, and speed
While TunnelBear's website states that they operate servers in 20 different countries, they're not forthcoming on exactly how many servers are in their network. This makes it difficult to give a complete assessment of the company's services and for you, the end user, to know whether subscribing to TunnelBear is the best use of your money. When connecting to their servers, Mac users can expect their information to be protected by industry-standard AES-256-bit encryption, and OpenVPN is TunnelBear's connection protocol of choice.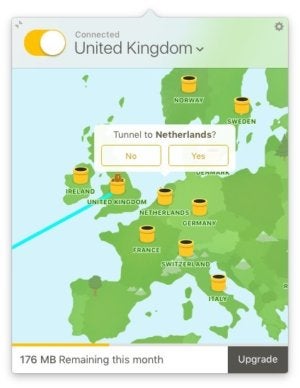 You should know that TunnelBear doesn't support torrenting. If you want to hide your peer-to-peer file sharing from your ISP, use a different service. It's also worth nothing that multiple reports online state that the company's servers aren't great for watching Netflix content streamed in a country other than your own. But this has more to do with Netflix's being good at region-locking their content than TunnelBear being bad at VPNs.
TunnelBear's macOS app is whimsically bear-themed. Despite this, the software is straightforward and easy to use. Once installed, the app lives in your Mac's Menu Bar. The options to connect, disconnect, or change servers are all controlled through a dropdown interface. The interface can also be expanded to a larger window, making choosing a server or tinkering with the service's settings a little easier. The company also provides client apps for iOS, Windows, and Android hardware.
During testing, connecting to TunnelBear's servers resulted in the following upload/download speed reductions versus connecting to the Internet without a VPN.
Server location
Download
speed
decrease
Upload
speed
decrease
U.S.
9%
52%
U.K. (England)
21%
62%
European (Switzerland)
33%
0%
Oceanic (Australia)
44%
74%
Asia (Japan)
14%
77%
Learn more about how we tested VPN software.
TunnelBear: Pricing
TunnelBear offers unpaid users up to 500MB of data for free, every month. That's not a lot of web traffic, though, so if you require a more robust plan, the company provides two different pricing tiers. Users can opt to pay $10 a month contract-free, or sign up for a year's worth of service for $60, which breaks down to $5 per month. Both of these options come with unlimited bandwidth and the ability to connect five devices to TunnelBear's servers at the same time. TunnelBear accepts PayPal, Bitcoin, and most major credit cards.
Bottom line
As much as we love TunnelBear's quirky branding and its European connection speeds, the company's base in a Five Eye country (Canada) is a concern from a user privacy standpoint. Most customers won't be at risk, but activists, journalists, or other security-minded individuals should look elsewhere for a VPN service.
Editor's note: Because online services are often iterative, gaining new features and performance improvements over time, this review is subject to change in order to accurately reflect the current state of the service. Any changes to text or our final review verdict will be noted at the top of this article.
Best Prices Today: TunnelBear