"What's a computer," a young girl asks in Apple's latest change-the-world TV spot for the iPad. Toss aside your cynicism, and it's easy to buy into Apple's vision as she types stories, scribbles handwritten drafts, and produces precocious paintings on her eminently portable iPad Pro. A computer? The girl might as well be asking about Betamax or beepers.
And it's a vision that fits well with the lazy Sunday afternoon Apple presents as the girl totes the device around parks and diners. But for work? Were the young girl a few years older and taking notes in college—or for a big meeting at work—she probably would have tossed her beloved iPad Pro aside by now. I should know: I've used the tablet as my primary work device since 2015, and while it's seen some impressive improvements over the years, it's still not ready to fully usurp the MacBook. Here's why.
The lack of mouse support gets frustrating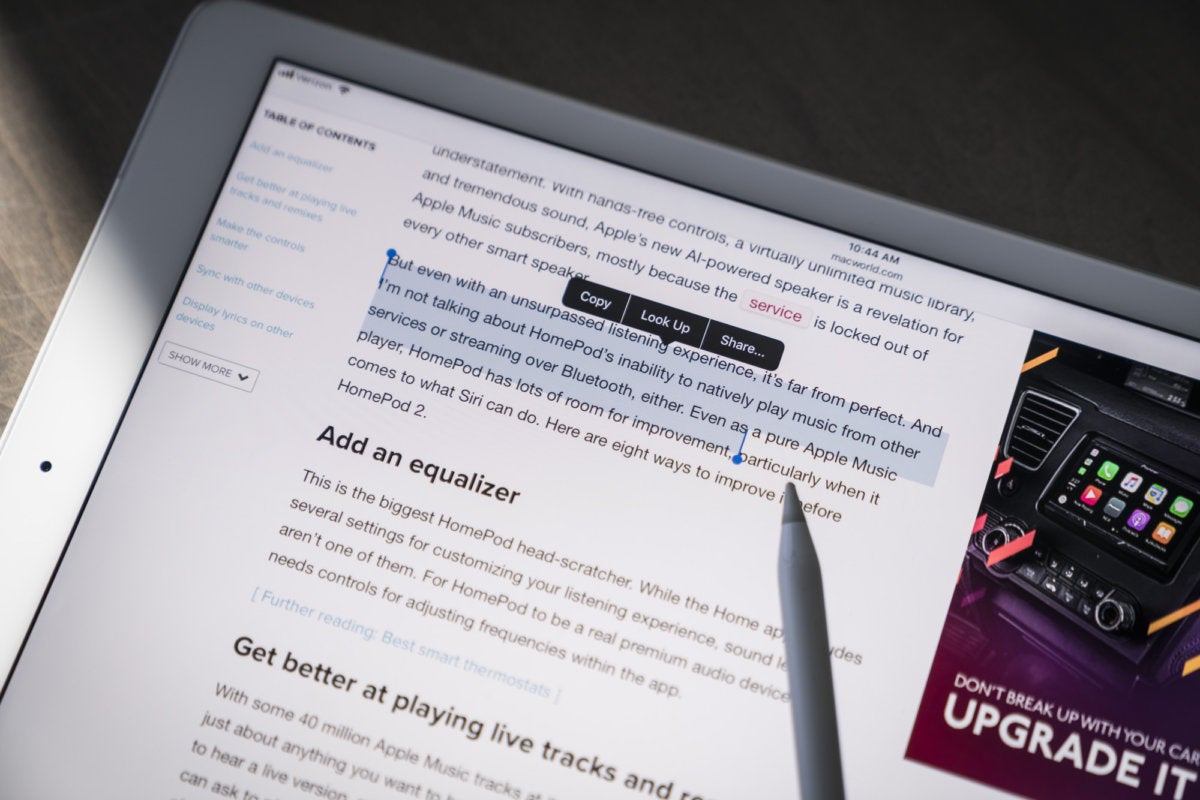 Let's be blunt: Nothing prevents me from trumpeting the iPad Pro as a laptop replacement quite like the absence of any kind of mouse support. Yes, Apple's touch controls are elegant and graceful, and they're wonderful for flipping through ebooks and scrubbing through Netflix videos. But, alas, they still kind of suck for actual work.
The key element mouse control brings over touch controls is speed. As a writer—a creative profession that uses the iPad's simplest functions—I simply find precision editing much quicker and simpler with a mouse.
Editing drafts demands constant highlighting and rearrangement of text, and that process drags into eternity when you're forced to hold your finger down to "right click" and carefully select sentences and words. The Apple Pencil allows for improved precision, no doubt, but in practice it's almost as slow as using your fingers as the time needed to press down on the screen remains the same.
I've heard arguments that adding mouse support diminishes the iPad's nature as a mobile device, but that's just silly. It adds an option. Indeed, even the iPhone supports Bluetooth keyboards and it's a phone.
If anything, adding mouse support for the iPad Pro would hurt the MacBook line because, after all, Apple would have a true laptop replacement on its hands. Maybe it's not as eager to achieve that reality as it lets on.
Handwriting-to-text tech still isn't great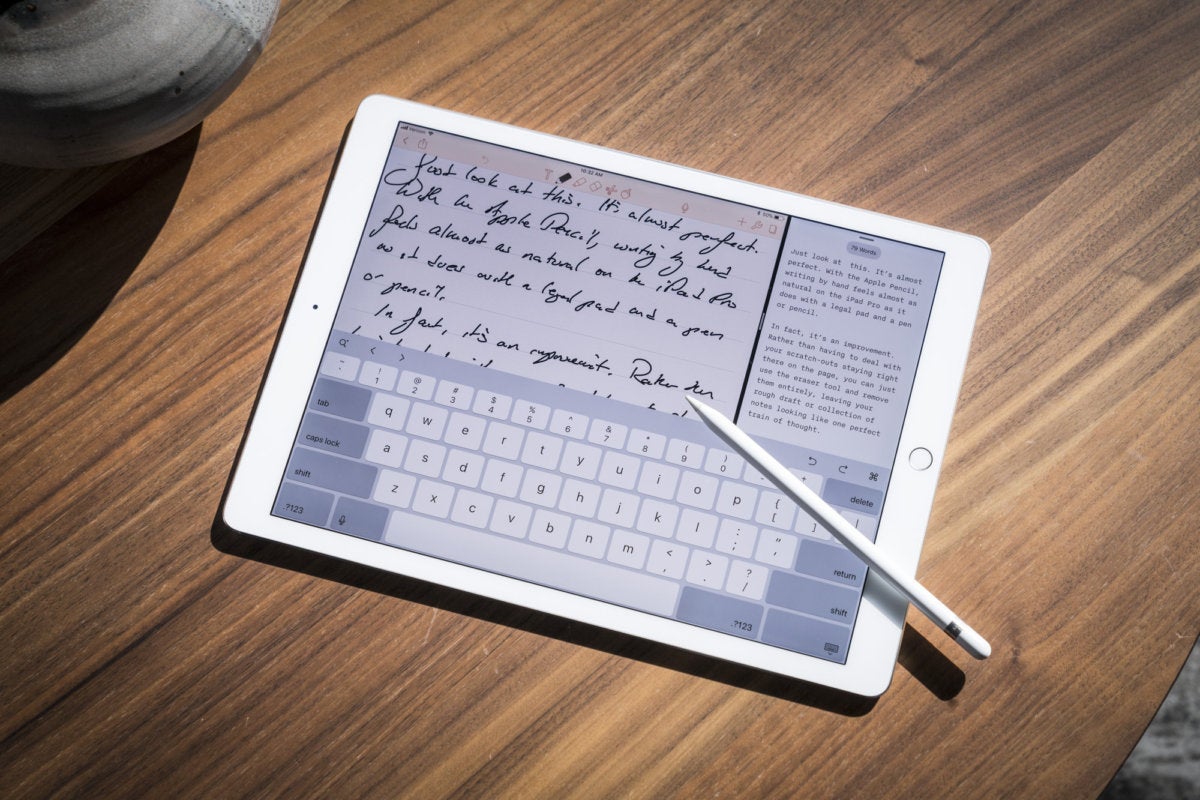 Apple's marketing tends to play up the Apple Pencil as an artist's tool, so its ability to help you use your iPad Pro much as you would use a legal pad with a pen doesn't get as much love. That's a shame, especially in an age when—as Scientific American and others report—a growing number of studies show that writing notes by hand helps your brain remember more of what you write down than clacking your fingers across the keys.
Unfortunately, the technology isn't quite yet there to get the most out of it. Only the Notability app really nails the fluid sensation of writing by hand—alternatives often feel stiff and unwieldy—and, more importantly, handwriting-to-text technology remains in its early phases.
Apps such as Notes Plus and Nebo allow for some impressive script-to-text transcriptions, but getting the most out of them requires carefully laying down letters as though you're being graded by how carefully you form your letters in a Big Chief tablet. And should our iPad girl try to transcribe notes she hurriedly wrote in a meeting? She'll be looking at jumbles of consonants that might feel at home on maps of Wales.
Fortunately, the iPad Pro's split-screen multitasking view makes it really easy to display your handwritten notes from an app like Notes in the left window and transcribe it through a document like iA Writer in the right window.
Some 'essential' productivity apps aren't built in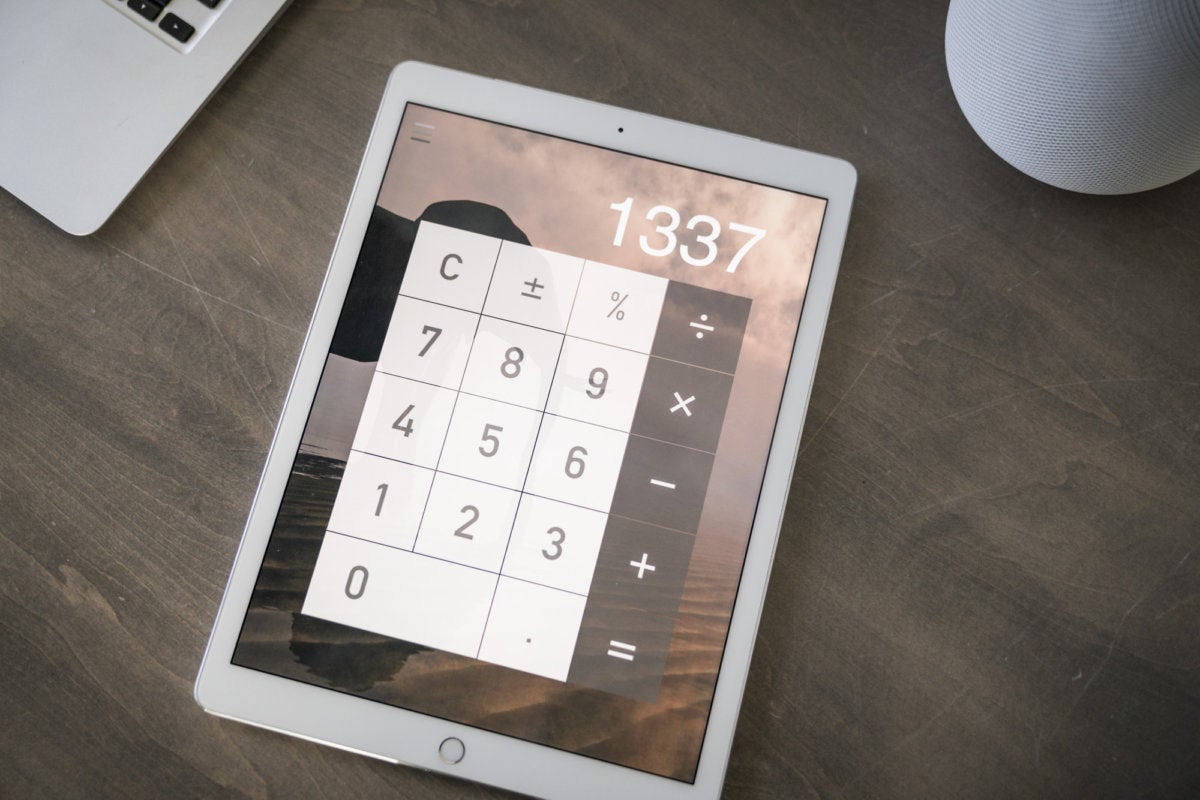 The strangest thing I discovered while using my iPad Pro as my primary work device is that the iPhone is often a better tool for on-the-go productivity. Bizarrely, for a "Pro" device, Apple's giant, powerful tablet doesn't come with native apps for tracking stocks, taking voice notes, or even a calculator. You won't even find a native weather app. All these come standard on an iPhone.
No matter, you say: There are some worthy third-party alternatives! And that's certainly true, but the problem is that you can't access them through the Control Center. Imagine the disappointment our "What's a computer?" girl will feel in later years when she swipes up her Control Center in order to whip up a quick freelance estimate for her artwork and finds that there's no calculator, forcing her to dig through her piles of apps. So much for professionalism.
As a journalist, being able to whip out my iPhone, swipe up on Control Panel and start recording a voice note has landed me great quotes more times than I can count. With an iPad Pro, I have to waste a few precious extra seconds to get to an app like Rev or Just Press Record for the same effect.
The absence of such apps from Control Center thus often translates into a significant productivity speedbump. Fortunately, simply adding the apps would make this problem go away. A (likely apocryphal) story says that the calculator app didn't make it on the iPad because Steve Jobs didn't like the way it looked when all stretched out on the device's screen shortly before launch, but that was years ago. Apple's had plenty of time to fix it since then.
Popular apps won't always play nice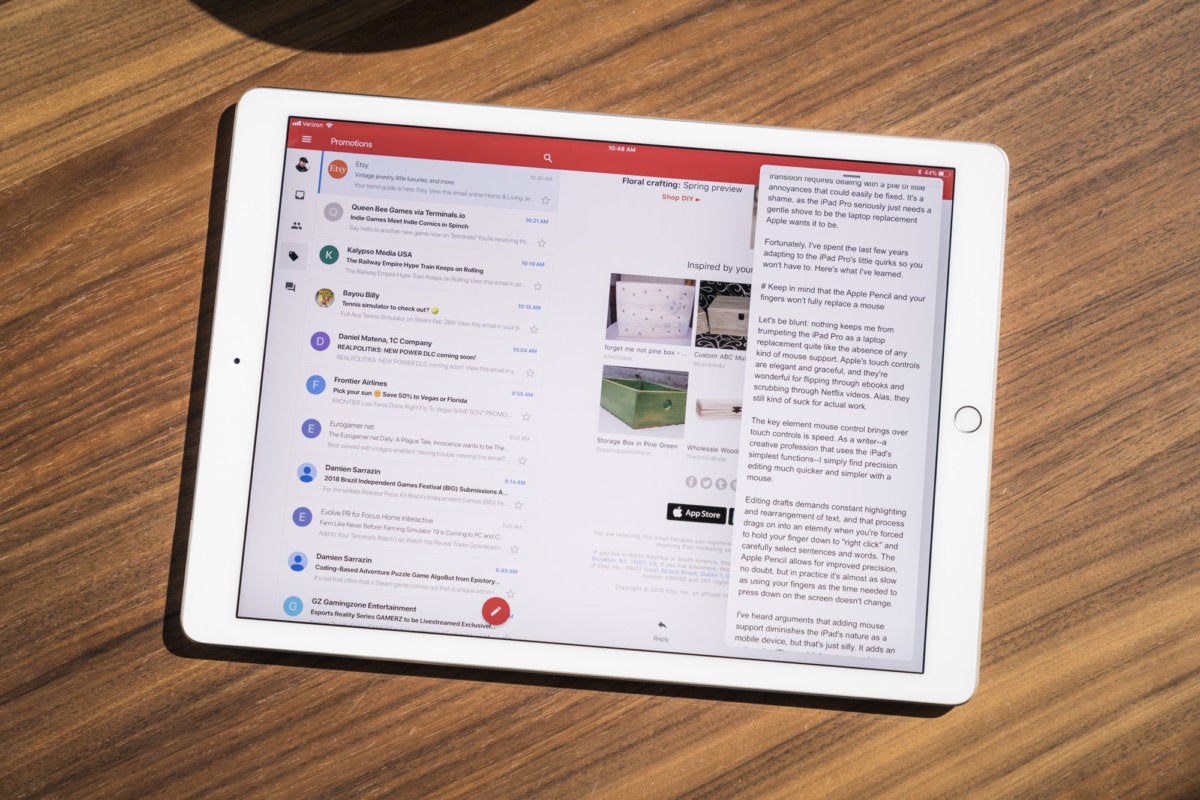 Sometimes the iPad Pro's most frustrating limitations have nothing to do with Apple at all. Your Windows-based colleagues may use a popular app for work, but there's no guarantee that the maker of that software is going to take steps to ensure the app's iPad counterpart stays up to date.
Consider Google Docs. At this point, it's probably the most widely used program for writing, sharing, and editing rough drafts in media, but Google didn't bother to update the iPad app to support split-screen multitasking until August of 2016. That's around a year after Apple introduced the feature, and by that point, you could find it on almost every obscure indie word processing tool.
As a freelance writer, that meant I was constantly switching between whatever source I was looking at and my Google Docs file while writing. In most cases, I'd write the draft in another app and simply paste it into Google Docs for sharing.
Surely, you say, such problems are behind us now. Not really, as Google still hasn't introduced split-screen support for the iPad Pro's Gmail app. Considering the resources available at Google, the delays coming out of Mountain View occasionally feel spiteful.
The file system has improved, but it's still a pain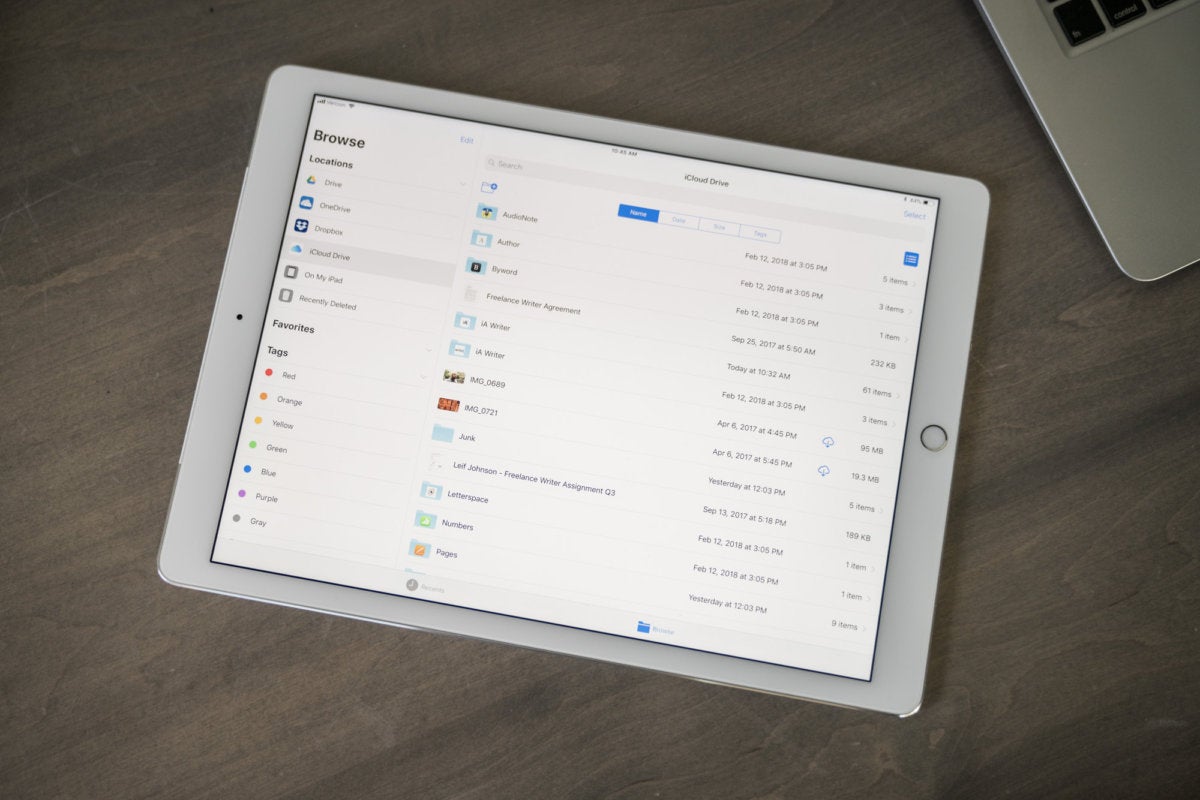 Let's be clear. If juggling multiple file types and sending attached files through email is part of your everyday work routine, you're not going to be happy using an iPad Pro as a primary work device.
File management isn't anywhere near as awkward as it was in the dark days before iOS 11 and the introduction of the Files app, but it remains an overly convoluted and messy business compared to the intuitive elegance of handling files on a Mac (or a Windows PC, for that matter).
Essentially, you need to plan ahead for everything as it's usually impossible to make new folders in specific locations in iCloud Drive from an app itself. (There's also an option to save files "On My iPad," but that's a bigger headache than it sounds like.)
Let's say I want to save a Pages file as a PDF and send it off later. I'd first have to make a "Documents" folder in iCloud Drive through the Files app, then head back over to Pages and export the document as a PDF to the new Documents folder. If I wanted to rename that PDF before sending it, I'd have to go back to the Files app (and the iCloud Drive subsection) and do it there. Then I'd have to open the Mail app and send it from there after searching for the proper folder.
Still with me? Keep in mind that this is the easy, breezy scenario. You'll encounter additional frustrations when you try to open Zip files (which needs a third party app, and few of them are ideal). If you need to resize an image to specific dimensions or file size before emailing it, you'll have to get yet another third-party app since Apple doesn't allow for that degree of control itself.
And the list goes on. It's not unworkable, but the need to be "inventive" when sending files off the iPad Pro serves as the most damning argument against its use as a primary work device.
That said, I managed to deal with it for almost two years and I still find myself reaching for my iPad Pro on occasion even though I'm back to using a MacBook Pro for the bulk of my work. It's handier. It's more portable. Heck, it's lighter.
The iPad Pro is so close to being able to being a truly viable laptop replacement, and all it would take it for Apple to change its mind about a couple of key design commitments. With Apple, though, that's like asking winter to be summer. Here's to hoping.