I was over the moon about the Apple Watch when it was first announced. At the time, I was feeling intense jealousy over Android Wear watches that couldn't work with my iPhone ( back then, at least), and had picked up a cheap Pebble to help fill the void. And despite some initial shellshock over the price levels and version differences, I bought the Apple Watch Sport on day one and was excited for its future.
Nearly three years later, that same watch spends more time in my desk drawer than on my wrist. The Apple Watch never felt truly transformative to me, and while I've enjoyed it as a style accessory and for quickly viewing notifications, I eventually fell out of my steady routine of charging it, wearing it, and deferring to it instead of my phone. It's been at least a year since I've worn it regularly for longer than a week or two at a time, and I've heard similar stories from friends and colleagues who have fallen off the Apple Watch bandwagon.
I'm trying to change that habit, however, and despite newer, smarter models, this old ticker still has plenty of life in it. In recent weeks, I've made more of an effort to not only wear the Watch daily, but also to dig deeper into its newer features, functionality, and style options—and sort out my charging routine. Got an Apple Watch that is collecting dust these days? Here are some ways to pump it full of fresh life and make it feel worthwhile again.
Get some new bands
It's the most obvious fix, right? Apple made it super easy to swap the bands on your Apple Watch, and has made a lot of money selling very nice (but very pricey) options. Early on, I didn't want to break from the official offerings—and after three years, I have three different Sport band colors and an orange nylon band. But given how much cheaper third-party bands are, and how well they compare to the real deal, I decided to give them another look.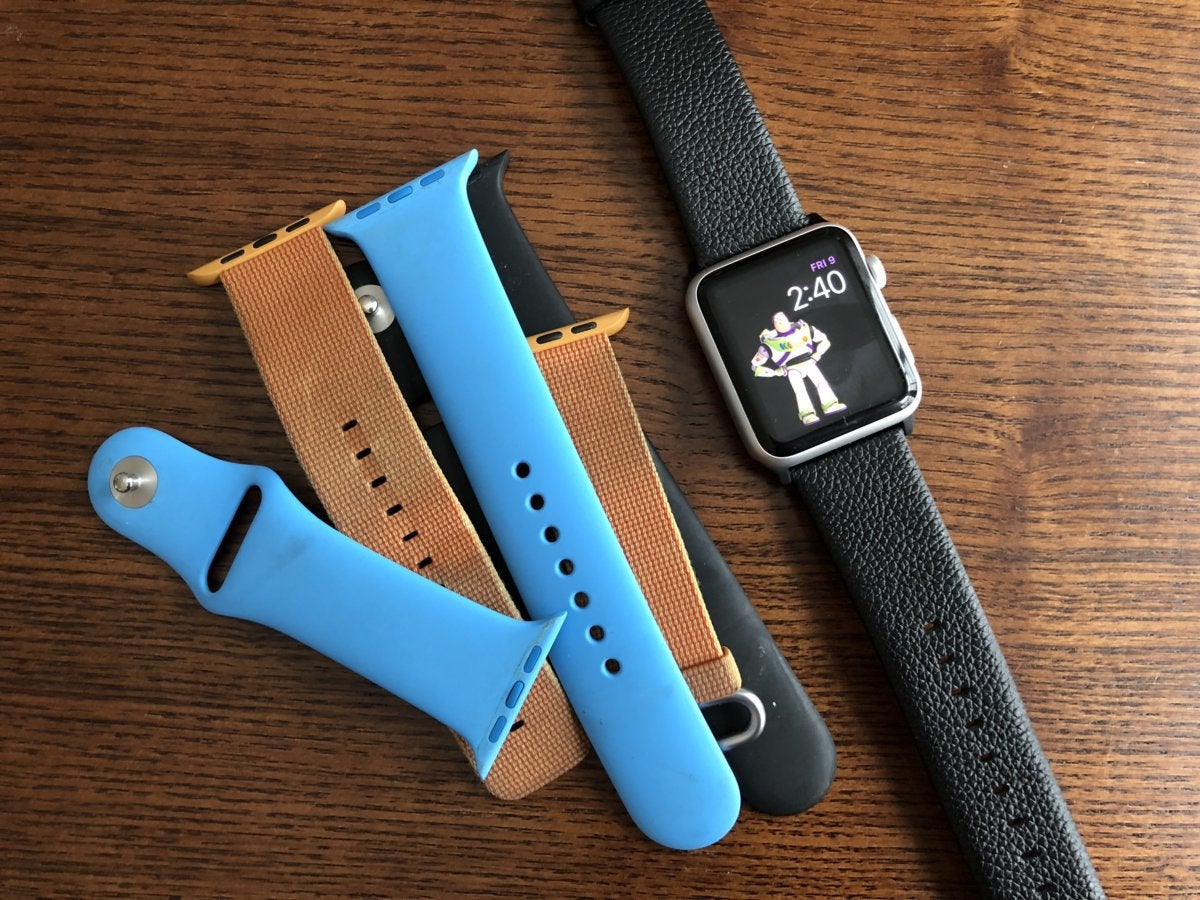 I recently ordered my first leather band: a black 42mm Fullmosa band that is impressively cheap at just $11 on Amazon. It's soft, comfortable, and pairs well with the Sport's aluminum body, all at a fraction of the cost of Apple's leather options. And it's a nice change of pace after mostly wielding silicone bands to date. Looking for off-brand suggestions? We have a few.
Update watchOS
If you haven't been using your Apple Watch regularly, then you might be a major version or two behind on watchOS. While Apple's wearable interface hasn't changed dramatically over time, it has added some helpful features that spice things up, make the Watch easier to navigate, and potentially provide reasons to use it more.
For example, last fall's watchOS 4 update brought some fresh watch faces, smarter Activity notifications, expanded fitness tracking abilities, a new list interface for apps, and even flashlight functionality using the screen. Get up to date via the Watch app on your iPhone and then take a few minutes to get familiar with the changes.
Try some fresh faces
As mentioned, watchOS 4 arrived with new watch faces that might grab your attention. The Siri face is a functional favorite, as it brings a news feed-like list of smart alerts, such as calendar events, traffic info, news stories, and contextually appropriate HomeKit commands. The Kaleidoscope face, meanwhile, is a super-pretty and customizable face that gradually spins through trippy animation, while the Toy Story face comes with three options—all of which feature slick CG characters from the films.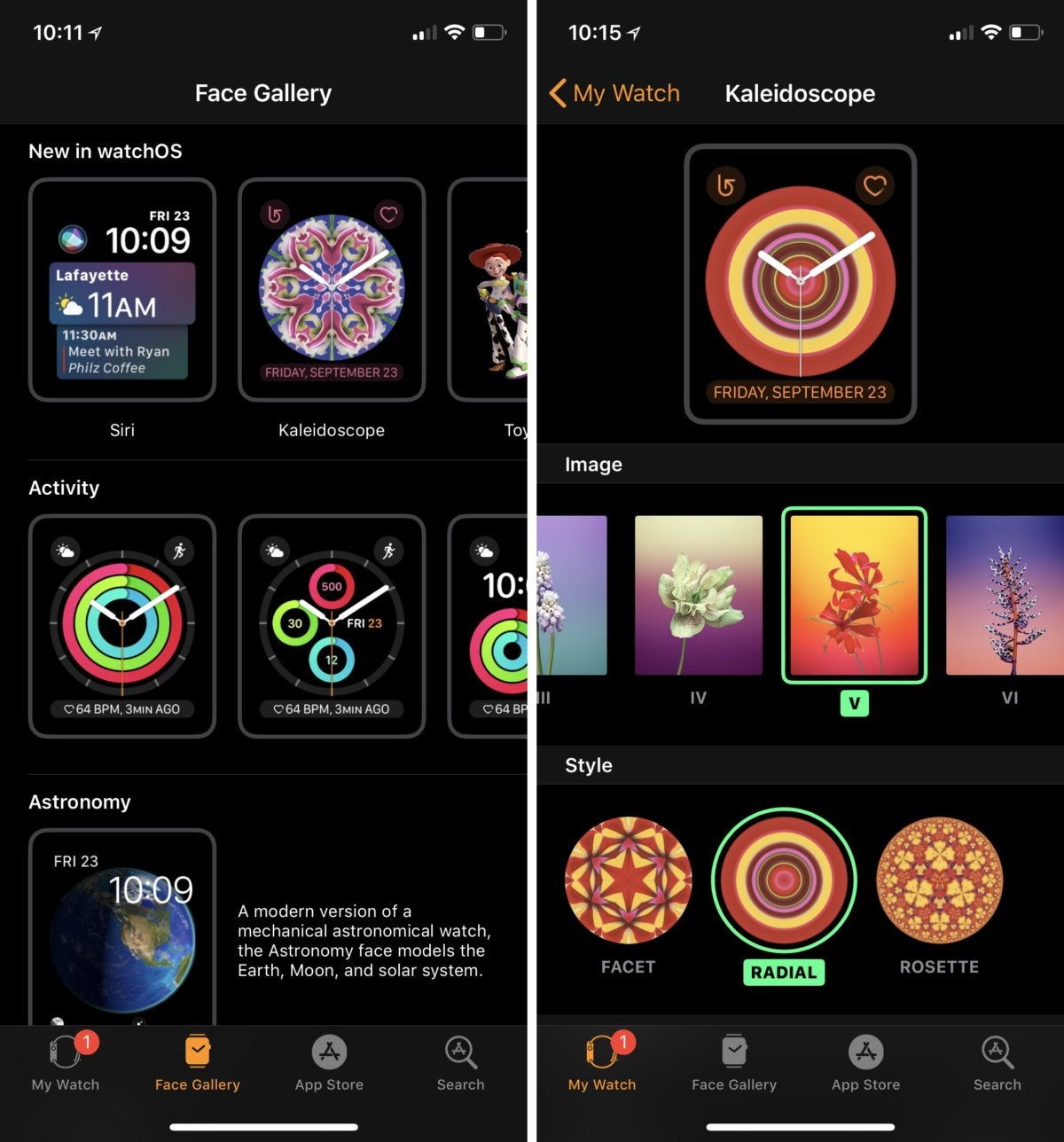 You'll find those faces and more from the Watch app on your phone, and it's the easiest way to flip through all of the built-in designs for Apple's smartwatch. Unfortunately, third-party developers still can't make their own faces, but Apple's selection is pretty solid. If you've been using the same face for ages, maybe now's the time to experiment with other options.
Explore complications
If you haven't played around with watch faces in a very long time, then there's a good chance that you haven't spent much time tweaking your complications—if at all. What are complications? While they might sound ominous, they're actually helpful: they're the little widgets that exist on every watch face, which can show things like the weather, the date, the battery life, or calendar events.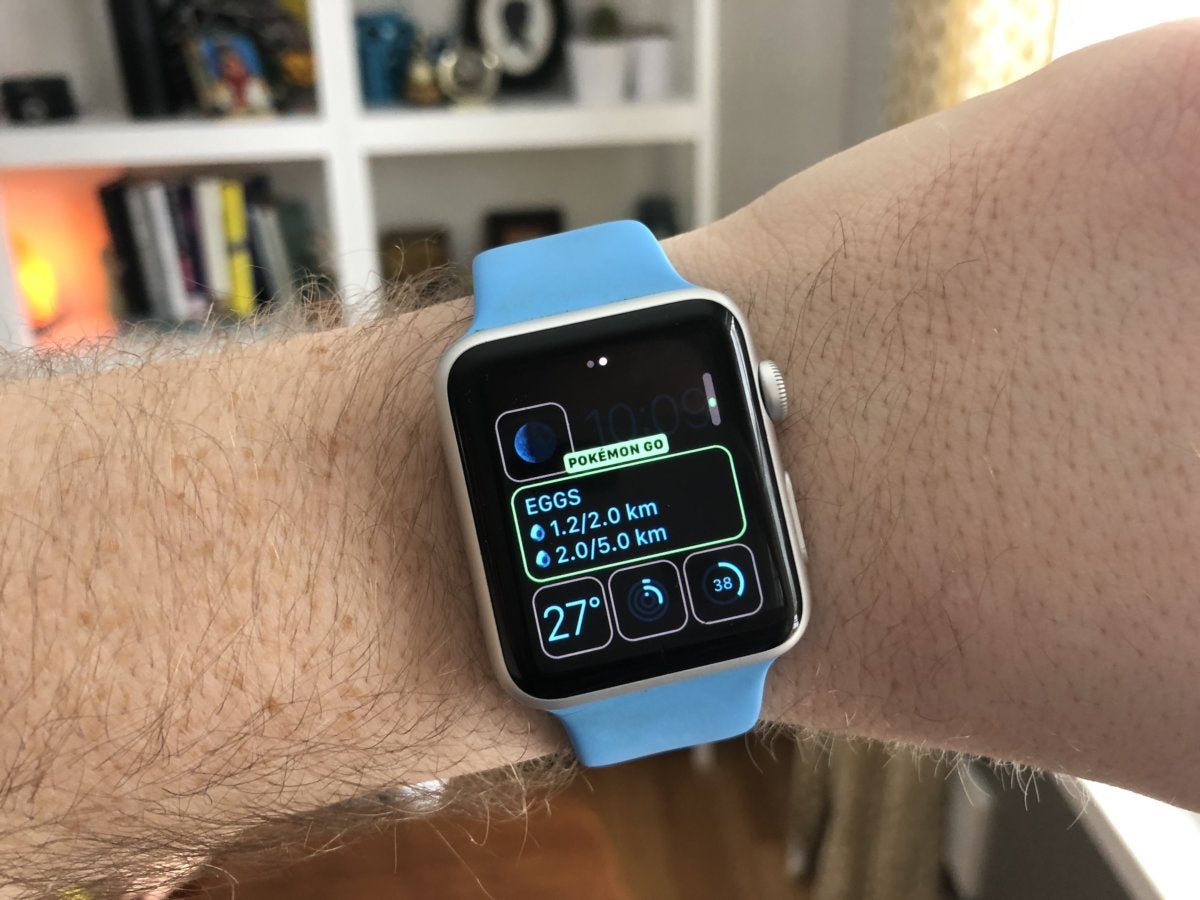 But there's so much more than just those basics, because unlike with the faces themselves, Apple has allowed developers to design their own complications. You can fill those gaps with a wide array of elements, such as commute estimates from ETA, common foreign language phrases from iTranslate, daily events from Fantastical 2, or even the remaining distance to walk to hatch eggs in Pokémon Go.
When swapping faces, tap the Customize button to see which complications are already on your Apple Watch thanks to your installed apps. Beyond that, have a look around to see what other widgets might be useful or entertaining.
Download apps and games
The idea of having apps on your wrist was enticing at first, but many of us quickly discovered that we don't actually want to spend a lot of time poking and prodding our watches. Why not just pull out our phones instead? It's a big reason why some companies have been removing their Watch companion apps in recent months—people just aren't using them.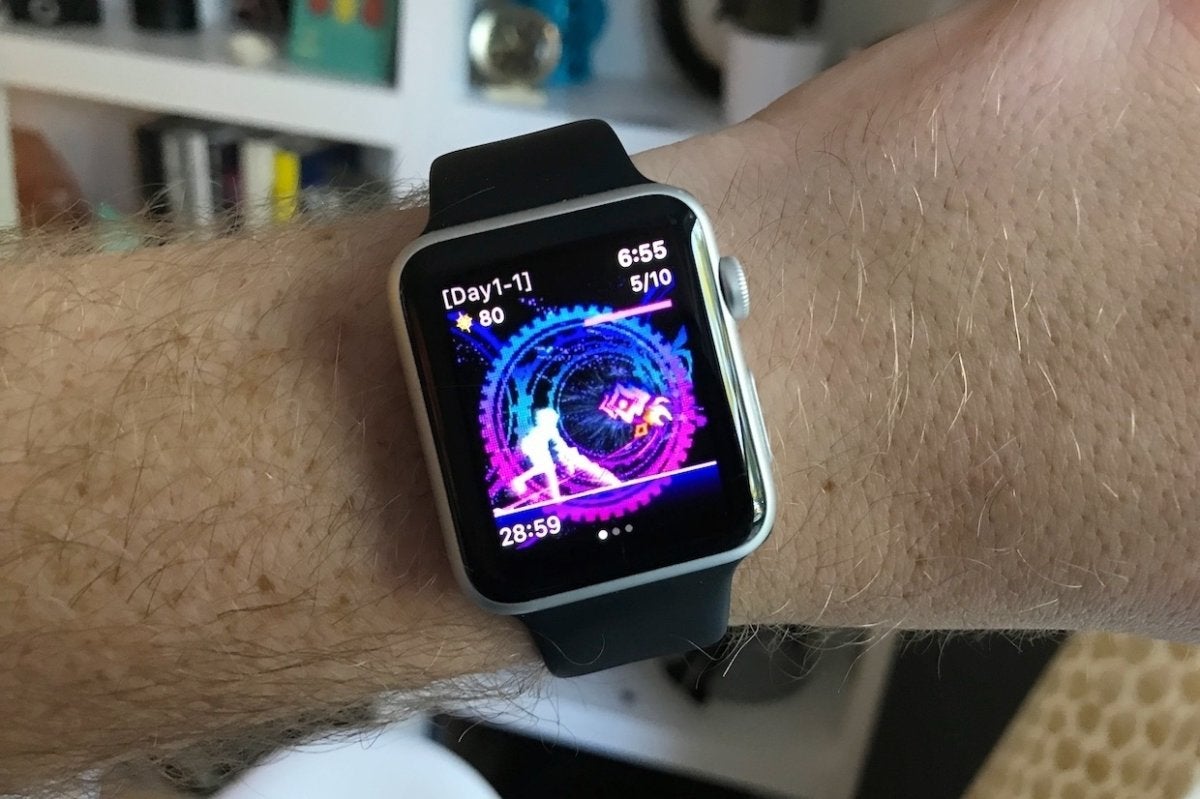 But some apps actually are worth having on your wrist for quicker interactions. Our friends over at Macworld U.K. have a full list of worthwhile options, such as Evernote for dictating quick notes or Calcbot 2 for speedy calculations—and fitness apps are a pretty perfect fit, as explored in the next section.
Also, while wrist-based gaming didn't end up being a big sensation, we've found some favorites on Apple Watch—such as Cosmos Rings (above), a stylish and surprisingly engaging role-playing game that you can play in quick spurts. You can browse around for more wearable app and game options via the Watch app on your iPhone.
Embrace its fit features
For many users, the Apple Watch's biggest hook comes from its fitness abilities—and they are numerous and have grown more useful over time. The waterproof Series 2 and Series 3 models bring along swim tracking and have their own GPS to boot, but even the original Apple Watch can do quite a bit to help keep you fit.
The Activity rings remain the Apple Watch's signature, ambient fitness feature, and as mentioned, they've become more nuanced and helpful over time. You can share your daily progress with friends for a little extra motivation, with coaching features and challenges also in the mix. The Apple Watch can also measure workouts, plus the heart rate sensor can keep tabs on your vital signs all the while.
Beyond the Watch's own native abilities, you can also dig into the App Store for further functionality. For example, Streaks Workout can generate quick workout routines on the fly, letting you simply glance at your watch screen for the next instruction. And Gymaholic can walk you through a gym routine without having to pull out your phone every few minutes. Take better advantage of the Apple Watch's fitness assists and you might find good reason to keep it on your wrist most of the time.
Consider how you charge
Honestly, one of my biggest hang-ups has been keeping the Apple Watch charged. That battery only lasts for about a day and a half, and too often, I'll go to put it on before leaving home and realize that it's dead. It's then that the Watch tends to get buried under papers on my desk or tossed into the drawer, shrugged off as inessential. I get along fine without it.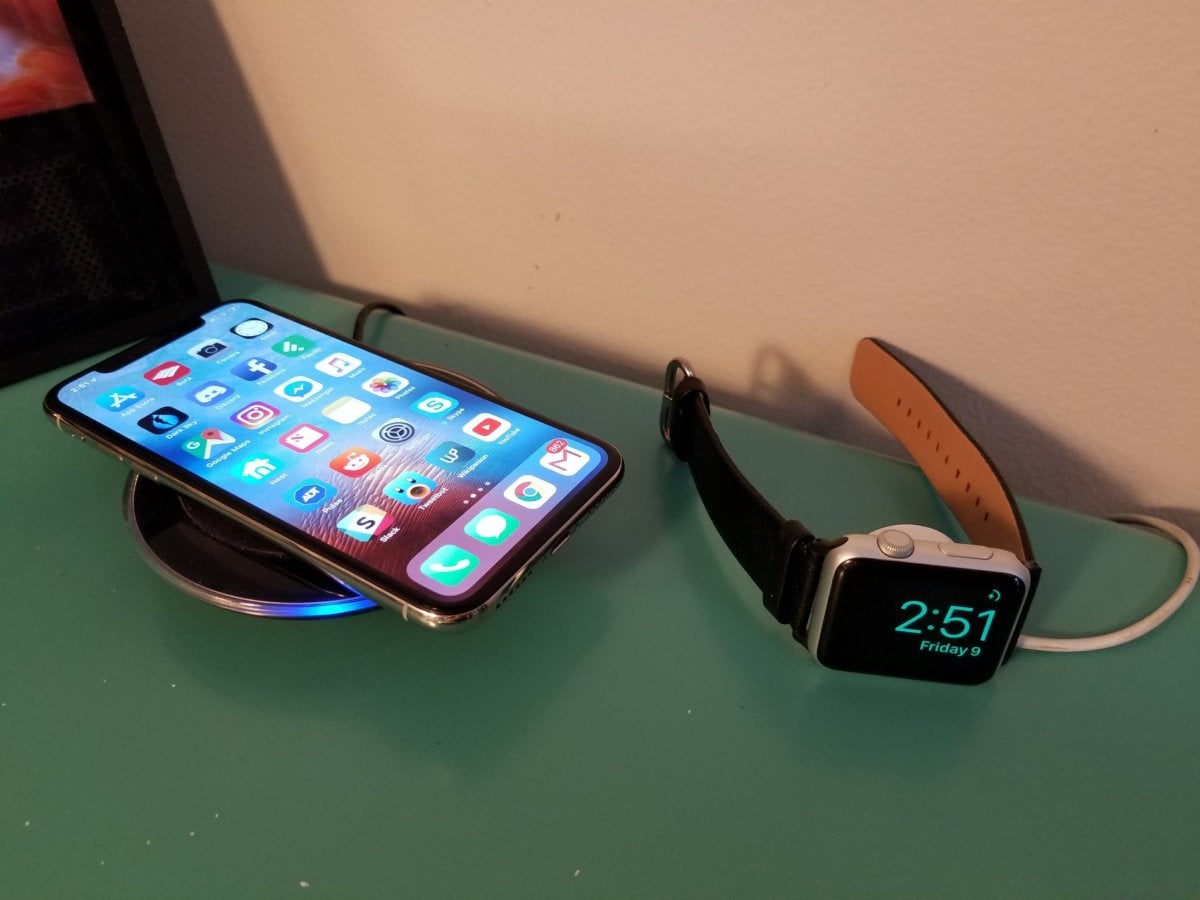 Sound familiar? If so, then you might want to consider how you really use the Apple Watch and when might be the best time to charge it daily. Many people charge it overnight alongside their phone, which makes a lot of sense—but I often take my Watch off well before my head hits the pillow. Instead, I've put the dongle on my desk next to where I have a wireless charger for the iPhone X, and I'm getting into the habit of just tossing both on their respective chargers while I'm working in my home office.
That said, I'm also tempted to grab a bedside dock for both the iPhone and Apple Watch—like Belkin's Valet Charge Dock—so I'm not just bound to the single charger in my office. Your own needs and routine may vary, but whatever they are, you'll need to find the best way to remember to charge every day or so. You won't get very far in trying to revitalize your Apple Watch if it's not ready to wear when you need it!