At a Glance
Expert's Rating
Our Verdict
Best Prices Today: MERGE Cube – Hold Holograms in Your Hand with Award Winning AR Toy for Kids – iOS or Android Phone or Tablet Brings the Cube to Life, Free Games With Every Purchase, Works with Merge VR/AR Goggles
Augmented reality got a nice jump-start from Apple's ARKit in iOS 11, which increased the visual quality and responsiveness of digital objects placed into your real-world view. But how about a physical object—one that you can hold, feel, and rotate—that can be transformed into almost anything via your iPhone's camera? That's what the Merge Cube has to offer.
As high-tech as that might sound, the actual Merge Cube itself looks and feels like a squeezable stress reliever, making it both durable and kid-safe. It's also impressively cheap—retailers like Walmart and Amazon have it for less than the $15 MSRP as of this writing. The Merge Cube is covered on all sides with shiny silver symbols, which help your phone track its position as you hold it in view of the back camera.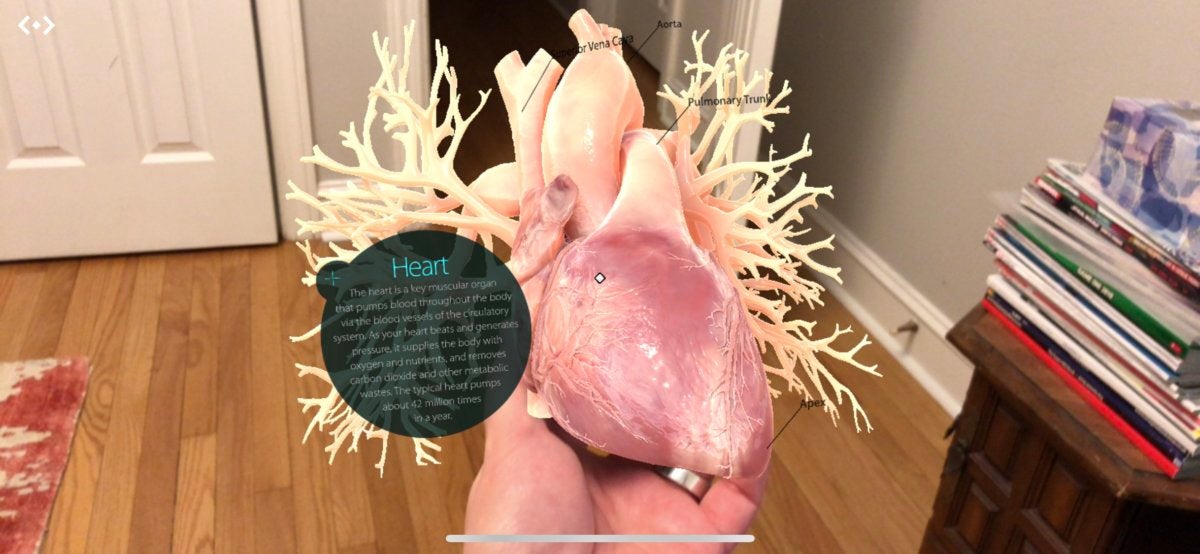 Once it's in your hand and you have a compatible app or game on your phone, that's when the magic happens. From the view of your iPhone screen, this silly little cube can become a planet, a human organ, or a Rubik's Cube, all of which you can fully rotate and examine on all sides. The Cube can also become a game world (as in the case of a Minecraft clone that lets you build and dig on all sides), or a choose-your-own-adventure narrative game that shows you a new part of the story as you rotate the Cube to a different side.
While the foam Merge Cube itself is designed as a toy and might seem a bit rinky-dink, the digital illusion is often pretty impressive. Examining the human lungs or the planet Mars in your hand is solidly convincing, and the graphics are typically steady even as you flip and rotate the cube in your hand. Interactions can be a bit awkward at times, though, especially when trying to tap the screen while holding the phone in one hand and the Cube in the other.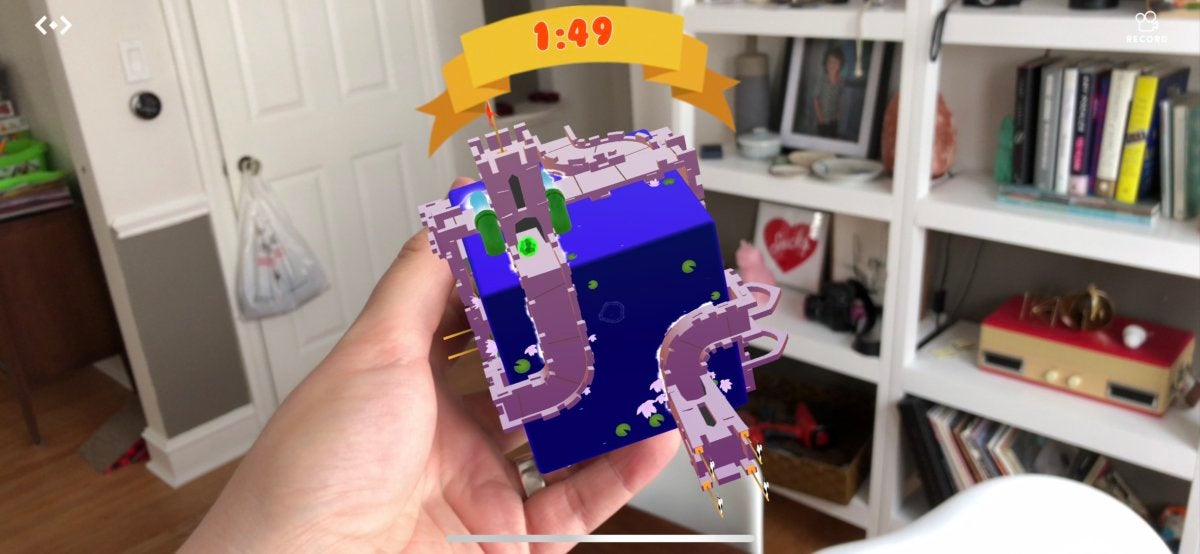 As of this writing, there are about 25 apps and games that support the Merge Cube, some of which are free and others that typically cost a couple dollars apiece. I enjoyed Tiltball, in which you rotate the cube to guide a ball around the maze-like levels, as well as the 3D storytelling of 57° North. The planet-viewing Galactic Explorer and organ-centric AnatomyAR+ were both amusing downloads as well.
For the most part, though, they all felt like diversions. Everything I tried was kind of cool at best; nothing truly enthralled me or kept my attention for more than a few minutes. The Merge Cube's target audience is 10+, however, and kids might find these digital creations quite a bit more interesting. But in my estimation, there's no killer app for the Merge Cube—not yet, at least. With luck, third-party creators will keep tinkering and dream up something great. There's real learning potential here, too, but at the moment the aforementioned space and anatomy apps are very superficial.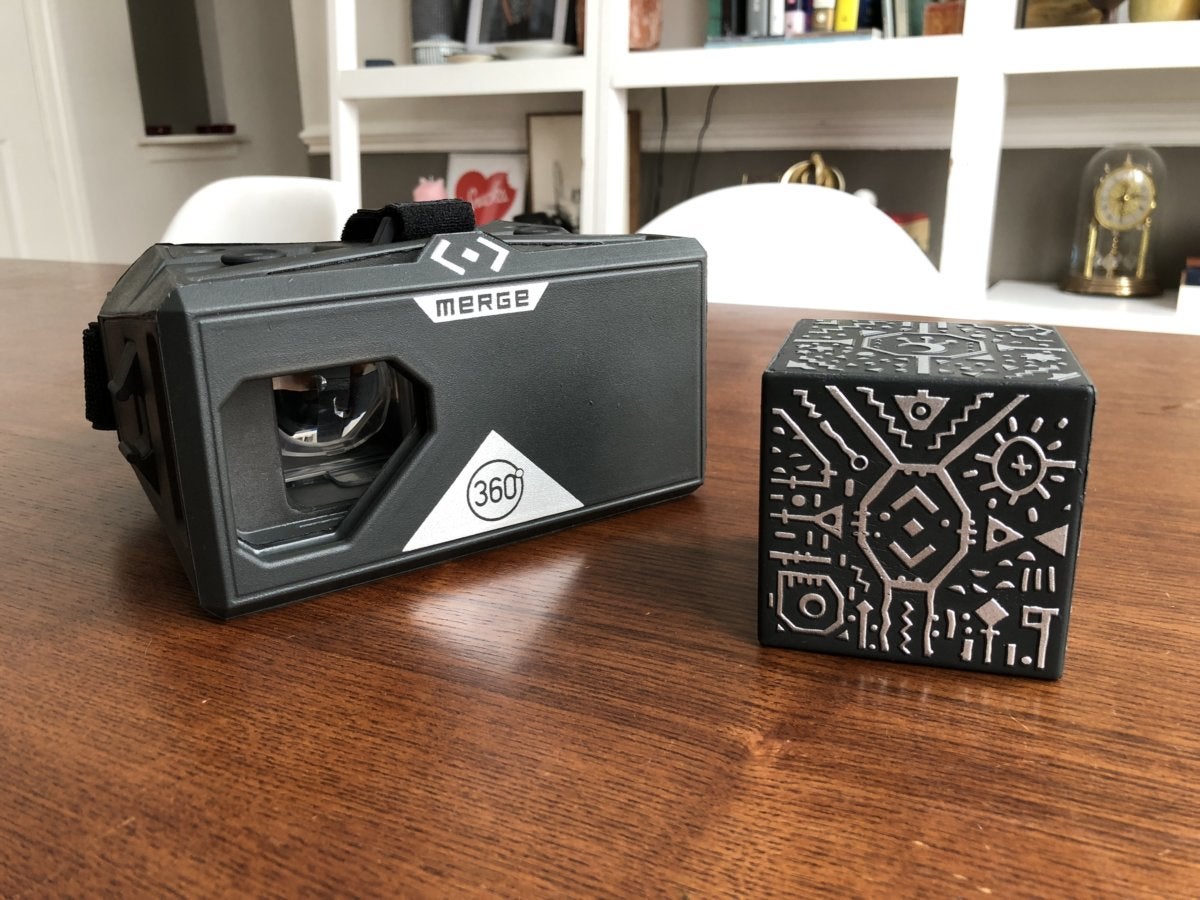 While the Merge Cube works well enough on its own via your phone screen, you can also strap on Merge's soft-foam VR Goggles to merge AR and virtual reality into a slightly more immersive experience. With the Goggles, you can freely look at the Cube without having to keep your phone in your hand, which makes it easier to interact with some of the games and apps. You can also use other smartphone-based VR headsets ( like Google Cardboard ones), so long as they have an input button.
Bottom line
The Merge Cube succeeds in making augmented reality feel a lot more tangible, even if it's just in the form of a kid-focused toy. Right now, the Cube lacks compelling content that stays interesting past the initial wow factor—but even so, younger users should get a kick out of it, and the low price makes it an easy pickup for your tech-curious kids.
Best Prices Today: MERGE Cube - Hold Holograms in Your Hand with Award Winning AR Toy for Kids - iOS or Android Phone or Tablet Brings the Cube to Life, Free Games With Every Purchase, Works with Merge VR/AR Goggles