Apple keeps improving iMessage synchronization across the many different devices that can be logged into the same account. (Seriously, it's gotten better.) While the previously promised iMessages in iCloud will finally arrive with iOS 11.3, (in which iCloud is used to sync you iMessages across all your devices) you likely saw improvements with the initial release of iOS 11 and macOS 10.13 High Sierra.
But even with better synchronization, Macworld reader Christian has a question about configuration.
If I use iMessage across Macs, iPhones, and iPads, what should I set as my reply address? My phone number or iCloud email?
First off, you can't per se select your reply address: iMessage seemingly always replies as if you're sending a message from the address at which you received it. You have to start a new conversation to select a specific address to use or your iPhone's phone number.
But in terms of picking what your consistent originating address is, it depends on how you've configured iMessage across all those devices. Some people like to have all the email addresses associated with the Apple ID they use for iCloud also set to receive iMessages as well as their iPhone's number. Other people prefer to split it up, receiving only messages intended for the phone number on an iPhone or on iOS devices.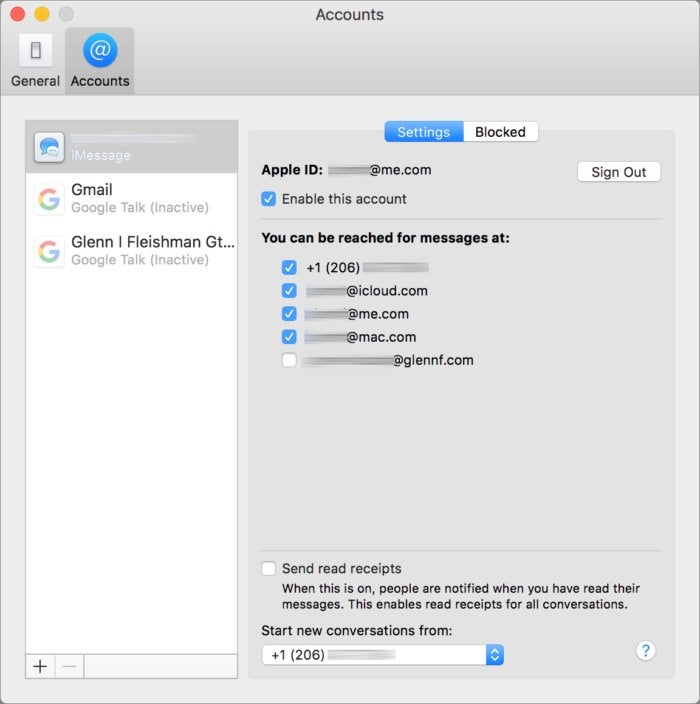 What I'd suggest is making sure to be consistent: if you really want to receive all iMessages everywhere, make sure you're configured on all your devices with all your points of contact, and then it doesn't matter what contact email or phone number you give out. The advantage of relying on a phone number is that you can receive text messages from people without iMessage, of course.
Configure which addresses and phones numbers you use for iMessage in iOS by following these steps:
Open Settings > Messages.
Tap Send & Receive.
Under You Can Be Reached By iMessage At (a verbose, but accurate description), tap the phone number and all the addresses you want active on this device.
Under Start New Conversations From, you can then tap to select your originating address.
On a Mac, follow these steps:
Open Messages.
Choose Messages > Preferences.
Click the Accounts tab.
From the You Can Be Reached for Messages At (inexplicably, a slightly different text label), check the phone number and other addresses you want.
From Start New Conversations From, select your phone number or an email address.
Ask Mac 911
We've compiled a list of the questions we get asked most frequently along with answers and links to columns: read our super FAQ to see if your question is covered. If not, we're always looking for new problems to solve! Email yours to mac911@macworld.com including screen captures as appropriate, and whether you want your full name used. Every question won't be answered, we don't reply to email, and we cannot provide direct troubleshooting advice.