Fitbit has taken the wraps off the newest members of its fitness-tracking family, and the new devices, called Versa and Ace, represent something of a new direction for the company. They're fitness trackers at heart, of course, but the core audience isn't dedicated athletes. They're for families. And not just dads either—the whole family.
Fitbit surely counts plenty of casual wearers among its 25 million active users, but most of the company's trackers are targeted at people who follow an athletic regimen. Versa and Ace are different. But while the Versa and Ace might look like cheaper versions of Ionic and Alta HR, respectively, the appeal here isn't just their lower prices. They're a recognition that Fitbit is no longer the only fitness game in town, as well as an admission that the company might have underserved two key demographics when it comes to creating lifestyle devices: women and children.
Versa isn't specifically built for women, but its smaller size and rose gold color option are clearly geared toward female wrists. And Ace is Fitbit's first wristband made specifically for kids. Of course, they're both packed with the things Fitbit does best—step and sleep tracking, notifications, and workout goals—but the approach here isn't just about feeling the burn. It's about reaching a user who wants a fitness tracker that understand and responds to their body, even if they rarely break a sweat.
The same features (mostly) in a smaller frame
At first glance, longtime Pebble fans might mistake Versa for an updated version of the Time watch. With a similar "sqircle" shape and bezel-heavy touch screen, the $200 Versa clearly takes equal inspiration from the Pebble Time of old and Apple Watch, as Fitbit has opted to stick with the square screen rather than a circular one. The body is available in three colors of aluminum—black, silver, and rose gold—with the same three-button layout introduced with Ionic.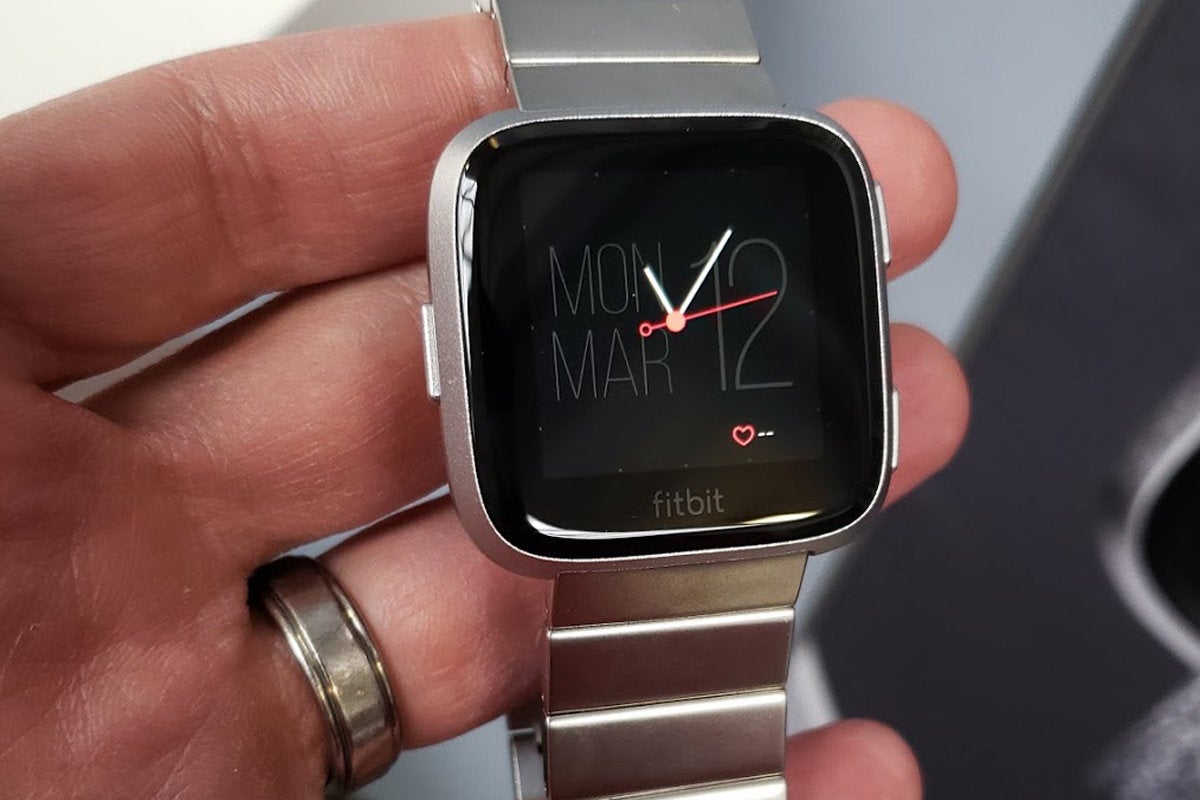 However, Ionic's masculine aesthetic is nowhere to be seen here. The screen has been shrunk from 1.2 inches down to 1 inch, and the bulky lugs that held the straps in place have been replaced with a standard pin mechanism. The smaller size means there's no onboard GPS, and the battery life is only four days (versus five on Ionic). You can take it swimming since its water resistant to 50 meters, but if you want NFC for payments, you'll need to buy one of the two $230 special edition models with woven bands. Fitbit blames the low adoption rate in the U.S. for limiting the feature to just two higher-priced models.
Mentioned in this article
Fitbit Ionic
Price When Reviewed:
$299.95
Fitbit is selling a variety of bands for Versa as well, ranging from the $50 Horween leather models to metal links commanding $100. It's also teamed up with PH5 to offer a special-edition knit band. There's a clear focus on fashion and personalization with Versa, and it has great style sense. Even if you choose the thickest band, it'll still look far sleeker than the ones made for Ionic.
But while Versa delivers a slimmer, smaller package less than six months after Ionic landed, at $200, it's just $50 less than Apple Watch Series 1. So looks alone aren't going to sell Versa. That's why Fitbit is using its new smartwatch to bring a little versatility to fitness tracking.
A new focus on women's health
There's no denying that Versa is a smaller, softer, and smarter device than Ionic. But while the new design will surely appeal to a wider cross-section of wrists, Versa is more than just a cheaper version of its larger sibling—it actually represents something of a philosophical shift for Fitbit. During the keynote on Monday, Fitbit's presenters spent very little time talking about pure fitness tracking and a lot of time talking about a decidedly less-comfortable subject: menstruation.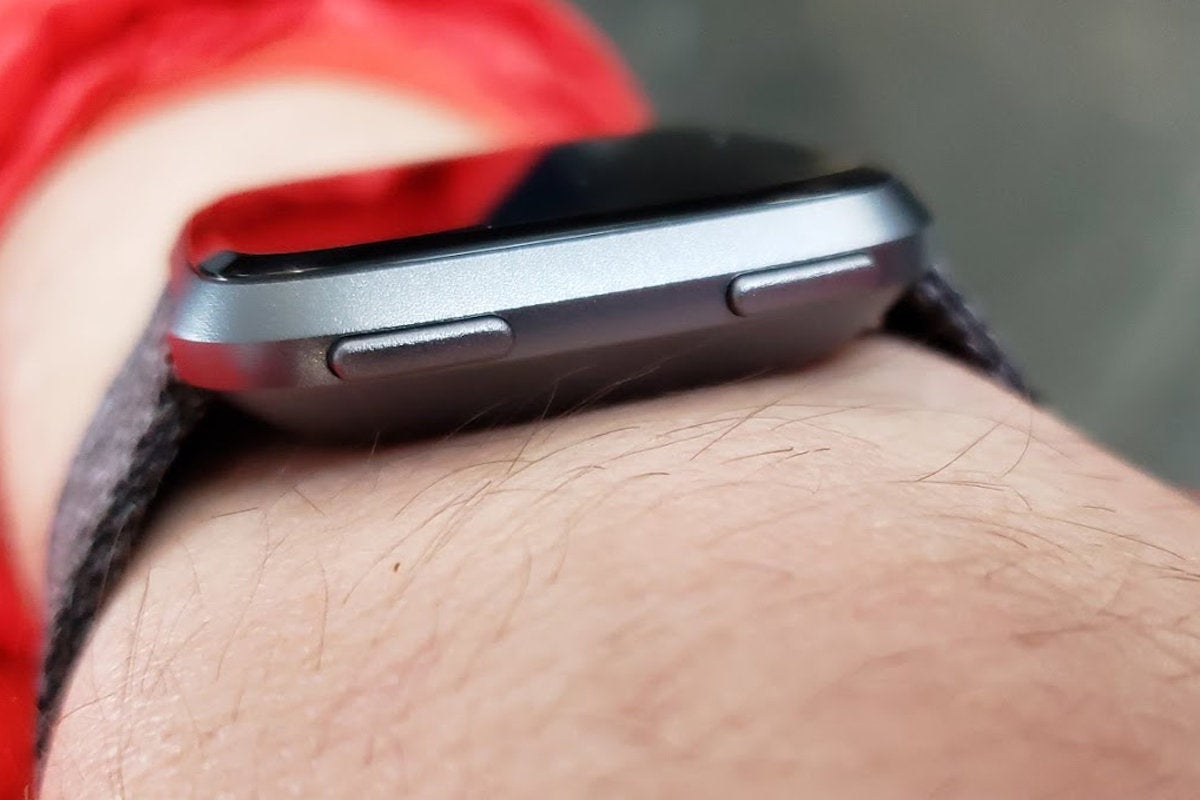 For the first time, Fitbit will be bringing period tracking and fertility into its fitness dashboard this summer, so women can not only track their cycle, but also see the effect it has on the rest of their health. By combining the data with the biometrics collected on Versa, women will be able to track their menstrual cycle via a calendar, log symptoms, and track trends and patterns based on biometrics. That data will then be delivered to Versa's new Today screen, which is available by swiping up from the bottom of the device.
An update will also bring the same functionality to Ionic, but it's hard to deny that Versa is Fitbit's first woman-focused device. It's one of the few smartwatches other than the 38mm Apple Watch to look good on smaller wrists, and the menstruation tracking brings a feature that isn't available on any other smartwatch without installing a third-party app. There's also an app for new parents, which will track feedings and diaper changes right on your wrist.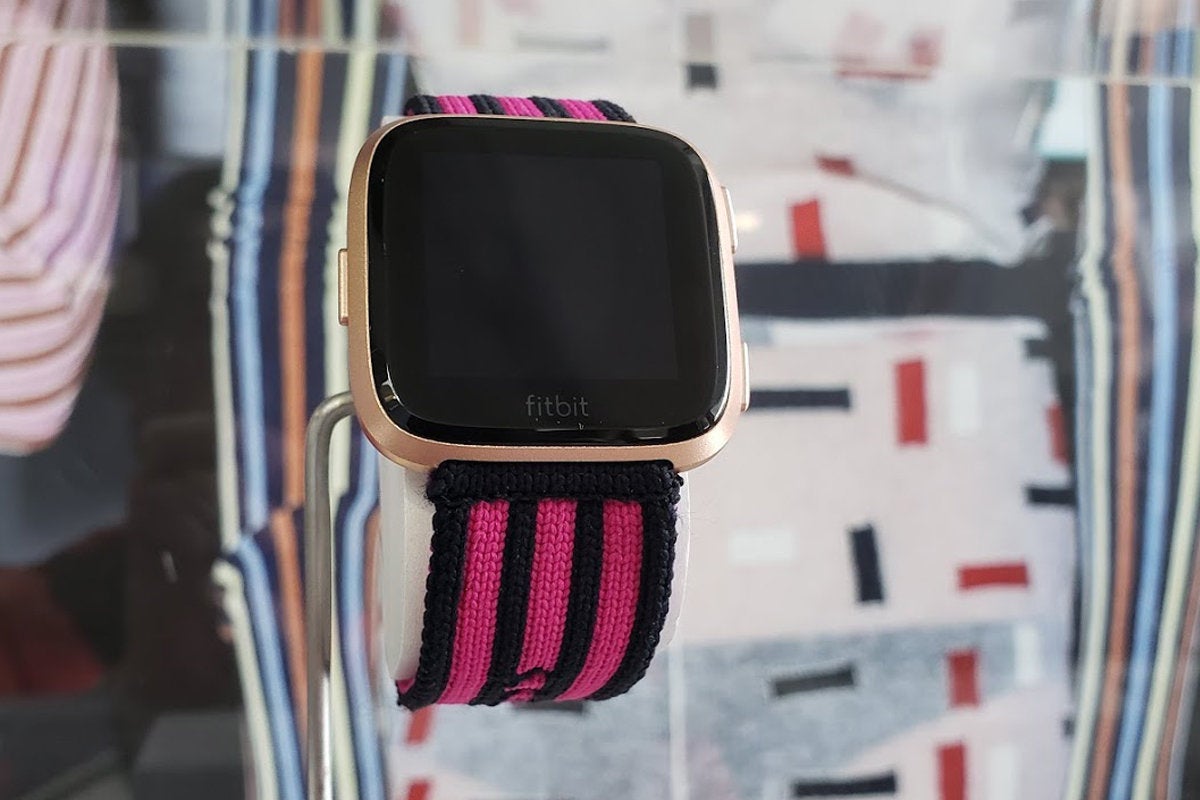 With Versa's sleeker design and softer colors, Fitbit seems to be targeting women who might otherwise buy a 38mm Apple Watch. Versa will still be a little too large and chunky for some very thin wrists, but it's nice to see a company other than Apple recognize that smartwatches shouldn't be one size fit all. But Fitbit's focus on women's health is the ground-breaking feature here, and I wouldn't be surprised to see Apple follow suit in watchOS 5.
The fun side of fitness
With Versa, Fitbit wants to bring the same level of fitness tracking that hard-core athletes crave to a lifestyle that might not include a daily exercise routine. And with that in mind, it's targeting even smaller wrists with Ace.
If women are underserved by smartwatches, kids are completely ignored. But as Fitbit points out, nearly 20 percent of kids are overweight due mostly due to a addiction to "screens," as in smartphones, tablets, and video games. By making a fitness band geared toward children, Fitbit wants to help encourage kids to be active and healthy without stressing or obsessing over it.
The first fitness wristband built specifically for kids eight and older, the $100 Ace silicone band tracks steps, sleep, and activity with badges and challenges designed to encourage kids to gamify their active lifestyle. It looks a lot like Fitbit's Alta HR band but instead of black it's available in two cool new kid-centric colors: electric blue and power purple.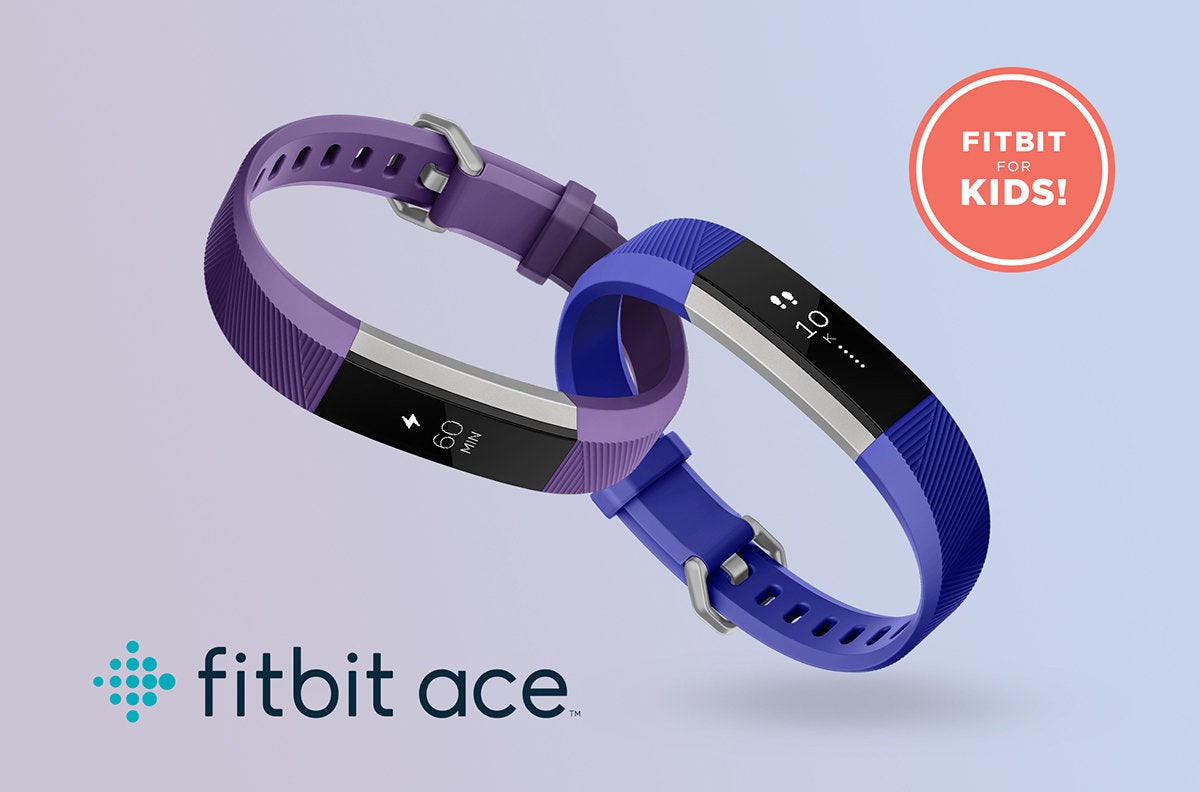 But Ace's best feature might be what it won't do. Fitbit is mindful that eating disorders often start young, and it wants to reward with Ace, not shame kids into working out or even train them to focus on anything but the fun side of being active, so it won't show calorie counting in the app. Kids also won't be able to access Fitbit's social network, and parents will be able to limit the data they see on their wrist. And coming soon, Fitbit will let families compete against each other in a new Family Faceoff feature. (All in good fun, of course.)
For concerned parents, think of Ace as more of a "pat on the back" device than a "you're being too lazy" one. As a parent, I could definitely see my son excitedly checking his Ace to see how many badges he earned for the day, and I think Ace could be a great way to help him understand the importance of exercise.
A new direction for Fitbit
When Fitbit launched Ionic last year, it was a smartwatch clearly aimed at Fitbit's core users: athletes. Its bulky, aggressive design was more at home on a treadmill than a runway, and features like NFC payments and music storage were more useful during a long run than a business trip.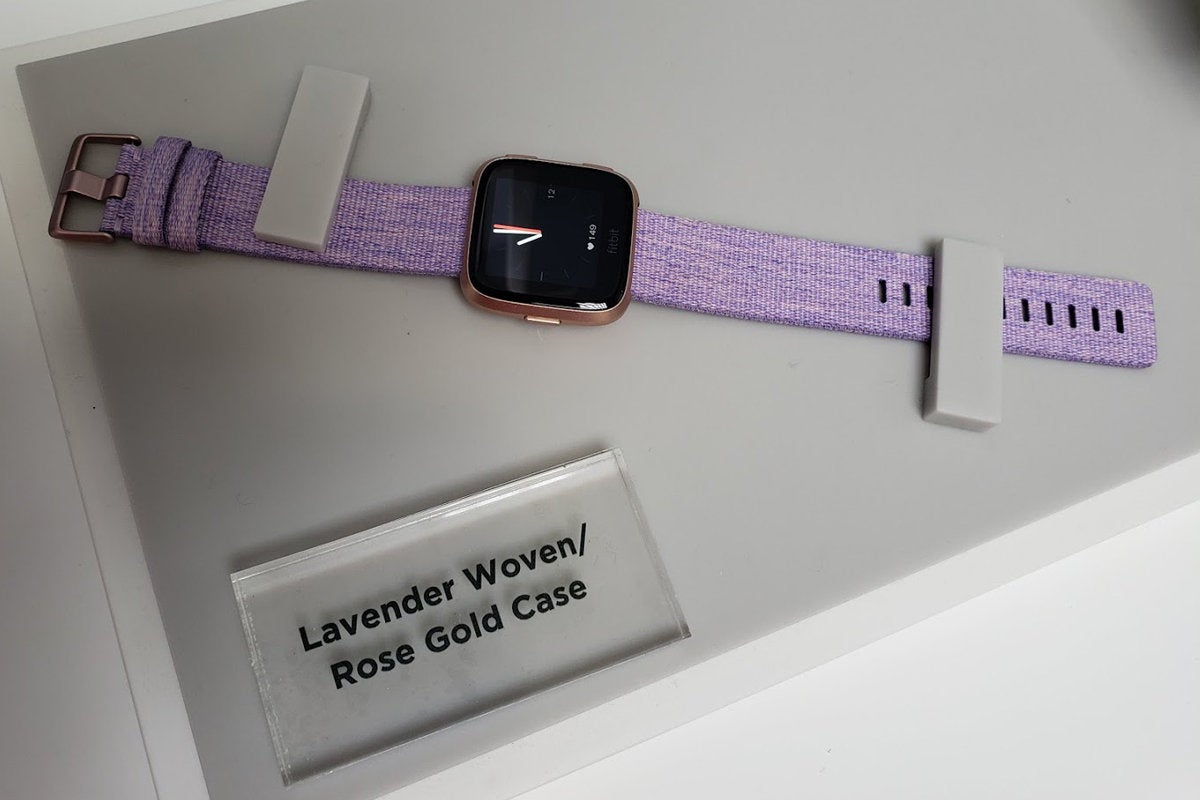 But Versa and Ace are different. Fitbit has built two devices that are geared at promoting a healthy lifestyle even if your only exercise routine is walking to pick up the kids from baseball practice. At its launch event yesterday CEO James Park said Fitbit's goal with its new lineup is to "win the family." Now women and children will have a Fitbit specifically geared toward their own bodies, the Versa and Ace just might make help that goal become a reality.
Fitbit Versa is available for preorder at fitbit.com beginning today. Versa is available in three color/band combinations for $200: black aluminum with a black silicone sport band, silver aluminum with a light gray sport band, and rose gold aluminum with a peach sport band. Two special edition models will also be available for $230 featuring woven charcoal and purple bands and NFC. Versa will hit shelves in April.
The $100 Ace band is also available for preorder today for shipping sometime in the second quarter of 2018.