When Apple launched its $329 9.7-inch iPad last year, it was a play for people who wanted to play with their tablets. With today's new update, Apple is showing that it's a great tool for work too.
That's because Apple is adding support for Apple Pencil to the entry-level iPad, letting users write and draw on their new tablet just like they can on the Pro models. With the same tilt support and pressure sensitivity, Apple has turned its cheapest iPad into a device that's darn close to the 10.5-inch iPad Pro, which costs nearly twice as much. Here are five reasons you might want to buy a $329 iPad instead of a $650 iPad Pro.
It has Apple Pencil support
The big news today is obviously support for Apple Pencil in the non-Pro iPad. Until today, Apple's powered stylus was arguably the biggest selling point for the iPad Pro, but now that you can use Apple Pencil to draw and write on the new entry-level iPad's screen too, there's less of a reason to spring for the higher-priced model. And since both models support the same $99 stylus, you'll be able to use the Pencil you purchase today on any future iPad Pros you may buy.
It's just as fast
Apple has bumped the processor in the iPad from an A9 chip to an A10 Fusion, the same chip that's in the iPhone 7. That's not exactly the same chip as the A10X that Apple uses in the iPad Pro, but consider this: At the time of their release, Apple claimed that the A10X had 30 percent faster CPU performance and 40 percent faster GPU performance than the A9X, while the A10 boasted 40 percent better CPU performance and 50 better graphics performance over the A9. Add it up, and the difference between the A10X iPad Pro and the A10 iPad will be negligible.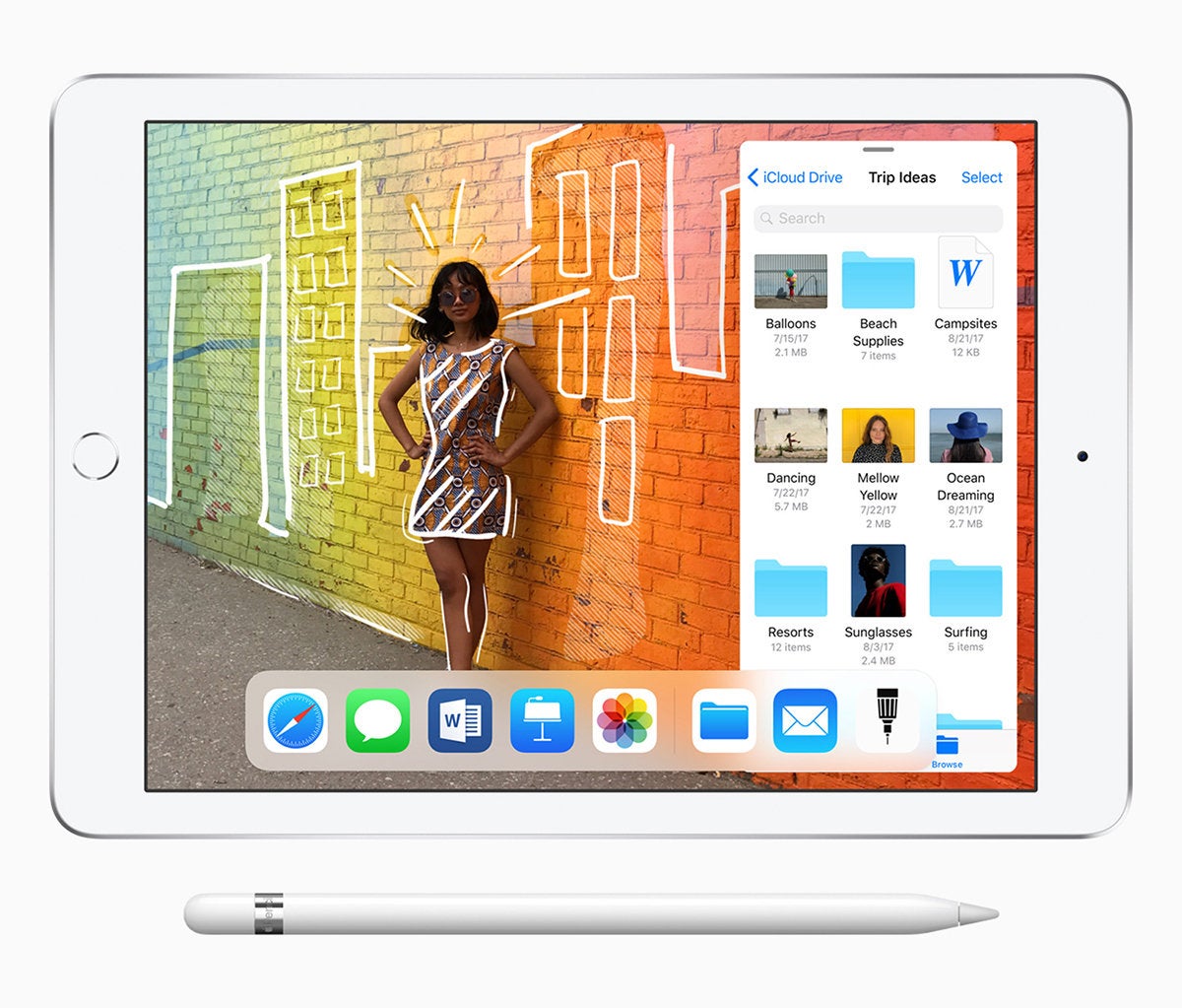 You can still use a keyboard
While it's certainly strange that Apple didn't bring over the Smart Connector that is used to attach the Smart Keyboard to the iPad Pro, you can still use a keyboard with your iPad. All you'll need to do is pick up a standard Bluetooth keyboard along with an Apple Smart Cover for propping purposes and voila, you have a very similar setup. You'll even be able to use the same keyboard shortcuts.
It's cheap enough to hand down to a kid
While the new iPad didn't get the price drop we were hoping for, $329 is still a great price for an Apple tablet. That's actually cheaper than the $399 iPad mini 4, which is running an outdated A8 chip. So if you buy one today and decide to upgrade to whatever new iPad Pro comes out later this year, you won't feel so bad about passing it down to your child or younger sibling.
It's just as good of a multitasker
In iOS 10 and iOS 11, Apple introduced a whole new way to navigate and multitask on the tablets, and you don't need a 10.5-inch Pro model to take advantage of it. With iOS 11 and the new 9.7-inch iPad, you'll still be able to use Slide Over, Split View, and Picture-in-Picture, as well as Drag and Drop and the enhanced Dock like a pro. And with the new A10X chip, switching between apps should be nearly instantaneous.
Which should you buy?
The 10.5-inch iPad Pro brings a slightly better chip (A10X vs A10), a bigger screen, and better display tech with ProMotion and True Tone. If those differences are worth $320 to you, then by all means get an iPad Pro. Otherwise, save your money and buy a 9.7-inch iPad. Or two.