When it comes to books, Apple seems to have lost the plot a bit.
Ahead of this week's education event, one rumor had the company unveiling a revamp in its iBooks Store and iBooks apps. But the event came and went with only passing mentions of ebooks. Recent betas of iOS 11.3 saw the iBooks app's name change to "Books," sparking further discussion that an overhaul was imminent, but the final release has kept the name as is.
There are still rumblings that Apple may be planning to make some changes to its ebook offering in the coming months. Late last year, the company reportedly hired an Audible executive (who had also formerly worked at Barnes & Noble) to head up the effort. But with Apple's latest event over and its next one a couple months away, it's bound to be a little while before we see any concrete changes.
One for the books
All in all, not much has changed in Apple's ebook efforts over the past several years. The iBooks Store chugs along doing its thing, without much in the way of attention, good or bad. That's not necessarily a surprise, given that Apple found itself facing the business end of the Department of Justice for price-fixing ebooks back in 2012.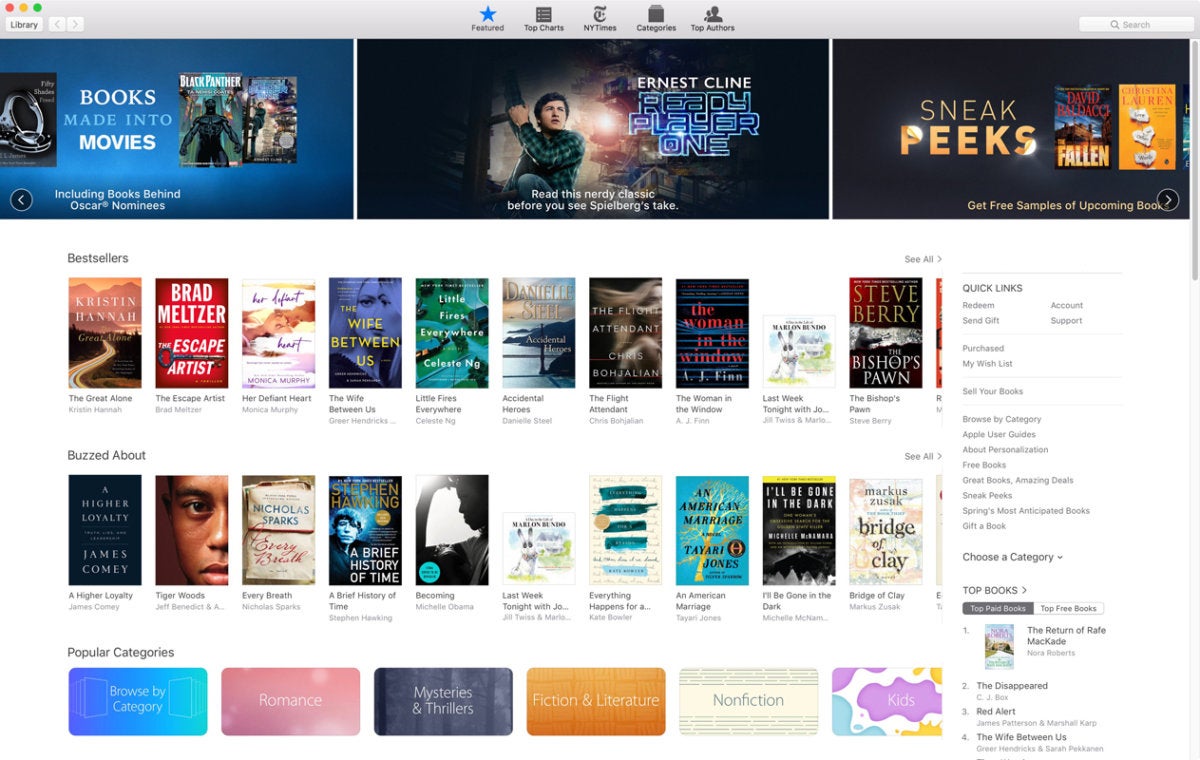 Since that decision, Amazon's grip on the industry has only solidified, with February 2017 estimates pegging its share of the ebook market at around 83 percent, while Apple's had actually declined to just 9 percent.
Apple is certainly no stranger to dealing with small market share—that's the story of the Mac in the '90s—but it's an unusual position for the Apple of today, especially when it comes to digital media. The iTunes Store ushered in the age of digital music, its movie and TV businesses is respectable, and the App Store is a blockbuster success. Ebooks, however, have proved a hard nut for Apple to crack.
But crack it the company should. Not just because it's an opportunity for Apple to make more money, but because the industry needs it. Badly.
This time, it's personal
As it happens, I've got some skin in this game. Because when I'm not covering technology, I'm writing novels. My first book, The Caledonian Gambit, debuted last year in print and ebook, and I've had nine months or so to experience the book business firsthand.
While I don't have explicit breakdowns of how many ebooks I've sold via Amazon versus from iBooks—and bearing in mind that I'm a sample size of exactly one—it's not hard to read between the lines and see that Amazon is the overwhelming player in the market. As one example, I've got roughly 30 times as many written reviews on Amazon as compared to iBooks. And given the fact that I'm probably disproportionately known amongst those who use Apple's ecosystem, I'd imagine my iBooks performance is better than the average writer in my position.
What's more, my book managed to actually hit number three on iBooks's U.S. Bestseller List for Sci-Fi & Fantasy while on sale last fall. I have to imagine the volume needed to do so is probably on the lower side for iBooks; I certainly didn't even remotely achieve similar heights on Amazon.
And, of course, purely anecdotally in my conversations with publishers, editors, and authors, Amazon comes up all the time in discussions of the overall market—both in terms of the benefits it can bring, as well as the threats it presents. Apple, by comparison, almost never even merits a mention either way.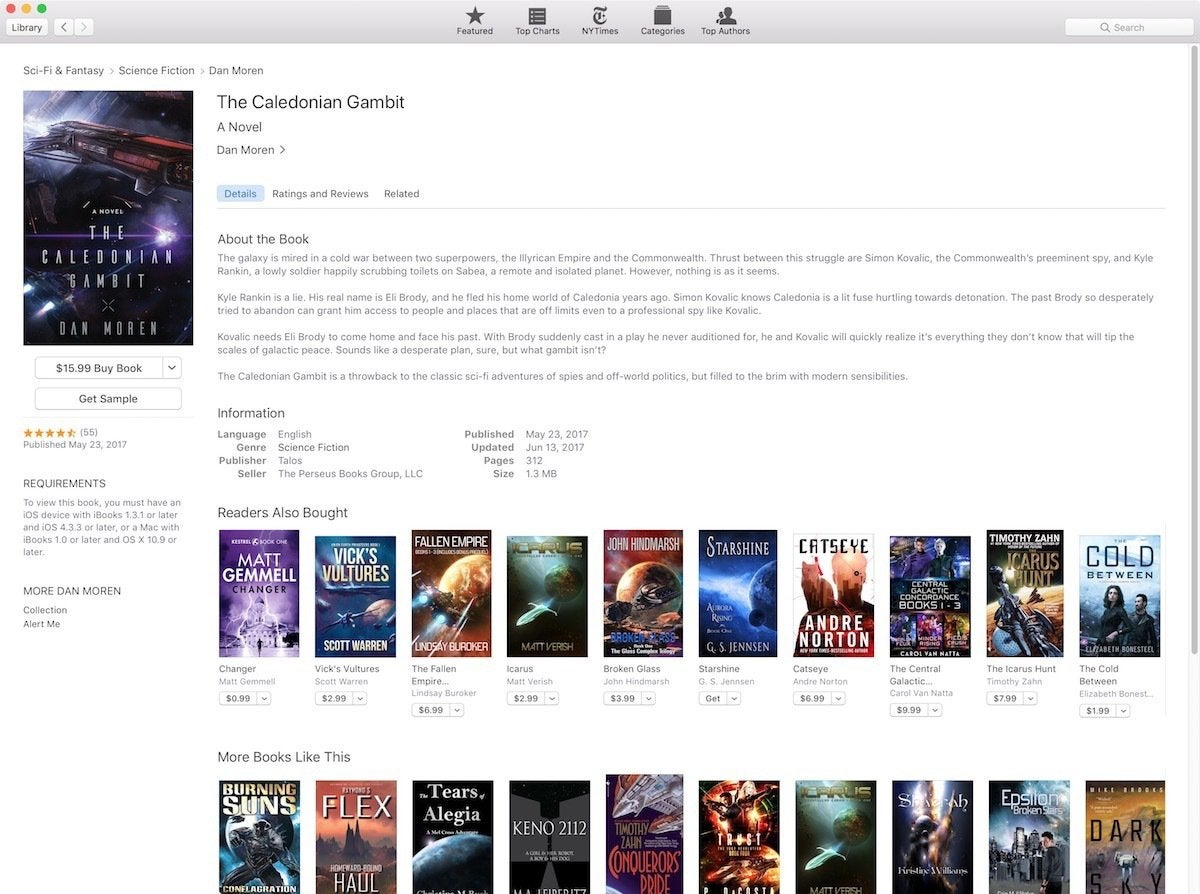 Books anywhere and everywhere
It's hard to point to a single area where Apple could make significant changes to iBooks in order to reverse their decline. Amazon is, after all, pretty entrenched in its leadership by this point.
In order to shake up the ebooks status quo, the impetus would probably have to come from the publishers. Which presents its own challenge, as it was collusion with the book industry that landed Apple in legal hot water in the first place.
But here, perhaps, the publishers could take a cue from their counterparts in the movie and music industries and loosen the reins a bit. While a few publishers have dropped digital rights management for ebooks, most have still held fast to keeping their content locked down. Much as I'd love to see DRM hit the road, as it did with music (at least in the pre-streaming age), I'm skeptical it will happen with books.
However, that's not the only approach to making electronic media easier to use and more platform-agnostic. The movie industry's Movies Anywhere initiative demonstrates that you can maintain control while still letting users have their choice of vendors and formats in which to consume the content they've rightfully bought.
I'd love to see a Books Anywhere style service, where purchasing an ebook—or perhaps even a physical copy of a book—from one vendor lets you get a copy on all available platforms. Personally, I'd gladly trade the few customers of my book who bought both iBooks and Kindle versions for more people buying the book because they don't have to decide which platform to read on.
And, more to the point, it might help shift the balance of power back towards the publishers. After all, Amazon has shown no compunction about getting into the publishing business itself, so publishers need to look out for themselves, their authors, and their customers.