Macworld reader Arthur is trying to download updates via the Mac App Store, but is stymied, because an Apple ID associated with the previous owner of the machine appears prefilled in the Sign In dialog and can't be changed. He wonders what to do.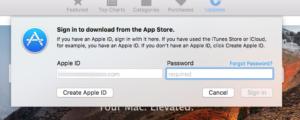 Apple associates app purchases with the account that made the purchase. This includes "free" apps, because such apps can have in-app purchases, which would also be associated. If you bought, inherited, were given, or found on the street a Mac that was previously owned and not wiped clean, you can wind up with apps installed that are registered to a previous user.
Because it's a design feature, not a bug, there's no way to get rid of this without deleting all the apps that were purchased or downloaded under that other Apple ID.
However, when you update individual apps, the login for an Apple ID other than your own shouldn't appear unless that app was purchased or downloaded by that other party. That could help you sort out which ones to remove. Or you could ignore updating those apps.
This can be a real problem with apps like Pages and Numbers, which are free for everyone with a Mac, but are registered to a specific user. You should be able to delete them and then re-download while logged into your own Apple ID account in the App Store, and the apps should then be registered to your Apple ID.
Ask Mac 911
We've compiled a list of the questions we get asked most frequently along with answers and links to columns: read our super FAQ to see if your question is covered. If not, we're always looking for new problems to solve! Email yours to mac911@macworld.com including screen captures as appropriate, and whether you want your full name used. Every question won't be answered, we don't reply to email, and we cannot provide direct troubleshooting advice.