It's been a rough year for Apple's batteries. After announcing a program to replace batteries in the iPhone 6 and 7 earlier this year, Apple has now launched a program to swap them out in the 13-inch non-Touch Bar MacBook Pro (affectionately known as the "MacBook Pro ESC" due to the presence of actual function keys). So if you have a laptop that's been dying out mid-way through your day or just noticed some performance oddities, you might be able to get your battery replaced with a new one. Here's everything you need to know about the new program:
What's the reason for the program?
Apple has said that a component inside "a limited number" of 13-inch MacBook Pro units could fail, "causing the built-in battery to expand." Apple did not specify which component was faulty or how it affects the battery.
That sounds bad. Is my laptop at risk?
Nope. While expanding batteries generally pose of risk of fire or explosion, Apple assures that this isn't a safety issue.
What models are included?
A pretty small amount actually. First, only non-Touch Bar models manufactured between October 2016 and October 2017 are affected. And among that group, only some of the units manufactured during that time are affected by the issue.
How do I know if my MacBook is eligible?
You can check your serial number on Apple's site here.
How do I find my serial number?
Click on the Apple logo at the top left of the menu bar and go to About this Mac. You'll see your serial number in the window that appears. From there, you can copy it and paste it into the search bar on the support page.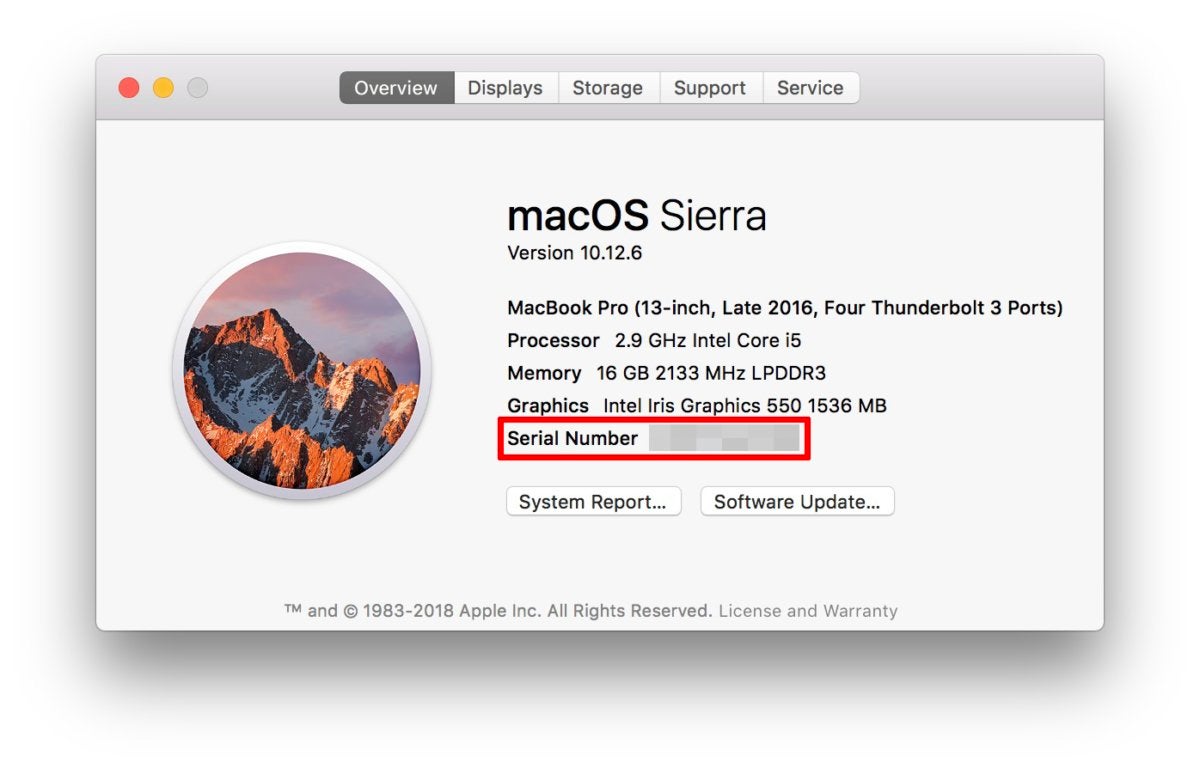 OK, my MacBook is one of the affected units. Now what?
You'll need to take it in far repair in one of three ways:
Make an appointment at an Apple Store.
Make an appointment at an Apple Authorized Service Provider. You can find a list of service providers in your area on Apple's support site.
Mail your MacBook to the Apple Repair Center.
As always, make sure to back up your data before sending your MacBook in for repairs.
How long will it take?
Since the program is limited, wait times shouldn't be nearly as long as they are with some iPhone 6 models. Apple estimates service time is 3 to 5 days, though it could be longer depending on the availability of batteries.
How much will it cost?
Nothing. However, Apple notes that if there is prior damage to your MacBook that "impairs the replacement of the battery," the service technician may need to fix that problem first, resulting in a possible charge.
Will my warranty be extended?
Unfortunately, no.
How much time do I have to get it fixed?
Apple hasn't put a specific expiration date on the program, but it does say that the program covers affected MacBook Pro models for five years after the first retail sale of the unit. So that means Apple will replace batteries until sometime in 2022.