Apple on Tuesday released updates to iOS and macOS High Sierra that patches a few security holes. The macOS High Sierra update (which retains a version number of 10.13.4) only contains security patches. The iOS 11.3.1 update also addresses an issue where touch input didn't work on iPhone 8 models that were repairs using "non-genuine replacement displays."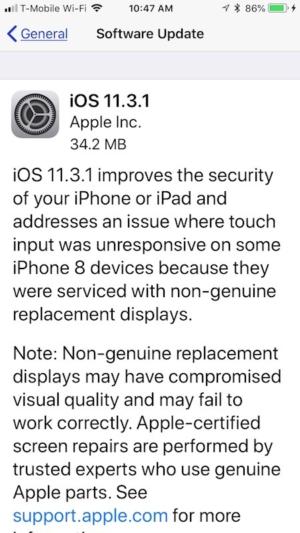 Apple has released support documents for iOS and macOS that details the contents of the security patches. According to the document, a memory corruption issue in Crash Reporter and a spoofing issue with LinkPresentation are both fixed. The updates also include WebKit patches for Safari in both iOS and macOS.
How to install iOS 11.3.1
An internet connection is required to install the update.
Open the Settings app.
Scroll down to General and tap it.
Tap Software Update.
iOS will check for the update online. Scroll down and tap Download and Install. The update is 34.2MB. Your phone will restart.
How to install Security Update 2018-001 on macOS 10.13.4 High Sierra
You must have macOS 10.13.4 to install Security Update 2018-001. If it's not installed, you'll need to update to that version first. You can update to version 10.13.4 by launching the App Store app, and then click on the Updates tab. Press Command-R on your keyboard to refresh the list of updates available. An internet connection is required to install the update.
If you already have macOS 10.13.4, you can install the security updates through the App Store.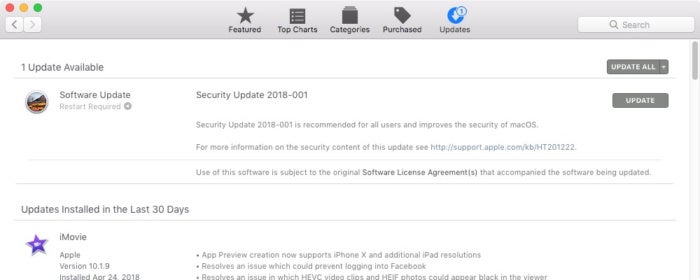 Note: When you purchase something after clicking links in our articles, we may earn a small commission. Read our affiliate link policy for more details.
Roman has covered technology since the early 1990s. His career started at MacUser, and he's worked for MacAddict, Mac|Life, and TechTV.