Between Pixar, Marvel, Star Wars, and its own immense library, Disney houses one of the most robust collections of characters and entertainment franchises in the world—and even a small fraction of those is enough to give the new Disney Heroes: Battle Mode a strong initial hook.
Disney's free iOS and Android game (out today) is a crossover action/role-playing game focused on a chunk of more modern Disney and Pixar heroes, including The Incredibles, Judy Hopps and Nick Wilde from Zootopia, Wreck-It Ralph himself, Buzz Lightyear and Jessie from Toy Story, and even Jack Sparrow from Pirates of the Caribbean. All told, there are 25 different characters to collect and add to your team, which you'll use to pummel cartoonish bad guys.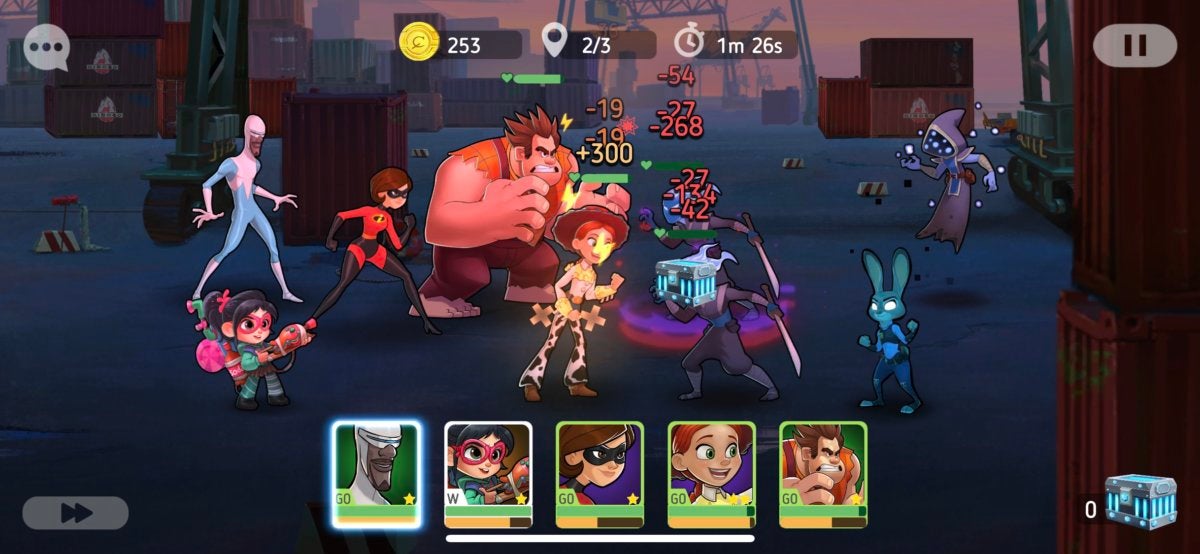 Even the premise seems well-suited to 2018. Disney Heroes takes place within a digital city filled with glitchy, rage-fueled versions of the same heroes you command, and you'll have to battle through them to try and uncover the problem and restore them to their rightful state.
Along with the family-friendly look and writing comes a style of gameplay that's truly suited for just about anyone. You don't have to be familiar with role-playing games to jump into this one. You'll simply compile a team of up to five heroes, and then tap a spot on the campaign map to enter a brief battle against multiple waves of enemies. From there, the game more or less plays itself. Fighters on both teams automatically attack at set intervals, and the only thing you'll ever need to do is tap a hero's icon to launch a special move once it's charged. Even that process can be automated if you please!
Unfortunately, that's been the main rub in my early hours playing a pre-release version of the game: There's very little to Disney Heroes beyond the fun concept and great aesthetic. Amassing enough character pieces to build new heroes and add them to your party is compelling, but mostly the game feels like a mindless grind and a total numbers game. You can either run through hundreds of identical-feeling, self-executing battles to upgrade your heroes, or you can spend a potential heap of money to speed things along.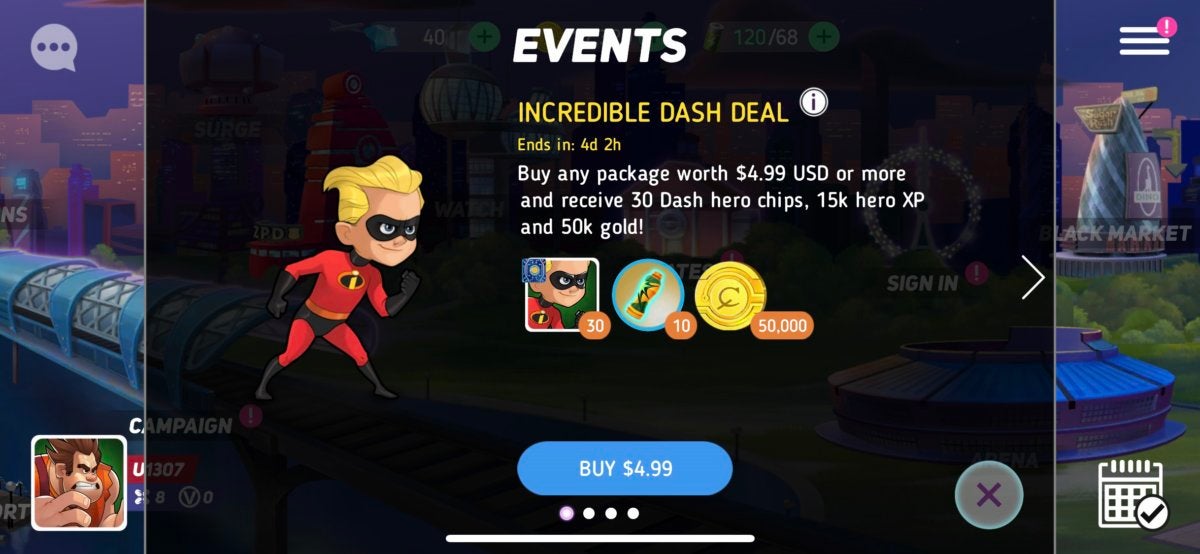 It's the same kind of skin-deep dilemma that sunk the recent Harry Potter: Hogwarts Mystery. Disney Heroes is plenty cute and appealing on the surface, but ultimately it feels like a business model dressed up as a game. Disney's effort doesn't seem quite as cynically built as that clunker, but between the myriad in-app purchase options and the energy system in play, you'll probably feel prodded to spend cash at some point.
I'm not convinced that there's even an incentive to invest real money: Across dozens of battles so far, it's just been the same thing over and over again. Paying for perks might help you quickly overcome a tough hump, but there are sure to be more brick walls ahead once the game ramps up in difficulty—and if the gameplay never evolves, expands, or becomes more exciting over the long haul, then what's the point in spending cash? But if you treat Disney Heroes: Battle Mode like a breezy, freebie diversion, you might eke some lightweight fun out of it.