At a Glance
Expert's Rating
Pros
Trim Silence seamlessly removes pauses
Solid set of features at the free tier
Reasonable subscription price relative to what's offered
Inbox "triage" approach lets you pick podcast episodes efficiently
Cons
Missing app-wide text search
Poor podcast recommendation and discoverability
Our Verdict
Updates to an already strong podcast app competitor add silence trimming, night mode, and a rewritten voice enhancer, but also a subscription fee.
Best Prices Today: Castro 3
As podcasts popularity continues to grow, the apps used to listen to those podcasts have matured. Apple offers its own free Podcasts app, but several freemium and paid options remain, each with their own approach and options. Supertop's Castro stands out for its inbox approach, which allows triage for dealing with an abundance of podcast subscriptions.
The new Castro 3 adds requested features to the app, including a trim silences option (long available as Smart Speed in the competing Overcast app), as well as better chapter support, a rewritten voice enhancer, and per-podcast settings for several controls.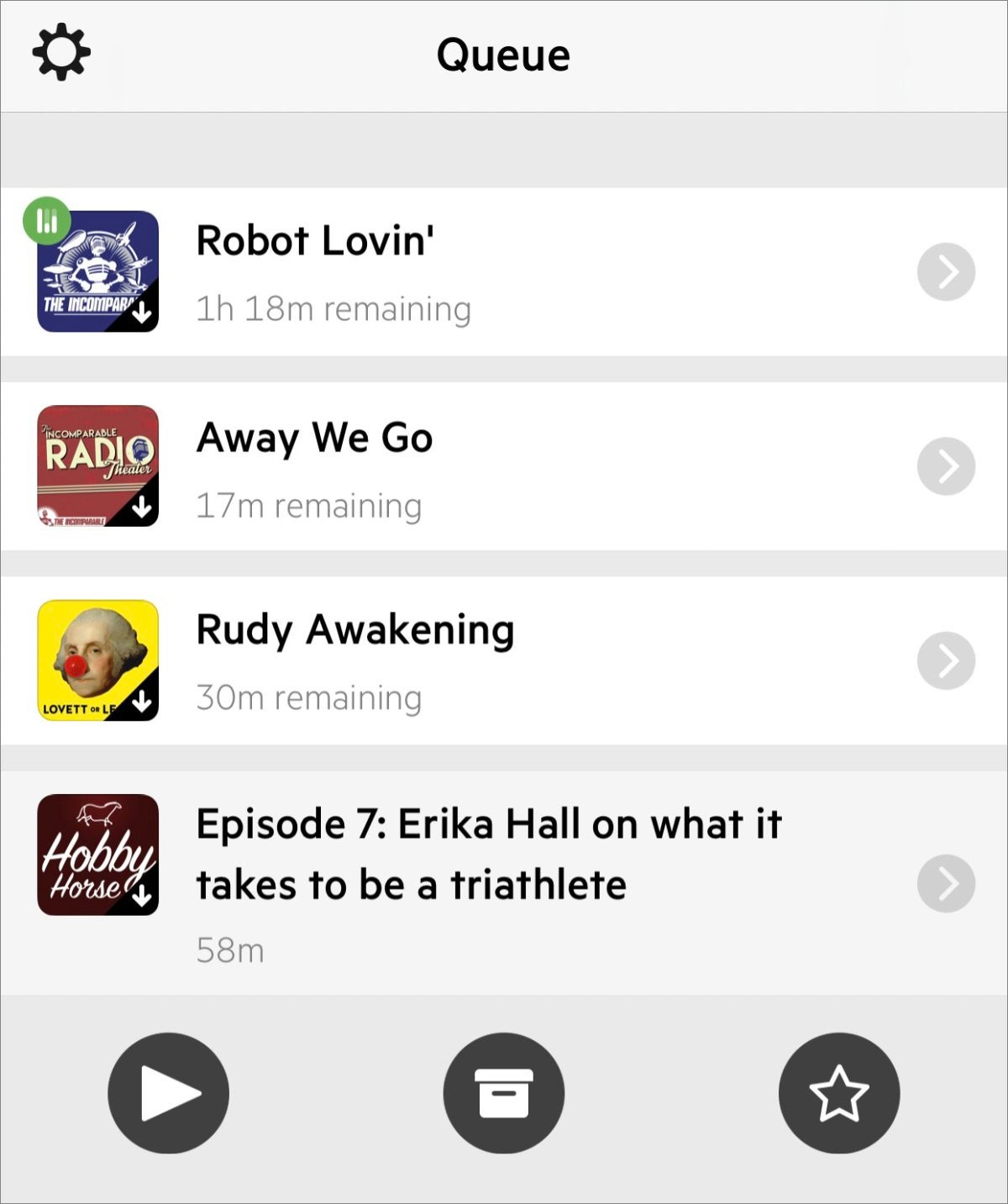 But Castro 3 also comes with a new business model. While Castro 2 was a one-time paid app ($5), the new release is free, offers a Watch app, and includes all of Castro 2's features with one exception. To get enhancements described later in this review, you have to pay $9 a year or $3 a quarter; both subscriptions start with a 7-day free trial.
This isn't a surprising move, because Apple hasn't evolved the App Store model, which is particularly bad for developers who keep their products fresh and routinely produce significant new versions. Subscriptions have largely evolved as the response. Overcast 4 is free, but offers a $10 a year in-app purchase to remove ads. Pocket Casts is $4, but it was recently purchased by a consortium of NPR, public radio stations, and the production company for This American Life, making change likely. Downcast is $3.
Castro 3: New features
This upgrade deserves a full version number—while the app retains its approach from the previous release, it adds significant features and improves a few key aspects of its design.
Castro offers podcast triage as its primary orientation towards dealing with subscriptions. While other podcasting apps rely on timeline of new episodes from shows to which you subscribe—some offering a jump-the-queue prioritization for podcasts you select—Castro focuses on the inbox/queue/archive split. The inbox is more like notifications of new episodes, while the queue is an active playlist. The archive retains listings (but not files) for episodes you've already listened to or passed by, as well as letting you view the past episodes for given shows and manage subscription options.
For each subscription, you can opt to have new episodes drop into an inbox or at the top or bottom of the queue of episodes that will play in order. If in the queue, the episode is downloaded according to the network rules you set; if in the inbox, it's not. I mark shows I almost always want to hear to drop into the queue, and I review episodes individually in the inbox for others that I dip into. Holding down on the Inbox button at the bottom of the display brings up an Archive Episodes button that lets you wash away your guilt at what remains there.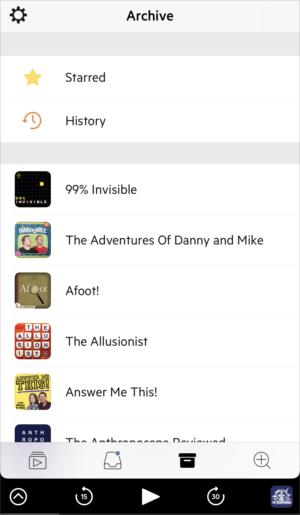 With that structure the same, Supertop improved on other aspects of the app, adding features and revising weak elements, including nearly everything I mentioned in my Castro 2 review in August 2016.
The biggest lacuna was a counterpart to Overcast's Smart Speed, which dynamically removes silences in spoken-word podcasts without distorting playback. Some people prefer to speed up podcasts, but Castor's Trim Silence option offers real competition with Smart Speed. Even with careful listening between regular playback and episodes with silence trimming enabled, I can typically not here the removed pauses. As with several settings in Castro 3, you can choose which podcasts have the feature turned on or off: some, you want hear the space between the notes, as it were.
In addition to Trim Silence, Castro 3 rewrote its voice enhancement option, which can boost and normalize talking, useful on some podcasts that aren't mixed well, or for those that are in some loud or challenging listening environments. A Mono-Mix option also helps for some people, episodes, or circumstances by converting stereo episodes to mono only. Castro also offers an intro-skipping option, which lets you automatically skip a defined amount of time per podcast if you want to omit things like theme music, a repeat intro, or potentially pre-roll advertising.
Castro 3 threw out a player interface that was both somewhat difficult to understand and to use. The new player, reachable by tapping a button or swiping up from the navigation bar at the app's bottom, presents several per-podcast options, AirPlay, sharing, and other features in a neater arrangement. It also dumps the waveform visualization on the audio scrubber that provided little information. Instead, it's a plain bar, and you can drag in it to advance by large intervals, or grab the playback head (a white line) for finer movement.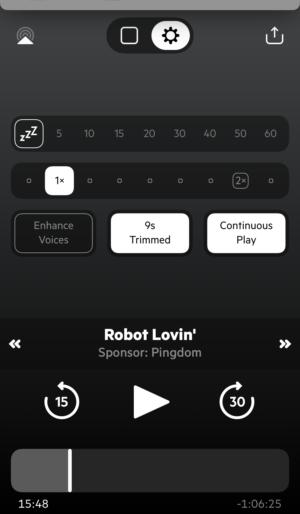 The player also offers a view that displays podcast art, from the podcast logo to a per-episode image to chapter-based images if in use. Chapter support is terrific: as you scrub through audio, the current chapter appears below the episode title. On episodes that have chapter divisions, you can also tap that title to get a chapter list, or use back/forward buttons to move among chapters. Show notes are still found only in the episode view, in Queue, Inbox, or Archive, by tapping a right-pointing triangle.
The Castro Plus subscription includes silence trimming, voice enhancement, Mono-Mix, a night mode, and chapter-based art and selection. Free users can set playback speed, audio preferences, intro-skipping duration, and choosing how many episodes to retain on an app-wide basis, but require a subscription to vary them for individual podcasts. (Those who paid for Castro 2 will get Night Mode and the new voice enhancement as permanent upgrades in Castro 3.)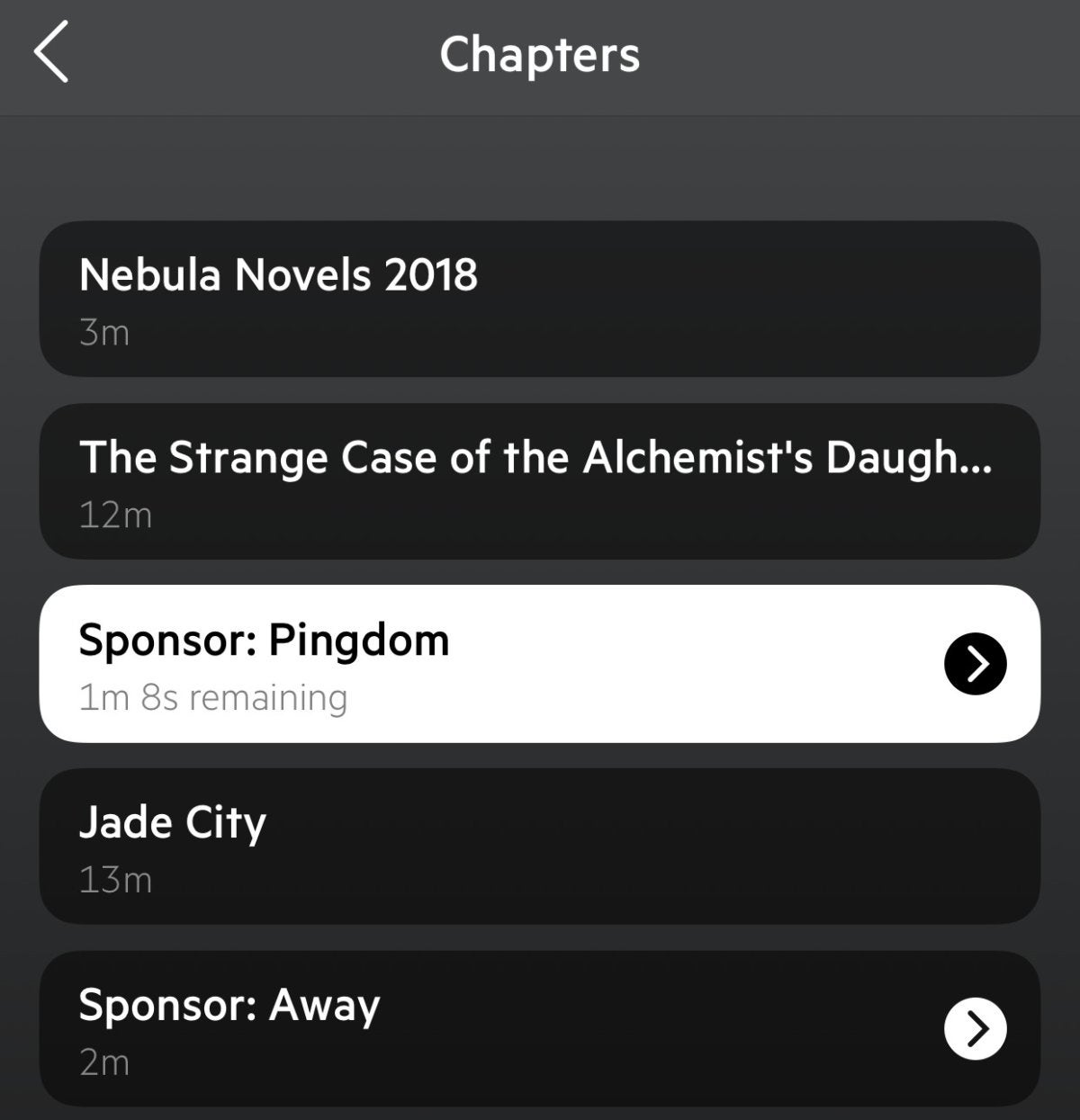 A concern I had between version 2 and 3 was addressed in the 2.6 update, by the way: starting with that release, Castro backs up all its app settings to iCloud, so if you set it up on a new device or have some sort of device corruption, you can restore back to exactly where you left off. This feature can also be disabled.
The app still lacks good podcast discoverability, offering just some loose large categories for browsing, and a search/paste URL field. Other apps help you find more shows that might meet your interests. And my version 2 search complaint remains active: there's no in-app search across show notes, episode and chapter titles, or podcast names for finding things you've subscribed to or specific episodes.
I found one bug in the version 3.0: on any of the mini-player views, such as the lock screen, the back/advance buttons worked as expected, but the time and progress bar display was unchanged. Only pausing and resuming correctly updates the display showing the current play position. Fortunately, the company fixed it in its 3.0.1 release.
Bottom line
Castro 3's free flavor should be enough to let you know whether or not it's for you before committing to payment. The 7-day free trial on paid subscriptions offers a chance to do a test run, and all major podcast apps let you export your subscriptions in the standard OPML format—you may be able to export directly from one app into another through a Share option, too.
I've found Castro's triage approach suits my style of podcasting subscribing and listening better than playlist-driven ones, and if that sounds appealing to you, the rest of Castro 3's improvements make it an easier recommendation as well.
Update: The lock-screen bug was fixed in version 3.0.1, released after this review appeared.
Best Prices Today: Castro 3