At a Glance
Expert's Rating
Pros
Multiple-account management
Track multiple accounts in separate windows
See multiple view in columns in a single window
Filters allow creation of somewhat customized Twitter channels
Cons
Not enough documentation
A useful iOS feature remains absent in Mac version
Our Verdict
Best Prices Today: Tweetbot 3 (Mac)
The new Tweetbot 3 for macOS remains fundamentally the same, though it has modest but noticeable improvements and new features that give the app a little more sparkle. For example, a new autoplay mode for animated GIFs and embedded video lets you mouse over to start the playback instead of requiring a click, though audio fortunately still requires one. (The feature can be disabled.)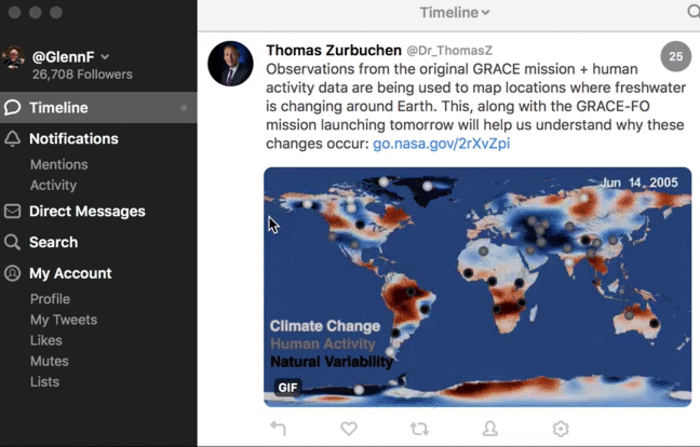 Tweetbot 3: Usability
The app's approach focuses on what would now be called "classic" Twitter: a chronologically organized timeline with the newest tweets at the top, and an option to autoscroll as new tweets appear. Like other third-party apps, Tweetbot 3 doesn't show Twitter ads.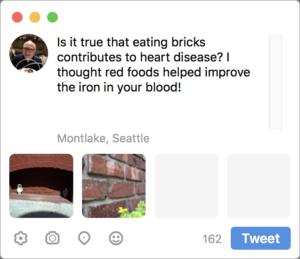 Tweetbot uses different views, which correspond mostly to Twitter details, to let you examine various aspects of Twitter related to your account, like lists, direct messages (one-on-one only), and your Twitter likes. This includes the Mutes view, which is a custom feature—not the same as Twitter's account-based mute—that lets you suppress keywords, people, hashtags, and even specific Twitter clients for periods of time or forever. Mutes uses iCloud to sync across other iOS and macOS copies of Tweetbot.
As before, Tweetbot provides support for linking in multiple accounts, each of which can have certain unique preferences, such as to which service images or video are uploaded before a tweet posts. It's two clicks to pick and switch to another from a main window pop-up menu. A right-click on the retweet button or like button in any message brings up a list of accounts to choose among as an alternative to using the account currently active in that window.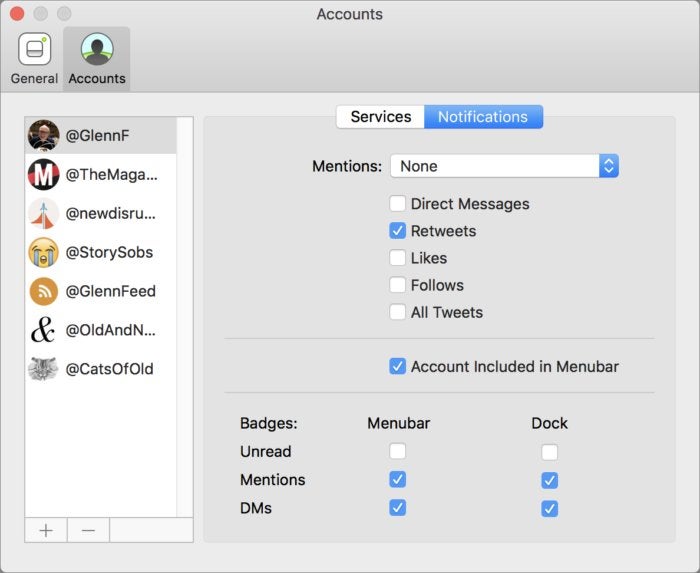 As in previous versions, you can open multiple windows at once that display different accounts, and have multiple columns in a single account window that show different Twitter views, such as lists, notifications, and activity. The columns can be dragged and rearranged in version 3. With multiple windows open, the timeline scrolls for each account.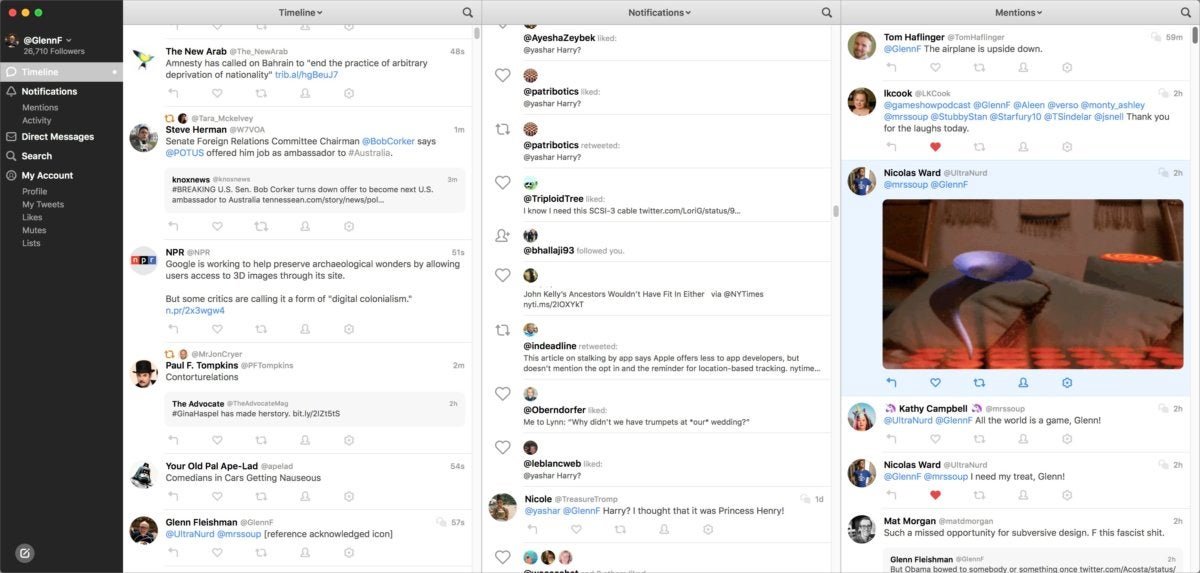 Tweetbot 3: Modifications and additions instead of an overhaul
Tweetbot 3 offers two interfaces in the left navigation bar for Twitter views, like timeline, profile, and direct messages. The previous icon-based view with nine choices remains available, but drag it wider and a crisp text view appears with various headings for collapsing and expanding. Version 3 also adds a night-time mode, a "dark" theme, in addition to the previous "light" theme. (The dark theme was already available in Tweetbot for iOS.)
The last addition in the latest release are timeline filters, which allow you to customize what appears in a view by various parameters. For example, you can use a prefab filter that only shows tweets that include media or links. Or you can construct a custom filter that lists messages only from verified Twitter users that mention the keyword "Mnuchin."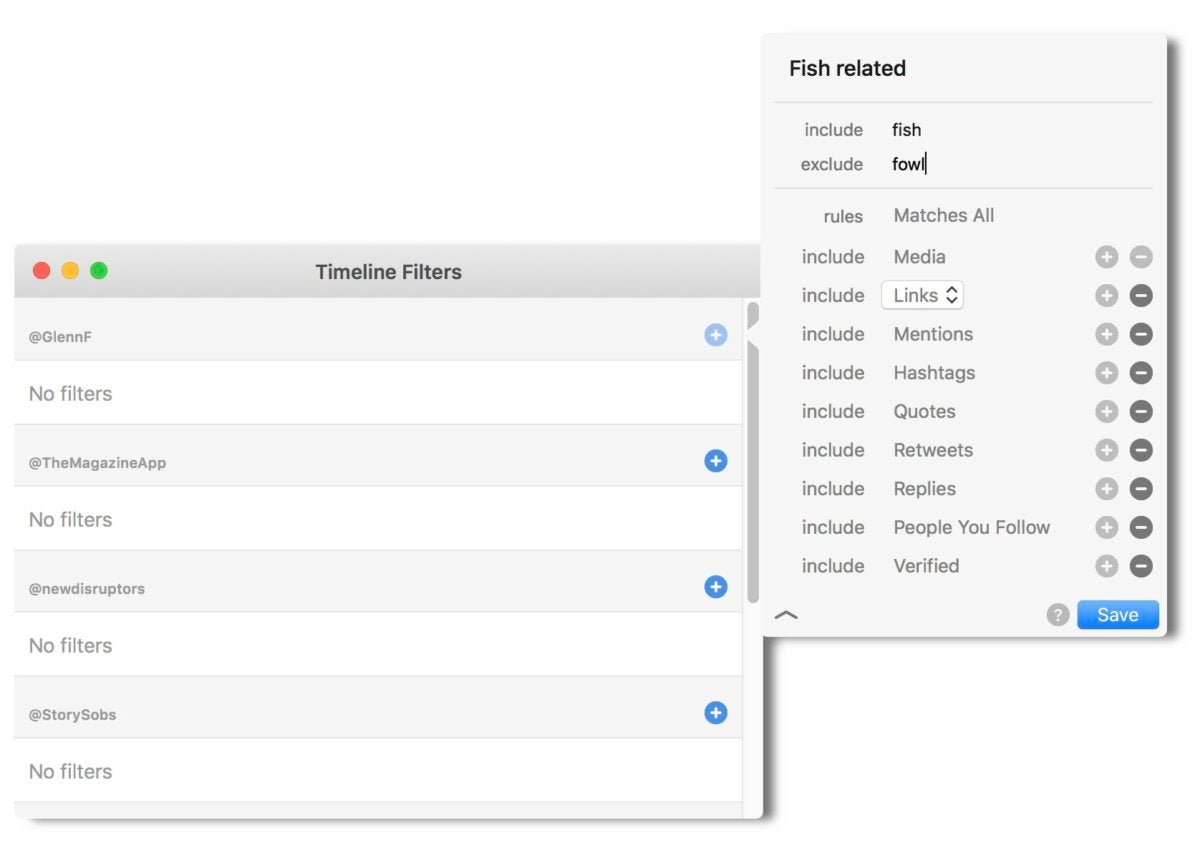 Tapbots doesn't believe in manuals or even item-by-item detailed descriptions of their apps. That's fine for discoverable and intuitive features, but less so when there's no way to suss out how something works. For instance, in the previous release, the nine main sidebar features had Command-1 through -9 assigned. That's true in version 3, but there's no indication it works.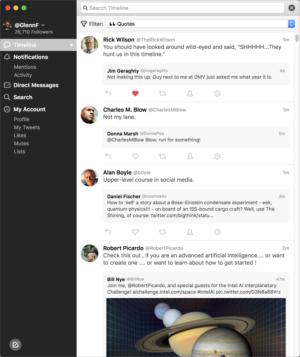 The powerful filter feature has a variety of knobs you can fiddle, but only merits two paragraphs in an online "tips" page—it could use a few hundred more words and a few more screenshots of elucidation. I discovered that I could use "or" to separate keywords in the filters only by clicking the ? button at the bottom of the filter-editing window, as it's not mentioned in "tips."
It also seems odd that one of the best custom features in Tweetbot for iOS still isn't in the macOS version: Stats, a combined activity view that shows tweets in newest-to-oldest order that have had any of a variety of actions performed upon them, like someone liking or retweeting a message. As with Tweetbot 2 for macOS, in version 3 you can only view raw activity—a kind of log of actions, such as likes or new followers—or replies and mentions.
Tweetbot added a Topics feature in its previous release that lets you thread tweets by creating a kind of container into which to link them. But I find this formal process more fussy than Twitter's native approach, which is just a plus sign at the bottom of a tweet composition window allowing successive additions.
Twitter's erratic support for third parties
There's a sword dangling over Tweetbot and other third-party Twitter clients' heads: Twitter will discontinue access on August 16, 2018, to the live (or "streaming") per-client access that these apps rely upon for real-time interactions and push notifications, which require server-side separate access. (The removal of this third-party access was recently delayed by two months.) Twitter has promised a new kind of developer support for real-time feeds, but hasn't yet unveiled it.
Tapbots and other third-party developers believe this could prevent continuous, up-to-date timeline refreshing, and prevent or delay push and in-app notifications of mentions and other activities. The company and three competitors posted a website that lists their concerns.
Tweetbot will continue to be useful if Twitter fails to provide new, comparable features and access: reading and posting would remain the same, even if new tweets are delayed by a minutes or a few.
Years into some features, Twitter has still not provided access to third parties, as well, including group direct messages, Twitter polls, and bookmarks. It's unclear whether these will be part of the new access the company promises or remain proprietary.
Twitter cancelled its self-developed macOS app in March 2018, and the Twitter.com website is a middling alternative to a native app.
Bottom line
Tweetbot is idiosyncratic, as are all its third-party Twitter options for macOS (and other platforms): it makes strong choices that may or may not fit the way you want to compose and manage tweets.
But it's a solid app with only a few missing pieces, and more polished than its previous release. For committed Twitter users, social or professional, the price tag matches its value.
Best Prices TodayTweetbot 3 (Mac)