At a Glance
Expert's Rating
Pros
Comfortable to wear.
Lightweight.
Water resistant.
Two-year warranty against dust and water damage.
Audio properties can be changed with companion app.
15-minute charge provides 90 minutes of music.
Cons
Inferior passive noise cancellation.
Unimpressive low frequency performance.
Lightweight materials make them look a little cheap.
Our Verdict
In the two years since Apple released its AirPods, true-wireless earphone makers have been working hard to match Cupertino's balance of price, solid industrial design and pleasing audio. A few like Jaybird, with the excellent Run earphones, have come close. Others, like Bose and BeoPlay offer a superior audio experience compared to AirPods, but at a significantly higher price. And then you have the Jabra Elite 65t, which do almost everything better than Apple's AirPods, but at an almost identical price.
And the Elite 65t even manage to outdo the AirPods in a number of areas.
Note: This review is part of our roundup of wireless and true wireless earbuds. Go there for details on competing products and our testing methods.
Jabra Elite 65t: Design
Cupping them in your hands like a pair of dice, the Jabra Elite 65t are surprisingly light, especially when compared against the heft of Jabra's athletics-oriented Elite Sport(version two) earphones. But there's a good reason for this: The 65t lack internal storage for music, heart rate sensors and accelerometer sensors, which all come baked into the Sport version.
Mentioned in this article
Jabra Elite Sport Truly Wireless Headphones
Price When Reviewed:
$249.99
Thankfully, the 65t retain the waterproofing that makes the Sport such a great choice for sweaty athletes. They'll remain safe during a shower (I tested this to make sure), and they'll be fine if you get caught in the rain. But just don't take them swimming. With their IP55 rating, they'll stand up to a blast from a jet of water. But submersion? Not so much.
The 65t comes with three different sizes of silicon ear cups, which are malleable enough so that one of the pairs should suit you well. Unfortunately, even with a snug fit, I didn't find passive noise cancellation to be impressive. If this is a dealbreaker for you, consider buying Comply's aftermarket foam earphone tips—though they'll raise the price of owning the 65t by about $20.
I found the 65t more comfortable to wear than Apple's AirPods or Jabra's Elite Sport earphones. This is likely due to the fact that they don't hang from your ear like AirPods do, nor are they as heavy and stout as the Elite Sport. In fact, the 65t almost feel like they're not even there—perhaps a function of their light weight and the long stems for their silicon cups. Of course, depending on the shape of your ears, your experience could be different than mine.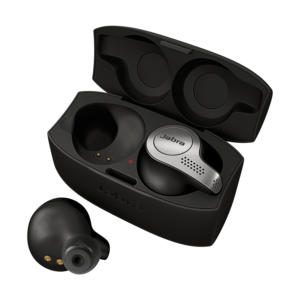 Like many of the truly wireless earphones we've reviewed, the 65t come with button controls built into the butt of each earpiece. However, unlike many competing earphones, the 65t don't require such a hard push that the units become lodged in your brainpan whenever you want to skip tracks, increase the volume, or take a call. That I wasn't jamming the 65t deeper into my skull every time I needed to control them most certainly added to the amount of comfort I felt during testing.
If you remove one of the buds from your ear, it'll pause whatever you're listening to. Put it back in, and the music continues—a nice touch of sophistication. And staying true to Jabra's roots as a Bluetooth headset maker, the Elite 65t can also be used with just one earbud, the right one, pushed into your ear canal. This makes the earphones a good choice for anyone looking to use his or her phone handsfree while driving. Oh, and should you lose one of your earphones, Jabra makes it easy to buy a replacement through its accessory site.
Jabra Elite 65t: Battery life and sound quality
Jabra says the 65t can run for up to five hours off of a single charge. I found this estimate to be reasonably accurate. The earphone's slim charging case, while larger than what you'll see with a set of AirPods, has enough juice to provide two additional five-hour charges. Users will appreciate the fact that 15 minutes worth of charging in the case will provide about 90 minutes worth of music.
From an audio point of view, the 65t's standout feature is rock-solid connectivity. During the week that I tested the earphones, I experienced very few disconnections from my audio source. If you're lucky enough to own an iPhone 8 or iPhone X, you'll be able to take advantage of the fact that the 65t come packing Bluetooth 5.0, which offers superior range and faster connection speeds.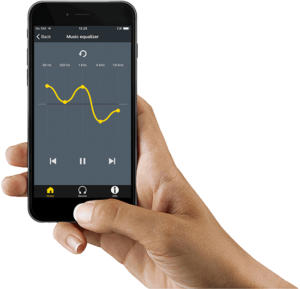 But if you're stuck in the past, like me, with my iPhone 7 Plus, the earbuds' audio should sound pretty much the same. And, in a nutshell, it's great! Great, but not outstanding.
While listening to the playlist I outlined on our truly wireless headphone hub, I found that the Elite 65t offered excellent aural separation, with clear, crisp mid- and high-frequency sound. The bass, however, left me wishing for a little more oomph. Even after tweaking 65t's sound with the Jabra app, I felt the bass provided by Apple's AirPods and BeoPlay's pricey E8 is superior. Depending on what style of music you prefer, this could be a deal breaker, but if you prefer a more balanced sound, the 65T could be exactly what you're looking for.