The "digital shoebox" was a 2007 coinage of Steve Jobs, who intended the Mac to become a digital media hub in which Apple's programs would help you organize everything. That's the notion that makes an analogy to having all your negatives, prints, and slides in shoeboxes in the days of film photography, and never being able to find anything.
The digital shoebox metaphor remains accurate in 2018 for the wrong reason, as it's very easy to wind up with images, videos, audio, and other kinds of files all over your Mac. If you're supremely organized and single-app oriented, perhaps you manage to import everything into iPhoto (then Photos) and iTunes. But for the rest of us, we have files all over the place.
Macworld reader Todd wrote in asking if there was a good way to consolidate all his photos in one place? His account is far from unusual:
I have JPEGs on my desktop and in various folders. I have a Lightroom folder. I have a Google folder. I have a Photobooth folder. I also have iPhoto libraries as well as a Photos library.
He'd like to consolidate everything. A few approaches might work.
Adobe Lightroom: Lightroom can reference media files anywhere on any attached drive, so you don't have to consolidate them. It's my go-to app after Aperture was killed, and I find it a great editor and a reasonable organizational tool. You can import media directly into it, and it will create folders for you as well. Adobe offers it by subscription in app/cloud storage bundles that start at $10 a month.
In the Photos app, by reference: Photos in macOS can work on images without importing them, letting you keep your organization without copying everything. That's not precisely what Todd wants, but it's an option some people employ so that Photos only has thumbnails, modified images, and other data inside its library. To set that option in Photos, go to Preferences > General, and uncheck Copy Items to the Photos Library. Referenced items have a special mark on them that looks like an arrow pointing out of a rectangle (see figure below).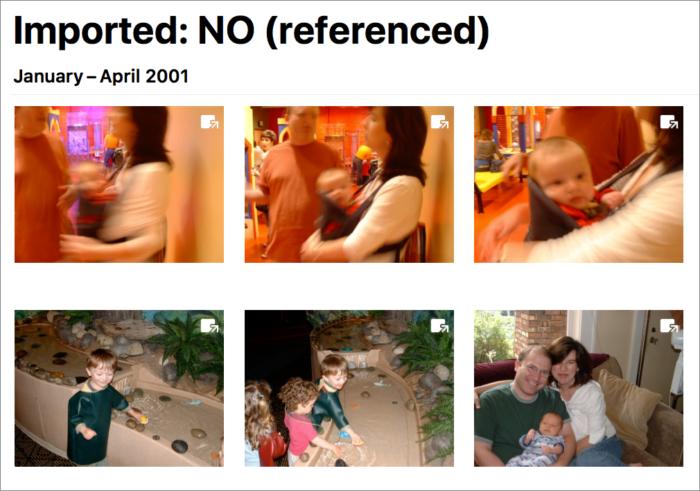 Photosweeper 3: While it doesn't manage images, Photosweeper does let you scan folders and disks to find duplicates. You can use this after consolidating all your media in one place to be sure you aren't keeping multiple copies of everything. It also integrates with iPhoto, Photos, Aperture (the final version), and Lightroom to mark duplicate images within those libraries, which might obviate having to consolidate your media. We reviewed this app a year ago.
Copy out of a Smart Folder: This approach doesn't gather images, but it provides a single place to see where everything is stored across all indexed drives and then copy it. In the Finder:
Choose New > New Smart Folder.
In the upper right of the folder, click the + button.
Select the pop-up menu that reads Kind and change it to Image. The Finder will search for all matches, which may take a while. I had 130,000 matching items.
Click Save in the upper-right corner to save this as a search you can bring up again.
This can overwhelming, but you can limit results by searching only in certain sub-folders or adding additional criteria. You can also follow the instructions in this previous article to limit results to specific image types, instead of everything Spotlight characterizes as an image.
Note, however, because iPhoto and Photos use internal organization for all the image imported into their libraries, you'll wind up losing the structure from those libraries and the connection between a master original image and modifications you've made. It can be a mess.
Apple could add Spotlight criteria that would let you scope folders, and say, "find all images except those in the Photos or iPhoto library," but there's no way to include or exclude items by path or folder. You also can't sort results by location.
A different way to scope is to use the "Search" bar that appears above results in a Spotlight search to pick an individual folder. This is unfortunately not available in a smart folder. (You can click the gear and then choose Show Search Criteria, which lets you select from This Mac, the Smart Folder query, and Shared, but you can't specify a different folder.)
To use this method of limiting to a folder you want to search within, such as Documents or Desktop:
Open a regular Finder window (New > New Finder Window).
Click in the Spotlight search and enter kind:image
From the Search bar that appear, click the folder name.
Both a Smart Folder and this Spotlight search have the benefit of flattening media in all nested folders, so you see everything at a single level. If you want to grab all the media in your Photos folder and you have an iPhoto or Photos library stored there, make sure their parent apps aren't running, and temporarily move those libraries to another place on the same drive.
With enough storage, you can select all images (or that you want) from the Smart Folder or the Spotlight-scoped search results and Option-drag to copy them to a single location, which you can then import or reference into a photo-managing app.
Ask Mac 911
We've compiled a list of the questions we get asked most frequently along with answers and links to columns: read our super FAQ to see if your question is covered. If not, we're always looking for new problems to solve! Email yours to mac911@macworld.com including screen captures as appropriate, and whether you want your full name used. Every question won't be answered, we don't reply to email, and we cannot provide direct troubleshooting advice.