Adobe is easily the biggest name in digital creativity. While it's best known for its flagship products such as Photoshop, InDesign, and Premier, Adobe has a whole fleet of software for creative professionals and hobbyists in the areas of photography, video and film editing, web development, animation, sound engineering and more. Interested? All of it can be accessed through Adobe's online portal known as the Creative Cloud, via a yearly subscription payable either monthly or in one lump sum.
Mentioned in this article
Creative Cloud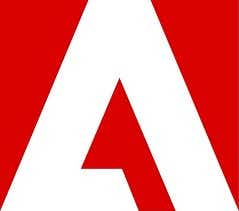 Subscribing to the Creative Cloud's entire collection of apps at $52.99 gives you plenty of tools to fuel your creative drive, and offers the best price-per-program value. But this could be overkill if you're only looking to use one particular app, or your interest is in a single subject—say, photography.
Luckily, Adobe offers free trials of all its programs, as well as different subscription options, so you can find the programs and plan to best suit your needs.
Adobe Creative Cloud free trials
The best way to know whether a program is worth committing to is to try it out yourself, hands on. Adobe gives you seven days to test any of its Creative Cloud apps, starting on the day of download.
In addition to your chosen program/s, Adobe lets you download the Creative Cloud desktop app itself to trial. The Creative Cloud program acts as a hub for all the individual Adobe programs you try or subscribe to; as well as a hub for fonts, stock art, and other assets (a selection of which comes free with your trial), to use among various Adobe programs; it also adds a Creative Cloud folder to your system for syncing work among different devices.
While you need to create an account to trial any apps, you do not need to provide any payment information. Once the seven-day trial period ends, your download expires. You won't lose any of the work you created or saved to your device, but the work won't be editable without access to that Adobe program.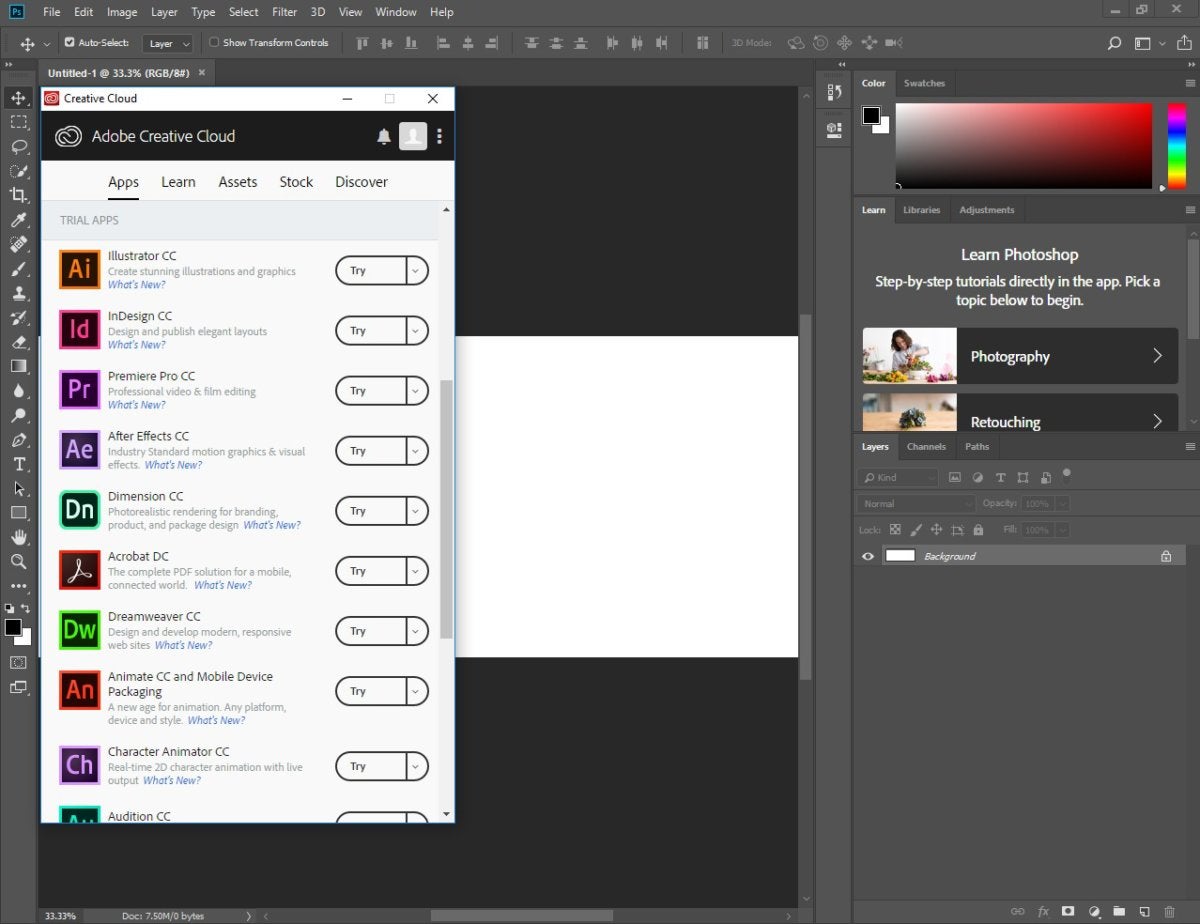 Creative Cloud All Apps
Adobe's All Apps plan is the closest thing to Adobe's Creative Suite of yore. It offers all 22 of Adobe's creative software offerings. If you need a wide variety of creative tools at your disposal, investing the $52.99 per month, or $599.88 for the year,allows you to download and use whichever desktop and mobile apps you need.
The All Apps subscription comes with benefits such as 100GB cloud storage, which goes hand in hand with an included portfolio website for showing off your work. Adobe also gives you an extensive selection of fonts and various tools for social media. One such example is the premium version of Adobe Spark, which helps users create engaging content for all sorts of social and online platforms. Adobe offers a free version of Spark (and many of its other peripheral desktop/mobile apps), but the premium features available with the paid plan add a more professional finish to branded content, making it a useful business tool.
All Apps with Adobe Stock
Depending on how you plan to use Adobe's full complement of creative tools, you may want to spring for the All Apps with Adobe Stock option at $82.98 per month. That extra $30 grants you access to Adobe's library of 90 million different royalty-free photographs, vector images, illustration, videos, templates, and 3D art to use within your projects, as well as 10 standard assets per month. Adobe offers the first month of Adobe Stock free (including the 10 standard assets), so if you decide that you really don't need it, you can cancel within that period completely risk-free.
Creative Cloud Photography Plans
Adobe recognizes the importance of its software to photographers and thus offers a few Photography Plans for that audience. Two of the plans include Photoshop CC, Lightroom CC, and Lightroom Classic CC, which together provide extensive photo editing, manipulation, and management capabilities. The difference between the two plans is in how much cloud storage is included: at the $9.99-per-month tier you get 20GB storage, while $19.99 per month comes with 1TB. (Given the later option, there's really no reason to subscribe to Photoshop on its own, which costs slightly more at $20.99 per month, but comes with just 100GB of storage.)
The third Photography Plan is just Lightroom CC with 1TB of storage for $9.99.
Unfortunately, Adobe doesn't offer any other discipline-specific plans outside of photography. It's up to the user to mix and match single-app options, including any of the free mobile apps Adobe offers.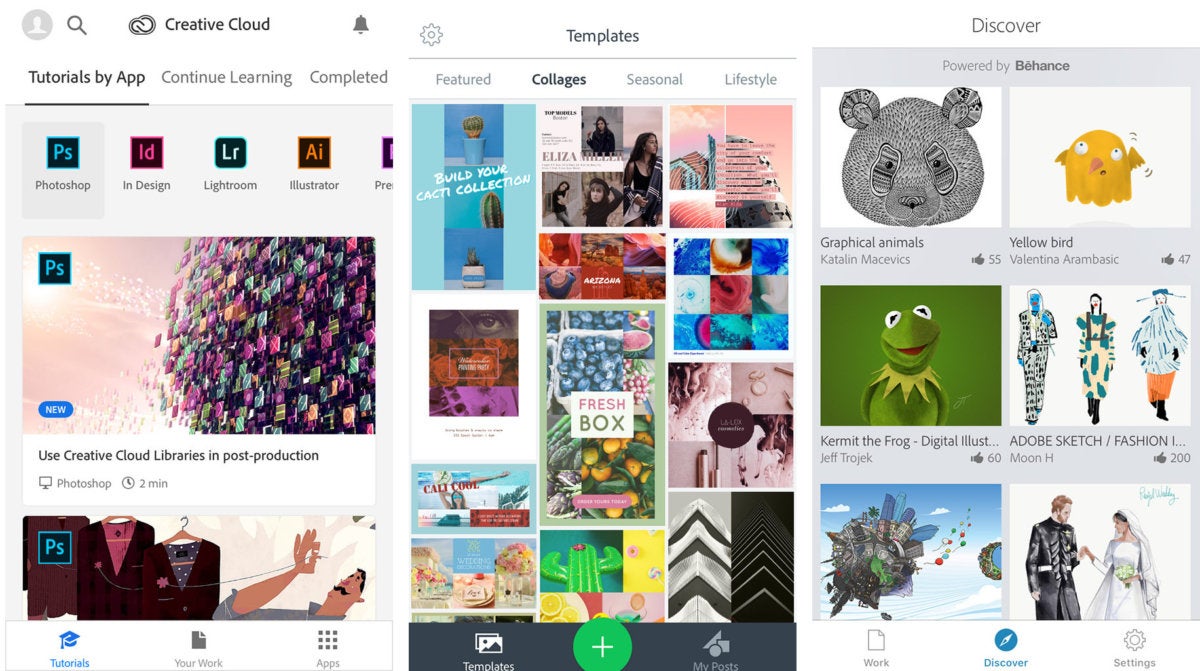 Creative Cloud Single App
Adobe offers a single-app subscription option for a number of its programs, which is perfect for those who really just need one or two creation tools. Just know that the cost per program is highest for single-app purchases.
Photoshop, InDesign, Illustrator, Premiere Pro, Dreamweaver, and Animate (Flash) are the most expensive single-app options, coming in at $20.99 per month. Prices vary among Adobe's less formidable offerings, such as Adobe XD ($9.99), Acrobat Pro DC ($14.99), Spark ($9.99), and InCopy ($4.99).
All individual plans come with 100GB of cloud storage, a free portfolio website, and a selection of fonts. They are also flexible, allowing you to pay monthly or for an entire year in one swoop.
Creative Cloud student/teacher discount
If you're on a creative path in education, you can subscribe to Adobe's professional-level programs without having to pay the full price. Students and teachers are eligible to get the All Apps version of Creative Cloud for $19.99 a month for one year and $29.99 a month thereafter.
Naturally, this requires proof of affiliation, such as a school issued email address, ID card, report card, transcript, or even a tuition bill. Home-schooled students are eligible as well—again, pending proof. If you're looking for an institutional discount, Adobe also offers plans for businesses and schools.
Creative Cloud Upgrades
All Creative Cloud subscriptions include upgrades to the apps you've downloaded. So you won't end up using an old version—provided your computer is connected to the internet to check and download updates. The Creative Cloud app frequently checks for updates and you'll receive a notification when any updates are available for the programs you're using.
Adobe Creative Cloud: System requirements
Creative Cloud is compatible with Windows 7, Windows 8.1 and Windows 10. If you're on a Mac you'll need Mac OS 10.11 (El Capitan) or later. Although Creative Cloud is an online service, once the app is downloaded to your desktop, you don't need to be connected to the internet to make use of it. However, you'll need to be connected online during the initial installation and licensing of the apps.
Plus, desktop apps will validate the software license every 30 days, which requires being connected online. If you're an annual member you can use the apps in offline mode for up to 99 days, whereas monthly members only get 30 days offline use.
Note: When you purchase something after clicking links in our articles, we may earn a small commission. Read our affiliate link policy for more details.