Early this morning I attended an event in San Francisco in which I saw a smart speaker work perfectly with Siri and Alexa, which pumped out beautiful sound to every corner of a small room for both music and TV, and which seamlessly paired with other speakers scattered throughout a room while using AirPlay 2. It wasn't the HomePod. Instead, it was the Sonos Beam, a new $399 smart speaker and soundbar that's everything the HomePod should have been.
And Sonos knows that. The brief presentation was filled with quips about how Sonos isn't out to sell out ads—take that, Google—and how it wasn't forcing you into walled gardens (ahem, Tim Cook). Nor did it appear to be empty talk. In the span of little more than half an hour, Sonos managed to deliver a vision of a smart speaker that I wouldn't mind plunking down $400 for. Here's why we think it's so much better.
Sonos Beam: It's ridiculously open
The most damning thing about the HomePod is how it locks you into Apple Music. That's enough to ruin the appeal of its actual sound quality, as it requires giving your soul to Apple Music if you want to use any of the voice controls.
Sorry, Apple, but so many of us prefer Spotify, whether it's because of its sometimes significantly different library—I struggle to find video game soundtracks on Apple Music, but they're all over Spotify—its widely shared playlists, or even the intuitive design of the app.
The Sonos Beam, though, lets you use both Spotify and Apple Music. For that matter, it lets you use them with Siri and Alexa at the same time (Google Assistant is in the works), and Sonos claims the Beam is the first smart speaker to do this. On stage, Sonos showed how you could ask Siri to start playing a song (and it did), and then ask Alexa what song was playing. Essentially, if you want to use any kind of music or TV service with the Sonos Beam, you can.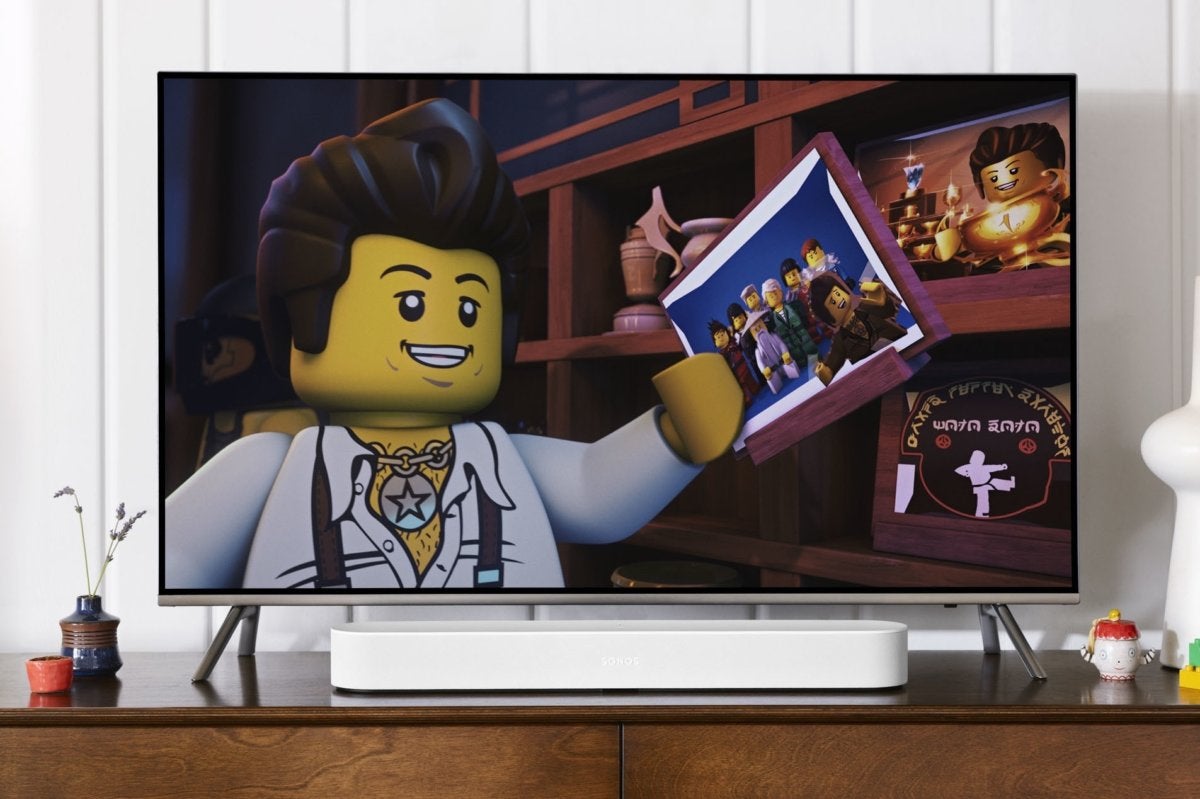 It's a shame, as this is a massively missed opportunity on Apple's part. Products like the iPhone or the Mac require a commitment to doing things differently, and so keep some potential buyers away by their very nature. I don't think it's a stretch to say they require a different mindset from Windows or Android.
But a speaker? That's something we can all use and in any situation. It's universal, and Sonos recognizes that. Had Apple embraces similar openness (as it did with the iPod back in the day), then the HomePod's undeniably great sound may have led adopters to try out other products like the Mac after owners outside the ecosystem realized what a great piece of hardware it is. Even if they didn't, the device's quality alone would have earned it a wider audience than it currently appears to have.
Perhaps more importantly, the openness allows Sonos to reduce the clutter. Most of the promotional materials leading up to the Beam announcement highlighted cluttered entertainment systems with multiple speakers and smart devices with the tagline "You're better than this." The idea is that the Beam's openness allows it to replace all that junk with a single device, thereby allowing us to ditch the ugly messes of wires and boxy devices so we can celebrate the open spaces of our homes. It's a very Apple idea, and it's a shame that the HomePod doesn't allow for similar Zen-like minimalism without fully embracing the Apple ecosystem.
Sonos Beam: It works better with TVs
You can use your HomePod as an output for your Apple TV, but it doesn't seem anywhere near as well-integrated as what I saw on the stage in San Francisco today. The Beam is a soundbar at heart, after all, designed to sit nestled under your TV while not taking up any other space in the house in the style of a traditional smart speaker. In that way, it's even less noticeable than a HomePod. (I'm not exaggerating when I say I didn't even see the Beam for a couple of seconds when Sonos showed a living room setup on stage.)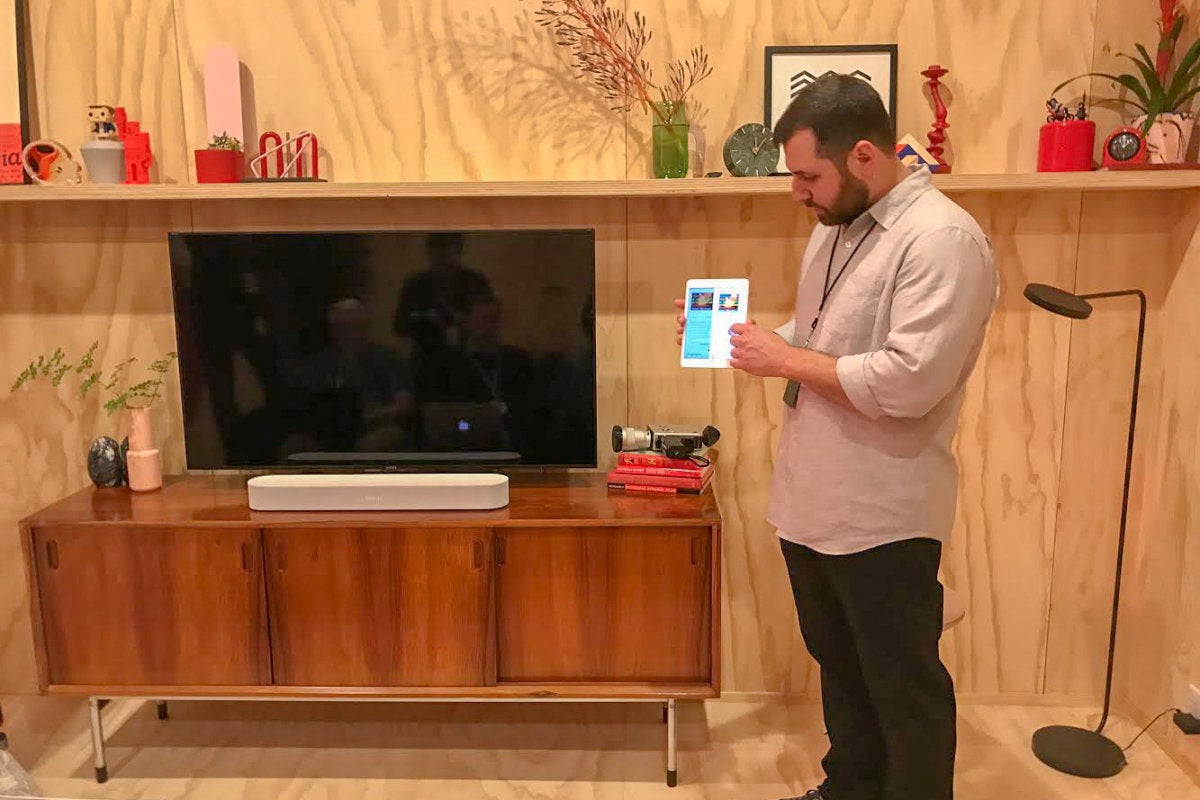 But Sonos also worked TV support directly into the Beam itself. The beam comes with a single HDMI port that you can use to connect the speaker to your TV, and so long as your TV supports HDMI-ARC (audio return channel), your Beam will act as the TV's speakers. It's the kind of direct connectivity that we don't see with the HomePod—or a lot of other sound bars, for that matter—and one that embraces a form of practical simplicity that we normally associate with Apple. Because of this direct connection, it's able to control your TV's volume solely through Alexa commands, which is something you won't even find with Amazon devices.
Sonos Beam: It justifies its price
You don't have to dig far to find pundits criticizing the HomePod for its $349 price tag, and when they do, they're chiefly comparing it to similarly shaped devices like the $99 Amazon Echo. But the Sonos Beam is a far more logical speaker for comparison. Both are high-end devices that are built to last, and both are designed to be centerpieces. Much like the HomePod, it sounds magnificent regardless of which part of the room you're standing in (although I believe the HomePod does retain an edge in quality).
In the demo room after the main show, the Beam delivered theater-quality sound regardless of whether we were hearing music or (yes) watching the most spoilery moment of the first season of HBO's Westworld. It's also got a five-microphone array that works with Sonos' own noise-canceling technology to allow you to bark out commands that the device will hear even with music blasting.
So far, so HomePod. But the Sonos Beam lets its users enjoy their sound with whatever streaming platform they wish, and it lets them choose whether they want to use Alexa or Siri, and it easily shares music with other Sonos devices scattered around the house. And yes, with AirPlay 2, working straight from the Apple Music app on an iPad mini. Again, the Beam lets users plug it directly into their TV, and it continues to perform all its other functions once that connection is in place.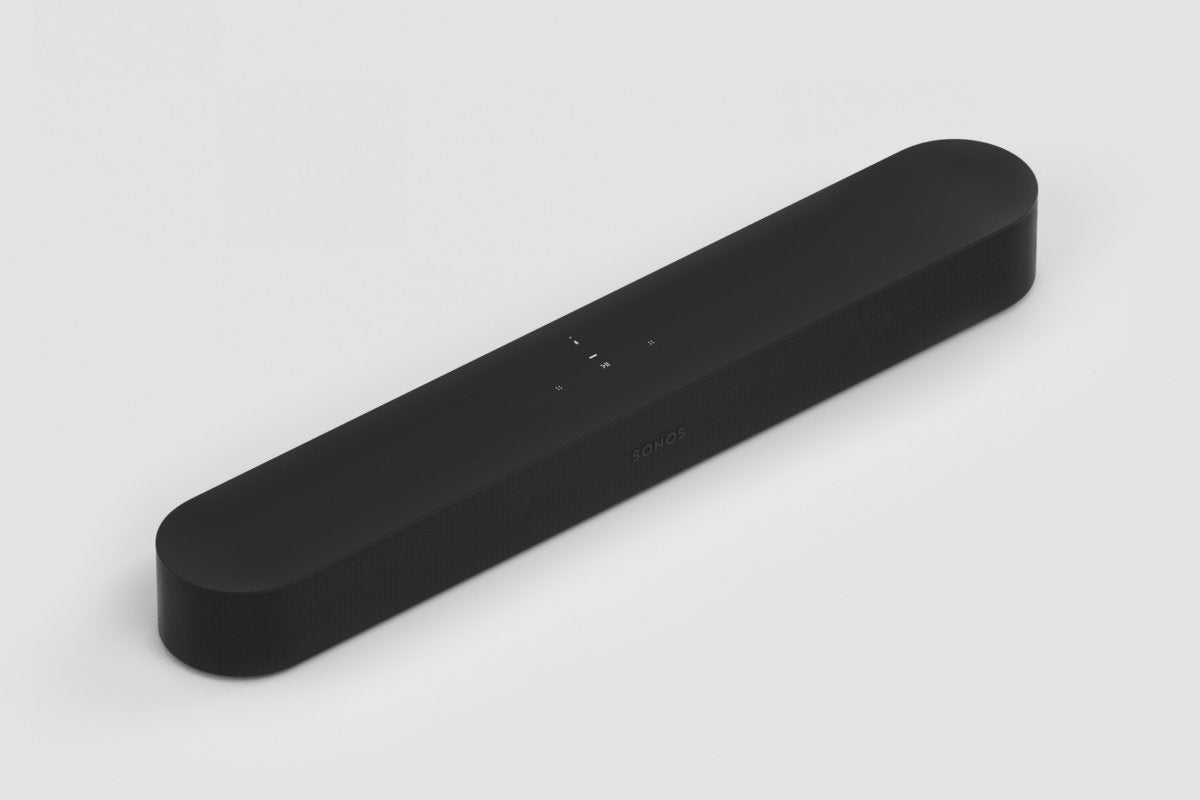 All of this serves to make this a device that's worth paying $400 for, especially considering that the build quality and aesthetic is comparable to what we'd normally expect to find from the folks in Cupertino. And sadly—aside from a direct HDMI hookup—many of these features could be added to the HomePod with a hefty patch from Apple. We were hoping that we'd hear about such a patch at WWDC, but it never came, and now Sonos is grabbing a lot of the attention that could have been Apple's. It didn't have to be this way.
The Sonos Beam launches on July 17, and support for AirPlay 2 will drop later on in July with a free software update. You can preorder the Beam in black or white through Sonos' website.