At a Glance
Expert's Rating
Pros
Quick one-click import from Mini-DV tapes
Trim, combine individual clips into new movies
Minimalist, easy to use software
Cons
MP4 convert on import taxes CPU
Occasional sluggish UI, missing thumbnails
Broken YouTube sharing, mislabeled iPhoto button
Our Verdict
Best Prices Today: LifeFlix 2.5
If you shot home videos between 1995 and 2010, there's a good chance you did so with a tape-based Mini-DV camcorder. With its simple FireWire connectivity, the DV format had a great run prior to the advent of smartphones. For those who want to relive those taped digital memories, LifeFlix is a Mac application that makes it simple to do.
LifeFlix: Attach your camcorder and import the video
LifeFlix streamlines the process of capturing tapes in three easy steps. First, dust off your Mini-DV, HDV, Hi-8, or Digital 8 camcorder and attach it to the Mac with a FireWire cable. This will be the biggest stumbling block for many, since Apple abandoned FireWire in 2012. You can overcome this hurdle by investing in a Thunderbolt to FireWire Adapter ($29 at Apple); most users will also need a FireWire 400 to 800 Adapter sold by Elago ($10 on Amazon) that I used to connect my aging JVC SR-VS30 Mini-DV/S-VHS combo deck, as well as a Canon HV20 HDV camcorder.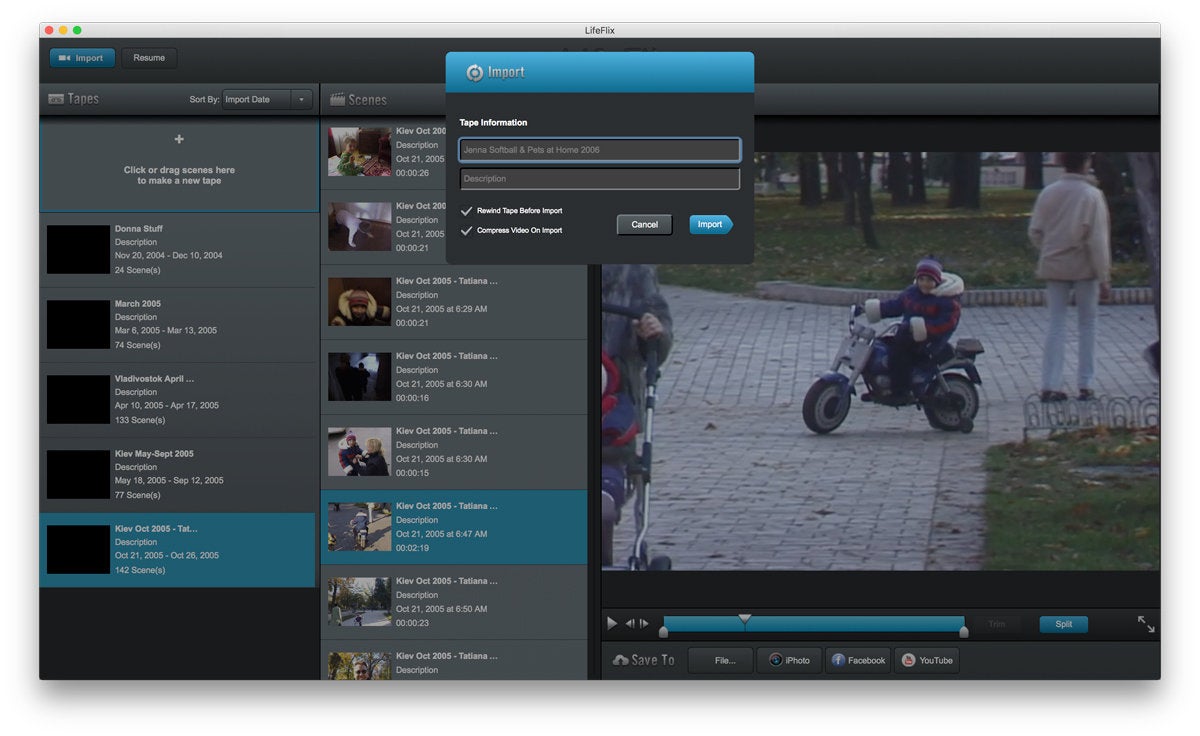 With the hard part out of the way, stick a tape in the camcorder, launch LifeFlix, and click the Import button. The software prompts you to enter a unique tape name and optional description; after confirming, the tape conveniently rewinds to the beginning and starts capturing. You'll see a preview of the video, but LifeFlix thoughtfully mutes incoming audio during capture-a nice feature, although I'd prefer an option to listen along, preferably with volume control.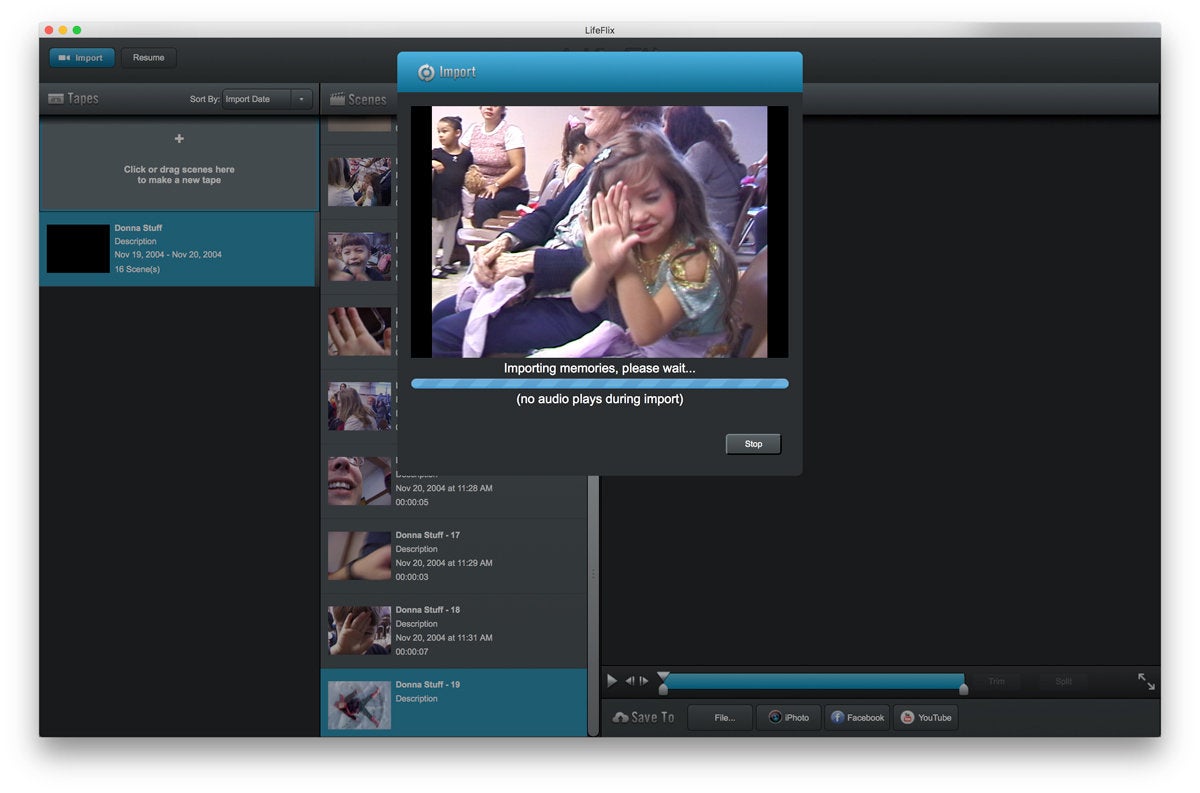 Although video editing software like iMovie imports DV footage, such applications aren't well-suited to the task of quickly capturing and assembling bits and pieces from a tape. LifeFlix automatically detects when the camcorder started or stopped, splitting footage into separate scenes you can then save individually or combine into new videos.
LifeFlix: Combines video file, not edit
LifeFlix doesn't edit video in the traditional sense. Instead, you remove unwanted clips, then trim and combine the rest into one or more new videos. You can't add titles, transitions, or effects, which is perfectly fine-most of the time I just want to remove the bad stuff and assemble a standalone movie, and that's exactly what LifeFlix excels at. (I hope the developers consider an iOS version. The App Store needs more video apps like this.)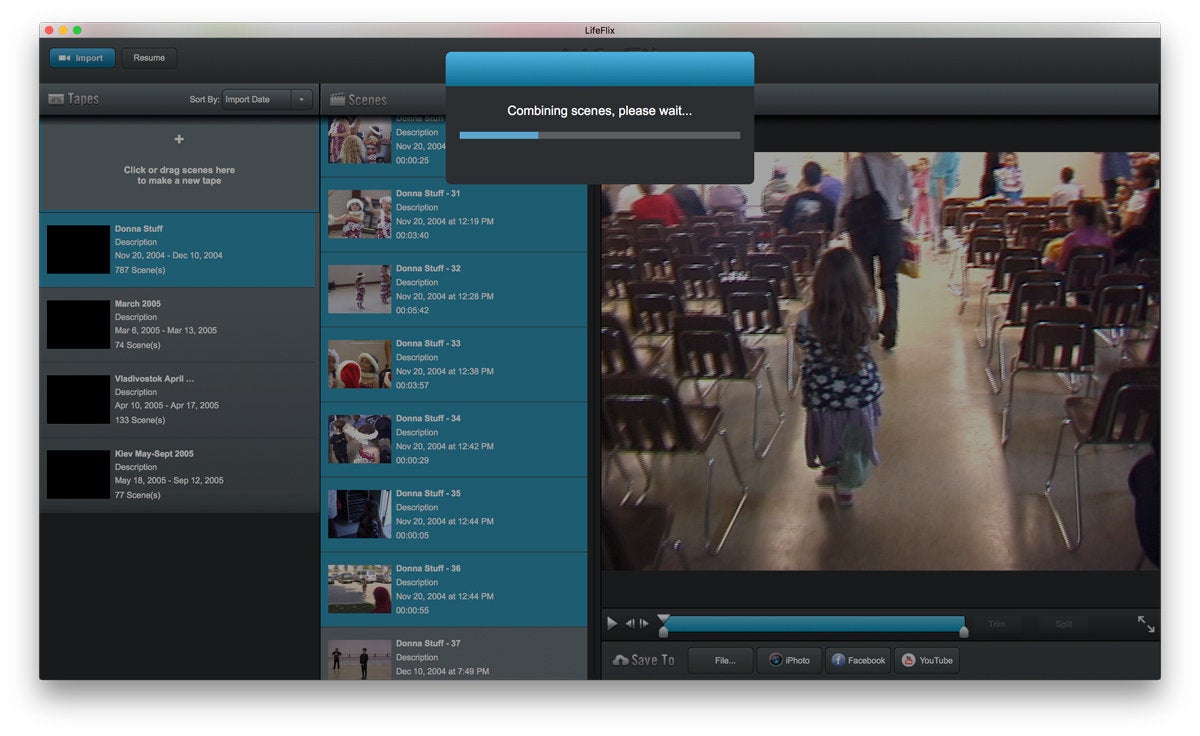 By default, LifeFlix compresses incoming NTSC or PAL video using YouTube-friendly H.264 at a fixed data rate of 3.3Mbps, but you can uncheck this option before each import and transcode full uncompressed video instead. (Both wrapped as QuickTime MOV files.) The difference in image quality is negligible, but the storage savings are huge. An hour of MP4 video consumes only 1.3GB of disk space, versus 13GB uncompressed.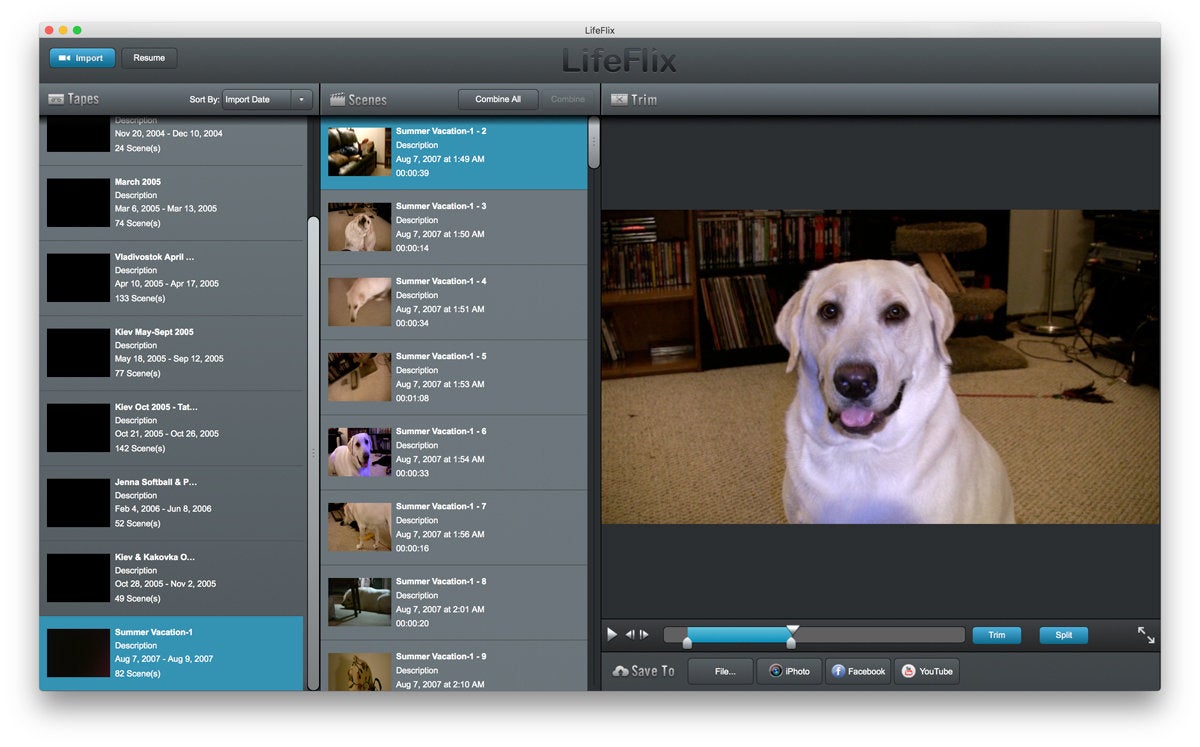 There are a few downsides: Importing with MP4 compression hits the CPU pretty hard, occasionally locking up the app for a minute or two after stopping. The app tends to be sluggish at times and fails to properly refresh clip thumbnails. YouTube sharing is currently broken (although it appears to be working), and sharing to Photos still refers to the late, great iPhoto.
Bottom line
Assuming you have a working camcorder and the right adapters, LifeFlix is the quickest and easiest way to get Mini-DV tapes into your Mac.
Best Prices TodayLifeFlix 2.5