At a Glance
Expert's Rating
Pros
100% full-grain leather protection
Lots of central space and three side pouches
100-year warranty
No easily breakable parts
Cons
No dedicated partition for MacBook
Our Verdict
A tough-as-nails backpack with plenty of room for a 15-inch MacBook Pro. And then some.
To hear it from some people, Apple is the king of daily-wear conversation pieces, but I don't think those people have ever seen a Saddleback Leather bag. Let's put it this way: If you don't like talking to people, you probably shouldn't get one.
As for me, I've made a bit of a game out of my past few days with the Saddleback Thin Front Pocket Backpack, counting down the moments to the next compliment, the next thumbs-up from a fellow Saddleback owner, or the earnest bus conversation from someone who's eager to know how they can get one for themselves. (I'm currently sitting at nine hours.) It helps to know this admiration is justified. Much like an Apple product, a Saddleback bag delivers style and substance in equal measure. It gets the job done, and it looks fine while doing it. And in stark contrast to most laptop bags, there's a good chance that it'll outlive my MacBook Pro. In fact, it may outlive several of them.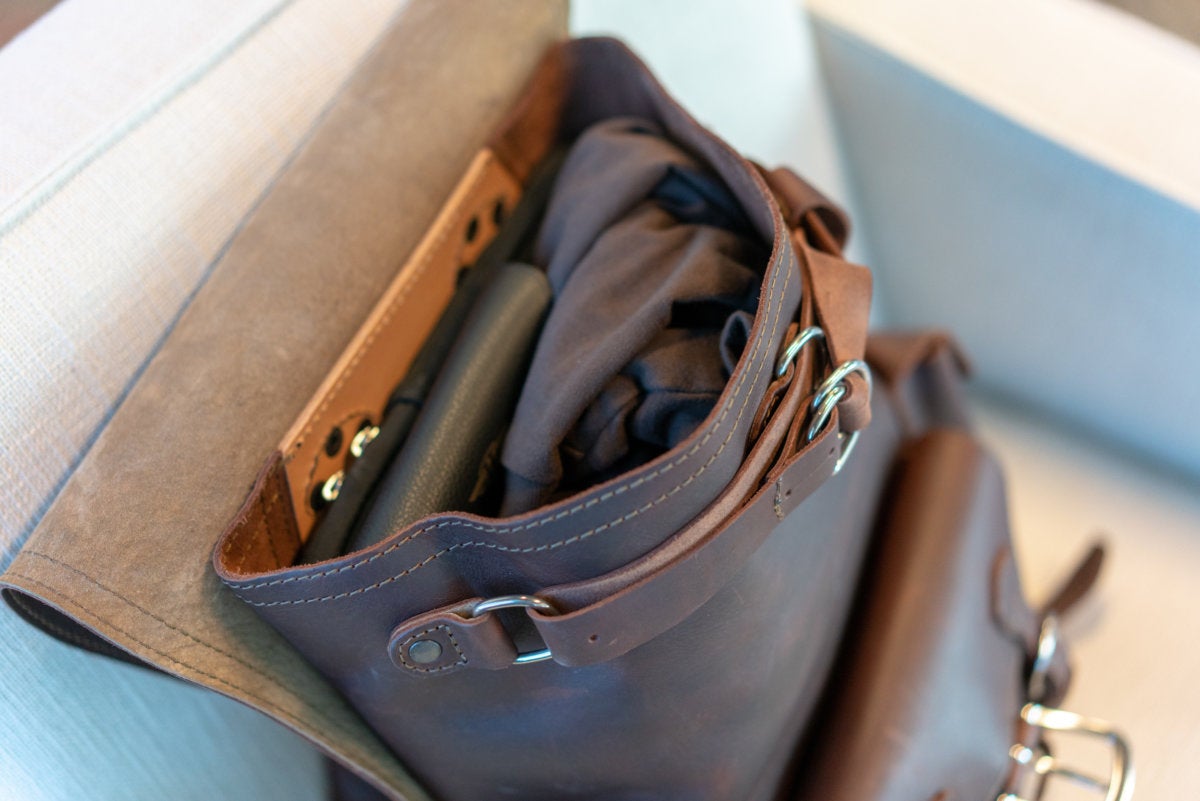 And that, dear readers, is why you shouldn't feel too bad about dropping $469 (yes) on a bag like this. It's tough. It's dependable. Sure, you may be used to leather bags that demand so much love and attention that you might as well call them Fido and sign them up for vaccinations, but you could pull this thing out of the boss, toss all your stuff in it, and never worry about it again.
You can tell it oozes quality just from looking at it. True to its name, this is saddle-grade leather; the kind of stuff that's meant to weather Colorado snowstorms or sweaty days on horseback under the Great Plains sun. It's sure as heck going to be fine along your sidewalk commute through Chicago or New York. It's a bag built for enduring pain, scuffs, and even sharp objects, and you can be confident that it will shrug off almost any outside force that attempts to assail your MacBook during your daily routines. Small wonder that these things come with a 100-year warranty.
Inside the bag is another matter. Other Saddleback bags like the Slim Laptop Briefcase come with a handy sleeve that can compartmentalize a regular MacBook (but not many bigger laptops), but the Thin Front Pocket Backpack merely has the main, yawning 16-inch cavity. Everything in there shares the same space. If you're going to keep your MacBook in here, it's best to keep it in a separate sleeve to keep anything else from scratching it up.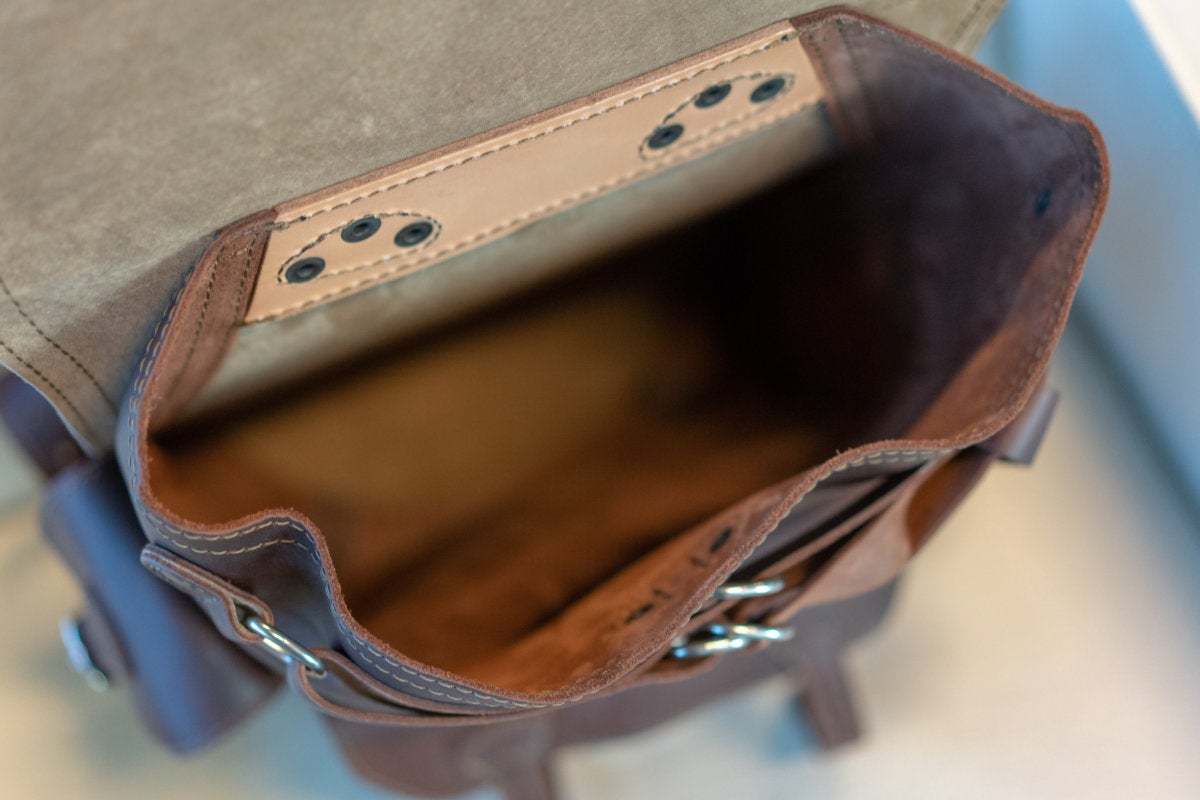 It's roomy in there, though, even considering that this is the smaller of Saddleback's two flagship backpacks. On a regular day, I toss my MacBook Pro in there inside its own padded sleeve, along with my 12.9-inch iPad Pro, my case for my Bose QuietComfort 35 headphones, a Logitech mouse and its cable, a heavy power bank for my iPhone, and even a denim hoodie. Occasionally I'll even toss a regular MacBook in there as well. Even with all that smooshed in, I still have a bit of room left over for small items I pick up in stores on the way home.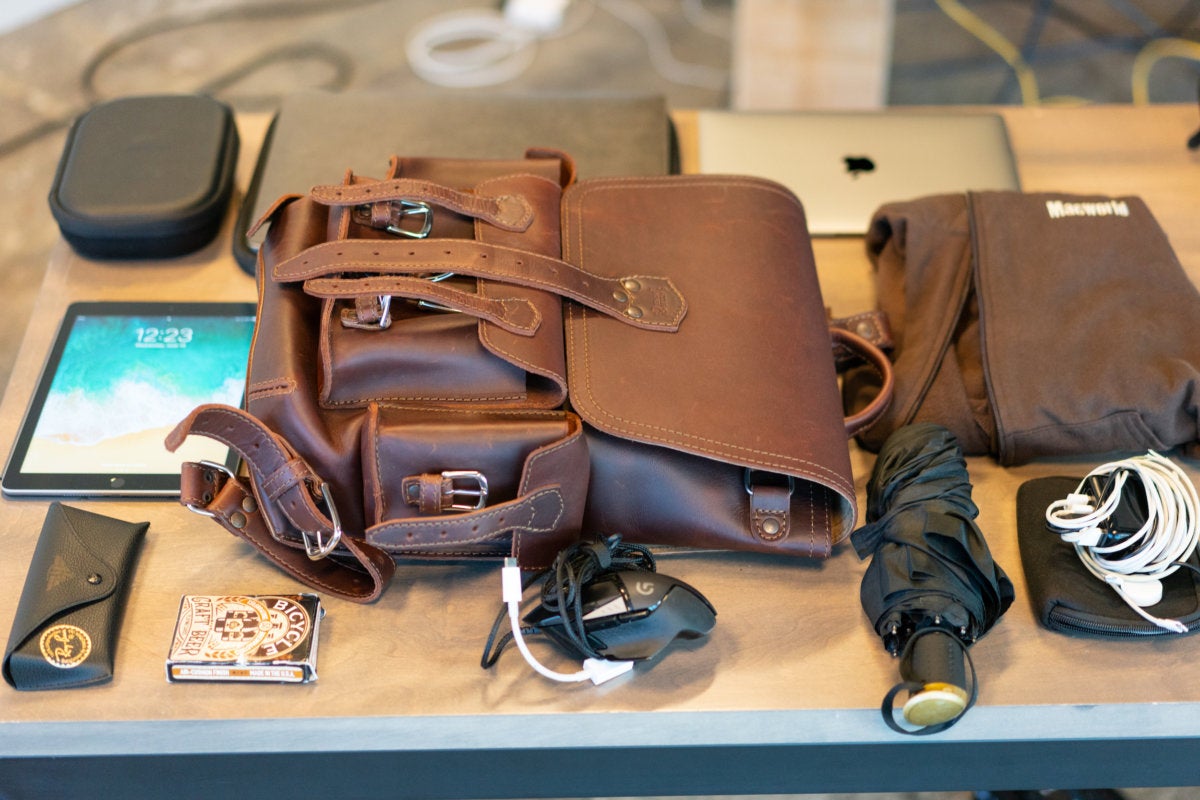 But there are other places to stash your smaller stuff, including three pouches along the front and on two sides, along with slot pockets behind each for convenience. I use the front 8.5-inch by 5.5-inch pouch the most, which is big enough to hold my pencils and pens along with my four-port wall charger and its accompanying four Lightning and micro-USB cables. I typically keep my Magic Mouse and a deck of playing cards in one of the 5.5-inch by 4-inch side pouches, while I keep a small umbrella tucked into the other pocket for emergencies. If you're not keen on all that, it also makes a handy place for storing AirPods. None of these have straps or zippers—with a Saddleback bag, it's all about buckles and straps.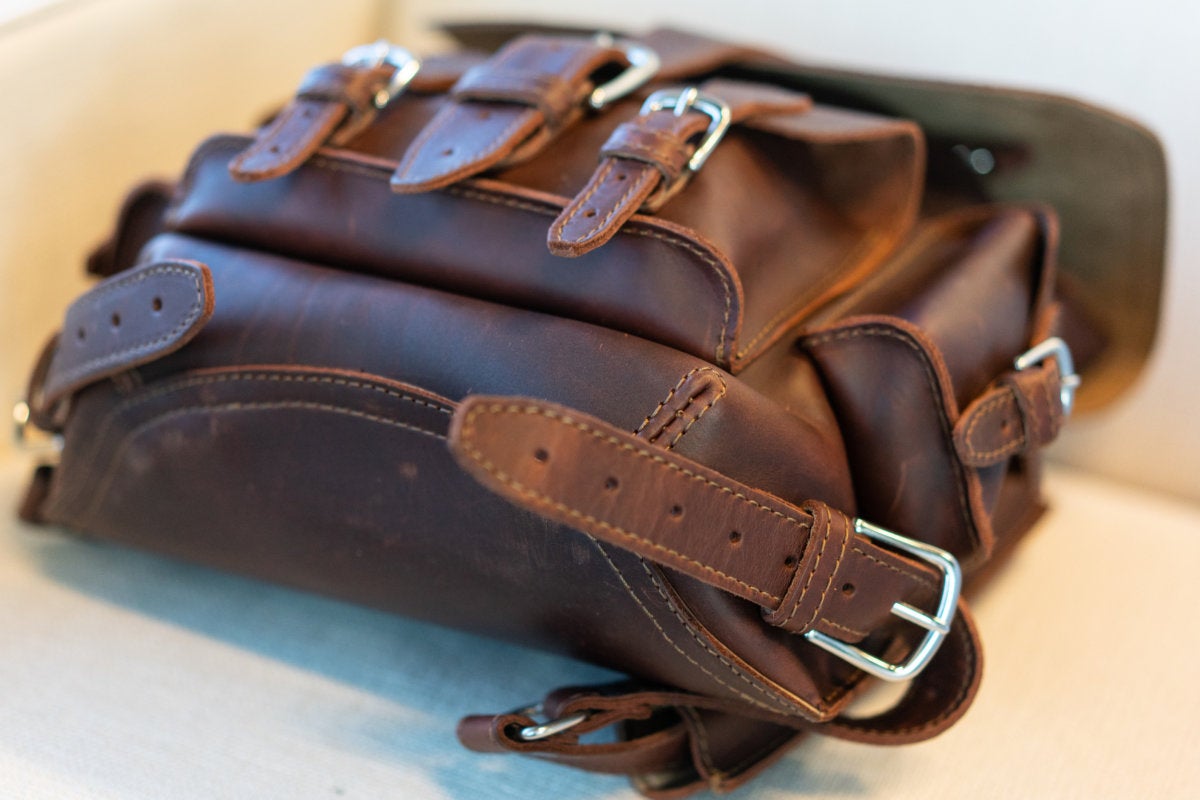 Doesn't sound convenient? You quickly get used to it, particularly once the leather breaks in and the act of buckling up takes no more time than snapping a button on a cheaper bag. It's also part of the reason why Saddleback can boast that its bags have no breakable parts, and the truth of that shows up in every over detail, whether it's the mere two pieces of leather used for the main cavity (for strength) or the fact that the D-rings and buckled are solid-welded. If for some insane reason you wanted to break them off, you're going to need some bolt cutters.
Aside from the parts, the engineering itself is impeccable. The Thin Front Pocket Backpack is made of four pounds of heavy leather, but it's designed so smartly that I barely notice it when it's stuffed and hanging on my back. Better yet, the slim dimensions allow the bag to keep a low profile on the subway ride home, so I'm not taking up the space of an extra person on the already crowded trains as I might with a heftier bag.
If I initially doubted anything about its construction, it was the two leather tubes designed to slip over each backpack strap for extra padding, as I first struggled to see how these would be comfortable. But after only a couple of days they'd perfectly adjusted themselves to my body. Right now, they feel more comfortable than the straps on the North Face bag I used to use as my travel bag.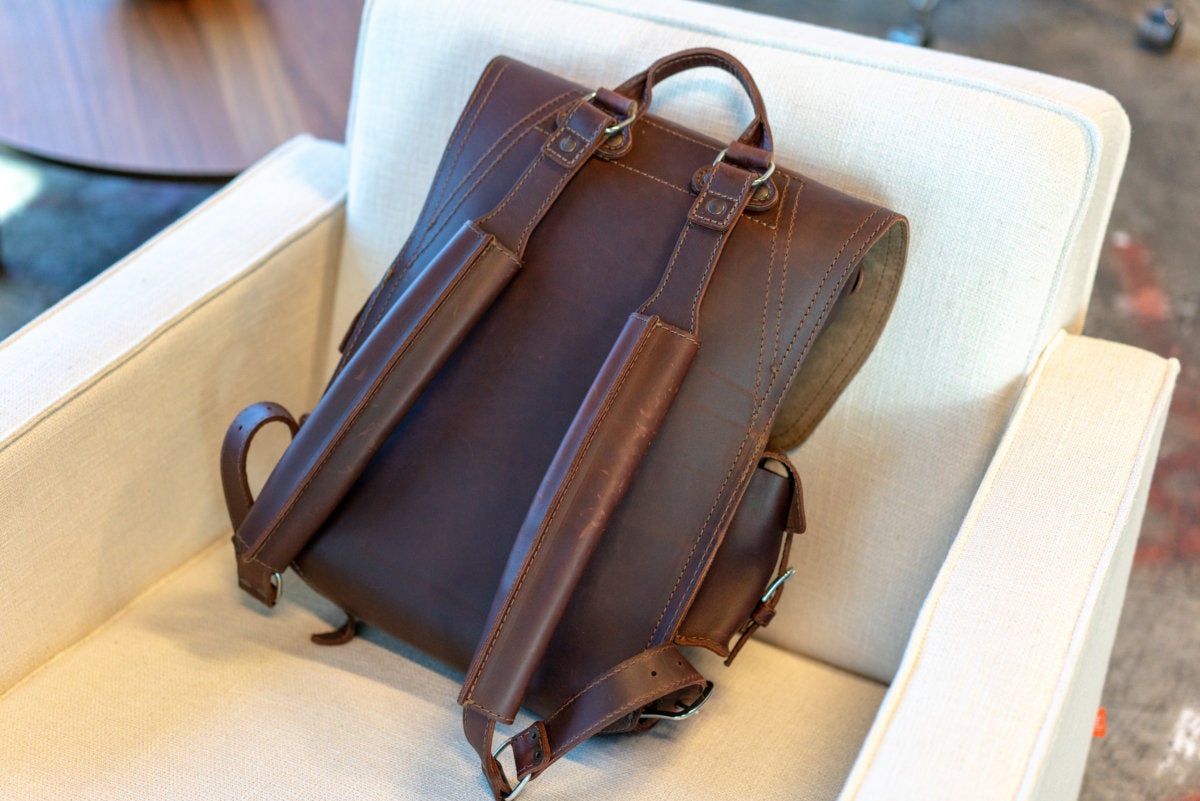 Even the water resistance is commendable. For over a year now I've used a Saddleback Messenger Bag which won me just as many compliments, but its one real flaw was a little gap peering into the cavity even after I'd pulled the cover over the opening. That little bit of open space, I feared, could ruin my precious electronics in a drizzle. There's none of that here. The top of the main cavity has a leather drawstring that cinches it tightly shut, leaving the whole business safely covered. Short of actually falling in a river or a swimming pool, there's no way water's going to get in there if it's wet.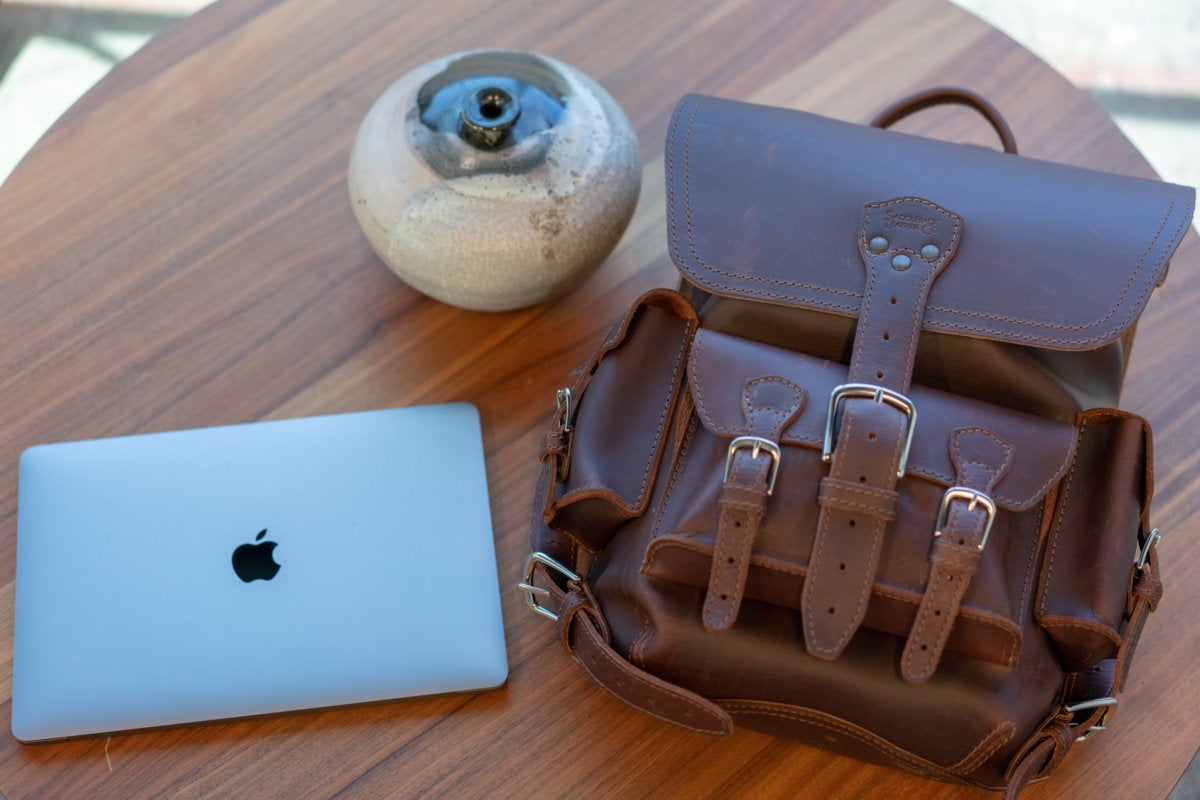 For me, at least, the Saddleback Thin Front Pocket Backpack is the Holy Grail of bags, whether for laptops or otherwise. It's roomy, it's tough, and it fits my 15-inch MacBook Pro within its sleeve with plenty of space to spare. It's great for both urban and wilderness day hikes, and it's great for the commute.