With images and videos that you want to index, note, modify, and manage, Photos for macOS has a powerful option that lets you store that media in its original locations, rather than copied into the Photos Library. In Photos > Preferences, in the General tab, simply uncheck Copy Items to the Photos Library.
Any media that's referenced instead of copied will appear with a special confusing little icon that looks like an arrow pointing outside of a rectangle.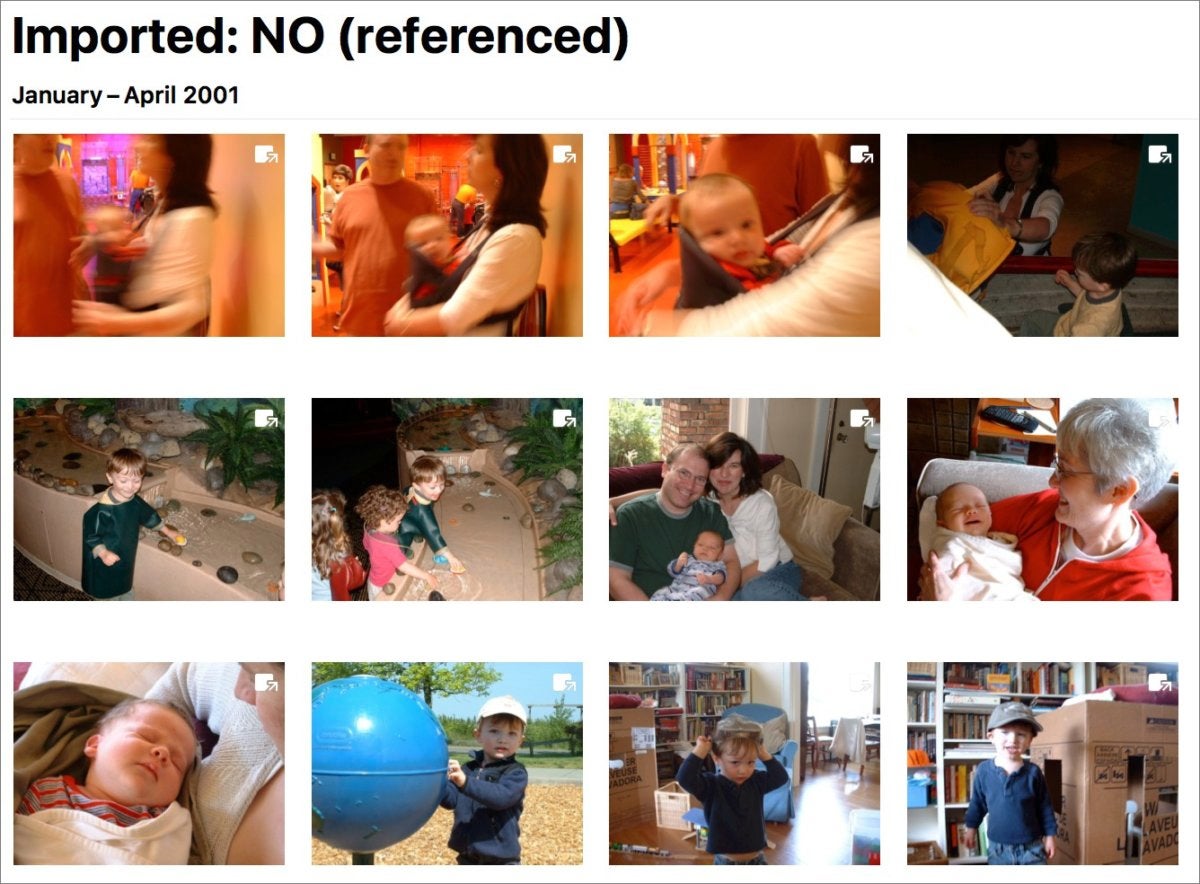 However, this can cause a problem: Macworld reader Angela wants to clean up her Mac, and she's concerned about losing images.
If I empty photos out of my Downloads folder, will that also remove it from Photos? I am trying to clean up my downloads, but do not want to throw away the photos.
I told Angela that she should make sure the box above isn't checked. If she's only copied images into the Photos library, the default option, she's ok. (You should also make sure you've already imported everything from that Downloads folder, too: Photos will note when you drag images or a folder in to import if it has already imported exactly the same file.)
If she hasn't, there's a relatively easy way to fix this problem.
In Photos, choose New > New Smart Album.
For the single criterion under Match the Following Condition, set it to Photo, Is, and Referenced. (In this case Photo means any media, so it includes videos, too.)
Click OK. The resulting album contains only media not copied to the Photos library.
Select all the items in the album.
Select File > Consolidate to copy all that media into your Photos library.

In step 5, you might be prompted to give Photos permission to access certain folders on your drives. This is a macOS privacy feature that prevents some apps from having arbitrary access to private information. You might also be warned about missing originals, which can then require hunting them down by navigating around your folders, or deleting the referenced item in your Photos library.
When you're complete, you will have a full copy of everything you imported instead of a mix of referenced and copied images.
Ask Mac 911
We've compiled a list of the questions we get asked most frequently along with answers and links to columns: read our super FAQ to see if your question is covered. If not, we're always looking for new problems to solve! Email yours to mac911@macworld.com including screen captures as appropriate, and whether you want your full name used. Every question won't be answered, we don't reply to email, and we cannot provide direct troubleshooting advice.