Apple insists that iOS and macOS will never morph into the same digital beast, but at least it's increasingly willing to share the most useful features between each platform.
Consider, for instance, the ability to markup screenshots in iOS 11. It quickly became one of our favorite tools on the iPhone, as you could quickly circle or highlight specific passages in a screenshot of an email or pinpoint a location in a photo and then send that file off to a friend in an iMessage.
With macOS Mojave, that same great feature comes to Apple's desktop system, along with a pile of Mac-appropriate enhancements (many of which are familiar from Preview). Here's how to use it.
How to take a screenshot in macOS Mojave
Many of us have long been familiar with the old standbys of macOS screenshots:
Command-Shift-3 takes a screenshot of the entire screen, which immediately saves to the desktop.
Command-Shift-4 takes a screenshot of a specific area, which you select by dragging an adjustable rectangle.
But with Mojave, we also get Command-Shift-5. Use this, and you'll get a small menu bar along the bottom that offers five choices. (If you use a MacBook Pro with a Touch Bar, you'll also see these options on the bar.) Those choices are:
Screenshot the whole screen (exactly like Command-Shift-3)
Screenshot a specific window
Screenshot a specific area (exactly like Command-Shift-4)
Record the entire screen (for video)
Record a specific part of the screen (for video)
On the right side of the bar, you'll also see an Options menu that lets you further customize your screenshotting experience. Importantly, these options can also change how screenshots behave with good ol' Command-Shift-3 and Command-Shift-4.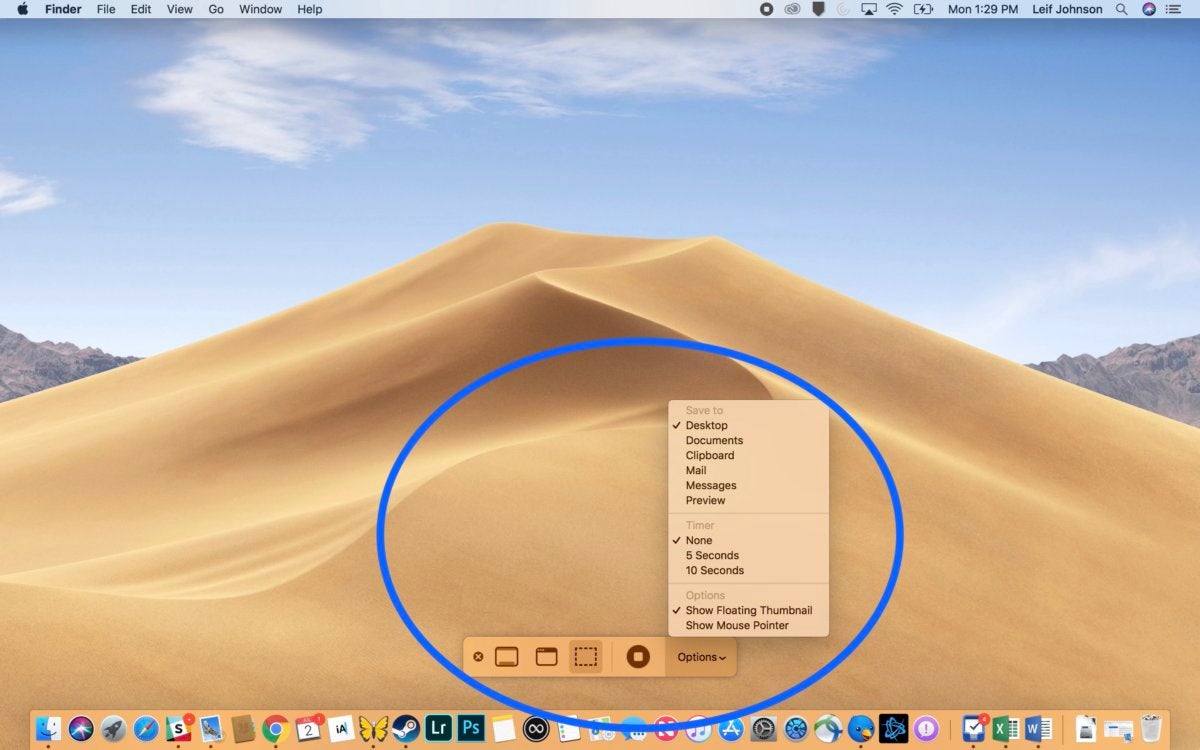 Clicking on the Options menu allows you to choose where to save the screenshot—Desktop, Documents, Clipboard, Mail, Messages, or Preview—and you can set a timer before the screenshot or video begins that lasts either five or 10 seconds.
Beyond that, you can choose to include the mouse pointer in the shot and (much as on an iPhone or iPad) show a floating thumbnail or the screenshot once it's been taken. With macOS Mojave, the floating thumbnail is on by default, and it'll appear in the lower-right corner of your screen.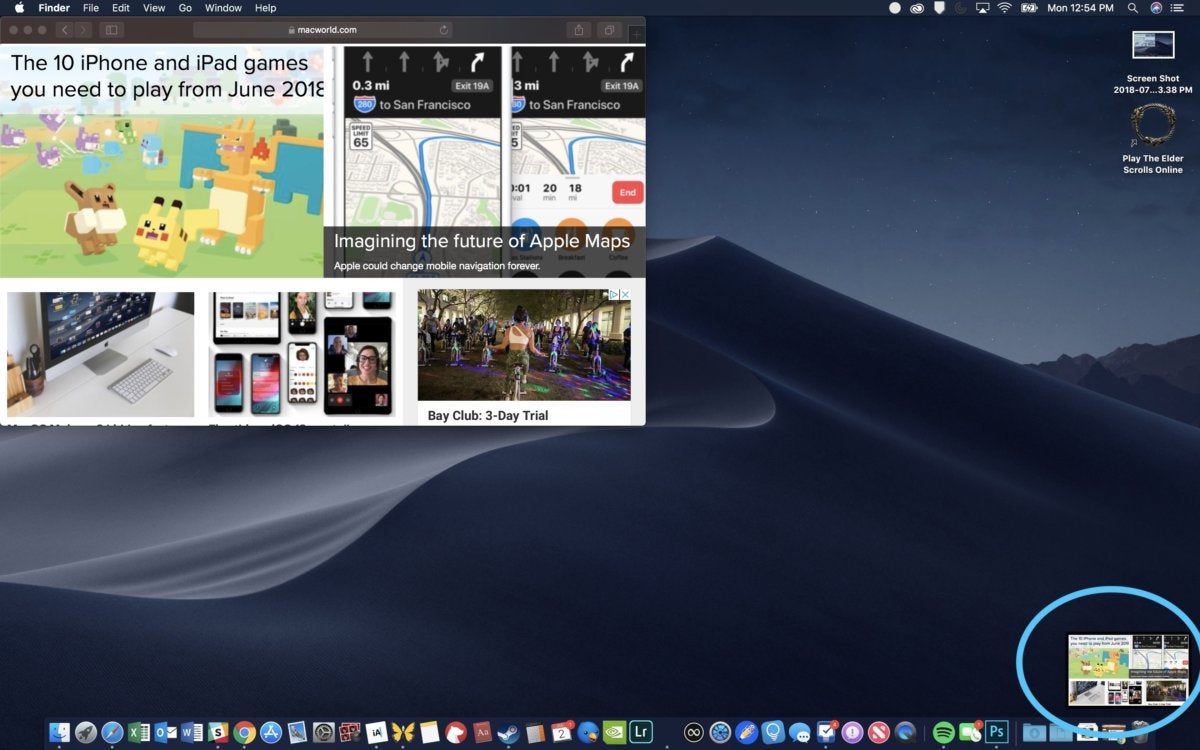 It's wise to keep the floating thumbnail active as it lets you change your mind about what you plan to do with the shot. Once the thumbnail appears following any of the Command-Shift variations, you can right-click on it to bring up a menu that lets you save the screenshot to the Desktop, Documents, or Clipboard.
Beyond that, you can open it in Mail, Messages, Preview, or Photos. For that matter, you can simply delete it, show where the file is in Finder, or choose Markup to draw all over it.
How to mark up a screenshot in macOS Mojave
And that, finally, is where our feature from iOS 11 makes its appearance. If you don't click Markup when you right-click on the screenshot, you can always left-click on it to bring up Markup immediately.
Essentially, the same thing happens here that you find on iOS, but with a lot more options. Click on the screenshot, and it opens in a new window with a Markup toolbar. From left to right, your options are:
Sketch
Draw (basically a more "fluid" version of Sketch)
Add Shapes (which also includes a magnifying class for emphasizing specifics)
Add Text
Sign (which is a nifty feature that gives you an adjustable version of your signature, based either on one you make with the mouse or a photo of one you take with the onboard camera)
Stroke and shape style (for Sketch, Draw, Shapes, etc.)
Border Color
Fill Color
Customize size, color, font of text, along with paragraph alignment
Rotate Right
Rotate Left
Crop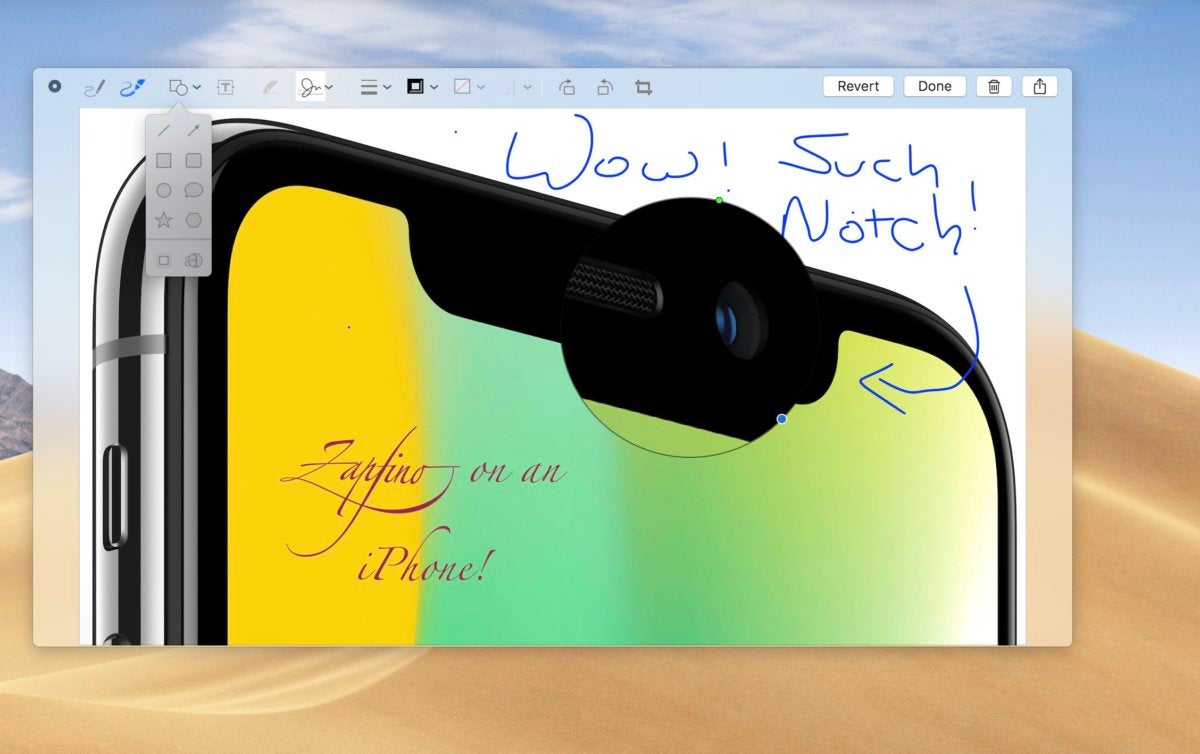 Whew. That's enough to make the new Markup window a lightweight version of Preview. And for those of us who take a ton of screenshots, it's a blessing.