Apple has a long back and forth relationship with the role of color in its products. Even looking back at the original Macintosh, which debuted with a black and white display at a time when the company's long-running Apple II line boasted color graphics. (The Apple II which, it should also be noted, gave us the venerable six-color Apple logo.)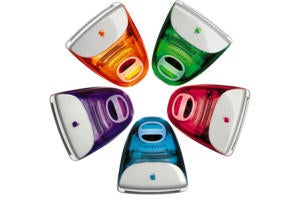 In more recent years, color has played a part in the outward facing part of Apple's products as well. When the first iMac appeared on the scene in 1998, its most distinctive feature was the bright Bondi Blue exterior, which later multiplied into a variety of different options and set the tone for Apple products of its era.
For the last decade or so, however, Apple has largely retreated from offering color versions of its products. Only more recently has it shifted its strategy to include different metallic shades of products like the iPhone and the iPad. Broader color options have mainly been limited to the Product(RED) version of the iPhone that Apple seems to release about six months into the current model's lifteime.
Now, a new report suggests that Apple may once again veer into color territory, with the current metallic options joined by different shades, including blue and orange. Frankly, it's about time.
The color of magic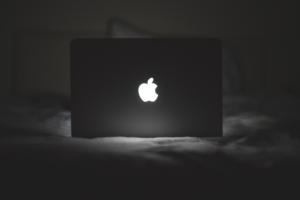 The recent chromatic identity of Apple has clearly been one of simplicity and elegance. From the featureless white room in which Jony Ive seems to give all his product spiels to the non-illuminating Apple logo on the latest notebook computers, the company's design over the past decade and change has often seemed to treat colors as frivolous and silly. Even that six-color Apple logo, long the distinctive badge of the company, was retired in 1998; for the last 15 years or so, it's merely been a monochromatic silhouette.
But these things seem to go in phases. After all, the Apple of the'80s and the early '90s was mainly known for making boring beige boxes where generally the Apple logo was the only part that had any color at all. The pendulum didn't firmly swing the other way until 1999, with the appearance of a variety of different color of iMac, and it likely hit the far end of that swing in 2001 with the Flower Power and Blue Dalmatian models.
At the same time, Apple's current identity got its start with the 2001 launch of the original iPod, which came only in sleek white, and continued to do so until the 2004 debut of the iPod mini. Even after that point, black and white remained the most common options, with colors often relegated to the cheaper models, like the colorful iPod nano and iPod shuffle. But they have since disappeared to the underworld, leaving only the iPod touch as a representative of Apple's bright-color era.
That's so metal
Since the introduction of the titanium PowerBook G4 in 2004, metal has been a big part of Apple's color identity, especially on its laptop computers. The Pro laptops have been some shade of silver since that first G4; the same goes for the MacBook Air, which first showed up in 2011. (The MacBook has had a somewhat twistier history, originating in black and white polycarbonate in 2006, with a brief foray into metal in 2008 before returning to plastic in 2009 and then back to metal with the 12-inch model that appeared in 2015.)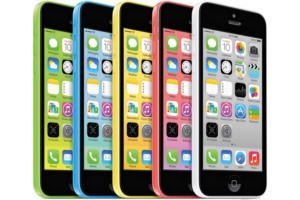 Metal also made its way to Apple's mobile products, with both the original iPhone and original iPad featuring metal backs with monochrome faces; both of their second-generation models offered black or white options, a trend that largely continues to this day, with only two significant exceptions. One is the iPhone 5c, an odd-man-out model with a polycarbonate back that came in a variety of different colors, including blue, green, pink, and yellow. The other, the aforementioned Product(RED) version of the iPhone 7 and iPhone 8 lines.
In more recent years, Apple has broadened the metallic options in its lineup for phones, laptops, and, most significantly, the Apple Watch. Gold, rose gold, silver, and varying shades of space gray and black have become common throughout Apple's lineup, giving customers the option for a little bit of personalization. Meanwhile, third-party vendors have sprung up to offer colorization of Apple products to any of a variety of shades, filling an Apple-logo-shaped void.
Color me optimistic
After all this time, have we finally hit the point where Apple is ready to bring a little more color back into its lineup? The iPhone's a well-established product by now, so one way the company might inject a little more life into it could be to offer it in a variety of shades. If my Twitter feed is any indication, it would be a popular move: after this rumor appeared, there were a slew of people hoping to see iPhones in their favorite colors.
In general, though, it seems like maybe now is the right time for Apple's lineup to add a little more fun. The company's monochromatic identity is still elegant, but it seems a bit staid—a word I never thought I would apply to Apple—and has become a commonly mocked aspect of the company. And though I would never suggest that Apple change what it's doing to avoid a little ribbing, few would dispute that all companies—and people for that matter—need to mix it up every once in a while and, you know, color outside the lines.