I may have noted before that we receive more questions about Photos for macOS than any other topic at Mac 911. A recent set of questions from Macworld reader Pedro bring up an interesting intersection of potential pitfalls, some of which I've answered individually before, but which are useful to look at together.
Pedro has a small disk drive on his MacBook Air, just 128GB, and thus is wrestling like many people with keeping his entire Photos library on the internal drive. He has iCloud Photo Library active, and wants to rely on it, but is already running out of space. He has three questions.
Syncing, disabling, deleting, and then syncing. Pedro knows that deleting an image off the laptop will delete it everywhere when iCloud Photo Library is active, something I've reminded readers of time and time again. That's good to know. However, he wonders about this scenario:
With iCloud Photo Library enabled, he makes sure all his media is uploaded.
He disables iCloud Photo Library.
He deletes images from the library on his Mac.
He re-enables iCloud Photo Library.
His question is whether the new synchronization between his Mac and iCloud will delete images. The answer: no. Deletions aren't tracked when iCloud Photo Library is disabled.
Generally, iCloud creates a superset without duplicates of libraries as they're added to iCloud Photo Library rather than an exclusive intersection. That is, it only adds photos and videos to the total synced set, no matter in which library they appear, rather than creating a set that is only media shared among all libraries.
When optimizing, are high-resolution photos deleted? His second question is about the use of Optimize Mac Storage in Photos > Preferences > iCloud under iCloud Photo Library. "When my laptop runs out of space, high-resolution photos will be deleted. Do I still have them available in iCloud?" he asks. Another simple answer: yes.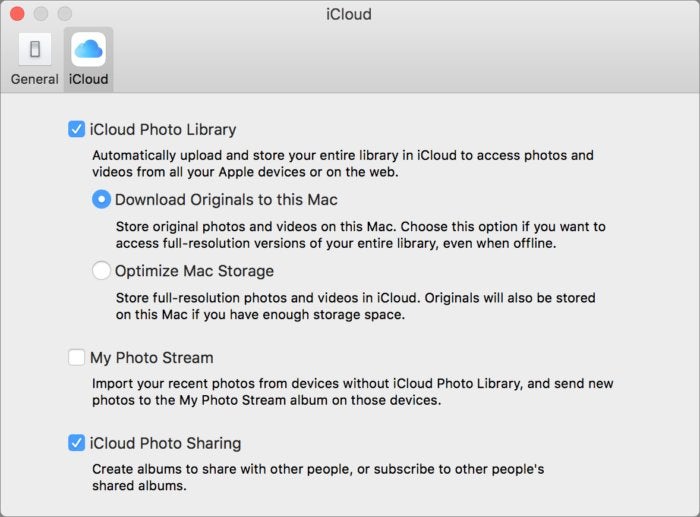 Your iCloud account will always maintain a high-resolution version of any images and videos you initially sync via your iOS device or Photos for macOS. With the optimized setting enable on any of your hardware, the high-resolution version of your media is only deleted and a thumbnail retained after that version is uploaded to iCloud.
Now, I think this is risky, having a single copy. I have an iMac, a MacBook, an iPhone, and an iPad all synced to the same account. On my iMac, I retain full-resolution versions of all media in iCloud Photo Library, because otherwise I would be unable to have a full backup of my own. I'd be entirely relying on Apple to maintain my full-resolution media. You can read my philosophy on this and a strategy in this column from last year.
Can you store the library on an external drive? Finally, Pedro wonders about how to use an external drive for his Photos library, and how that will work with syncing to iCloud Photo Library. It's very easy to copy the library, and then set it as your System Photo Library, as explained in this older column. iCloud Photo Library can only sync from the library you've anointed as your System Photo Library, but that library can be resident on any drive you pick.
But, yes and of course, you'll have to make sure the drive is available and mounted any time you want to access its library. From the start and with no sign of changing, Apple can't sync to iCloud from multiple photo libraries. I'd hope the company would consider more flexibility about marking multiple libraries, including ones that might be offline at times. There's no additional cost for Apple, since users have to pay for additional iCloud storage if they sync more photos and media to it.
Ask Mac 911
We've compiled a list of the questions we get asked most frequently along with answers and links to columns: read our super FAQ to see if your question is covered. If not, we're always looking for new problems to solve! Email yours to mac911@macworld.com including screen captures as appropriate, and whether you want your full name used. Every question won't be answered, we don't reply to email, and we cannot provide direct troubleshooting advice.