Photos for macOS lets you adjust the date and time assigned as metadata to images and videos in its library. This lets you fix chronological sorting and categorization when it's gone wrong. You select one or more items in any view, and then select Image > Adjust Date and Time.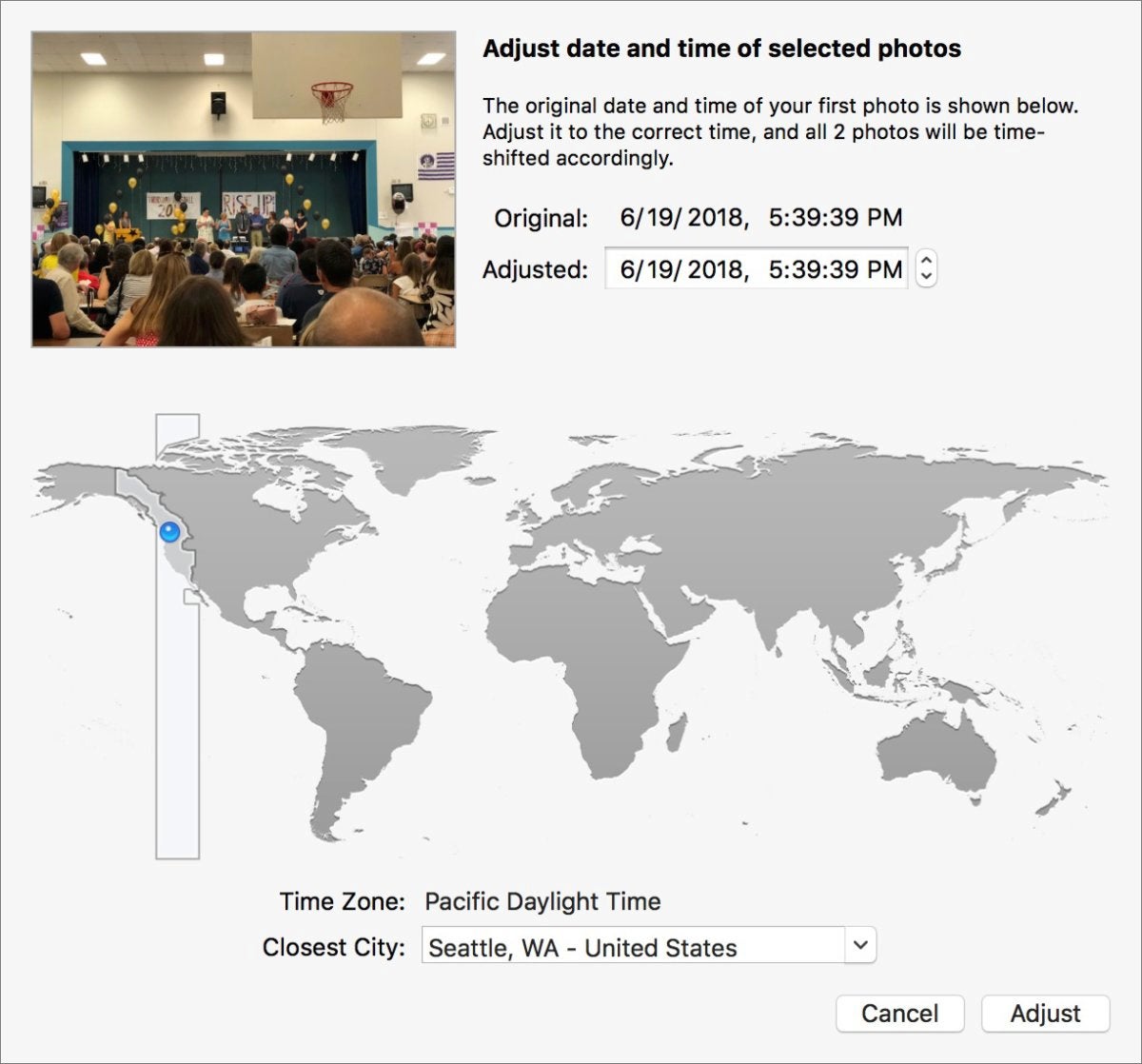 However, what happens when this goes astray, and you've made an error in changing the time, as happened to Macworld reader Wendy? No, you don't disappear from history and your jeans don't suddenly become floods (although that's apparently stylish once again). Rather, you can work through a multi-step process to get back to the original.
Note that you cannot immediately undo a change (via Edit > Undo) or step back through changes if you adjusted the timestamp recently—it's not part of the set of actions that Photos lets you change your mind over. To revert, you have to extract the file from Photos, examine it in third-party software, and then modify either the version you exported or the file via Photos.
Let's break that down. First, export the media for which you want to re-adjust the timestamp:
Select the image or sets of images.
Choose File > Export > Export Unmodified Original.
Click Export.
Pick a folder to hold them and click Export Originals.
(In iPhoto, you could choose media and then select to show the originals in the Finder, but that's not an option in Photos. Navigating the Photos Library is also enough of a pain, that this is unfortunately the best method.)
Now you need to find the right third-party software. My recommendation is A Better Finder Attributes, a $15 utility that can perform all sorts of file name and attribute modifications in the Finder. There's a free trial to test it out.
Download and launch the app, and drag the files you exported in the steps above into the main window. As you select individual files in the list, you can see the original creation date and other information as well as the DateTimeOriginal metadata, which will show the adjusted time you set.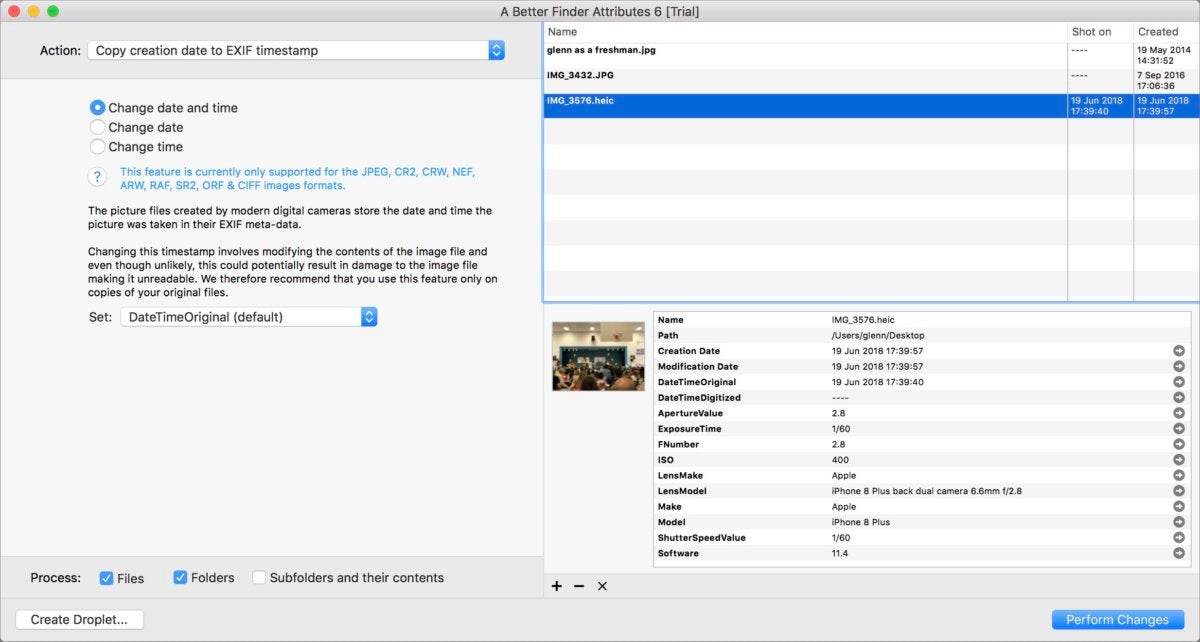 At this point you have two choices.
Use A Better Finder Attributes' option under Action labeled "Copy creation date to EXIF timestamp" and then click Perform Changes to apply to all the images in your list. You can then import the media back into Photos, deleting the original items. However, this doesn't work with all image types: the app supports JPEG metadata and a number of raw image file formats, but not the new HEIC, PNG, and others.

Use the app to view the creative date in the EXIF data and then use Photos to readjust the time and date individually or in batches. While this is more tedious, it doesn't require exporting and re-importing.
Ask Mac 911
We've compiled a list of the questions we get asked most frequently along with answers and links to columns: read our super FAQ to see if your question is covered. If not, we're always looking for new problems to solve! Email yours to mac911@macworld.com including screen captures as appropriate, and whether you want your full name used. Every question won't be answered, we don't reply to email, and we cannot provide direct troubleshooting advice.