Update 4:55pm: The USB Accessories lockout feature first discovered in iOS 12 has been released as part of 11.4.1.
Apple has begun rolling out a suite of OS updates. For your iPhone or iPad, it's iOS 11.4.1. For Apple TV, it's tvOS 11.4.1. HomePod used a variant of the same OS, and thus its version number is 11.4.1 as well. For Apple Watch, you'll see a watchOS 4.3.2 update.
These are point releases that don't add new features, but rather fix bugs and optimize performance.
This is the 15th update after the initial release of iOS 11 on September 19, 2017, which makes iOS 11 the most-updated version of iOS ever.
What's new?
iOS 11.4 added Messages in iCloud, AirPlay 2, and HomePod stereo pairing. This 11.4.1 update only fixes bugs found in the last six weeks since its release. Specifically, Apple calls out improvements in the ability to locate your AirPods in the Find My iPhone app as well as syncing mail, contacts, and calendars with Exchange servers.
The 11.4.1 release notes for the HomePod update list only "general improvements for stability and quality."
One new feature you may appreciate is USB restricted mode. First discovered as a feature in the iOS 12 beta, Apple has pushed it out as part of 11.4.1. When disabled, your iPhone will disable all data access over the lightning port if it hasn't been unlocked within the last hour, making the port charge-only. This effectively gives USB based hacking tools (from either the government or criminals) one hour to break into your phone, making them nearly useless.

Again, you want this feature disabled to be more secure. If you want USB connections to be able to send or receive data to your phone even if you haven't unlocked it within the last hour, flip the switch on.
How to get the updates
For your iPhone or iPad, you'll eventually be prompted about the update with a notification. To grab it right away, head to Settings > General > Software Update.
For your Apple Watch, open the Watch app on the iPhone associated with it, scroll down to General, and tap on Software Update.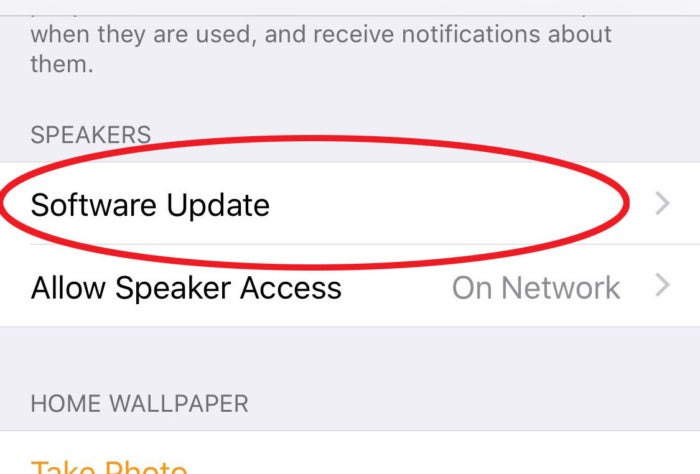 Your HomePod should eventually update itself automatically, but you can force the update yourself. Just open the Home app, tap the Home icon in the upper left (it looks like an arrow), scroll down to the Speakers section, and tap Software Update.