Here's a problem that could cause a panic. Macworld reader Cil has been seeing seeing black squares in their photos at random locations and often in different places. It not only appeared on screen, which was bad enough, but when exporting to create a photo book, a black square appeared in one of those.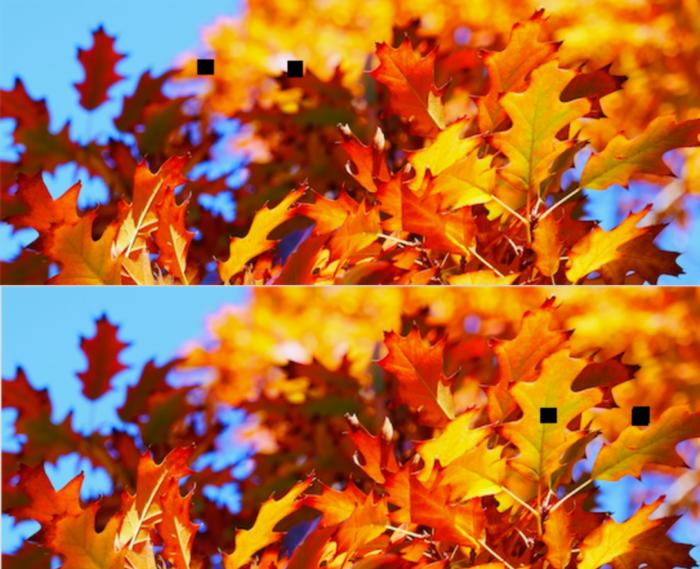 Despite the help of an Apple Store in reinstalling macOS and deleting preference files, the problem persists. I have to say that I was almost stumped this one, but the internet provides. I think I have an answer for this peculiar problem. The problem is with the GPU, or graphic processing unit, in that Mac.
The GPU is a dedicated processor that renders graphical data into a bitmap displayed on a monitor. Over time, GPUs have become extremely powerful, which is why we can have affordable, large screens with dense pixel resolution that have fast and smooth refresh rates. It's also why games that render on the fly have gotten better and better, too.
For images, the GPU should be doing light lifting, with an image-editing or display program simply handing off bitmap data that's mapped. But it's consistent with a glitchy GPU or GPU firmware or software that the problem would occur in squares and randomly. (It showed up in a photo book because Photos processes images to create the book, and that processing would involve the GPU as well.)
It's not file corruption, or the problem would be consistent every time a photo was opened, and it would get worse over time if it's showing up in most photos to begin with. Across the internet, I found a few similar stories, and in every case the resolution had to do with turning on or off graphics acceleration or installing a new driver.
Mac users have fewer options in that regard. If you're using Adobe Photoshop, you can disable GPU-based acceleration via Photoshop > Preferences > Performance, and unchecking the Use Graphics Processor box. Some Mac laptops had two different graphics options to preserve battery life and you could switch among them. But that was relatively rare.
My best suggestion to Cil and anyone having the problem is to obtain warranty repair from Apple. If your Mac is out of warranty, this problem might be significant enough that you could get it repaired at no cost or low cost by demonstrating the problem, too; that's at Apple's discretion, since it's really a manufacturing error that manifested itself than one of wear and tear—it's not normal for this to ever happen. (Cil is currently working to get a resolution from Apple, and I will update this article with the outcome.)
You can demonstrate this problem and explain that it's GPU related by showing images exhibiting it and how the black square change every time you open the file on your own computer. Then copy those images to a Mac at the store, where they will open without a problem. Likewise, then copy images that open normally on another Mac to your Mac, and the same black squares should exhibit themselves.
Ask Mac 911
We've compiled a list of the questions we get asked most frequently along with answers and links to columns: read our super FAQ to see if your question is covered. If not, we're always looking for new problems to solve! Email yours to mac911@macworld.com including screen captures as appropriate, and whether you want your full name used. Every question won't be answered, we don't reply to email, and we cannot provide direct troubleshooting advice.