On Wednesday, Sonos released support for Apple's AirPlay 2, giving a dramatic boost in functionality to certain Sonos smart speakers via a software update. If you've got a Sonos One, Beam, Playbase, or second-generation Play:5, you'll need to update your Sonos iOS app and then use the new app to install the software update.
This is a big step forward in flexibility for Sonos products—keep in mind that Sonos speakers don't do Bluetooth or AirPlay 1, so they've been pretty firmly locked in their own universe unless you added a dongle or ran a software bridge. But once a Sonos speaker gets AirPlay 2, you can do a lot more than just play audio directly to that speaker from a Mac or iOS device.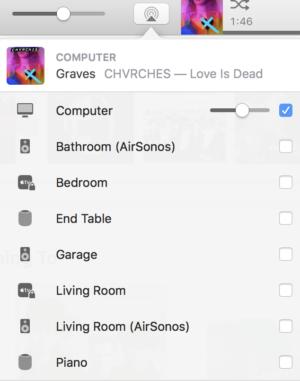 Perhaps most impressively, all AirPlay 2 speakers can play music in perfect synchronization. If you've got a HomePod or two and a compatible Sonos device, you can now select all those devices and play music through them, entirely in sync. Even better, if you've got incompatible Sonos devices and place them in the same group as an AirPlay 2-compatible Sonos device via the Sonos app, those speakers will also play synchronously. I was able to get music to play in sync throughout my house this morning, via a paired set of HomePods, a Play:5, and the (incompatible) Play:1 in my bathroom.
Sonos AirPlay 2 speakers need to be added to the Home app, giving you access via Siri. To add a speaker, tap the plus button, then Add Accessory, then Don't Have a Code or Can't Scan. On the following screen, my speaker appeared as a large icon, waiting to be added.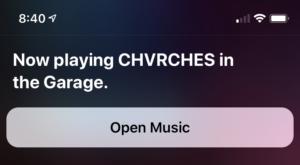 Siri control is pretty great. I was able to tell my iPhone to play some music in the garage, and in a couple of seconds, music sprung from the Play:5. You can control Sonos devices via the HomePod, too: When listening to music on a paired set of HomePods in my living room, I said, "Hey Siri, also play this in the garage," and the music immediately picked up on the Play:5 in the garage, in sync.
With all this talk about AirPlay 2, it's worth noting that AirPlay 2-compatible speakers also support the original AirPlay protocol. It's not as robust—everything's got a two-second buffering delay, for instance—but I was able to play a podcast from my iPhone using Overcast (which doesn't support AirPlay 2) to the Play:5 and my pair of HomePods.
Just because these Sonos devices support AirPlay 2 doesn't mean that they lose any of their other, existing features. Sonos has done some nifty engineering to bridge the gap between AirPlay and any other Sonos speakers in your home. That starts with the ability to group non-AirPlay Sonos speakers with an AirPlay-compatible one in order to create a larger playback group, but it doesn't stop there. You can control playback from the Sonos app, so you can pause, resume, and even skip to the next track—not just on Sonos speakers, but on all the speakers that are connected together. This extends to the controls on the Sonos hardware itself. When my (non-AirPlay 2) Sonos Play:1 was playing along with the Play:5 and the HomePods in my living room, I was able to press the play/pause button in the bathroom and pause the music everywhere.
This update makes the $199 Sonos One that much more compelling. It's not only a fraction of the price of a HomePod, but it's now a fully AirPlay 2-compatible citizen. No, you can't talk to it using Siri (it's got Amazon's Alexa assistant onboard), but you can control it using Siri on your other Apple devices.