Apple Watch might have started as device wholly dependent on your phone, but it's transformed into one that can function all day on its own. However, just like your iPhone, you won't get the most out of your Apple Watch until you fill it up with apps. Here are 10 of our favorite paid apps you need to have on your Apple Watch.
Outcast ($0.99)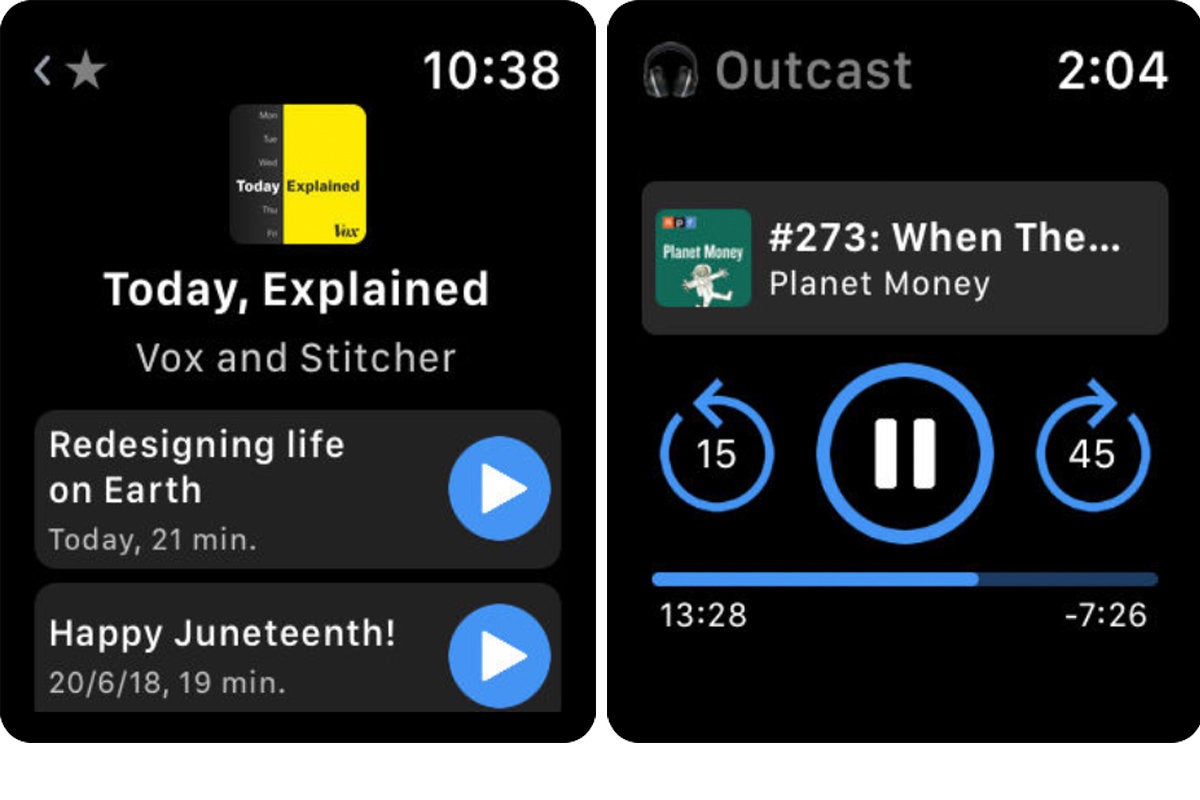 Apple is finally providing proper podcasts support in watchOS 5, but if you want more than the basics, we recommend giving Outcast a look (and a listen). Designed specifically for Apple Watch (in fact, the companion iPhone app is merely instructions on how to use the Apple Watch app), its simple, elegant interface lets you stream all of your favorite shows with simple controls, excellent search, and playlist support. It's one of the few podcast apps that let you do more than merely stream the episode that's playing on your phone, and even with an official Podcasts app coming from Apple, we think Outcast is worth your buck.
Streaks ($4.99)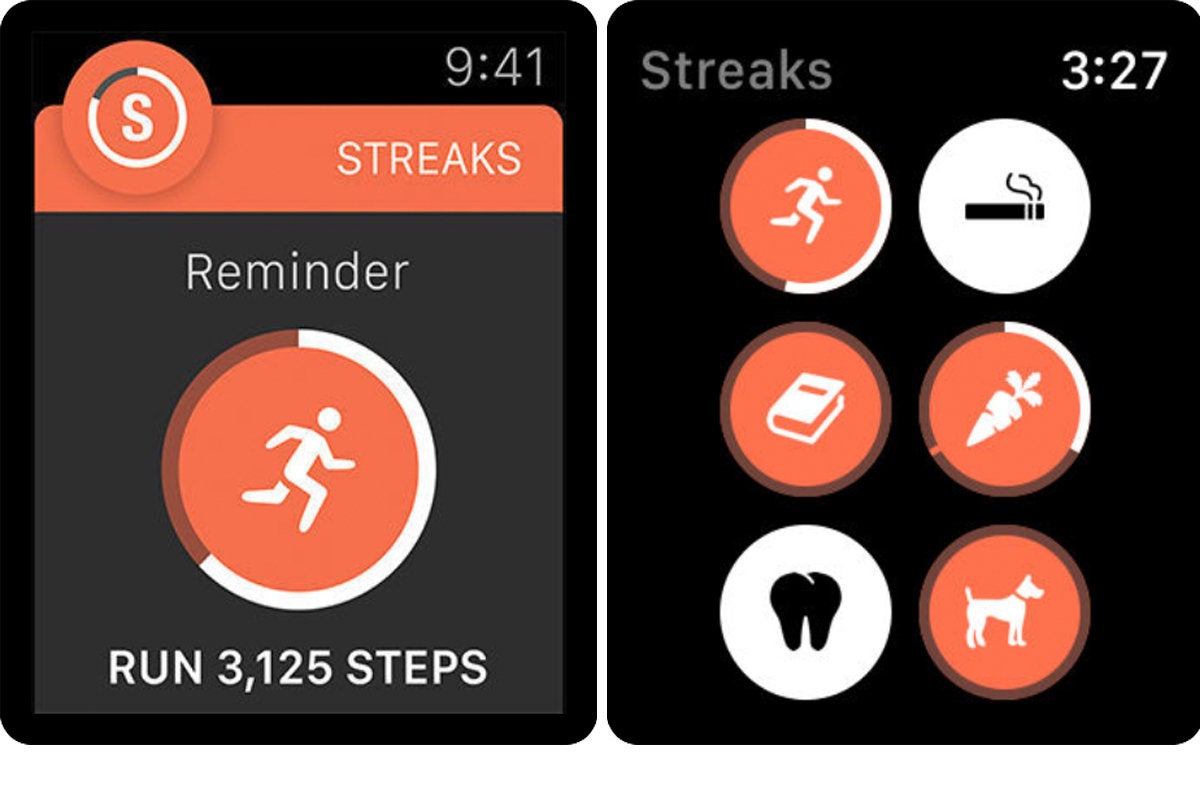 There are lots of apps that will harness the Apple Watch to help you get healthier and more active, but Streaks is rare in that it will encourage you to change your lifestyle too. As its name suggests, Streaks is a to-do app that focuses less on what you do and more on how often you're doing it. Whether you're trying to eat better, exercise more, or quit smoking, you'll be able to track, set, and complete tasks right on your wrist. And when you reach your goals, encouraging notifications will help keep the Streaks alive.
Carrot Weather ($4.99)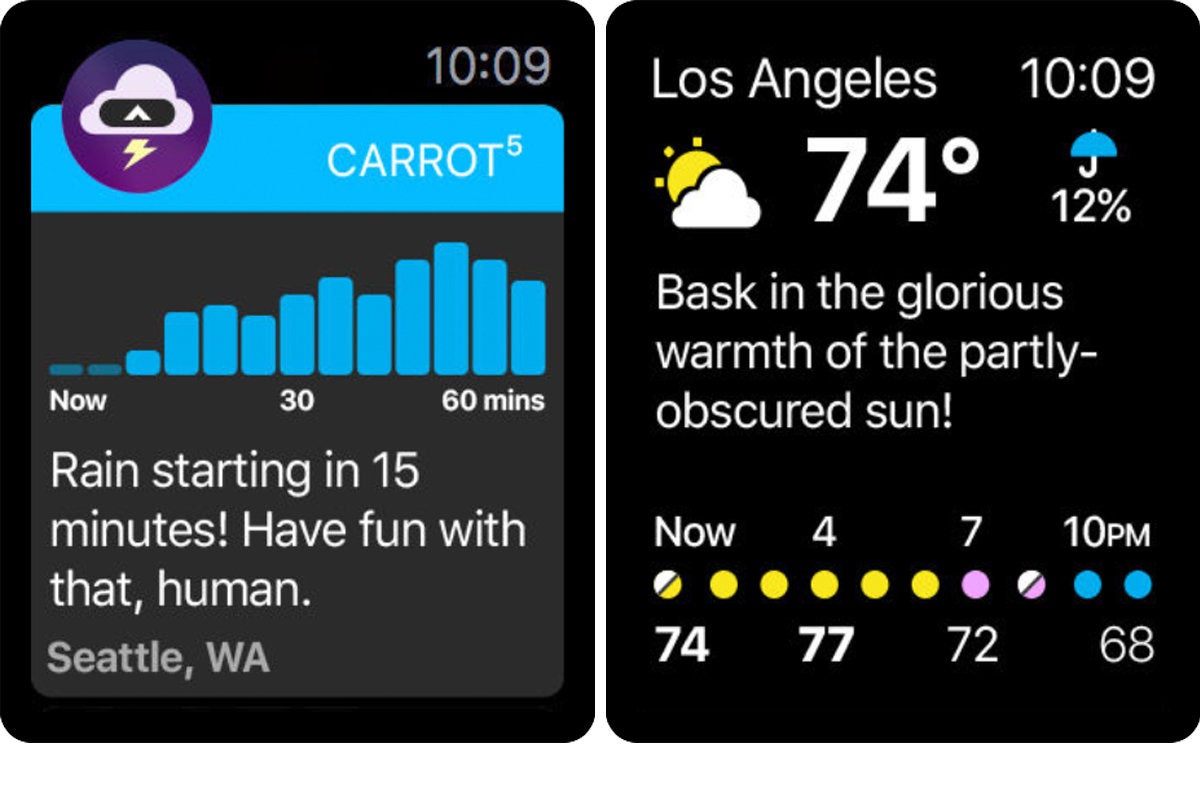 There are all sorts of weather apps for your Apple Watch, but only Carrot Weather will actually make it fun to check the forecast. Here's why: At the center of Carrot Weather's Apple Watch app is a snarky, somewhat sadistic AI companion that tells it like it is. You'll get the usual highs and lows, chance of precipitation, and a cool condensed full-day glance, but you'll also get an honest appraisal of the day's weather. Any app will let you know when it's hot, but only Carrot Weather will tell you to stay indoors because the world is melting. But be warned: It doesn't like humans. Not one bit.
Dark Sky Weather ($3.99)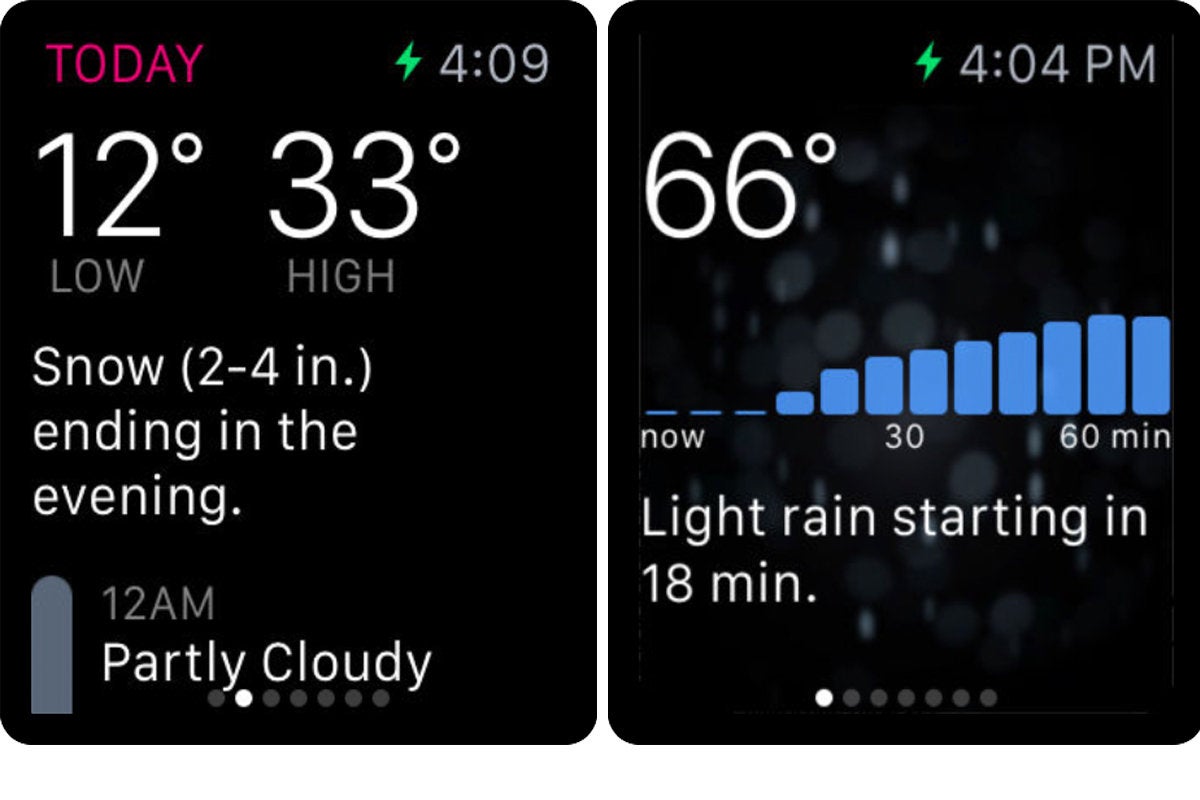 If a grumpy AI assistant yelling forecasts at you isn't your thing, Dark Sky Weather might be. Specifically designed to let you know when and where it's raining, the Dark Sky Apple Watch app will be the first to let you know when you need to find shelter from an impending storm. With a unique interface that tracks any and all precipitation and won't let you miss it, Dark Sky is way better than asking Siri if you need an umbrella.
Rules! ($2.99)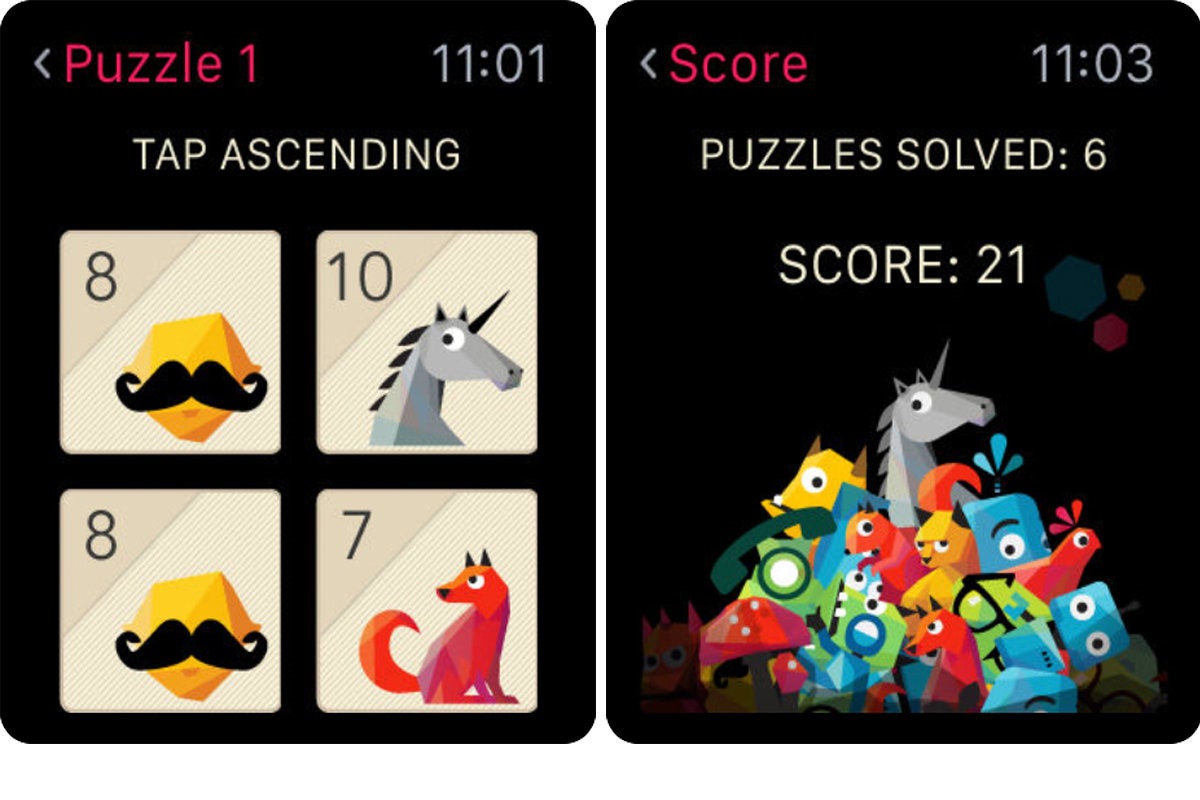 Less a game than a mind workout, Rules! is a fantastic brain-teasing time killer that works surprisingly well on the Apple Watch's tiny screen. Whether you're in a waiting room or a cafeteria, Rules! will keep your mind sharp and your fingers busy. It's simple, yet super challenging series of puzzle and memory games that will keep you coming back again and again.
Things ($9.99)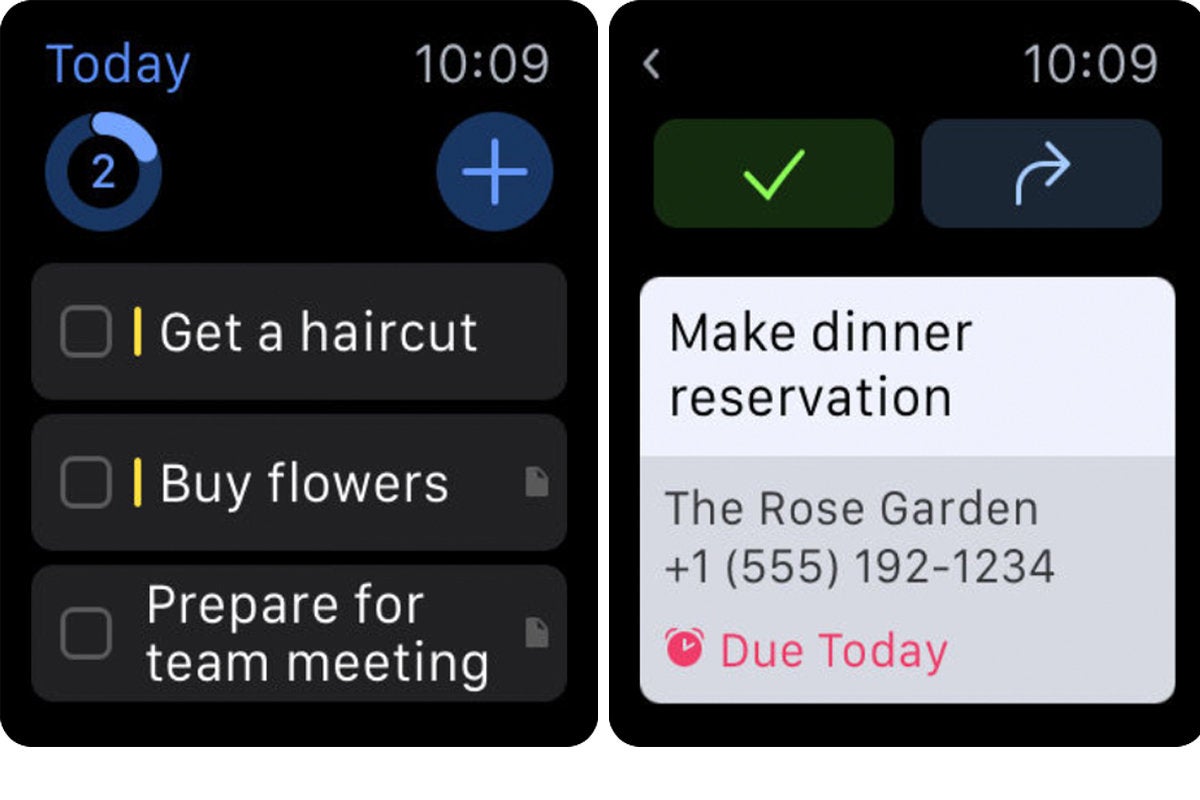 Things 3 is one of the best to-do apps within the Apple ecosystem, thanks in part to its simplicity and intuitive user interface. Those great qualities carry over to Apple Watch. You'll get much the same interface there that you enjoy on iOS or Mac, including the option to check off tasks as you complete them, read additional notes with a tap, or add new to-dos and associated deadlines through dictation. There's even a nifty completion wheel that's reminiscent of the Apple Watch's activity rings if you need extra motivation for getting stuff done.
Fantastical 2 ($4.99)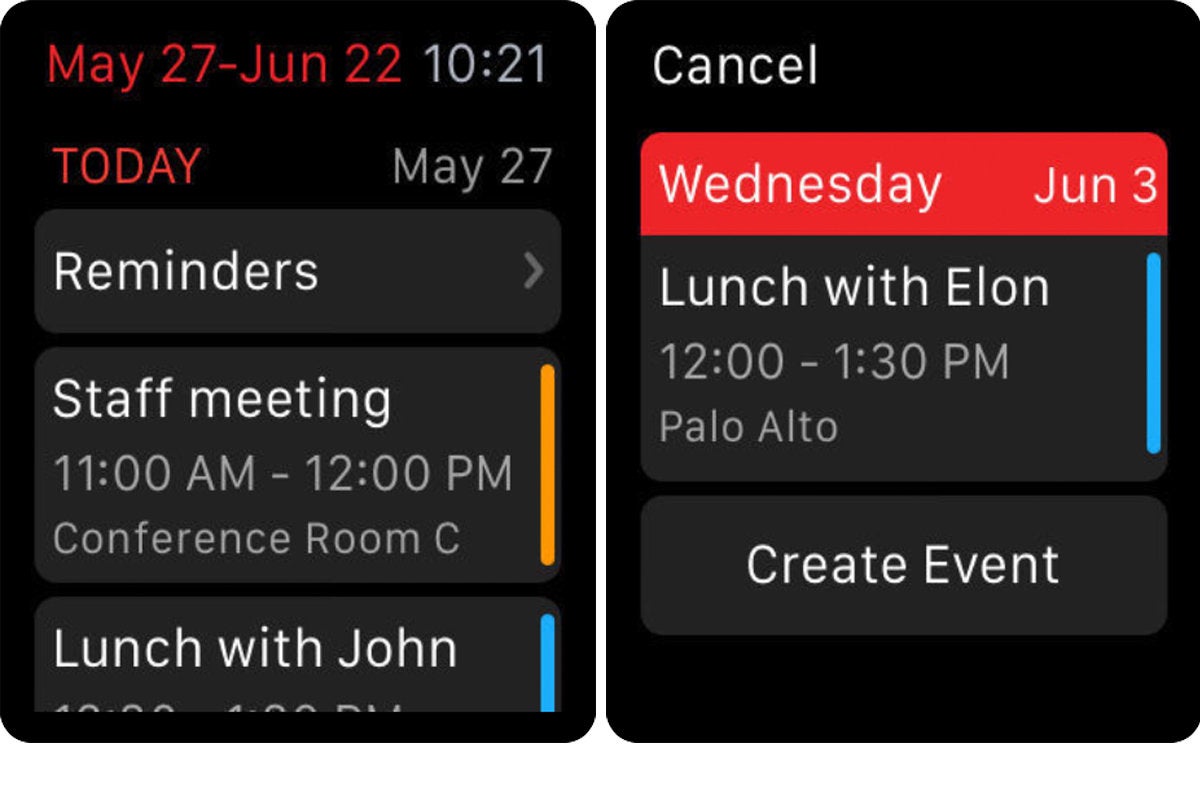 Apple Watch's Calendar does a fine job keeping up with your appointments and reminders, but Fantastical 2 takes it one step further. With an elegant interface that presents all of your important to-dos at a glance, a natural language integration that lets you add appointments by force-touching, and a detailed complication, Fantastical on your wrist is as good as the one in your pocket.
Deliveries ($4.99)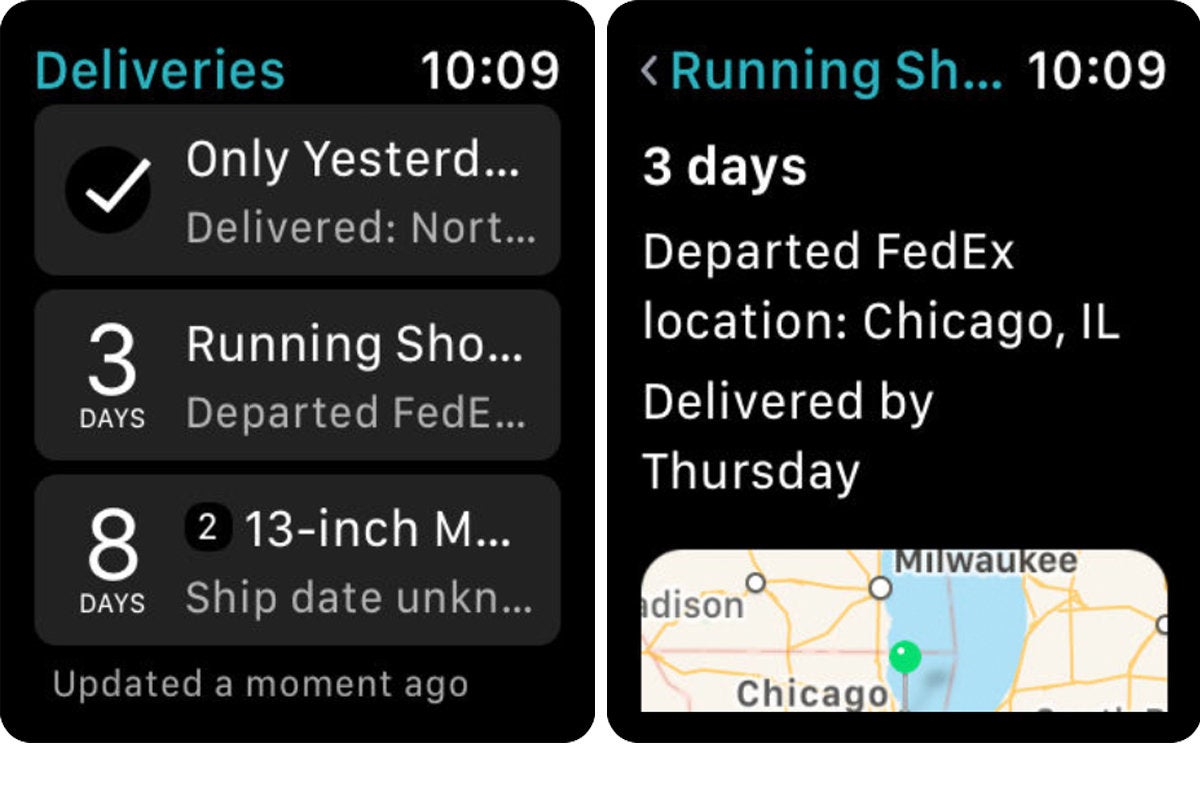 It might seem outlandish to spend five bucks on an app that merely tracks your packages, but once you start using Deliveries you won't be able to stop. Just add any upcoming deliveries on the iPhone app (either by forwarding emails to developer Junecloud's sync service or typing them in manually), and Deliveries does the rest, pulling data as it arrives and alerting to any changes. But it's the Apple Watch app that makes it all worth it, tracking your package and showing you its progress at just a tap. So when you're waiting for your next Apple Watch band to arrive, you won't need to keep logging into the Apple Store to check on its status.
Lifeline… ($1.99)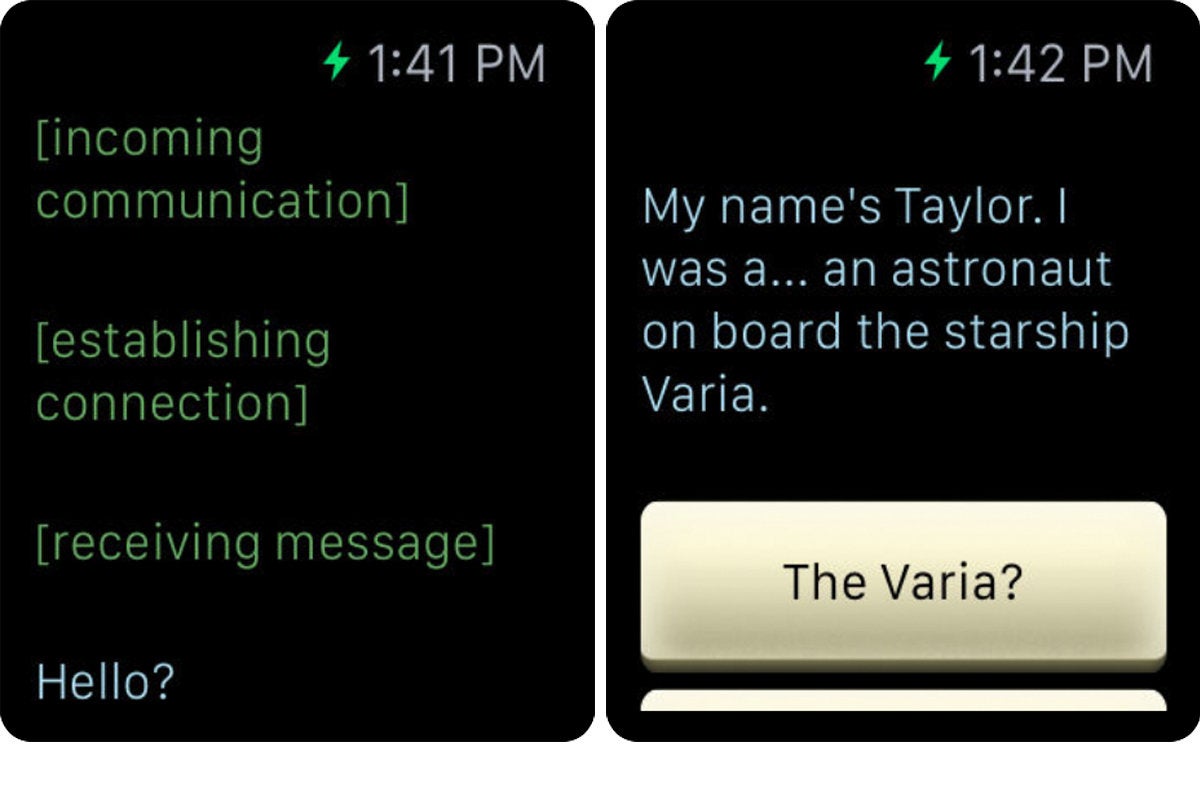 Apple Watch and games don't usually go hand in hand, but Lifeline… is something totally different. With limited graphics and a focus on verbal storytelling, the iOS game is perfect on the Apple Watch. Intensely engaging and gripping on the small screen, Lifeline… will keep you tapping all day long (or at least until you can save the stranded astronaut you're commnicating with). Whether you play the original or one of its five sequels, you won't find a more unique game on any platform.
Just Press Record ($4.99)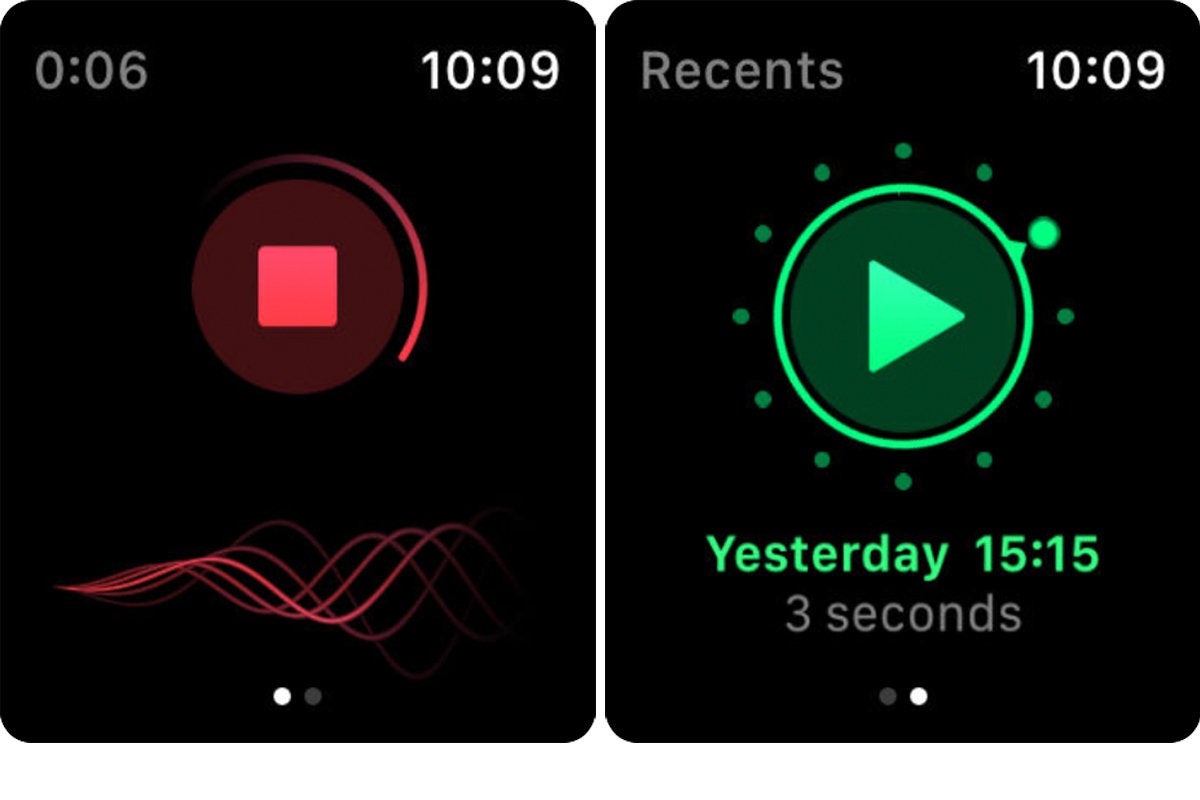 Some of the best ideas hit us when we're far from our MacBooks or notebooks, but with Just Press Record, you never have to worry about forgetting them again. The appeal is right there in the name. Set it as a complication on your Apple Watch, and you can tap it at any time to start recording your words immediately. When done, just tap the Stop button. That's basically it. The quickie message (or even a long conversation) immediately saves to your iPhone, where you can then either listen to it later or consult the decent transcription. For writers fond of ruminating over ideas while on strolls through the grocery store or on afternoon jogs, it's practically life-changing.