At a Glance
Expert's Rating
Pros
Six processing cores boost multi-core app performance
DDR4 RAM contributes to speed
Quieter keyboard
Cons
Reliance on Thunderbolt 3/USB-C ports means you'll need to use adapters for external devices
Our Verdict
Best Prices Today: 15-inch MacBook Pro
Editor's note: we have supplemented this review with new benchmarks using the macOS High Sierra 10.13.6 Supplemental Update that fixes the laptop's throttling problems. Our mouse rating remains unchanged from the original posting of this review.
Since its introduction in 2016, the MacBook Pro as we know it today has produced mixed reactions from its users. People love the combination of size, weight, and performance. But there are legitimate issues that make people hesitate or even regret buying a MacBook Pro: keyboard problems, the need to find ways to work with its Thunderbolt 3/USB-C ports, a low RAM ceiling.
With the 2018 MacBook Pro, Apple has addressed some of those issues. And if you're lamenting that I didn't say all of those issues, well, there are some things that, in an effort to move towards a particular technological ideal, Apple won't change. But as a whole, the 2018 MacBook Pro is a better laptop than its 2017 predecessor, and a vast improvement over the 2016 model.
This review takes a look at the 15-inch MacBook Pro, with a 2.9GHz Core i9 processor, 32GB of memory, a 2TB SSD, and 4GB Radeon Pro 560X graphics. It's a customized laptop that sells for $4,699.
Coffee Lake, the star of the 2018 MacBook Pro
After much anticipation, it's here, the eighth generation of Intel's Core processors. Finally. Now, if you only pay attention to Macs, you may not know that Intel released these processors last April, and it was a mystery as to when they would appear in an Apple laptop. New PC laptops with these processors (code-named Coffee Lake) appeared, and the performance numbers were impressive. So, for over three months—and over a year since the MacBook Pro was last updated—we've been left to imagine how Coffee Lake MacBooks would perform.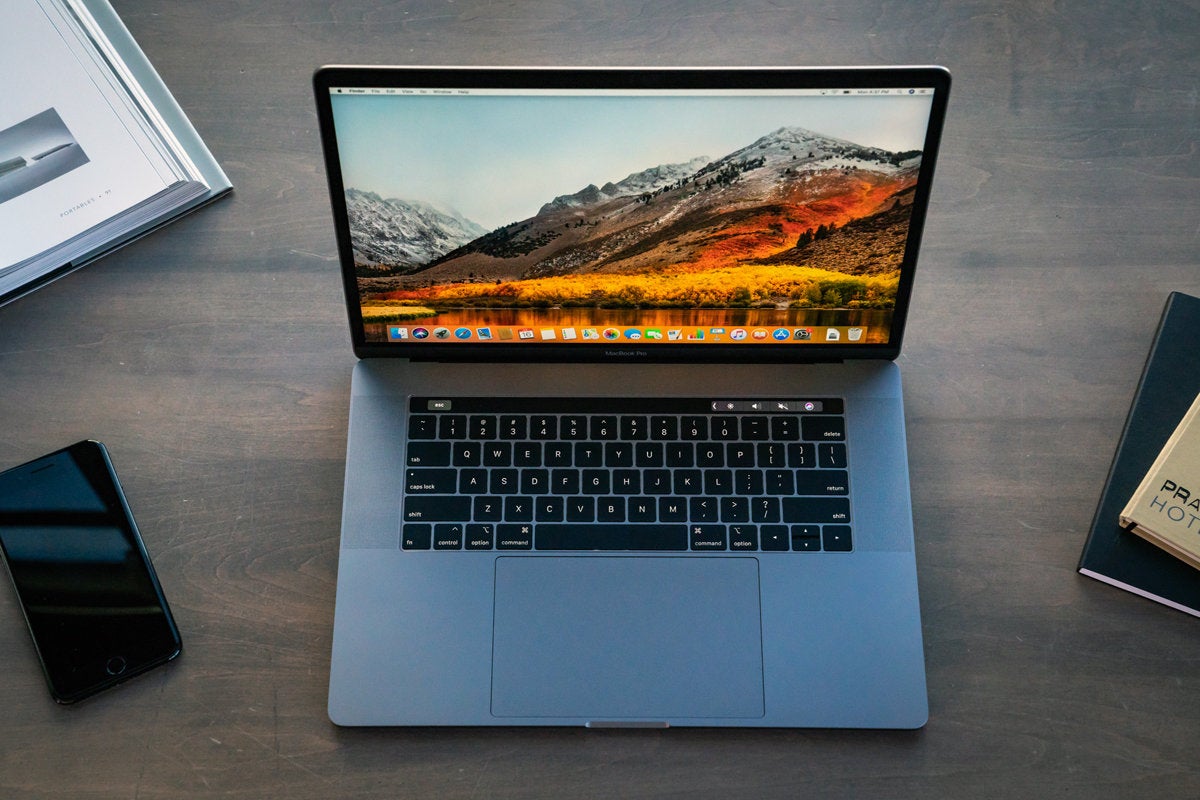 The major difference between the Core processor in the 2018 15-inch models and previous models is that it now has six processing cores, two more than before. Apps that can take advantage of multiple processing cores will benefit—professional-level apps, like high-end video, audio, and photo editors. But even if all you use are productivity apps that use only one processing core (a spreadsheet, email, a browser), you'll find a nice boost in this machine.
The high-end CPU that you can get in the 15-inch MacBook Pro (and the one in this review) is a 6-core 2.9GHz Core i9 with Turbo Boost up to 4.8GHz and 12MB shared L3 cache. To get this processor, you need to customize the $2,799 standard-configuration model that has a 6-core 2.6GHz Core i7 CPU. (In addition to the $2,799 model, Apple offers a $2,399 standard configuration model with a 6-core 2.2GHz Core i7 processor.)
In another welcomed upgrade, Apple made the switch from DDR3 RAM in previous MacBook Pros to DDR4 RAM in the 2018 models. DDR4 is faster, but it demands more power, and to meet that demand, Apple increased the amount of battery in the 2018 MacBook Pro. That increase meets DDR4's requirements, and thus, you won't see an more battery life. There's more good news about the memory: The maximum amount you can have installed is now 32GB, double that of the previous 15-inch MacBook Pro. This is one change that users have been wanting for a while.
15-inch 2.9GHz Core i9 MacBook Pro benchmark results
Editor's note: we have run additional benchmarks with the macOS High Sierra 10.13.6 Supplemental Update installed. Learn more about the new benchmark results.
We ran a set of benchmark tests to measure the speed of the 15-inch 6-core 2.9GHz Core i9 MacBook Pro. We compared the results mainly to last year's 2.9GHz quad-core 15-inch MacBook Pro, which has a seventh-generation Kaby Lake Core processor. Other older MacBook Pro models were included if their results were available.
Geekbench 4 64-bit Single-Core and Multi-Core CPU Test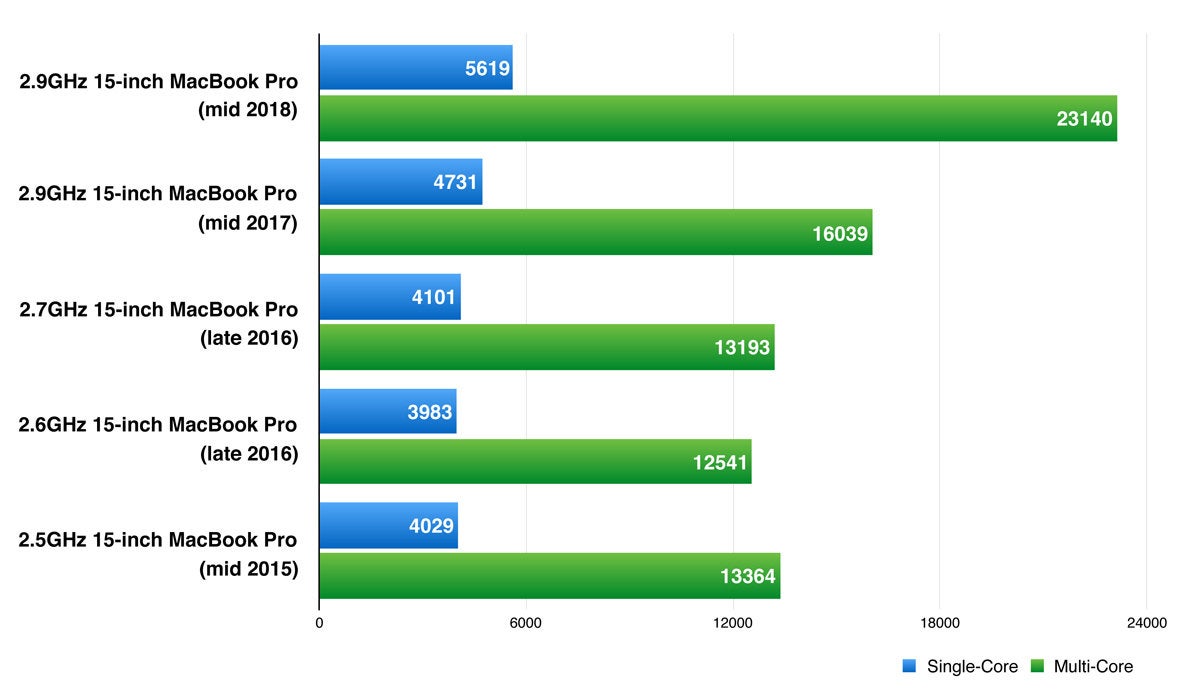 To get an idea of processing speed, we used Geekbench 4's CPU test. The 2018 MacBook Pro posted a 64-bit Multi-Core CPU Test score of 23140, the highest score we've seen for a MacBook Pro in Geekbench. That's a whopping 44 percent increase over the 2017 MacBook Pro. The two additional processing cores in the new laptop make a big difference.
In the Geekbench 4 64-bit Single-Core CPU Test, the 2018 MacBook Pro's score of 5619 is 19 percent faster than the 4731 score by last year's model. That's consistent with the increases we've seen in the past.
Geekbench 4 OpenCL Test: Discrete graphics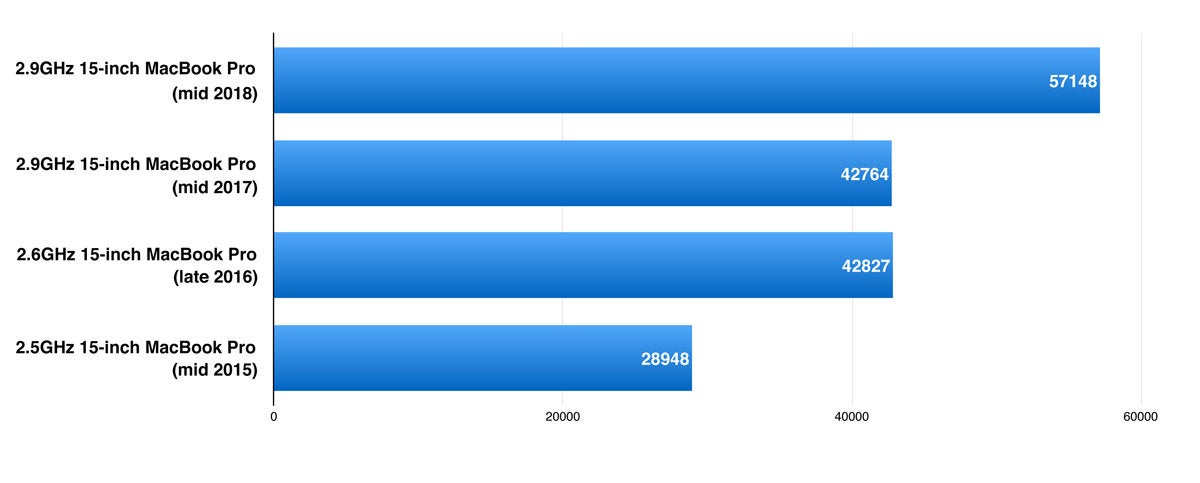 We also ran a set of graphics benchmarks to gauge the speed of the MacBook Pro's graphics. In the Geekbench 4 OpenCL test, the 4GB Radeon Pro 560X in the new laptop provides a nice improvement over the 4GB Radeon Pro 560.
Cinebench OpenGL Test

The Cinebench OpenGL Test is another graphics test, which involves rendering a complicated 3D scene. Here, we see more gains by the 2018 MacBook Pro.
Following the initial posting of this review, other reviewers discovered that the MacBook Pro had problems with processor throttling. Upon further investigation, we also experienced throttling, though we weren't able to replicate some of the results others found, such as a decrease in performance compared to the 2017 MacBook Pro.
To address the problem, Apple issued the macOS High Sierra 10.13.6 Supplemental Update, which updates a firmware bug and fixes the throttling problem. When we did additional benchmarks, we saw an increase in performance. Read more about the additional benchmarks.
The 2018 MacBook Pro's 3rd-gen butterfly keyboard
Since Apple introduced its low-profile butterfly keyboard a few years ago, it has made a lot of noise, literally and figuratively. With the 2018 MacBook Pro, Apple introduces the third-generation of the butterfly keyboard, and the company says that this keyboard should be quieter than before.
To my ears, that's true. Previous butterfly keyboards had a recognizable pounding resonance that bellowed as you typed. Whenever I'm in a room with other typing people, I can tell who's using a butterfly keyboard just by the sound. Now the sound is definitely dampened, though it's still distinct. It probably won't draw attention anymore in a room of people, unless you make an effort to listen for it.
Then there's the other issue with the keyboard: its durability. It's not hard to find stories on the web of people who have had their keyboards stop working, and there are, as of this writing, three class-action lawsuits centered on the keyboard. Apple has also instituted a keyboard service program for Mac laptops made between 2015 and 2017.
During testing, I had no problems with the keyboard, but my testing period is only a few days. The only way to really test the third-generation butterfly keyboard is to continue using it over a long period of time.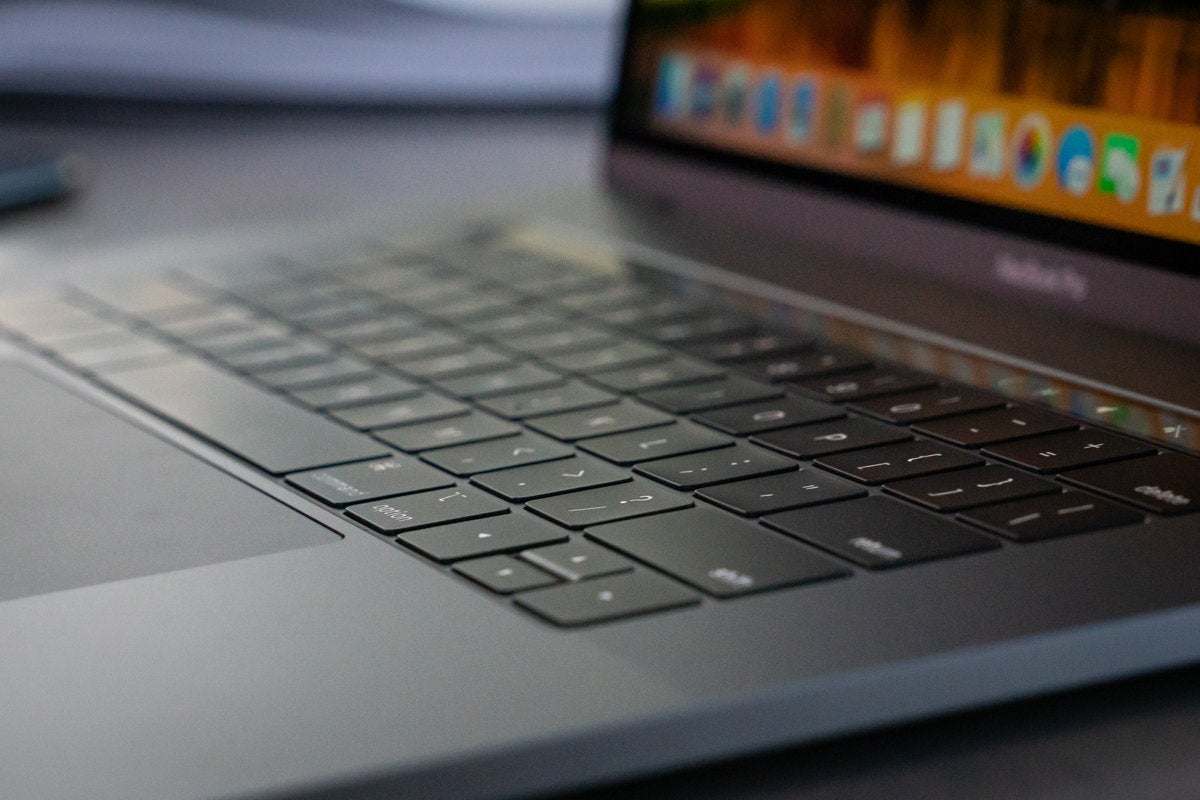 A teardown of the 2018 MacBook Pro by iFixit found that Apple uses a thin layer of rubber to cover the butterfly mechanism. iFixit concludes that this not only dampens sound, but it's also a way to make the keyboard less susceptible to dust and other detritus that could cause malfunctions. Apple said that the new keyboard wasn't designed to improve reliability, but if it was, they probably wouldn't admit to that because of the lawsuits.
Overall, the third-generation butterfly keyboard pretty much feels the same as previous generations. For me, that's a negative. I like keyboards with more key travel, like the keyboard on the 2015 MacBook Pro. When I connect my laptop to my desk at work (which probably constitutes about 80 percent of the time I use my laptop), I use a Thunderbolt dock and Apple's Magic Keyboard. That probably hinders my ability to adapt to the feel of the butterfly keyboard.
T2, Touch Bar, and True Tone: 2018 MacBook Pro
Apple's T series of chips are used in the MacBook Pro to offload some functions from the main processor. Among other tasks, the T chips handle security functions such as secure boot, storage encryption, and Touch ID. The 2018 MacBook Pro has the second generation of T chips, called the T2.
The T2 still acts as the secure enclave, but it also now supports the ability to activate Siri when you say, "Hey Siri." That's right, on other Macs except this one, you can't use Hey Siri unless you set macOS's Accessibility feature to trigger a keyboard command that launches Siri when you say the phrase.
Siri functionality on the Mac is nice, and it's better to have it available than to not have it at all, but my perception is that Siri isn't used much on the Mac. (I never use it.) Interfacing with a Mac is much different than an iPhone, iPad, Apple Watch, or HomePod, so using Siri doesn't come to mind while I'm working on a Mac. Though in this case, the Hey Siri implementation is forward-thinking: The next version of the Mac operating system, macOS Mojave, has the new Home app for controlling HomeKit-equipped equipment. Siri on the Mac will grow in use because of the Home app.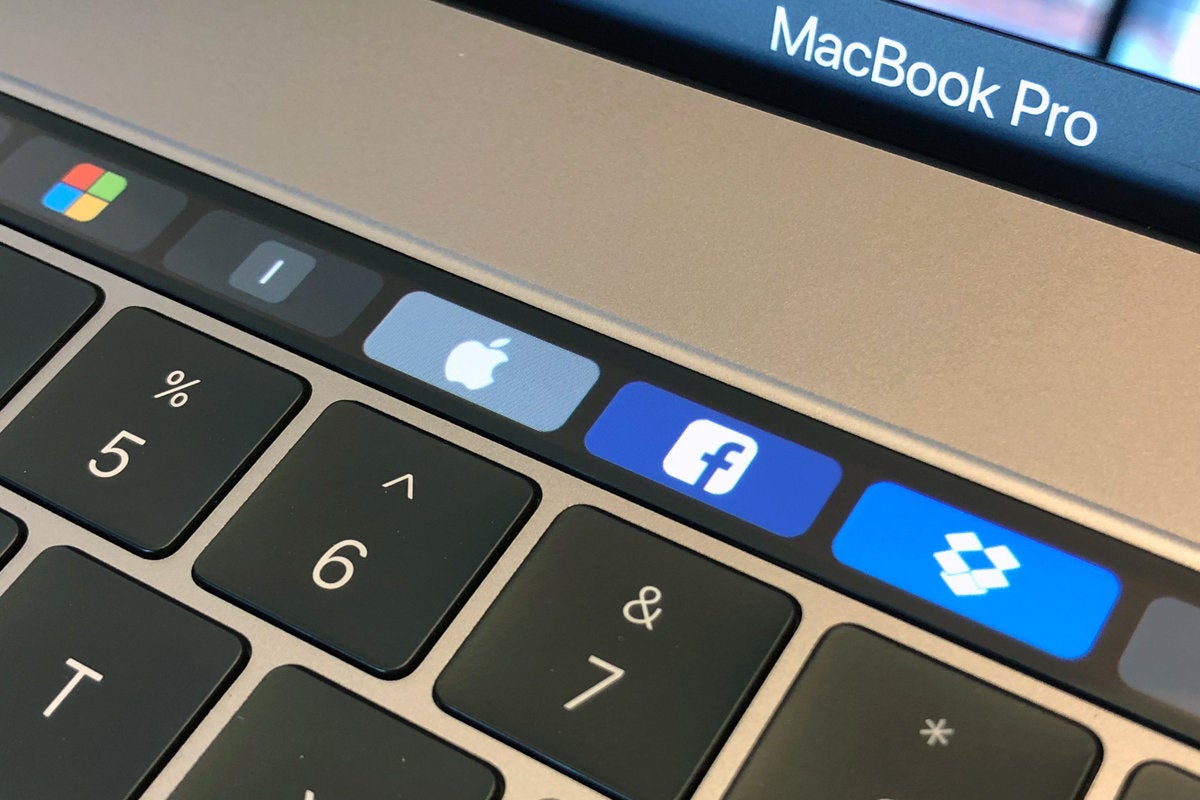 The T2 chip also controls the Touch Bar, which hasn't gained new functionality. In my review of last year's MacBook Pro, I hesitated to say that the Touch Bar is wasted on me. A year later, I can say that without hesitation. My use of it is at a bare minimum; I adjust the volume and screen brightness with it, and I think that's about it. I haven't been able to remind myself that the Touch Bar is there. I don't think it's poorly implemented or that's it's a bad feature; I've developed a way of using Macs over decades, and I've been able to adapt to new tools and features, but the Touch Bar just isn't one of them.
The new True Tone feature works with both the Touch Bar and the laptop display. True Tone makes sure that colors on your display remain consistent by adjusting to the ambient lighting of your room. If you have an iPad Pro, iPhone X, or iPhone 8, you can try out True Tone to see if you like it.
What hasn't changed in the MacBook Pro
The rest of the 15-inch MacBook Pro hasn't changed. It's the same size and shape, and comes in Space Gray or Silver. The Force Touch Trackpad is still huge and feels good. The 15.4-inch display still has a 2880-by-1800 native resolution, P3 color gamut, and 500 nits of brightness.
And the 15-inch MacBook Pro still relies on four full speed (40Gbps )Thunderbolt 3/USB-C ports for connectivity. This "limitation" is the one point of contention that I've heard most frequently about the MacBook Pro, and it means that you either have to buy hubs and adapters in order to connect USB-A devices, or find another way to perform a task like transfer a file. (The only other type of port on the MacBook Pro is a headphone jack.)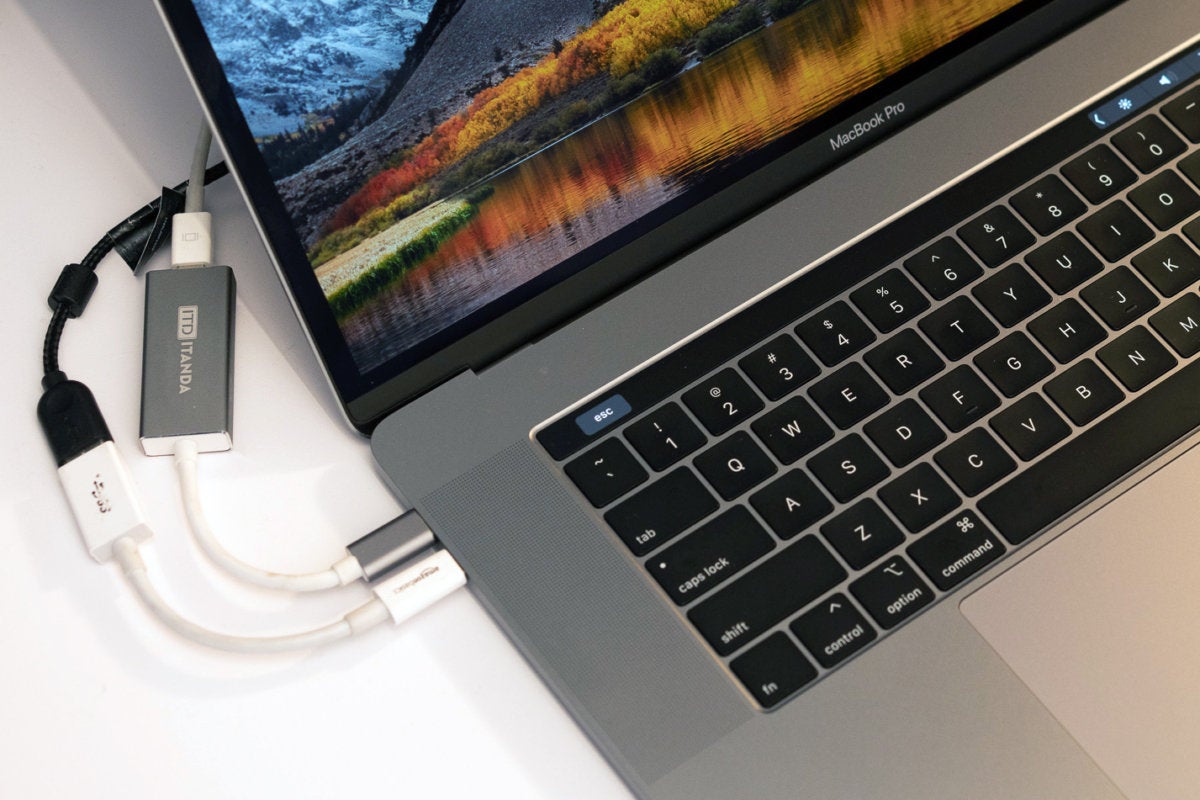 Sometimes, when rumors fly about upcoming Mac laptops, there will be speculation about Apple including a USB-A port. But let's face it: Apple isn't going back to USB-A on a laptop. It's been a couple of years now since Apple made the decision to go with Thunderbolt 3/USB-C on the MacBook Pro, and this is the way it's going to be until the next thing comes around. With that in mind, you'll need to factor in the cost of a USB-C to USB-A adapter, like the $19 one from Apple, or a USB-C to USB-A hub, like this $18 one from Anker. We have a MacBook Pro Thunderbolt 3 adapter guide to help you find the adapters you need.
Bottom line
I often say in laptop reviews that if you bought last year's model, you probably won't find the speed results compelling enough to upgrade. But speed weighs heavily in this year's model, and this is an interesting buy for anyone who uses multi-core apps. Six processing cores is, well, better than four, and the performance boost is deeply satisfying for pro app users. You'll find that the investment quickly pays for itself.
The boost isn't as big with single-core performance, though it's still nice, and there are other factors with the 2018 MacBook Pro to consider. It's too soon to tell if Apple has fixed the keyboard problems, but at least it's quieter. True Tone is a nice feature, but is it a must-have? The same can be said for Hey Siri. If you're not a pro app user, work in iLife and internet apps, and bought a MacBook Pro within the last two years, you probably don't feel compelled to upgrade. If you do, however, you could opt for the $2,399 15-inch MacBook Pro with a 2.2GHz Core i7 processor and be happy.
Best Prices Today: 15-inch MacBook Pro