It's gotten to the point where even some of my colleagues who write about Apple are bored by the company's quarterly results. Granted, this is the good kind of boring— the best third-quarter results ever, led by overall revenue of $53.3 billion, a 17 percent growth rate. But it does seem like Apple does the same thing almost every quarter: growth, billions, the works. There's not a lot of drama in being one of the most valuable companies in the world continuing to churn away at huge profits and product growth.
Still, I'm not going to call this boring. Every three months, Apple has to reveal things about itself that it would probably want to keep secret, and these disclosures can help us understand the company and its products better than we otherwise would. Here are the four most interesting things I gleaned from Tim Cook's performance on his quarterly conference call with analysts.
The iPhone X bet paid off
Releasing an ultra-high-end iPhone seemed like a pretty risky gamble with Apple's most important product. There were questions about if it would suppress sales of lower-cost iPhones and if production difficulties would make it impossible to fulfill demand. After it shipped, people said the rumors were that it was a flop.
Missed it by that much! Turns out that the iPhone X is an unqualified hit. Not only did Apple sell the most iPhones it's ever sold in its fiscal third quarter, but if we look at iPhone revenue averaged over four quarters—a useful tool to wash out seasonality and get a better sense of long-term trends—iPhone revenue has now surpassed the massive peak of the iPhone 6/6 Plus era. (You remember the iPhone 6 and 6 Plus, products that sold so incredibly well that Apple got punished the next year because it simply couldn't match the sales of the previous generation.)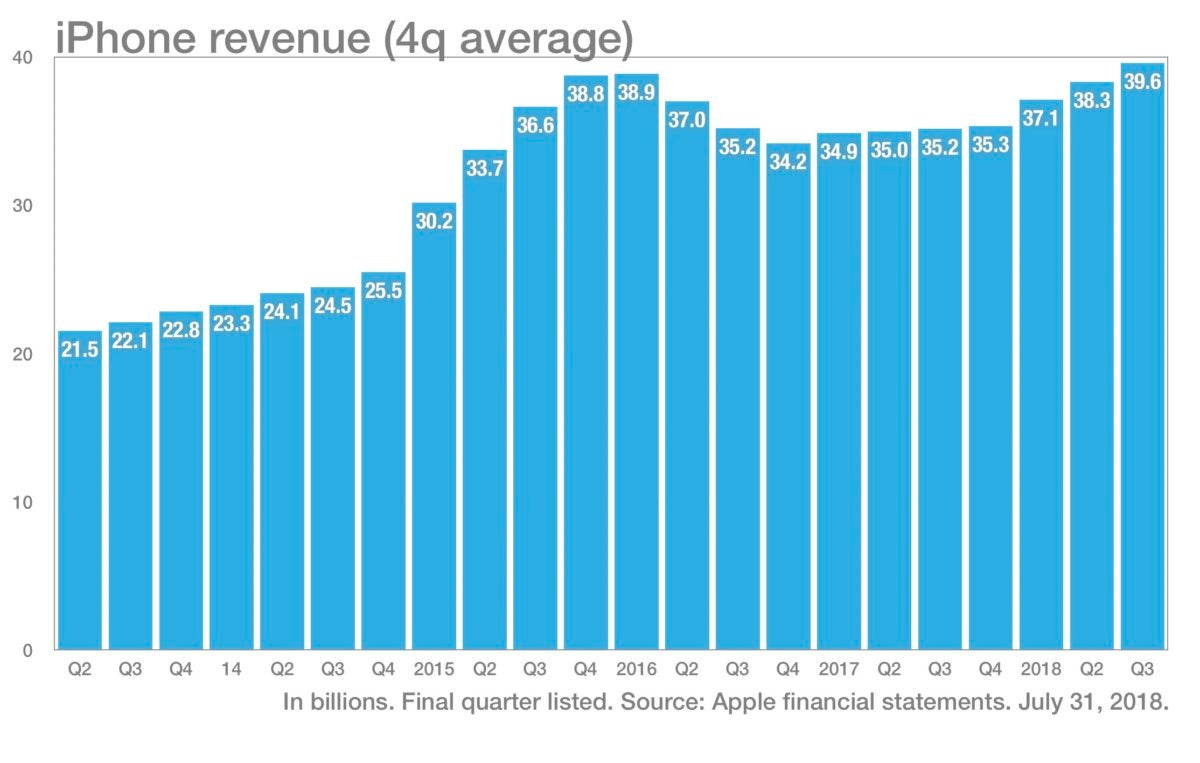 In the aftermath of the iPhone 6 sales spike, it was fashionable to suggest that we'd seen "peak iPhone" and that the product would either be flat or would go downhill from there. Instead, two and a half years later, we're at a new peak.
"We feel terrific about iPhone X," Cook said Tuesday. "If you look at the… top of our line together, and by that I mean the iPhone X, the 8, and the 8 Plus, they are growing very nicely as you can probably tell from from looking at the [average selling price], and we couldn't be happier with how that's gone…. it just puts an exclamation point by looking at the results."
Cook pointed out that the iPhone 8, iPhone 8 Plus, and iPhone X are all among the best selling phones in the world, so this isn't a phenomenon limited to the iPhone X. But while every phone contributes to iPhone sales, it's hard not to look at the average selling price of an iPhone—$724, up from $606 in the year-ago quarter—and see the power of the iPhone X driving the iPhone to new heights.
The rise of the new categories
It's never been clearer that a huge driver of Apple's growth today is in two categories that used to be largely ignored when analyzing Apple's business: Services and Other Products. Services, a category that includes the App Store, Apple Music, AppleCare, and cloud services, set a record with $9.5 billion in revenue, double of what it was three and a half years ago.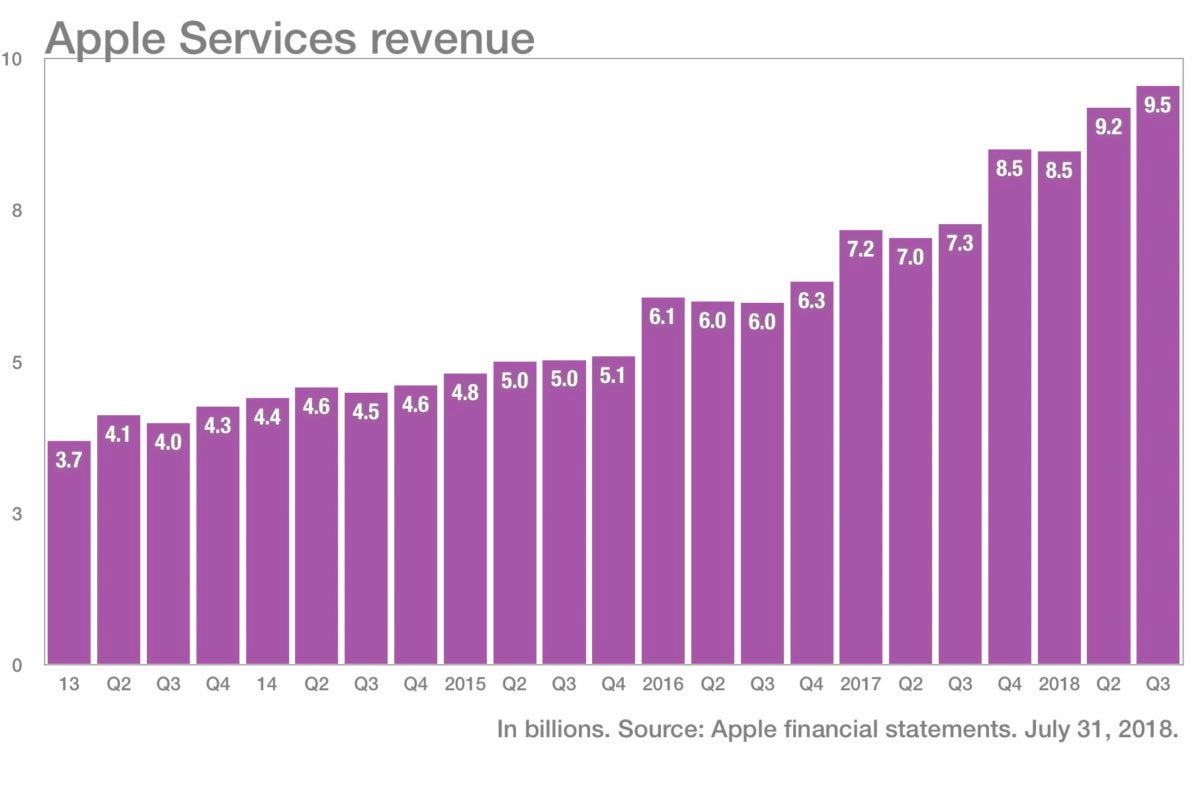 There's more to come there, too. Apple is going to launch a video service at some point, and Cook didn't pretend otherwise. "As you know we hired two highly respected television executives last year and they… have been working on a project that we're not really ready to share all the details of it yet, but I couldn't be more excited about what's going on there," he said. Cook also cited acceleration in cord-cutting and the growth of video services, which Apple can see through sales of Apple TV and of video subscriptions via the App Store.
Then there's this line, which I never thought I'd hear from an Apple CEO on a conference call with financial analysts: "We're very excited to work with Oprah."
Not to be outdone, the Other Products line showed growth for the seventh straight quarter, generating $3.7 billion in revenue. This category is where Apple's wearables products—Apple Watch, AirPods, and Beats headphones—live, and Cook said that they're up 60 percent year over year, with wearables revenue exceeding $10 billion over the past four quarters. (HomePod is in this category too, but Apple didn't crow about any HomePod sales figures, which tells you all you need to know about how well that product's doing.)
Tech's top diplomat displays a light touch
Tim Cook was recently called " tech's top diplomat" by the New York Times, and that diplomatic touch was on display on Tuesday. When asked about possible trade wars between the U.S. and China, Cook downplayed the potential harm for Apple.
"Our view on tariffs is that they show up as a tax on the consumer and wind up resulting in lower economic growth," he said. "And sometimes can bring about significant risk of unintended consequences. That said, the trade relationships and agreements that the U.S. has [with] other major economies are very complex, and it's clear that several are in need of modernizing. But we think that in the vast majority of situations that tariffs are not the approach to doing that. And so we're sort of encouraging dialogue and so forth."
Unsurprisingly, Cook—who has always expressed a bullish enthusiasm about Apple's growth in China—said that he feels the two countries will work things out, because it's the best result for everyone involved.
"We're optimistic, as I've been the whole time, that this will get sorted out," he said. "There's an inescapable mutuality between the U.S. and China that sort of serves as a magnet to bring both countries together. Each country can only prosper if the other does, and of course the world needs both the U.S. and China to prosper for the world to do well…. I am optimistic that the countries will get through this, and we are hoping that calm heads prevail."
What's Apple's ecosystem strategy? Yes
The analyst of the quarter award goes to Laura Martin of Needham, who provided some snarky commentary over a Cook non-answer to one of her questions—"I'll watch your product roadmap and be able to tell what the answer is," she replied—and was insistent that Cook address some specifics of her other question. It was a rare moment of pushback in these calls, and her question was a good one.
In short, Martin wanted Cook to settle a bet she has with some of her colleagues, which is about whether products like AirPods and the Apple Watch are "on-ramps into the Apple ecosystem", or if the only way in is the iPhone.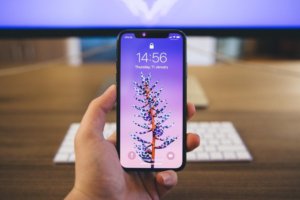 Cook's response—after Martin expressed dissatisfaction with his original answer—won't settle any bets, but it was pretty good. "It is clear from communications I've had with users, that some of them were attracted to iPhone because of the Apple Watch, and so the Apple Watch led them to the iPhone," he said. "The reverse of that is also true, that somebody got the iPhone and then decided, you know, I really want something to [do the things] the Watch does so well. And so it's not always a linear path. I see these things as being somewhat fluid and different for each user."
In other words, yes and yes. But when you're a company having the kind of quarters that Apple keeps having, every light probably seems to be green and every thumb is probably pointing up.
[Updated 8/1 to correct a statement about iPhone ASP.]