Since their invention more than 30 years ago (four years before the World Wide Web even), GIFs have come to be one of the most popular and beloved forms of expression on the internet. Indeed, the looping, flipbook-like animated GIF (or graphics interchange format) has been so influential in shaping our online communication that many "GIFs" you see on Twitter and Imgur are just video files coded to act like GIFs.
Today, there's an ever-growing number of apps for finding and sharing GIFs. One of the most common is the GIF keyboard. These keyboards integrate with your smartphone's standard keyboard so you can easily find and insert animated images into your messages. Some social platforms and apps—such as Facebook Messenger and Tinder—already have GIF search built in.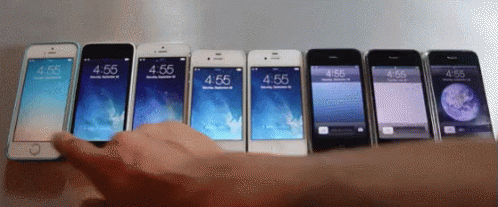 Since iOS 10, iMessage even has a built-in GIF search engine. And while it does scan your messages to suggest GIFs, it has some downsides: Search is limited to words instead of hashtags and trends, and you can't save GIFs for use later. So if you want to be a real GIF master, you'll need a dedicated keyboard app for firing them off.
Finding the best GIF keyboard for iOS
We've done the legwork and tested the GIF keyboards available for iOS to find the very best. For our evaluation process, we looked at ease-of-use, speed, design, customization options, and, of course, selection of GIFs.
Once you've determined which of these GIF keyboards is right for you, see our instructions below for how to add a custom keyboard in iOS.
The best GIF keyboard for iOS: Fleksy
Cost: Free with in-app purchases
Fleksy is a full-featured keyboard app with GIFs and other perks such as themes, predictive options, web search via Qwant, and even integration with apps like YouTube and Yelp. In other words, you can get the benefits of these web services through Flesky without the apps themselves installed. Click on the Yelp icon in Fleksy, for example, to search nearby restaurants and then send a link to whomever you're chatting with. When I used Fleksy, it didn't crash on me once and it was by far the snappiest keyboard perks and all. It's pretty impressive.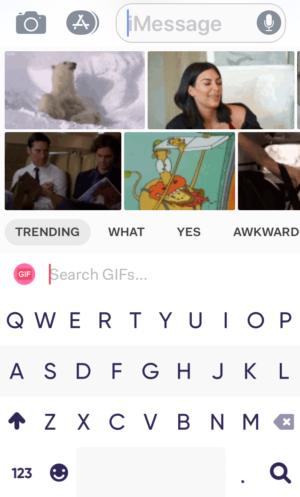 Then, of course, there are the GIFs. Tapping the flower-like Fleksy icon in the top left brings up a menu where you can select GIFs and other features. From the GIF menu, you're immediately shown thumbnails of some popular GIFs based on what's trending. Or you can choose from a list of suggested keywords or enter a keyword of your choosing in the search bar. After you've select a GIF, you'll then have to paste it into the message form to send it.
Fleksy told Macworld they use Tenor as their single source for GIFs, meaning they don't have access to the libraries found on GIPHY and Gfycat. According to our searches, Fleksy seems to surface the most popular GIFs from Tenor. So you see the same results you'd expect from searching on Tenor's GIF Keyboard app (reviewed below).
In the Flesky app (which is distinct from the keyboard itself), you're presented with a host of different themes and animations (some of which cost money) you can add to your keyboard.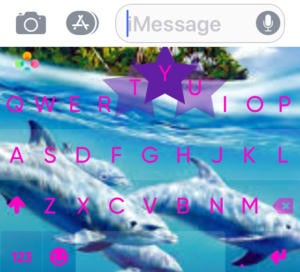 But in my opinion, the real fun is making your own themes. You can use photos you've taken or images you download as the keyboard's background. The keys can also be customized with a surprising amount of variety in color, opacity, font, and animations. Fleksy's DIY theme creator was easily the best among all the keyboards I reviewed because of its breadth of options. (I get compliments on my pink stars and dolphins keyboard all the time, believe it or not.)
Pros:
GIFs, stickers, and memes all in one place
Yelp, YouTube, Spotify, Apple Music, Apple Maps, and Qwant web search
50+ themed keyboards
Create your own themes with a wide range of customization
Cons:
Can't save favorite GIFs for use later
Can't see recently sent GIFs
Maybe too many features if you just want a simple GIF app
The other best GIF keyboards for iOS
Cost: Free
Gfycat is a platform for creating and sharing GIFs that's a lot like GIPHY. Along with the standard app for making GIFs and finding other creations, Gfycat also comes with a keyboard. It's a simple keyboard that doesn't look much different than the default iOS keyboard, but with three additions: a search bar, a horizontal scrolling GIF bar, and a camera icon.
With search, you can look for GIFs using phrases and words. The bar shows you some popular terms to choose from and lets you explore trending GIFs. Tapping the camera icon opens up Gfycat's app so you can take a video and turn it into a GIF. You can then send this GIF or save it to your Gfycat account.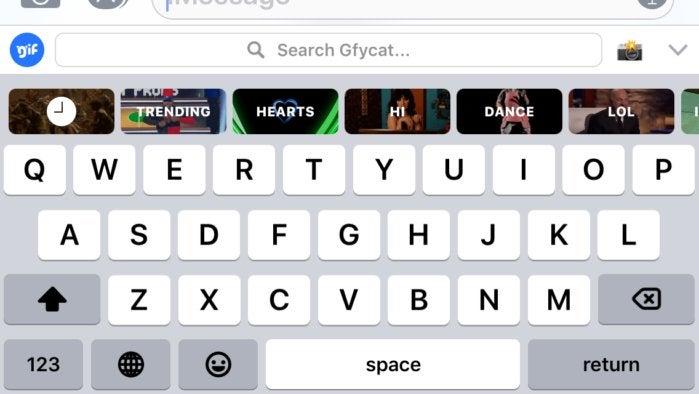 The GIFs that appear on the bar are very small and hard on the eyes, though. And the app doesn't have any customization options. But if you're looking for a simple keyboard that can send GIFs, Gfycat will do very well. The company has tens of thousands of serious GIF artists adding their creations every day. So you shouldn't have a problem finding that perfect GIF.
Pros:
Perfect for someone who wants a basic keyboard plus GIFs
Create your own GIFs with your camera
View and send your recently used GIFs
Cons:
Doesn't have any additional keyboard features besides GIFs
GIFs on the keyboard are very small
Can't save or view favorite GIFs in the keyboard app
Cost: Free, with in-app purchases
RainbowKey lives up to its name with tons of colorful themes you can choose from to adorn your keyboard. You can even use your own images to create themes. And while you're typing, it predicts emojis you might want to send. For instance, saying you're travelling will bring up emojis of trains. Animations also bubble up when you tap the keys. Overall, I found RainbowKey's interface and features to be great as a keyboard. But then there's the GIF part.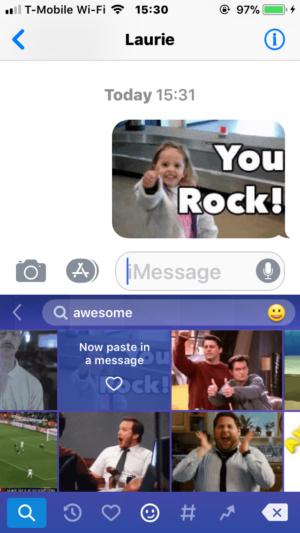 When it comes to GIFs, you're given three tabs: popular GIFs, hashtags, and trending GIFs. In each, you can click your chosen GIF to copy it so you can paste it in the message form. In two other tabs, you can choose GIFs you've recently sent or save GIFs for later. After you select a GIF, taping a heart icon will save it in a tab for easy access. All good so far. Unfortunately, I found switching between the tabs could cause the app to crash.
RainbowKey also gives you the option to find GIFs by search, so you can type in a phrase or word like "cat" to find the feline animation that fulfills your need. According to our searches, RainbowKey appears to only surface the most popular GIFs from Tenor.
Pros:
Save your favorite GIFs to use later
See recently used GIFs
See trending and popular GIFs
Create your own themes with images
Tap animations for keys
Emoji prediction
Cons:
Occasional crashing when switching between tabs
UI can feel a bit crowded
Cost: Free for basic, and $9.99 a month for everything
FancyKey is another full-featured keyboard that's a lot like Fleksy. One cool thing about FancyKey is how you can send premade emoji art. It also has animations and effects for when you tap keys. These animation effects can be a lot more vivid than what you find elsewhere, but can also slow down typing. Still, the app also didn't crash or bug out on me once during use.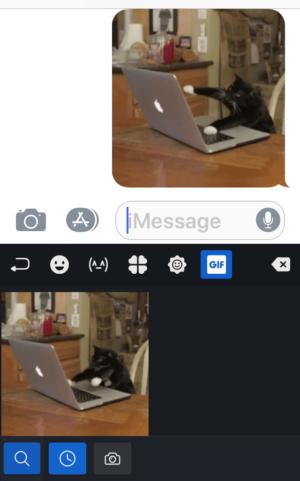 Under the emoji tab, you'll find a separate tab for GIFs. The GIF tab lets you see what you've recently used but doesn't let you explore by hashtags, trends, or popularity. You're limited to just searching for GIFs by a word or phrase. So if you're looking for a highly personalizable keyboard with basic GIF options, then FancyKey will do just fine. But it's not ideal if you're looking to save GIFs and explore what's hot in the meme world.
According to our searches, FancyKey Pro uses GIPHY as its sole source of GIFs.
While FancyKey's themes and animations are more sophisticated than what I've seen on other keyboards, gaining access to everything the app offers costs $9.99 a month. That's a pretty steep price and hard to justify considering what else is out there for free. A way to get around this cost is to watch ads which earn you "diamonds" that you can spend on themes and more.
Pros:
See recently sent GIFs
Fully customizable with themes, colors, gestures, and animations
Complex emoji "art" you can send
Japanese emojis
Cons:
Can't save GIFs for later
Can't view trending GIFs
Need to pay $9.99 a month to get access to more themes, emojis, GIFs, auto correct, swipe input, and to remove all ads
Cost: Free, with in-app purchases
SwiftKey is one of the older and well-known keyboard apps available for both iOS and Android. It's mostly focused on providing prediction options tailored to users, and it even lets you use swipe or glide your finger to type. I found SwiftKey lived up to its name. It was incredibly speedy and had the best predictive options among any of the keyboards. SwiftKey also has an easy way to search for GIFs and emojis straight from the keyboard.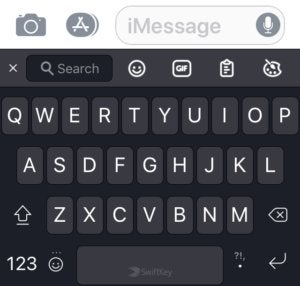 By tapping the plus button, you can easily search by a word or phrase. And after searching for a word like "cat," the app gives you suggestions for similar words such as "kittens," "puppies," and "birds." Just hitting the GIF tab gives you some common phrases to bring up, including "hello," "goodbye," and "hugs."
Unfortunately, there's no way to look at trending GIFs. You also can't save favorite GIFs or view ones you've recently sent. SwiftKey told Macworld they use Bing and "mostly GIPHY" to serve up GIFs.
Pros:
Search GIFs and emojis from the keyboard
More than one source for GIF library
Powerful prediction and autocorrect options
Swipe and glide your fingers to type
Cons:
Can't save favorite GIFs
Can't see recently sent GIFs
Can't see trending GIFs
iMessage GIF keyboards
These are not full-featured keyboards and instead are apps that integrate with iMessage, allowing you to find, send, and save GIFs. If you're just looking to search and send a GIF and don't want a decked-out keyboard, then these apps are for you.
Cost: Free
GIPHY claims to be the world's largest library and platform for creating, uploading, and sharing GIFs and stickers. After downloading the GIPHY app, you can hit the app icon while in iMessage and the GIPHY icon will come up on the bottom toolbar. Since it doesn't offer an actual keyboard, however, it won't work in WhatsApp or other messengers.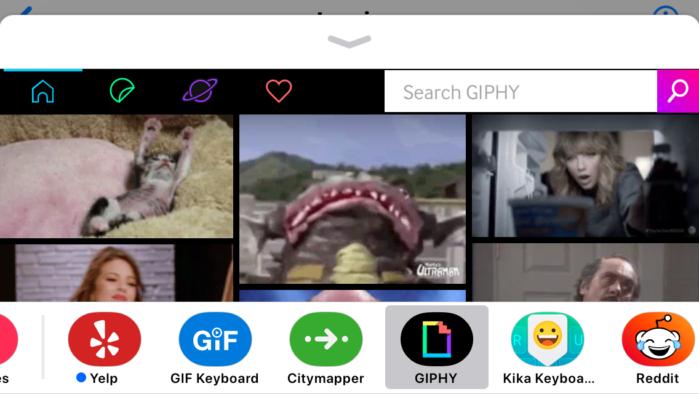 Pros:
Easy integration into iMessage
Explore based upon trends on GIPHY
Save your favorite GIFs and images for reuse
Cons:
Doesn't have a keyboard to install so won't work with WhatsApp and other messengers
Cost: Free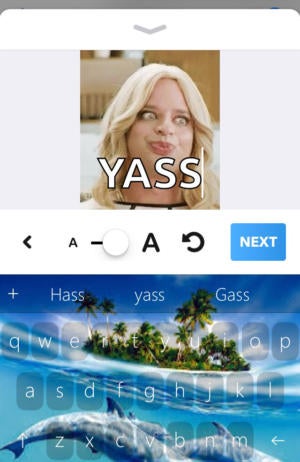 Tenor GIF Keyboard is your handy tool for sending and even customizing GIFs. It's unique in allowing you to add captions to any of the GIFs you find to create your own memes. You can also save them for later by adding them to your "pack." This app comes from Tenor, which is one of the top GIF libraries out there. In fact, many of the keyboards we reviewed use Tenor as their source.
You can add GIF Keyboard as a keyboard under Settings, but it really just appears as a GIF search engine and social media platform and you can't actually type messages with it. But this way you can use it via two methods, either from the iMessage apps or by switching to it by hitting the globe button found at the bottom left of your regular keyboard.
Pros:
Add captions to GIFs and save them for later use
Save and organize GIFs to your own pack
Works with big social media platforms such as Facebook, Snapchat, Twitter, WhatsApp
Cons:
Isn't a fully functioning keyboard app
How to add a custom keyboard in iOS
To get any of these keyboards running, you'll not only need to download them from the App Store but you'll also need to activate them. After you download the keyboard app, go to Settings then General and then Keyboard. Now hit Keyboards, tap Add New Keyboard and scroll down until you see the option to add Third-Party Keyboards. This is where you can activate your newly downloaded keyboard.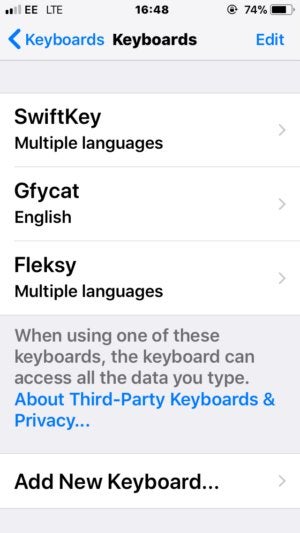 Once it's added, there are two different ways to make it appear as your keyboard. Under Keyboards, you can hit Edit and reorder which keyboard comes up first when you're typing. Or you can hit the globe button in the bottom left of your keyboard to switch between whatever keyboards you have activated.
Many of these keyboards will also require you to Allow Full Access to get all their features. To do this, simply select the keyboard from the menu and toggle the Allow Full Access switch. (If you need a more detailed step-by-step, read Macworld's full guide here.)
Was there a GIF keyboard app you think should've made the list? Email dieter_holger@idg.com and let us know!