Physical issues and anthologies of comic book series don't always fit neatly into limited shelf space or travel well—but that's where digital comics come in. Growing support for the format means you can collect to your heart's content and take the entirety of it anywhere you go. All you need is your iPhone or iPad.
Key to the experience is a good app. While a digital comic may not please the senses as paper issues do, having an app that offers access to a wide variety of content or broad support for common file formats (PDF, ePUB, CBR, and CBZ) can ease the transition.
In general, the better apps offer one of two paths: Straightforward purchase (or rental) of content from major publishers like Marvel, DC, Image Comics, and Dark Horse, or an easy way to read common file formats (PDF, ePUB, CBR, and CBZ). If they want to have even wider appeal, it's in their interest to offer Viz and Kodansha titles for manga fans, as well as organization of issues in an easy-to-navigate format.
We've pulled together a list of the best comic book reader apps for iOS below—a mix of publisher-based options, as well as independent third-party apps that can read whatever you've already got in your stash.
Comixology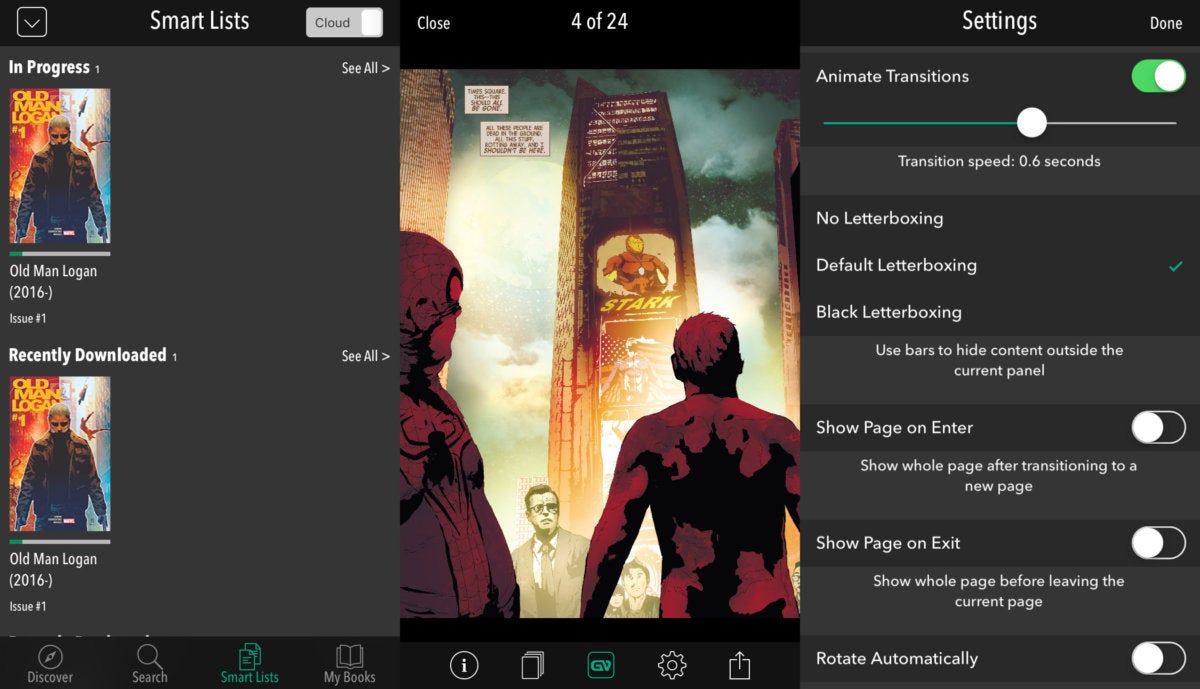 Comixology is an Amazon-owned company that lets comic book fans buy and read titles from a wide range of publishers, not just Marvel and DC—its vast library includes single issues and graphic novels from Image, IDW, BOOM! Studios, and many indie publishers.
Annoyingly, the app doesn't let you import comic files that you may have downloaded from elsewhere. Nor can you buy issues through the app itself. Instead, you have to download them through the Comixology website. Purchases do appear immediately in the app after you've bought them online, though, as long as your device is connected to the internet.
Tapping through an issue almost feels like an animated story, due to the fluid movement across the page. It's an entirely different reading experience from flicking through a book. Flowing transitions from panel to panel gently move you through the story, with the option to customize reading settings. There's also a letterbox option, which makes just a single panel visible across the page instead of multiple panels.
As Comixology starts to recognize patterns in stories, characters, and publishers you're interested in, it'll generate "smart lists" of suggested issues, series and volumes that it thinks you should try. If you'd rather strike it out on your own, you can instead peruse the wide range of free issues available from both major publishers and smaller companies—some go all the way back to the '60s. Unlike with paid issues, you can download this gratis content without having to first go through the website.
Marvel Unlimited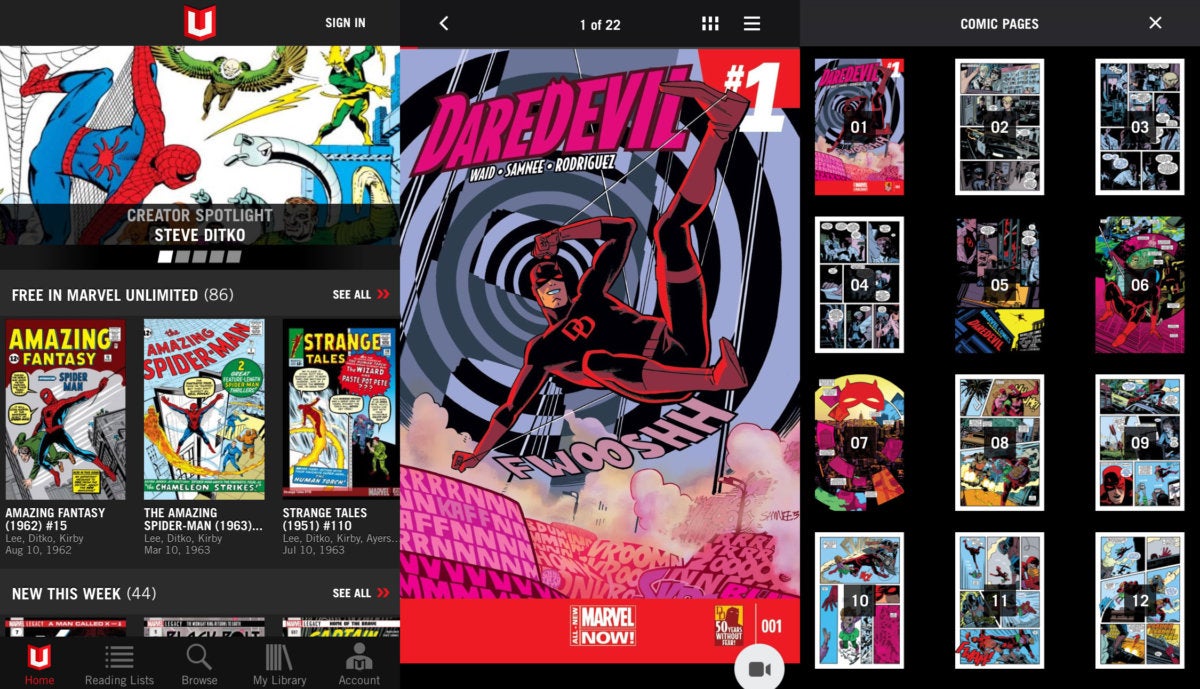 Marvel's official app is a great starting point for people looking to get into comics, especially if they're already fans of the incredibly successful Marvel Cinematic Universe movies. Marvel Unlimited has 77 free issues across a number of different series available to read: Some of these are tie-ins with the movies, while others are standalone stories. Of course, Marvel isn't offering these purely out of the kindness of its heart. Once you're hooked, gaining access to the full library of 20,000 comics requires signing up for a $9.99 per month subscription service. New users are given a one week free trial, though.
(Note that Marvel Unlimited doesn't give readers access to Marvel's full back catalog. Instead, readers are given a rotating list of content. If you're looking for recent issues, they get added around 6 months after the initial release—so unfortunately that does mean staying away from spoilers on Twitter! But Marvel does at least frequently add plenty of full stories to the app.)
Reading comics in the app is mostly smooth regardless of if you choose to swipe through pages and manually zoom in on panels, or instead tap on the bottom right of the screen and allow the app to flow through each speech bubble and panel. We did run into one issue where the app requires you to tap in just the right spot; otherwise, it won't execute the desired action and instead zoom out, showing you the full page.
Balancing out this quirk, however, is Marvel Unlimited's offline mode: Users who want to read a full story while away from Wi-Fi access can keep up to 12 issues stored on their device.
Dark Horse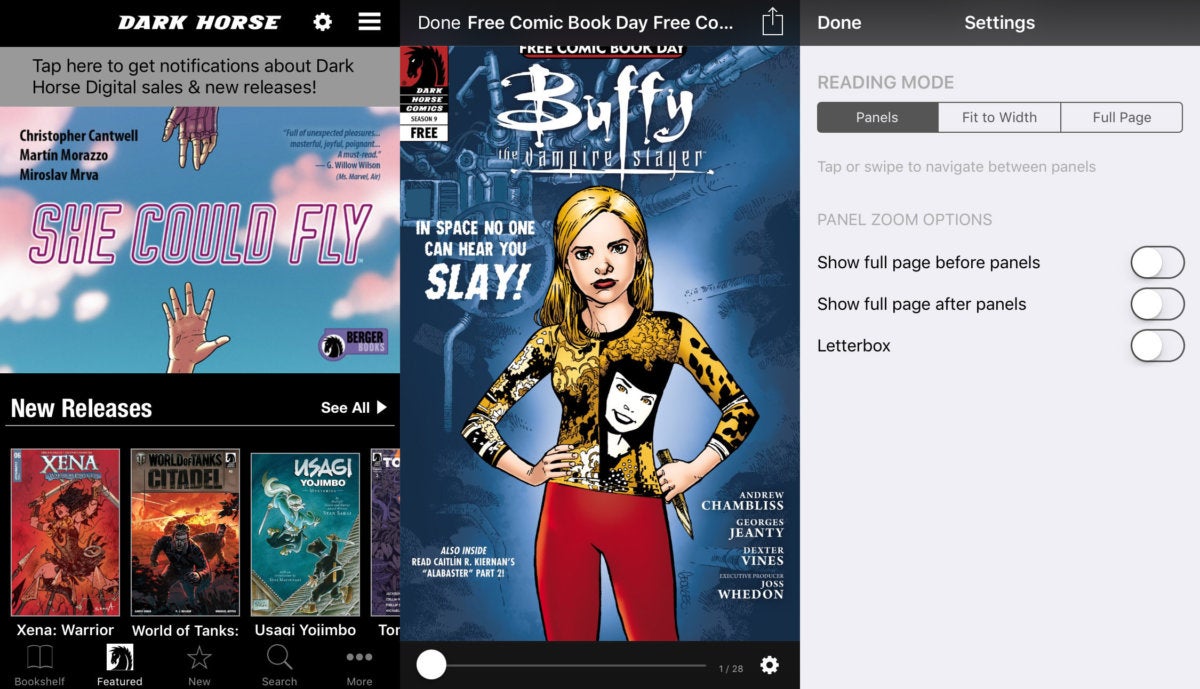 The Dark Horse app makes straying from well-known series full of tights and capes easy: It gives readers access to over 5000 individual comics from Dark Horse and over 1600 issues from indie publisher Dynamite Entertainment, with new titles added to the library every week.
The flow from page to page is seamless when reading an issue. The app takes the time to showcase the full page and the direction of the story that'll be shown before zooming in on individual panels and speech bubbles. Dark Horse also offers more customization of its reading settings compared to other apps' simple scroll and swipe options. You can choose how the app zooms in on the panels as you turn the page, or instead opt for an entirely different view style. The app can show the full page before or after transitioning through the panels, or display a letterbox view that darkens the rest of the page as each panel is read.
Occasionally, downloading an issue can slow the app down, making it unresponsive until the issue is on your bookshelf. The bookshelf can be organized in a number of ways: by release date, download date, or when each issue was last read. It can also show only downloaded books available for offline reading and hide books that are stored online from view. (One of the Dark Horse app's strengths is the ability to use cloud storage for issues, though the feature is limited to just the company's servers and not services like Dropbox, Google Drive or iCloud.)
iComix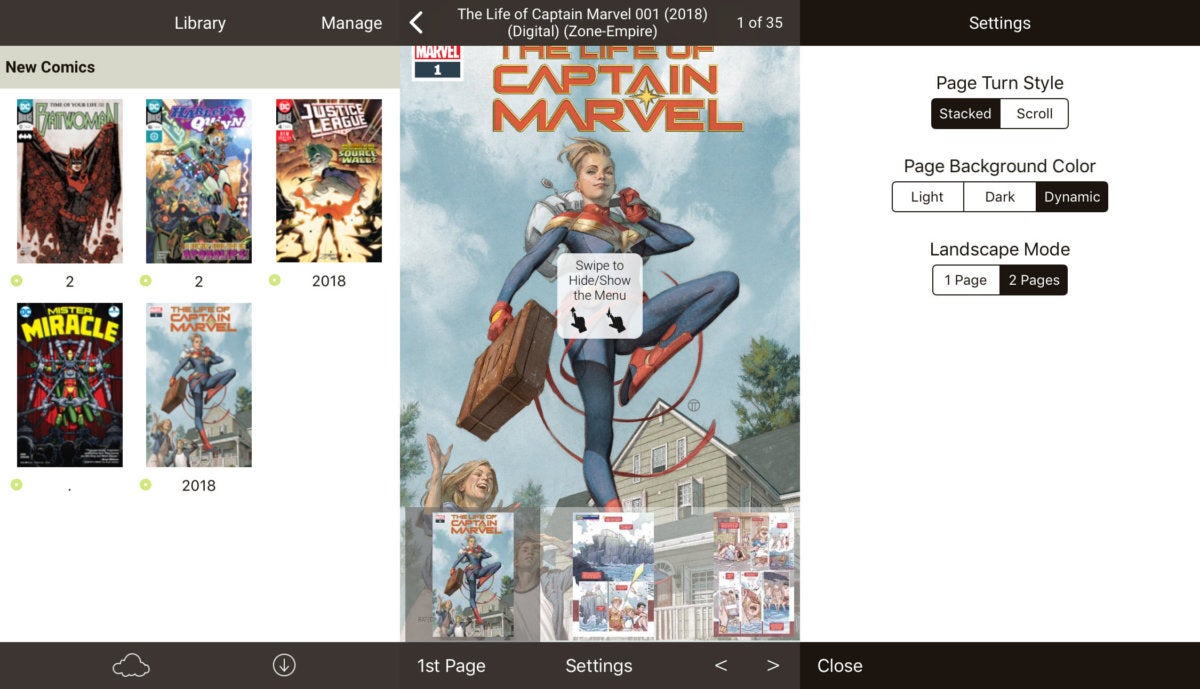 If you have all of your digital comics stored on your computer or in the cloud, an app designed just for one publisher's comics (or subscription service) won't be of much use. Instead, you'll want an app like iComix, which handles common file formats and displays your entire collection on a single digital shelf.
Without an extensive menu or store to purchase titles from, iComix is refreshingly streamlined. It shows your ePUB, PDF, CBR, and CBZ files on a single page, with the option to organize your issues into lists—you can separate issues by publisher, author, or another label. However, since sorting issues in this way has to be done manually, it can be quite tedious, especially if you have a huge collection.
You can access your issues by loading them on your device or logging into a cloud service from within the app—iComix supports Dropbox, OneDrive, Google Drive, and Box. For the most part, this works seamlessly, though we did run into an issue where freshly downloaded issues would occasionally not appear on the homescreen until after quitting the app and opening it again.
Functions for reading issues are very simple. You just swipe through the pages of the book and zoom in using two fingers to read the text. No option for automatic flow from panel to panel exists. Reading customization options are available, though: the app lets you choose to have each page be next to each other, or to stack them on top of the previous page. It's clear that the app was built to be a basic but efficient reader—and it succeeds in that goal. Swiping through an issue was a smooth transition from page to page.
Madefire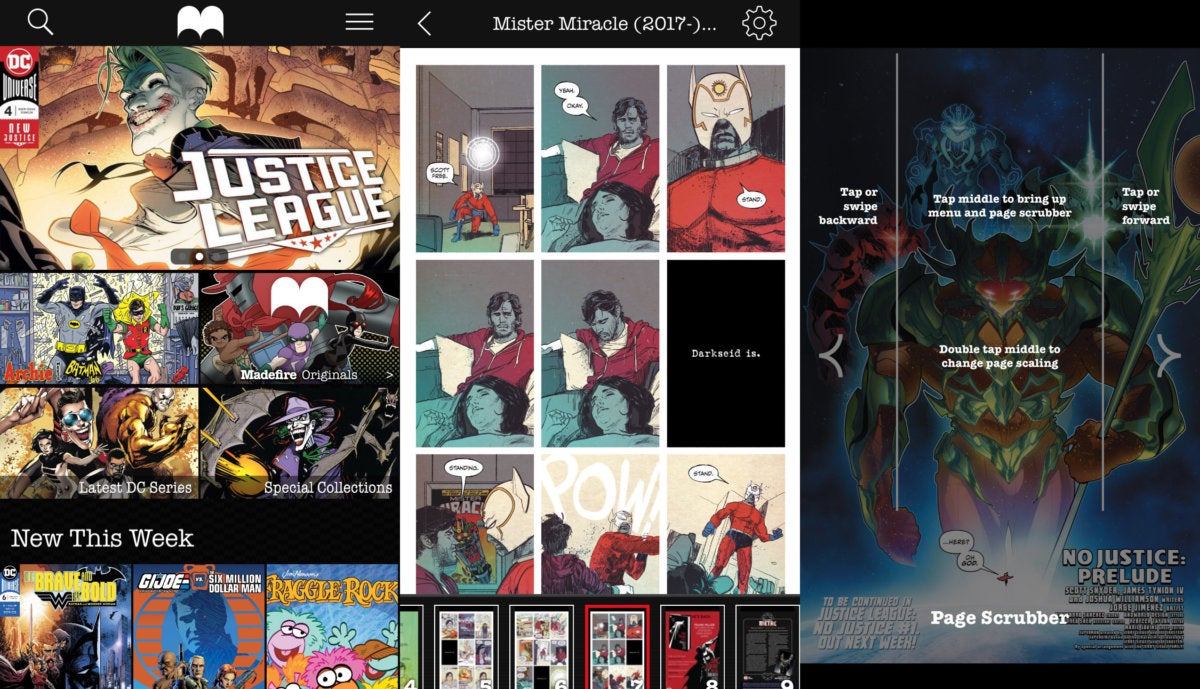 Madefire is an up-and-coming best-seller when it comes to reading comics on your iPhone or iPad. With an internal store stocking a wide range of content from Marvel, DC, IDW, Top Cow, Valiant, Archie Comics, and Dark Horse, Madefire has something for everyone. And although there aren't huge libraries of content from each publisher, the varied amount of titles and genres make it worthwhile.
The cost of individual comics is similar to the price of physical issues from shops, with prices circling the $3.99 range. But if you're just looking for free stories to read, IDW has 101 free issues available right now. You can also grab 24 issues from Valiant, all beginning at the start of a variety of series, as well as a select few issues from Madefire and DC. You won't find any brand-new releases for free, but still there are some fantastic entries from publishers across the board.
The organization of the library is fairly standard. Issues can be sorted either alphabetically or by the original date of download. The normal reader is simple to use: A display of each page runs along the bottom of the screen, and swiping or tapping on either side of the page either progresses the story or moves back through it. The one big option missing is customizable reading settings, though, which is a disappointment.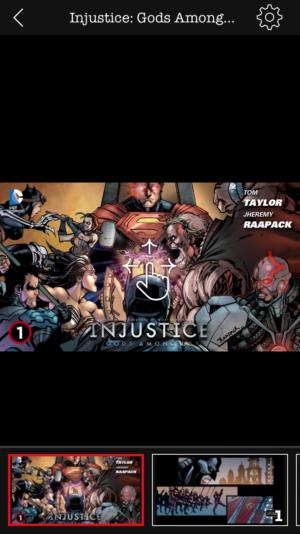 Making up for that lack, however, is a feature exclusive to Madefire—one that helps it stand above competitors. Madefire's motion comics are new way of being submersed into a story: Characters, scenery, weapons, and more are slightly animated. If a hero leaps off a building, you'll see them move through the artwork; likewise, if an alarm rings out, you'll hear it. (So wear headphones if you're planning on reading one in a public place!) While the speech isn't always dictated, the sound effects match the action in the panels as the story progresses in a fluid motion. Some scenes in particular allow readers to drag the viewpoint around to see more within an image. Overall, the sounds and motion accompanied panels don't feel like the comic is rushing ahead; you have full control over when you tap through a page or swipe backward.
Madefire has even begun creating original content for both its Motion Comics and normal issues by partnering with some of the biggest names in the comic industry, like Stan Lee, Dave Gibbons, and Bill Sienkiewicz. Given Madefire's unique content, we recommend using it even if you have a different preferred comic book app—you don't want to miss out on this creative flair.