Martin Jonasson, the creator of the popular ricochet game Holedown, says that the usual business of "freemium" games like cooldowns and consumables rubs him the wrong way. He acknowledges that some games implement free-to-play monetization systems well, but he's turned off by how they force him to serve "multiple masters."
"You can't only focus on making the player's experience positive [under that model]; you have to ensure there's some money trickling in as well," he tells me. "That's a concern I'm happy to avoid."
Focusing on the experience alone has paid off. Holedown only costs $3.99, but it's simple and endlessly entertaining. It isn't hard: Its main challenges deal with learning how to aim and collecting enough crystals to shoot more balls at once and move on to even deeper planets. It's a "delightful spectacle of bouncing," in Jonasson's own words, and I see no reason to dispute them. It relaxes more than it frustrates, in large part because there's rarely any question that your failures spring from your own mistakes rather than resisting subtle pushes to cash shops.
And we can partially thank the App Store for that. Jonasson tells me he was happy when the App Store came along letting him charge a handful a bucks for his small games, as it allowed him to focus on making a better experience rather than worrying about monetizing the game. He'd made Flash games before, but back then he disliked the common practice of including strips of ads inside free games (which was probably most recognizable in the brief sensation Flappy Bird).
"It always seemed so backwards for me to spend days upon days crafting a visually coherent experience just to get it run over by an ad," he says.
I came to Holedown with a particular sensitivity to this. Inspired by a tweet from SungWon Cho, I'd just spent the days before playing through Peggle Blast, the 2014 game that's also about bumping blocks with balls, but it gets everything wrong that Holedown gets right. That wasn't always the case, as Peggle launched in 2007 without any kind of microtransactions. Instead, like Holedown, it was just challenging enough to convince yourself that you were smart for finishing it.
Peggle Blast, though, kills the fun only a few levels in, pushing you to spend money for new balls or access to additional powerups. It's distracting and ultimately tiring.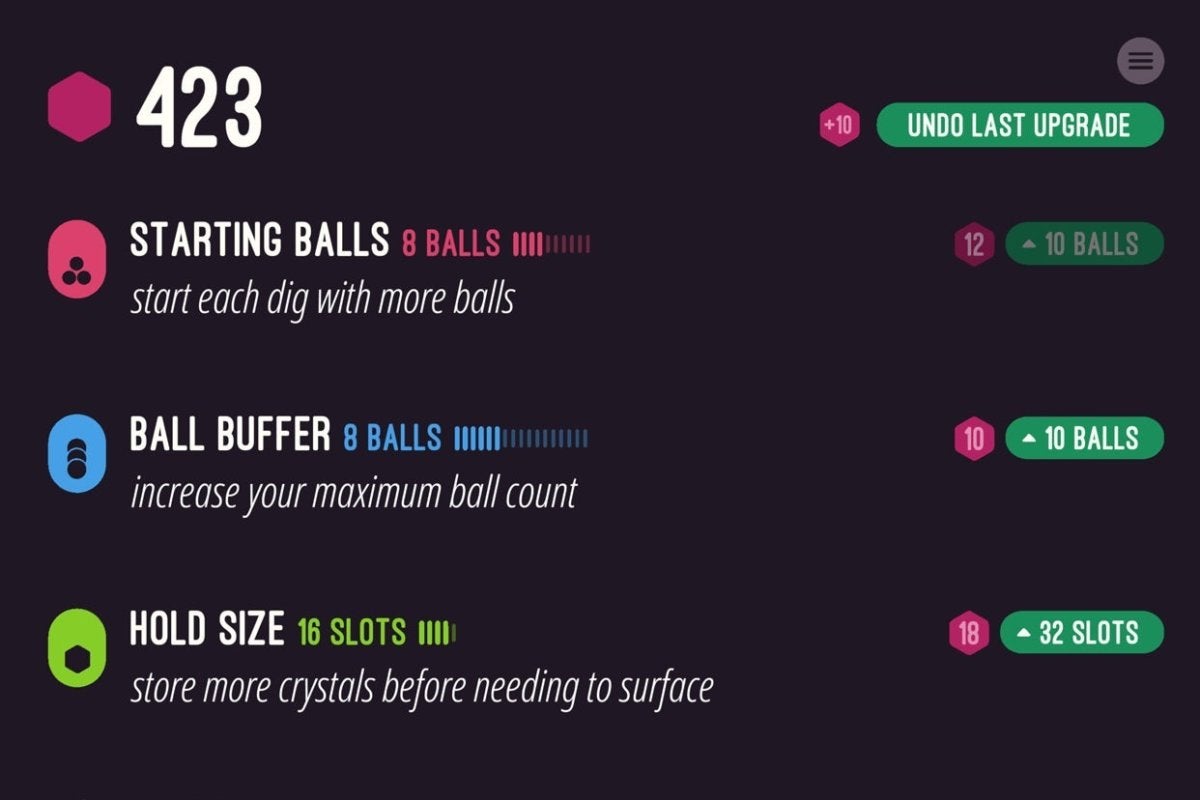 Holedown reminds me of the pre-freemium Peggle, right down to the little onscreen companion who watches your movements with untiring enthusiasm. It reminds us that mobile games are particularly well-suited to this kind of meditative puzzling, and it's a shame that so many of them now seek to challenge our wallets more than our brains.
Yet it's not hard to understand why so many developers embrace the model. For one, it simply works. For all the handwringing over Harry Potter: Hogwarts Mystery a few months back, it still rocketed to the top of the App Store a mere day later. Critics such as myself could lambast its predatory microtransactions all we wanted, but the fact remained that people were clearly paying them. Setting aside possible greed for the moment, it's also simply a smart model for studios with a large staff and royalty obligations to juggle. And, of course, players like to think they're getting something for free, even though the microtransactions mean they'll likely ending paying more for the games on the long run.
Consider the case of Super Mario Run, in which Nintendo clearly tried to avoid the problems associated with freemium models by giving away the first zone for free and charging a mere $9.99 to unlock it all. It's a considerably more complex game than Holedown and it only costs a few bucks more. Yet the internet shrieked in horror, largely because of the price. Nintendo's stock even dropped.
Jonasson is lucky enough not to need to worry about most of those issues. His studio is a tiny one; the credits list only him and artist Catherine Unger and composer Niklas Ström. But he acknowledges that his payment model puts him at a disadvantage.
"The challenge with a premium game is that the economics of it are different, I only get paid by a player once," he says. "Doesn't matter if they play the game for an hour or a hundred, it's the same. That's something a game with microtransactions solves elegantly, there's a relationship between playtime and money spent. Toe dippers pay less; those who like it can go all in."
For that matter, he says, a premium model locks out some players, either because of economy, age, or geopolitics. In those cases, they sometimes resort to piracy. That, he says, isn't "ideal."
But I find it ideal in other ways. It's increasingly rare to enjoy a simple game on the App Store these days without suffering through the extra garbage developers have to stuff in there. Holedown feels fun because it's focused on fun above all else, and entry costs less than most fast food meals these days. It's simple, yes, but the lack of extra invested cash means I can feel guiltless when drifting away from it.
In some ways, Jonasson's story points to the reason why so many of the best games on the App Store these days come from one-man shoes rather than massive studios.
"I want to focus on the craft of making games, as long as I can pay the bills," he says. "Maximizing profits is not interesting to me."
Considering Holedown's popularity, there's a lesson in that.