Steve Jobs was deeply proud of the iMac G3, even to the point of cuddling one for a spread in a 1998 issue of Newsweek. He looks happy in the shot, but he couldn't have been too comfortable. In fact, at home, he might have preferred cozying up the plush pillow version of the device that's now on Kickstarter as part of the Iconic Pillow Collection from Throwboy, along with pillow versions of some of Apple's (and Jobs') other greatest hits.
But note the "iconic." Throwboy is careful to avoid the wrath of Apple's sharks: The word "Apple" doesn't appear anywhere on the Kickstarter page and Jobs is referred to only as the "most prolific co-founder/CEO of our time." On the pillows themselves, you'll simply find an embroidered pillow outline where you'd normally expect to find a scrap of barely eaten fruit.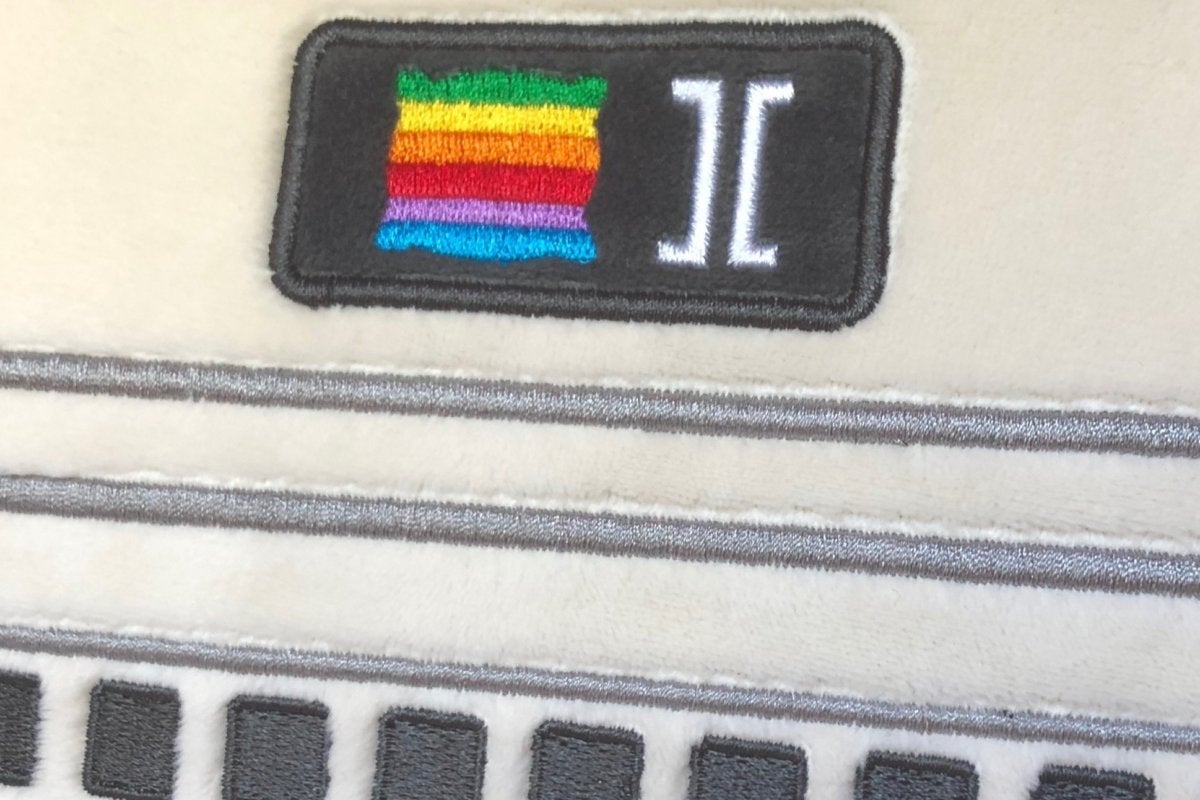 But it's a testament to the strength of Apple's design that there's no need for specificity. Indeed, from across the room, the pillows are as recognizable as family. On the left, there's the Apple II and the Macintosh. On the right, we have the fruits of Jobs' return to Apple: the iMac G3, the iPod, and the 2007 iPhone. Think you spend too much time on your iPhone? Well, kids, now you can sleep on one.
Apple itself might appreciate attention to detail that went into the design, whether it's the 100 percent vegan fine-grain plush, the satin stitch embroidery, or even how gracefully the pillow logo works with the set. With early bird pricing, the pillows range from $27 for one pillow to $165 for all five. Items are expected to ship in January of 2019 (or February, if you miss the early pricing).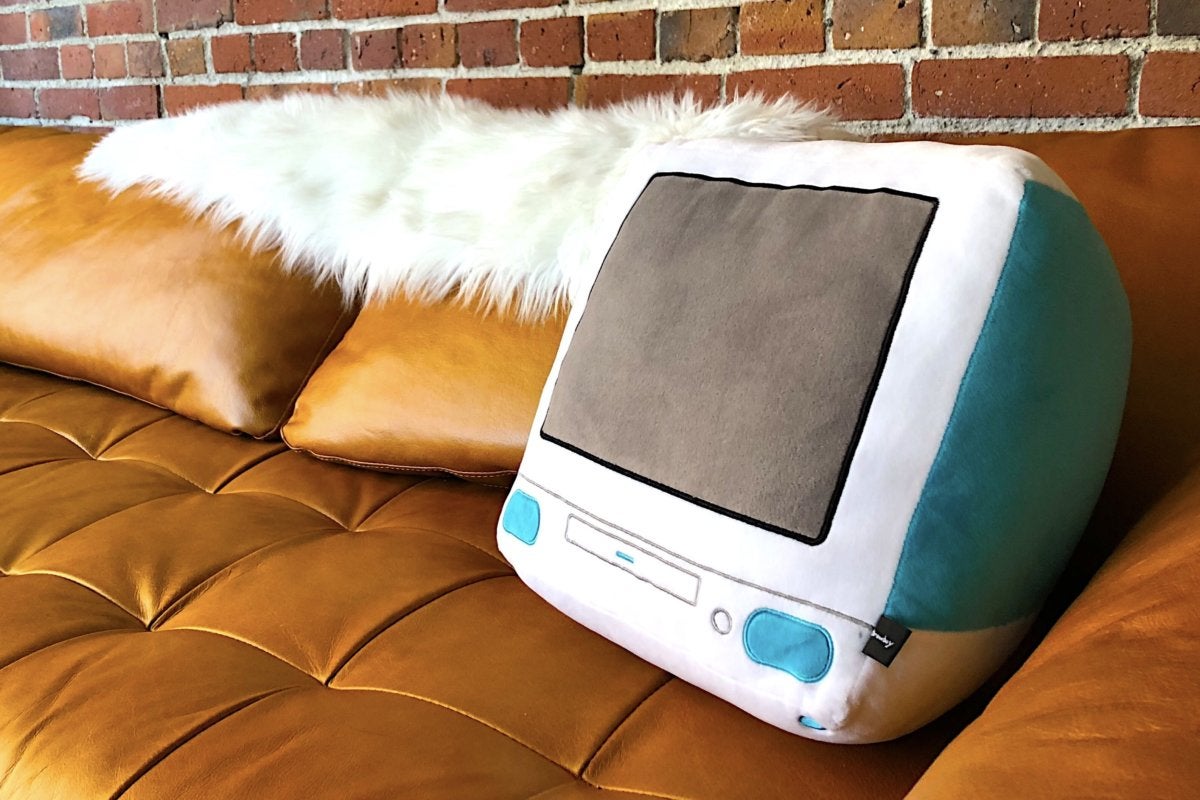 Roberto Hoyos, the man behind project, tells me he wasn't really an Apple fan in his teens. Even so, it didn't take him long to get hooked.
"I had put all of my money into building a PC for music recording only to find out that my motherboard was incompatible with the expensive audio card I had bought," he says. "This was during the time of the 'Switch' ads—real users talking about how they switched from PC—so I figured I'd give it a shot."
When he popped in the audio card into an iMac G4, it worked flawlessly. (Take note, Apple, when designing the new Mac Pro.)
His latest project is meant both to celebrate Apple's products and 10 years of business at Throwboy. There's a chance you've seen Throwboy's stuff before, as the company has made a name for itself through its emoji pillows (right down to the poop) and even pillows for the Apple icons for Safari, Finder, and iTunes. In fact, Throwboy has even worked in direct collaboration with the likes of Twitter, Microsoft, Patreon, Netflix, and Google. Naturally, Apple would be the one that doesn't play along.
As fascinating as the Iconic Pillow Collection is, I find it comes off as a subtle commentary on today's public perception of Apple. I don't dispute that these devices changed our lives, but I was a little bummed to realize that the latest product—the iPhone—dates all the way back to 2007. Judging from this, it's been over 11 years since Cupertino company has truly wowed us. (The Apple Watch could arguably be a lightweight contender, but we'll let it pass since it doesn't neatly translate into pillow form.)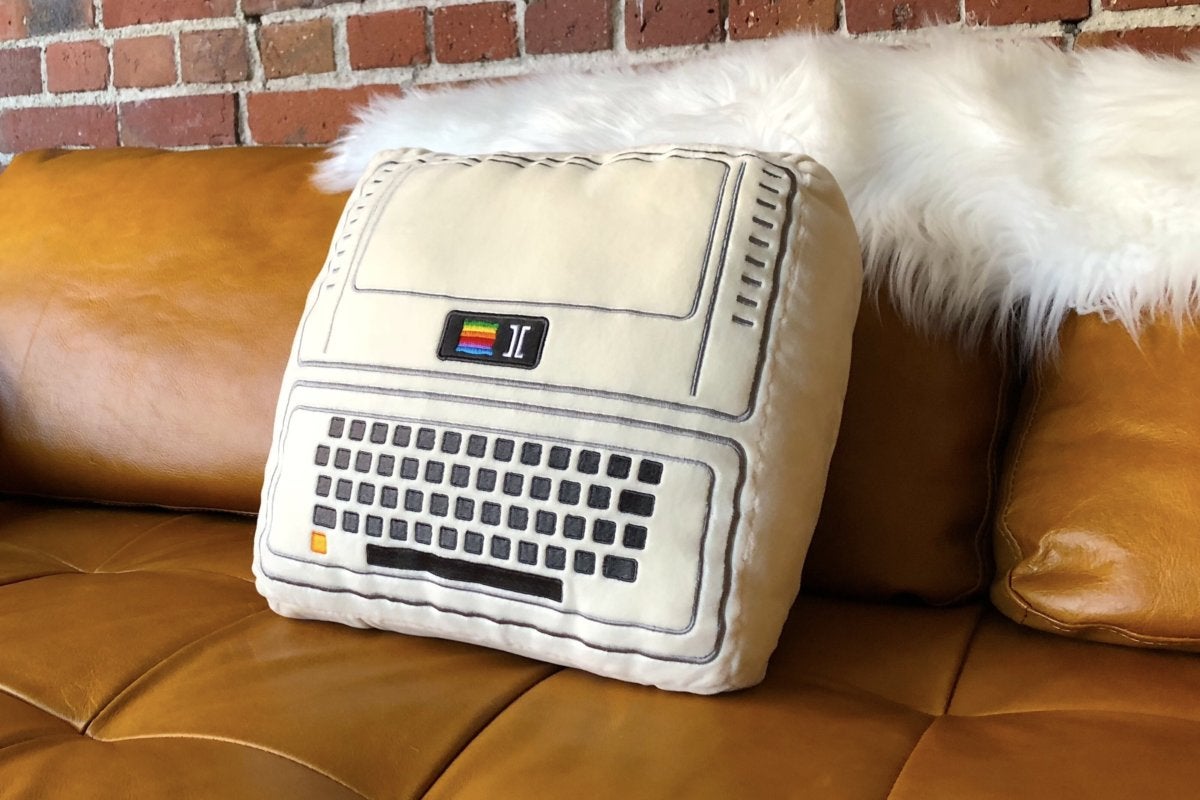 I ask Hoyos about this, and he emphasizes Apple's current strengths in iterative improvements rather than great leaps forward.
"I feel like it's been some years since we've seen a bold game changer," he says. "However, I do think there have been incremental and steady changes of how their devices and services affect our lives but they're harder to see."
That doesn't mean that his admiration for Apple itself has diminished.
"I believe they've always shown a great deal of care in what they produce," he said. "That is felt when you unbox one of their products and pick it up and use it. I love that it has inspired many other industries and creative people to care about design and the experience of using a product."
To judge from what I've seen of the Iconic Pillow Collection, that inspiration carries over to his own pillows. Lucky for us.