At a Glance
Expert's Rating
Pros
Toast application finally 64-bit, fixes long-standing usability bug
Decent MultiCam capture and editing app
Includes bundled utility, disc authoring, photo software
Cons
Initial launch issues after installation
MultiCam crash when deleting screens on dual-display setups
Toast 17 instabilities with non-ASCII filenames
Less obvious Blu-ray activation (Pro version only)
Our Verdict
With the release of Toast 17 Pro (as well as DVD-only sibling Toast 17 Titanium), Roxio is sending a clear message that optical media is here to stay. Following last year's purely cosmetic overhaul which added a dark UI, the latest version sports an under the hood tune-up. The application is finally 64-bit, in time for the release of macOS Mojave this fall, the last macOS to support 32-bit apps. That means Toast will continue working when macOS goes 64-bit only, but users won't have to wait that long to reap the benefits.
Aside from initial post-installation problems with the application refusing to launch after the first time, Toast 17 Titanium is the snappiest it's ever been. I'm not sure if my issue was caused by the new, sleeker internet-based installation (which downloads content as needed, rather than as a standalone installer), but I resolved the problem by first purging everything related to Toast—including preference and support files—then reinstalling the latest version.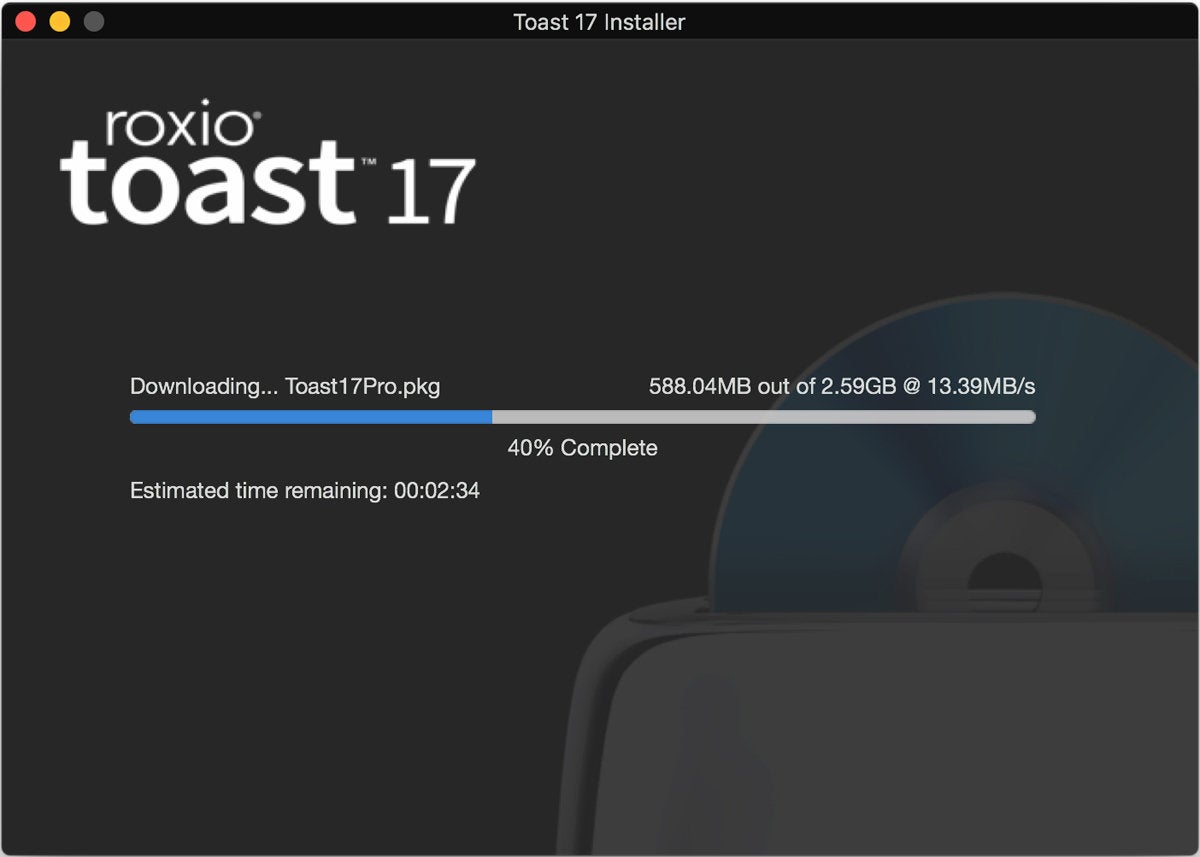 Toast 17 addresses a long-standing annoyance I've had across multiple versions of the application when switching to the Video tab from other modes (Data, Audio, Copy, or Convert). I'm not sure if Roxio's engineers got tired of me bringing it up in reviews or the bug was finally squashed in the move to 64-bit, but there's no longer any lag or spinning beach ball when clicking between tabs.
Aside from the aforementioned fresh coat of paint, the core Toast application is otherwise largely the same as it's been for years. That's not necessarily a bad thing, although I'd love to see at least the Pro version adopt the same kind of comprehensive Blu-ray and DVD authoring tools found in Adobe Encore, which was discontinued in 2012. It's worth noting that Blu-ray support is no longer activated when installing the Pro version; the option is now tucked away in the Help menu instead.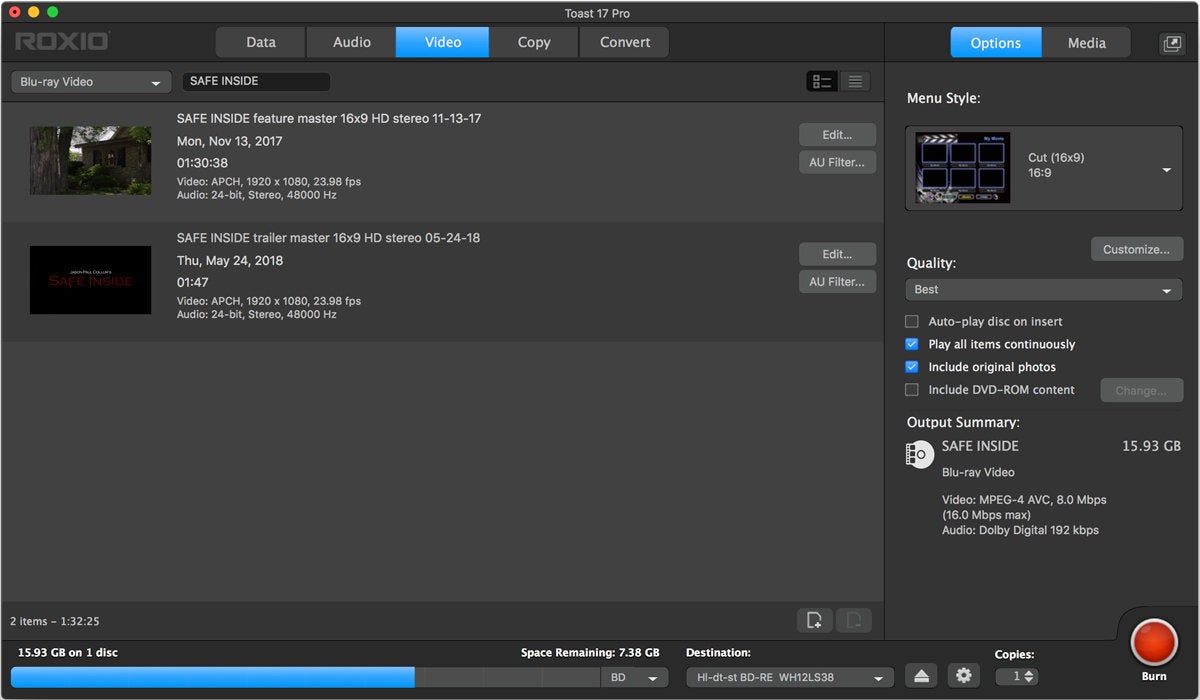 Roxio Toast 17 Pro: MultiCam marvel
Over the last several releases, Roxio hedged its optical media investment by bundling Toast with a suite of like-minded creative software. Some additions make sense, like MyDVD (introduced in Toast 14), which supports slightly more advanced disc authoring options like custom menus and chapter stops. Others like photo-centric Painter Essentials 6, Corel AfterShot 3, and FotoMagico 5 help justify the cost of the bundle, but most users will already own similar (or superior) tools for such tasks.
After adding MultiCam Capture to the Toast 16 lineup, Roxio has gone a step further in this version, beefing the up software with editing capabilities as well in both the Titanium and Pro versions. The newly christened MultiCam Capture and Editing makes it a snap to create training videos and other presentations for posting on YouTube or elsewhere.
The standalone app allows users to record from up to four sources at once, including the FaceTime HD Camera, your Mac display, and other attached audio or video hardware, which are automatically enabled by default.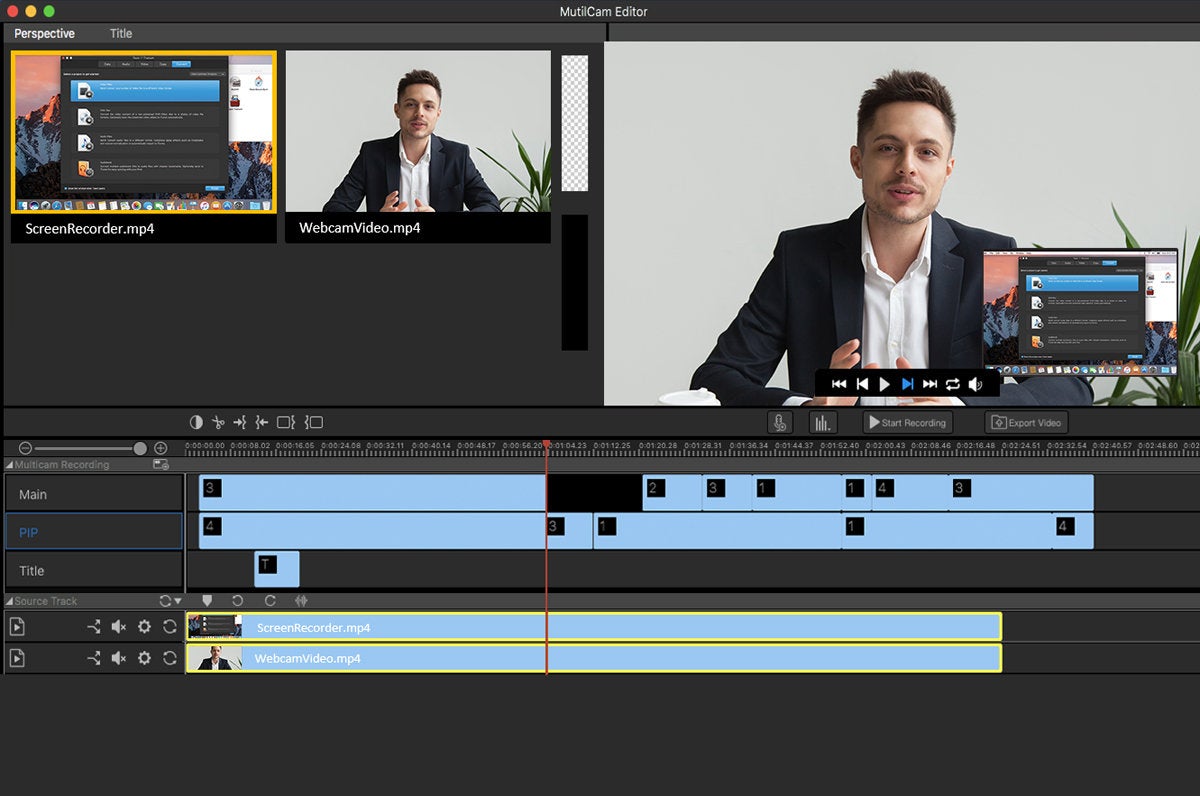 MultiCam is easy to set up and use, with familiar Source and Preview windows at the top, multicam and PiP in the center, and timeline across the bottom. There's even a built-in title maker and multitrack picture-in-picture; users can switch between sources on the fly by pressing the number keys that correspond to each.
In addition to live sources, MultiCam also imports image, video, and audio files to use as part of a presentation, and the app does an admirable job of helping get this media synced up alongside everything else. I was disappointed to discover how limited the app's post-recording skills are—you can't just record four sources then edit between them, this is really designed for live recordings or adding sources one at a time.
As with any new release, there are a few bugs that need squashed. In the case of MultiCam Capture and Editing, I was able to consistently cause the app to crash and log out of my user account by deleting either source screen from my dual-monitor setup. That meant webcams can't be used as one of the first two sources. Toast 17 also crashes when using non-ASCII characters in a filename, sometimes during a disc burn.
Bottom line
There's not a whole lot new, but owners of previous versions will need to upgrade ahead of next year's macOS update anyway, so there's no reason not to reap the rewards of a 64-bit application right now and get a decent software bundle thrown in as a bonus.