At a Glance
Expert's Rating
Cons
Lack of AC jack makes it Thunderbolt 3 only
Expensive, though not out of whack for NVMe SSDs
Our Verdict
If Samsung had included an AC jack so that the External SSD X5 would work with Apple's Thunderbolt 1/2/3 adapter, this blazingly fast drive might have garnered 5 stars. As is, it's the fastest portabe storage available for your Thunderbolt 3 Mac–by a lot.
Price When Reviewed
$199.99
Best Prices Today: Portable SSD X5
Once Apple finally introduced support for third-party NVMe drives in macOS 10.12 Sierra, NVMe over Thunderbolt storage became only a matter of time. And for a while, the path to external storage nirvana was a bit of a rocky road—but the bumpy ride is over now thanks to Samsung's Portable SSD X5, a ready-made NVMe over Thunderbolt 3 storage solution that delivers blazingly fast 2GBps-plus read and write speeds
The X5 is now the portable drive for multimedia pros, or anyone who doesn't like to wait for their files to copy—if you can afford it, and of course, have Thunderbolt 3.
Samsung Portable SSD X5: Not cheap
The X5 is a blazingly fast and expensive drive: $400 for 500GB, $700 for 1TB, and $1,400 for 2TB. If it helps, that's actually not as "Apple-priced" as it looks; a bare 1TB Samsung 970 EVO NVMe SSD goes for around $300. By the time you add an enclosure (as far as I'm aware there are no "portable" Thunderbolt 3 NVMe/PCIe enclosures available), you'd be somewhere in the neighborhood of $400 to $500. You might save a couple of bucks at the 2TB level, but the resulting device would hardly fit in your pocket.
On the other hand, you can get a 1TB Samsung T5 or a Sandisk Extreme external SSD with a USB 3.1 10Gbps interface for less than $300. I love NVMe, and it does makes a perfromance difference, but 500MBps isn't exactly chicken feed. I digress.
Samsung Portable SSD X5: Design and features
The first thing that struck me about the X5 is that it doesn't look particularly like external storage. Samsung says it was inspired by a super car, but I'm not seeing it. Then again, I haven't seen the super car they had in mind. Take a look below and make up your own mind. Don't let my mention of a hand phaser influence you.
Only the USB-C/Thunderbolt 3 port is a hint as to the X5's function, though by that measure it could just as easily be a USB 3.1 drive. It's not. Not by a longshot.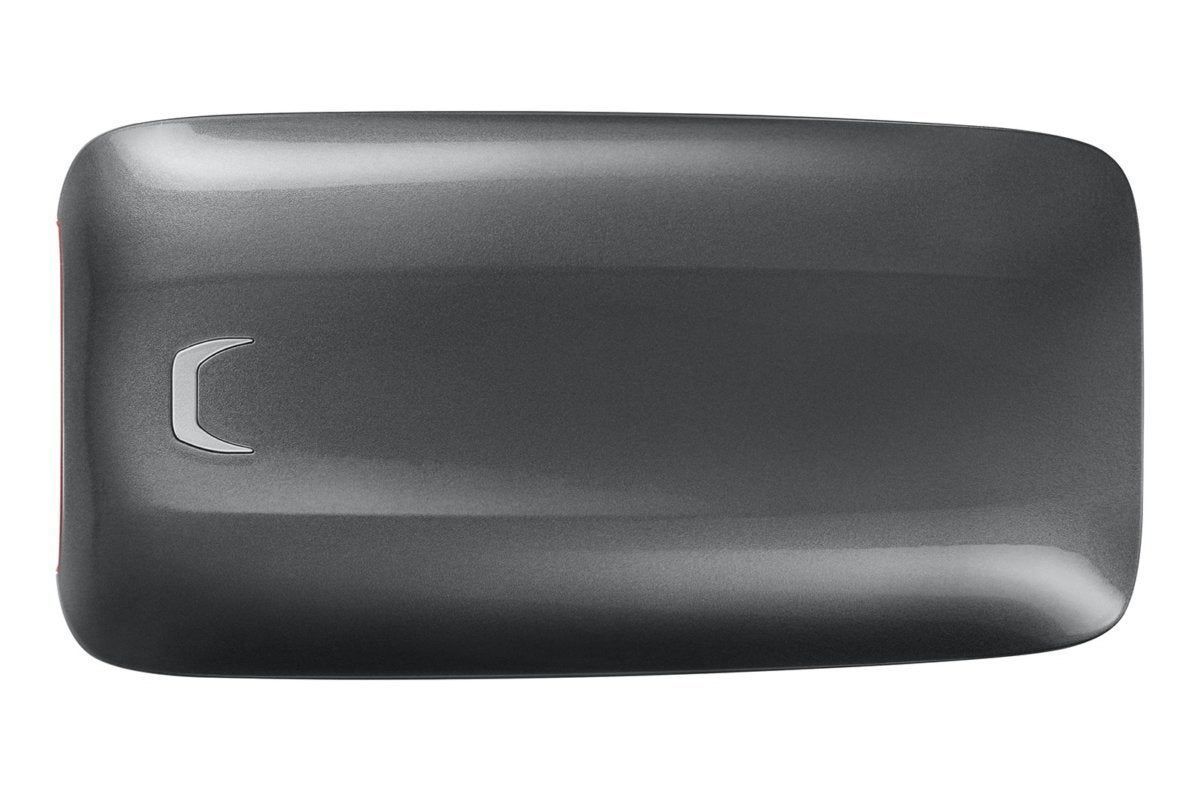 The X5 is dark silver on the top, and a bright off-red on the bottom. I'm a bit puzzled about the bottom of the drive, as it's a rather hard substance that provides little friction or horizontal stability. You rely on its not inconsiderable (for a portable SSD) 5.3 ounces of heft and the Thunderbolt 3 cable to ward off accidental movement. Fortunately, the drive is largely constructed from magnesium and is said to be able to withstand a two meter drop.
Part of the aforementioned heft is an internal heat sink, which no doubt radiates heat to the external shell. I didn't notice undue heat, so the copious amount of magnesium is doing its job well.
Since I didn't want to destroy the unit by prying it open, I had to rely on Samsung's reviewer's guide and a few questions to media relations to ascertain the contents of the drive. According to a cutaway picture in the guide, there's an NVMe adapter board with a M.2 NVMe SSD sitting in a slot. According to media relations, the drive is based on a 970 EVO with the same 64-layer, TLC NAND. The X5 also features encryption and can be password protected using the supplied Samsung utility.
Samsung Portable SSD X5: Not so compatible
Sadly, users of older Thunderbolt 1 and 2 Macs won't be able to use the X5. The drive runs on bus power and Apple's adapter—the only one I'm aware of that allows connecting Thunderbolt 3 devices to earlier-version ports—doesn't transmit bus power. The X5 has no AC jack so there's simply no way to power it. The X5 seems to have enough room for a jack, but I guess wires aren't sexy and direct AC would add extra circuitry. Bummer.
In the end, you have a drive that's only compatible with Thunderbolt 3 Macs, and the relatively rare Thunderbolt 3 PC. The drive comes formatted in ExFAT for cross-platform compatibility, but if you're using it only on your Mac, you can get better small file write performance by formatting it to HFS+ or APFS.
Samsung Portable SSD X5: Performance
If your Mac or PC has the chops (Thunderbolt 3), you'll like the X5 (shown in the charts as the gold bars), Read 'em and weep Thunderbolt 1/2 and USB users. Black Magic Disk Speed test was run on a 2018 MacBook Pro.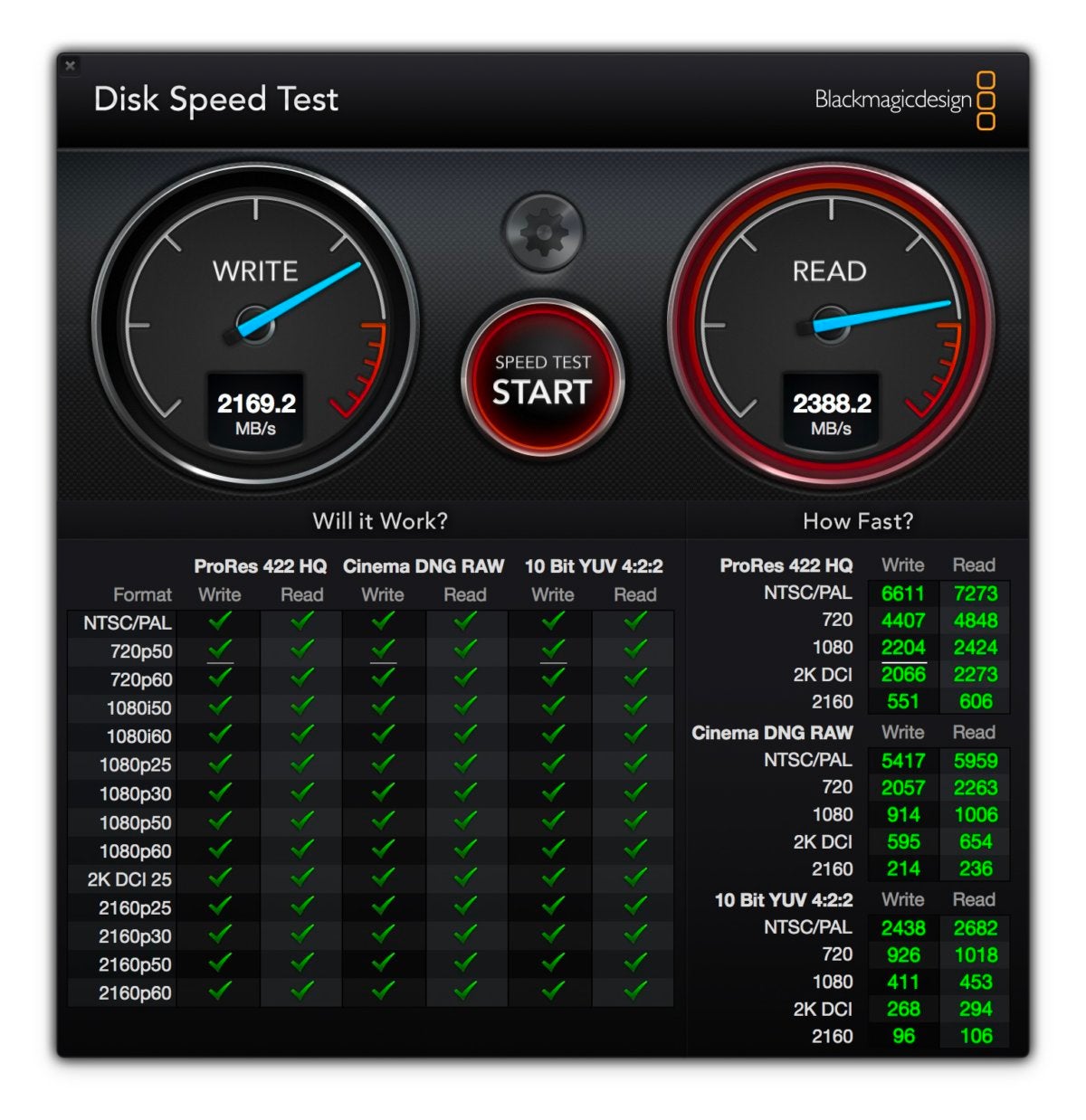 The MacBook Pro's internal drive is even faster (Disk Speed results shown below), but you'll never be able to tell the difference with the naked eye.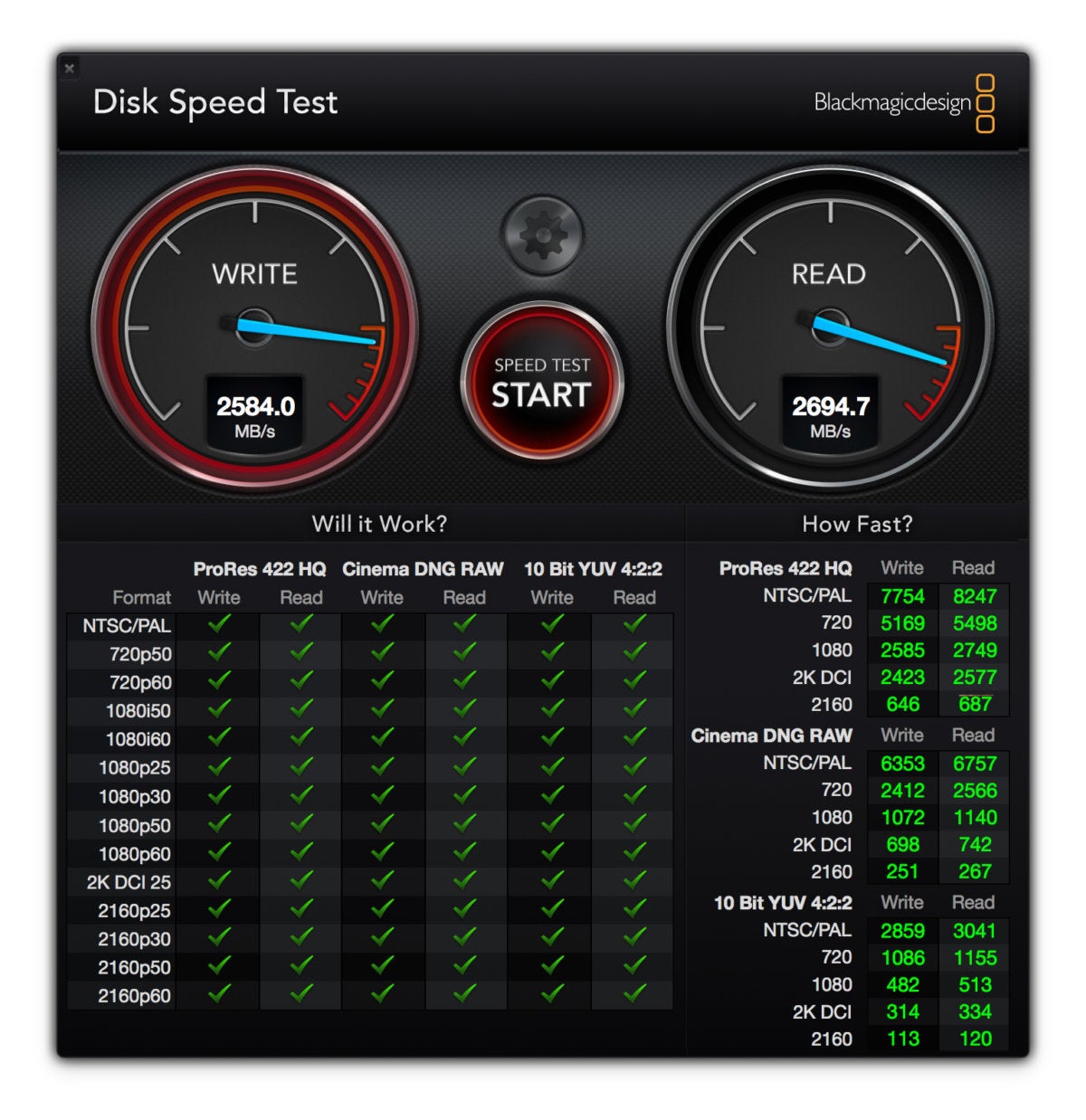 Note that I reformatted the drive to NTFS for testing on our Windows storage test bed, so that small file write performance wouldn't suffer. Next up are 20GB copy tests compared to the Samsung T5 and WD Passport SSD USB 3.1 10Gbps portable SSDs. The X5 flat out whomped 'em.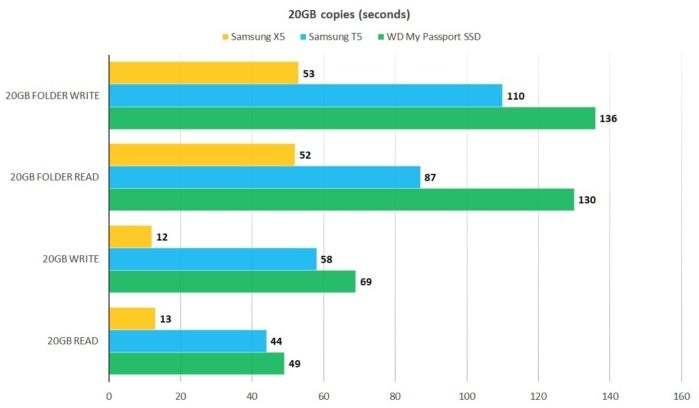 The X5 did just fine on our 48GB real world copy tests shown below, but I did manage to slow it down by doing another copy after waiting only about 5 seconds. You will see performance drop to 1GBps or lower if you copy a file that's much larger than 50GB. Batches of files and folders will generally maintain the same pace as the SSD has more time to clear the cache in between files.
While the chart above compared performance with other portable SSDs, the chart below compares the X5 with internal SSDs. If you ever doubted that Thunderbolt is PCIe over a wire, you won't anymore.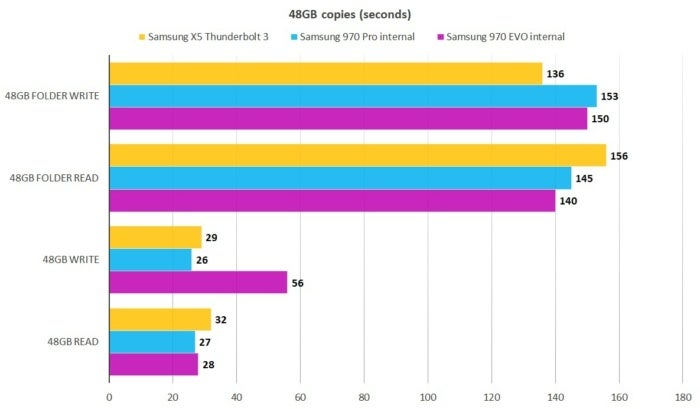 CrystalDiskMark 6, a Windows benchmark that measures several different read and write workloads thinks quite highly of the X5. Note that we test many different SSDs, but it's likely one of the 970s serves as the innards for the X5. Hence their presence on the chart.

Part of NVMe's appeal are its startlingly short seek times (the time it takes to locate a file). You don't lose much of that according to AS SSD 2 (shown below), though the Thunderbolt protocol does impose a tiny bit of overhead. Note that this test varies quite a bit from run to run.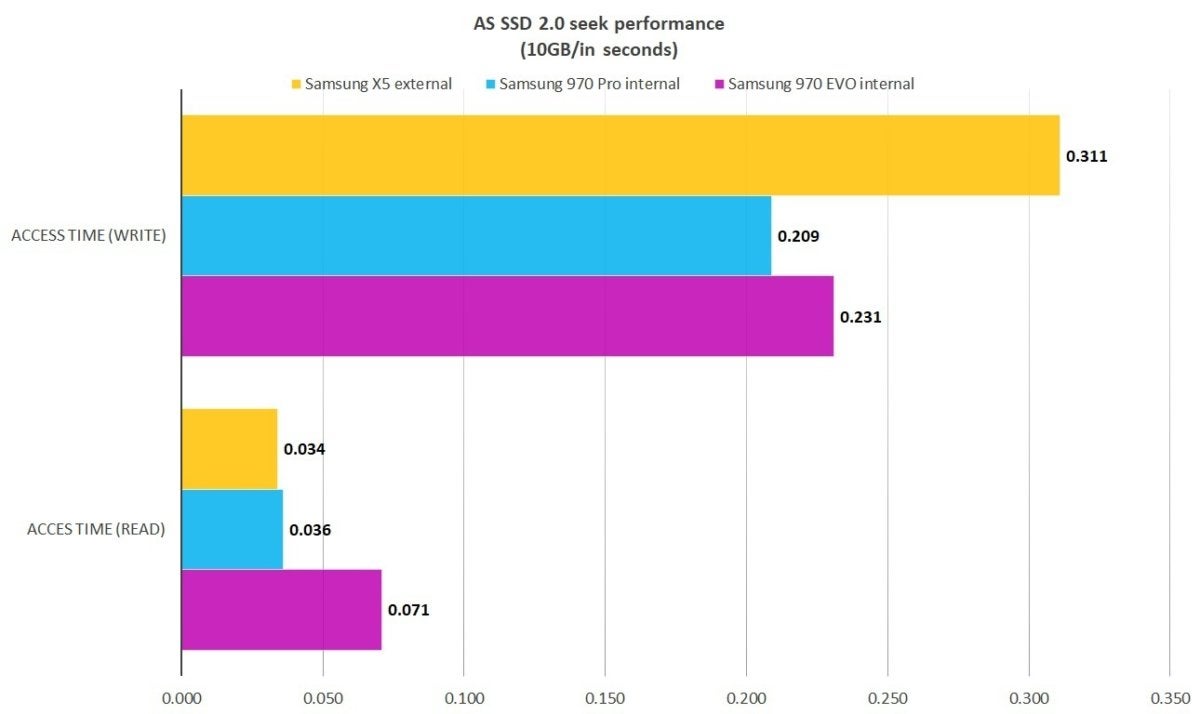 All in all, the X5 is nearly the same speed as an internal NVMe drive. In my subjective tests, running macOS from the X5 drive didn't feel quite as smooth. But the difference is tiny, and improved drivers may rectify this over time.
Note that this SSD is designed for portability and relatively low-intensity tasks such as backup. Being small, and having no fan, it might not be suitable for video editing or other constant heavy-load tasks. Look for something with better thermal relief is that's your mission.
Bottom line
If you want the fastest possible portable storage for your Thunderbolt 3 Mac, the X5 is it. The biggest issues are price and a complete the lack of compatibility with the vast majority of Macs and PCs. If that's a major concern, go USB 3.1.
But USB 3.1 is boring, while backing up and doing large data transfers using the X5 and a Thunderbolt 3 Mac is a hoot. I'm all about the hoot. At least when I can afford it.
Note: This article was amended on 2/21/2019 to point out that this is a relatively light-use SSD, not intended for heavy workloads. A user noted drops to less than 200MBps under heavy use.
Best Prices Today: Portable SSD X5