At a Glance
Expert's Rating
Pros
Amazingly quiet
Can double graphics performance of MacBook Pro
Complements MacBook Pro's aesthetic
Cons
Can't upgrade to better graphics cards
Limits with video editing software
Expensive, considering limitations
Our Verdict
Best Prices Today: Blackmagic eGPU
Apple at last has an external graphics processing unit on the hallowed shelves of the Apple Store, and as you might expect, it's a looker.
The Blackmagic eGPU (from Blackmagic Design) was designed in collaboration with Apple. With its brushed aluminum casing and the spot-on space gray coloring, the Blackmagic eGPU, MacBook Pro, and iMac could pass for cousins in a family portrait. It belongs.
It also follows many of the same design philosophies that make Apple's own products so beloved. It's quiet and sleek, with its noise reaching only around 15dB at peak performance, thanks to a tangle of cooling tubes. It's inconspicuous and easy to set up, to the point that it doesn't even have a power switch. You simply plug it into your a Mac's Thunderbolt 3 port and it works. Heck, at the moment, you get only get it from the Apple Store.
And yet for all that, you'll likely find that its magic fails to leave a lasting spell.
Gray ghost
Perhaps intentionally, its design somewhat echoes the maligned 2013 Mac Pro. The Blackmagic eGPU is a softly angular eight-faced contraption rather than Jony Ive's often-lampooned curvy trash can, but like that device, its design embraces squat, 11.5-inch verticality rather than the desk-hogging horizontalism of other eGPUs. In fact, Blackmagic's unit is slightly more interesting to look at, as a soft LED light illuminates the 1.7-inch gap between the bottom grill and the surface it rests on when it powers up.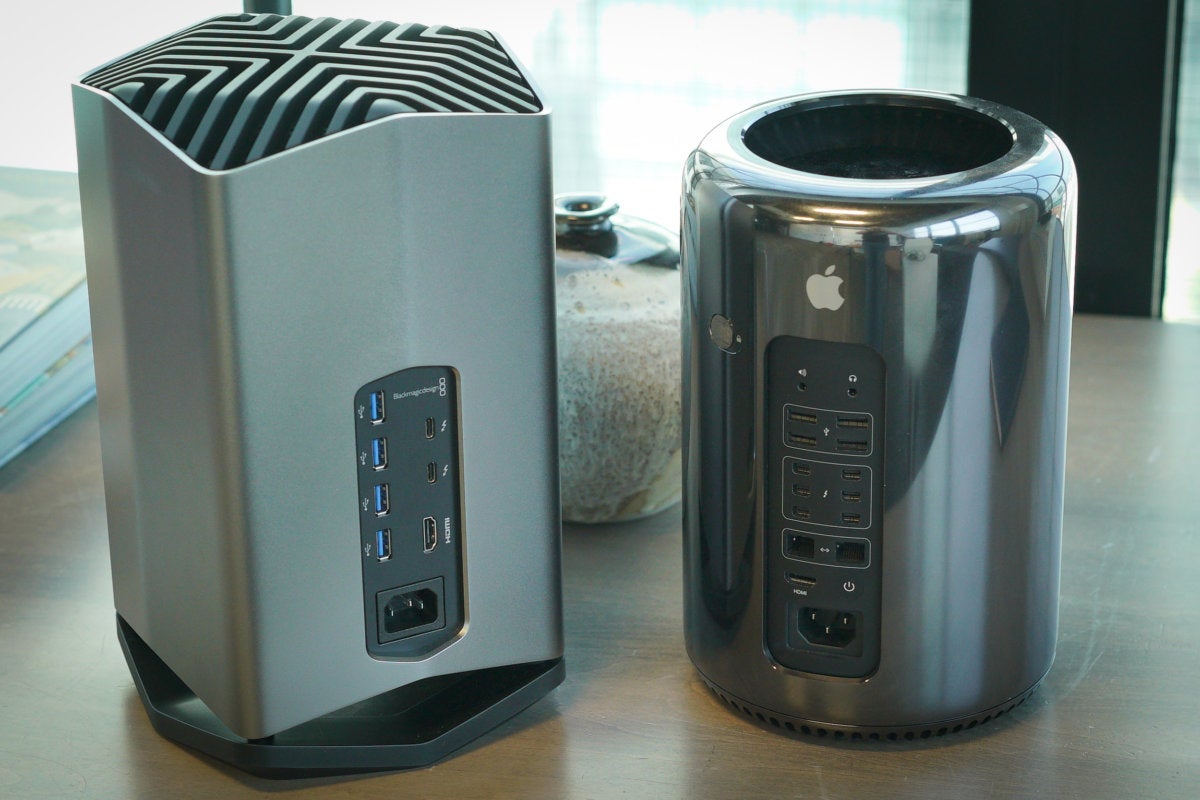 A selection of ports runs along its spine in the style of the Mac Pro, ranging from four USB-A 3.1 ports and an HDMI slot to two Thunderbolt 3/USB-C ports for connecting it to your Mac or hooking up to an external monitor like the officially supported LG UltraFine 5K display. Considering that it can also charge your Mac with 85 watts of juice, that's an impressive selection to choose from. The only drawback in this regard is the roughly 20-inch Thunderbolt 3 cable, which means you'll always have to keep it fairly close to your MacBook. In a way, though, that's the point, as the shorter cables help with the 40GBps data transfer speeds to your MacBook Pro.
But, of course, the chief legacy of the Mac Pro was its famous resistance to upgrades and alterations, and these same troubles carry over to the Blackmagic eGPU. Blackmagic's device comes with a non-removable 8GB AMD Radeon Pro 580 tightly packed in-between the aluminum shell and the grills on the unit's top and bottom, and you can see the massive tangle of cooling tubes when you peek through the honeycomb latticework. There are no visible screws; If you want to get into this thing, you're going to have to force your way in (and we don't recommend that). It's a sturdy beast, though, and it's easy to get the feeling that none of the unit's 9.9 pounds were wasted.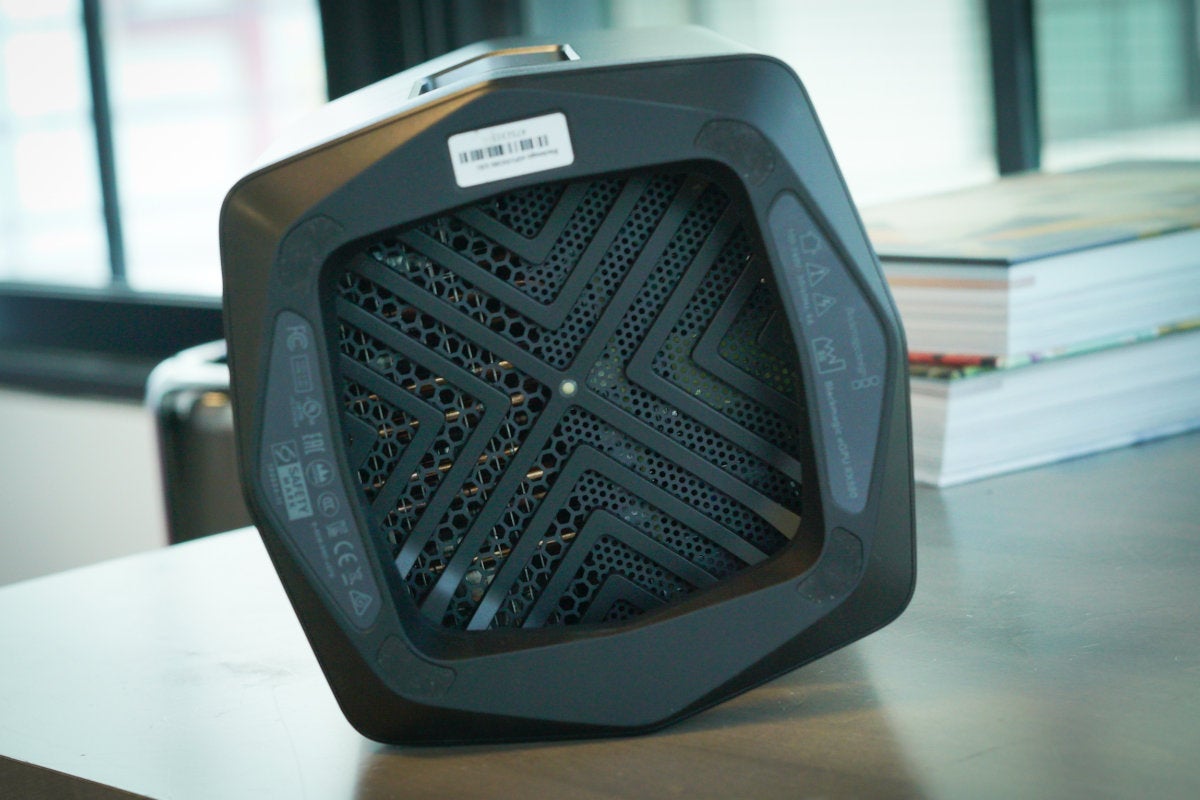 Plug and play
I understand why someone would want a device like this. There's a lot to be said for a device that can significantly boost the graphics performance of a MacBook Pro simply by plugging it into a Thunderbolt 3 slot. And it really is that simple, as macOS High Sierra (and Mojave) comes with all the drivers needed to support most AMD cards built right into the OS itself. When you need to unplug it, you simply right-click an icon on the taskbar.
Most eGPUs are actually fairly easy to set up, but this device avoids even the (very minor) hassle of slipping a supported graphics card into the enclosure's slot and screwing it in. The Blackmagic eGPU is about as plug-and-play as you get.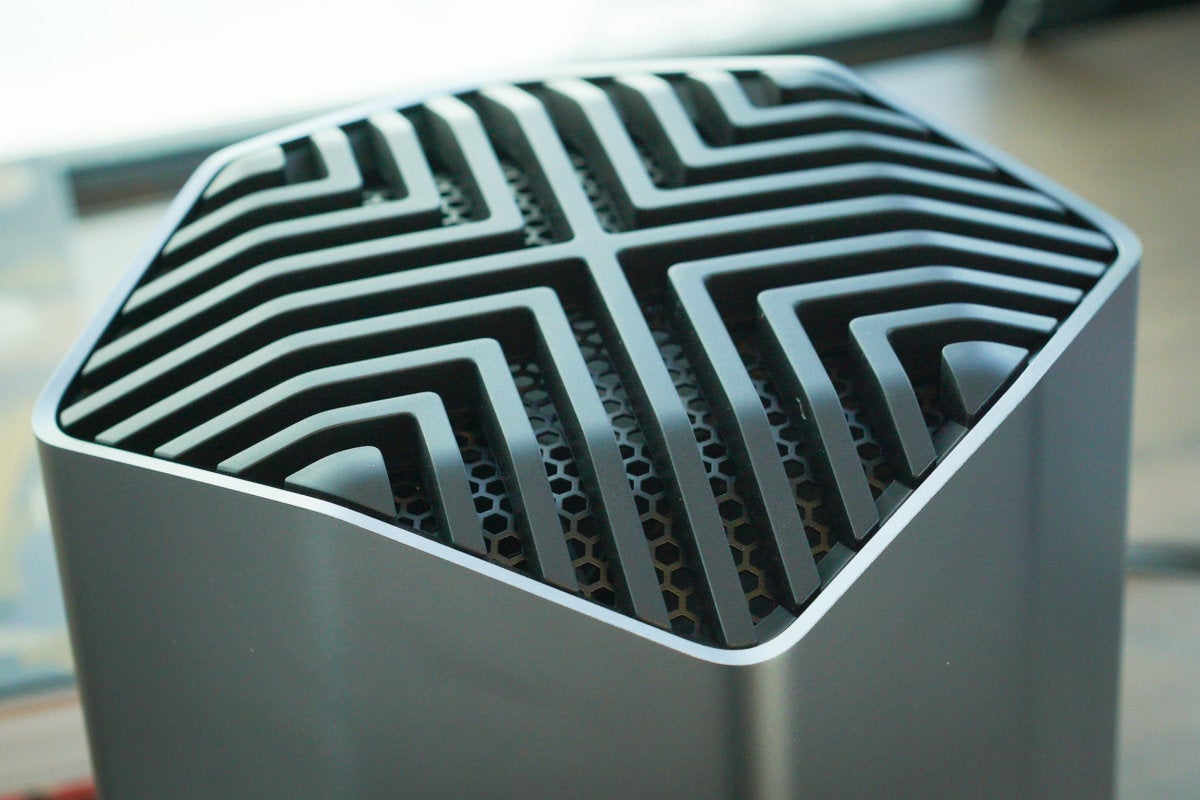 But it's just not that powerful, which means it's not a future-proofed as it could be. The AMD Radeon Pro 580 is certainly more powerful than the Radeon Pro 560X you'll find in the 2018 15-inch MacBook Pro, but it still doesn't hold a candle to AMD cards like the RX Vega 56 and and the RX Vega 64. And it's not like including these would have been out of the realm of possibility (although they may have boosted the price by a couple hundred bucks), as the iMac Pro already comes with Vega-powered graphics. For that matter, the Radeon Pro 580 is already over a year old at this point.
As it stands, you're going to get the absolute most out of a unit like this if you're using a Mac that doesn't have a discrete graphics card, such as the 2017 13-inch MacBook Pro without Touch Bar that I sometimes use.
Double your fun
First off, it's not bad. You're almost certainly going to get a significant 3D boost regardless of which Thunderbolt-3 MacBook Pro or non-Pro iMac you're using, although the boost will naturally be stronger for older and smaller units such as the 2017 13-inch MacBook Pro. The big question is whether it delivers enough of a boost to make it worth $700.
Naturally, I wanted to check out how it works with our decked-out 2.9GHz 2018 15-inch MacBook Pro with Touch Bar, which is packed with 32GB of RAM and an AMD Radeon 560X graphics card. Here's how it checks out: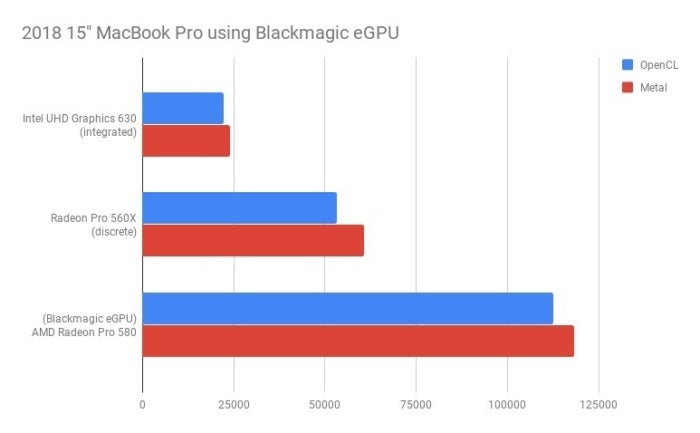 As you can see, it soundly trounces Apple's latest and greatest laptop in a series of Geekbench 4 benchmarks for both Metal and OpenCL.
Impressive, yes, but I was especially impressed with how well it performed with the 2017 15-inch MacBook Pro with Touch Bar that I use on a daily basis. It allows the Check out the performance gains in that machine with Geekbench 4 benchmarks.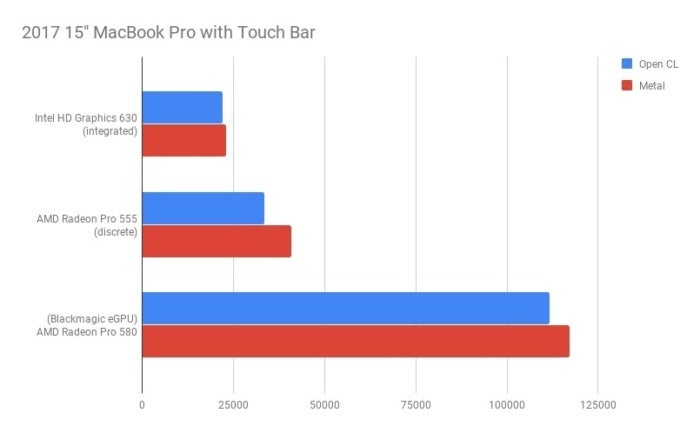 As impressive as these results are, I found that they're usually not powerful enough to deliver the kind of performance in games that you might expect. In other words, just because you have this $700 eGPU hooked up to your MacBook Pro, you shouldn't expect the kind of performance that you'll get from a proper gaming PC.
For testing, I ventured into the crowded hub of Barolus in World of Warcraft's new Battle for Azeroth expansion on the 2017 MacBook Pro, and I found I could only reach a steady rate of more than 40 frames per second by dialing down the overall graphics settings from 10 to 7 (on a scale of 10) on an external 25-inch Asus Predator XB2 gaming monitor. For comparison, my 2017 MacBook Pro recommends a setting of 4 without the eGPU.
I gathered more concrete results with the benchmarking tool for the resource-demanding game Rise of the Tomb Raider. As you can see below, I was never able to reach the desired 60 fps while running it on Very High settings at a 1920×1080 resolution, although it still gives a big boost over the 2017 15-inch MacBook Pro's discrete Radeon Pro 555 card.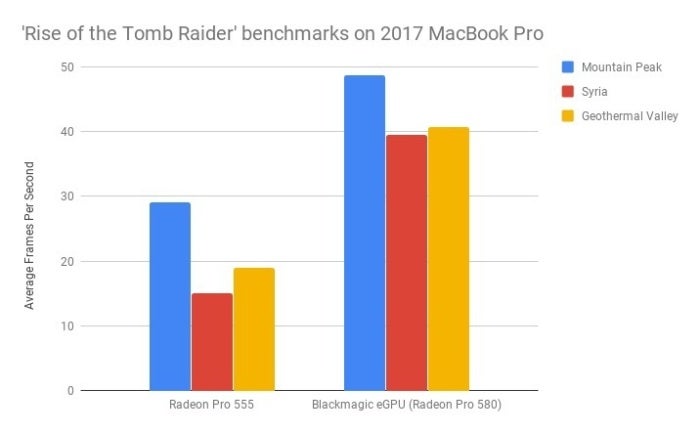 I saw similar results in Uningine's Benchmark Valley tool while running it on Ultra settings at 1920×1080 resolution on the Asus monitor. You can see how the frame rate basically doubles, but we're still not reaching 60 fps.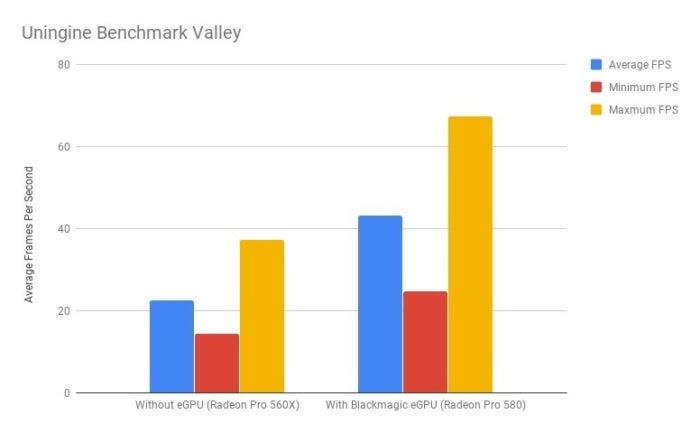 I'm focusing so much on gaming because video editing still lags behind with eGPUs, which is a bit of a shock because I'd assume this would be the market eGPUs work with. Fortunately, Blackmagic Design's own DaVinci Resolve 15 works well with the eGPU, but more popular suites from other companies present more problems. Final Cut Pro X appears to use it for video editing, for example, but there's little discernible difference when processing videos. And Adobe apps simply don't use support eGPUs at all, which is a major blow considering Premiere Pro's massive presence on the market. For that matter, you still can't use eGPUs to play PC games through BootCamp.
The Radeon Pro 580 is a good card, but you shouldn't be under any illusions that it's the best. For a comparison, I hooked up an AMD Radeon RX Vega 64 to a customizable eGPU and ran the same Geekbench 4 tests. The Vega 64 is essentially top-of-the-line now, and it'll remain a good card for a few years to come. It's basically what you want if you consider yourself a "pro" user. Here's how it performed on the 2018 15-inch MacBook Pro in comparison to the onboard cards and the Blackmagic eGPU.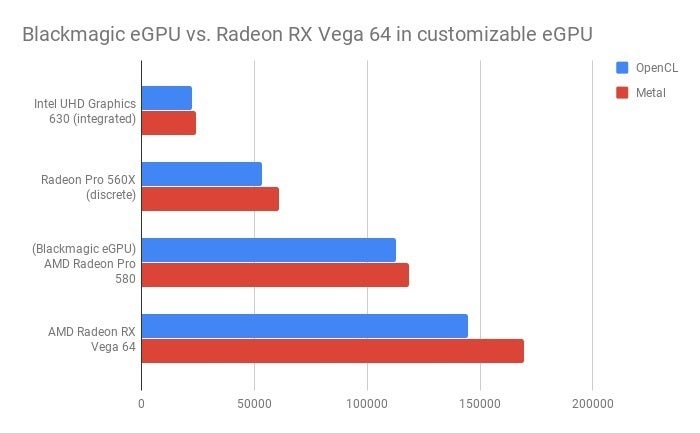 I wouldn't say the Vega 64 blew the Radeon Pro 580 out of the water, but the improvements were undeniable. As for the Radeon Pro 580? I worry that Apple's own machines could overtake it within a couple of years.
Bottom line
If you're looking for the absolute minimal hassle when setting up an eGPU, the Blackmagic eGPU isn't such a bad buy. It's beautiful and it complements the aesthetic of Apple's own devices, and it delivers clear (if occasionally disappointing) performance boosts over the graphics cards built into many Macs, and it's impressively quiet. It effectively doubles the graphic processing capabilities of the 2018 MacBook Pro.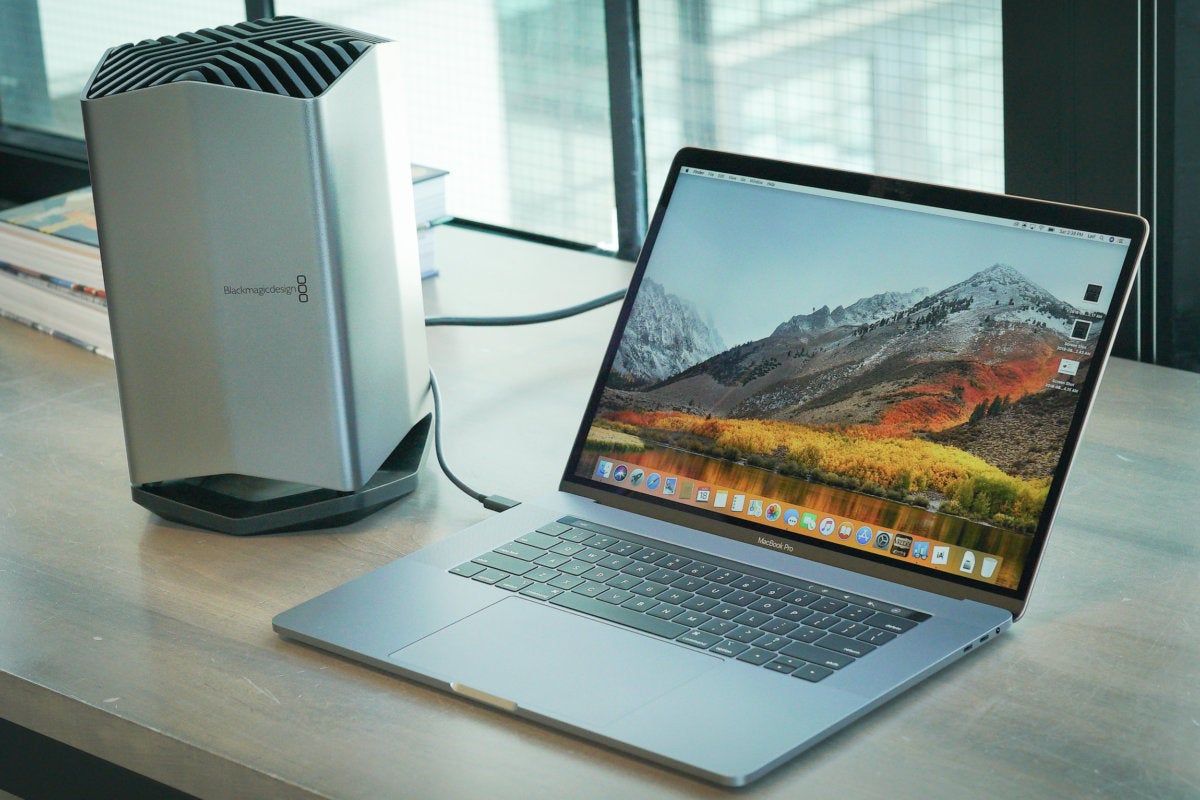 But even now, this pricey non-upgradeable unit isn't going to give you the best performance boost you can get with an eGPU, and in just a couple of years, it may lag behind what Apple itself is rolling out in its new MacBooks. When that happens, you won't be able to simply buy a new graphics card and replace the Radeon Pro 580; instead, if you want this same kind of ease of installation, you're likely going to want to buy an updated Blackmagic eGPU. And when that happens, let's hope it's got a better card than this one.
Best Prices Today: Blackmagic eGPU