Stop the presses, we have a new Mac mini rumor. Well, at least the germination of a rumor. According to Bloomberg's very connected Mark Gurman and Debbie Wu, Apple is planning "a professional-focused upgrade to the Mac mini desktop later this year," and "new storage and processor options are likely to make it more expensive than previous versions."
That's a lot of words for not really saying anything at all. While Gurman and Wu are basically confirming Ming Chi-Kuo's earlier report that the long-in-the-tooth mini will be getting an update before the year's out, they leave an awful lot of blanks to be filled in between now and its release, presumably sometime in mid- to late fall. Even if they're right about the new pro focus, everything else about the new Mac mini remains a mystery.
But if Apple is indeed giving the Mac mini a reimagined revamp, there are a few things it absolutely needs to include if Apple hopes to return it to its glory days.
A sub-$1,000 starting price
Bloomberg hints that the new Mac mini will cost more than it does now, which would make sense if Apple is going to target pro users. However, with every other Mac in Apple's lineup starting at or above $1,000, the current Mac mini fills an important role, even if Apple isn't selling as many of them as it once did. If Apple prices the Mac mini too high, it'll get lost in the shuffle of iMacs and MacBook Pros.
Besides, not every pro is willing (or able) to spend thousands of dollars on a new PC. No one would complain about a $1,500 tricked-out Mac mini as long as Apple doesn't forget the point of the tiny headless PC. With a current starting price tag of $499, Apple has some wiggle room, but the Mac mini needs at least one configuration to stay under $1,000—and hopefully much lower than that.
High-end BTO options
Apple shocked naysayers by actually including Intel's latest Core i9 silicone as a BTO option in the new MacBook Pro. And if the new Mac mini is going to target the same audience, the best chips need to be an option, even if it pushes the price to more than $2,000.
Of course, anything will be an upgrade over the current Haswell processors, but packing the Mac mini with the best possible processor would make it a machine worthy of positioning alongside MacBook Pros in an Apple Store. We saw how awesome this Core i7-AMD RX Vega M GPU pairing is inside the equally tiny Intel Hades Canyon, and we'd love to see what it can do inside a Mac mini, thermals and other packaging considerations permitting.
A whole bunch of ports

The 4-year-old Mac mini might be lacking in power, but it makes up for it in ports:
Two Thunderbolt 2
Four USB 3 ports
HDMI
Gigabit ethernet
SDXC card slot
3.5 mm headphone jack
Apple in 2018 isn't quite as fond of ports, however. The MacBooks have way fewer ports that they did just a few years ago, and if the Mac mini shrinks down (which it's almost certain to do), Apple will be tempted to dump a couple of ports to keep things slim and thin. This would be a huge mistake. If they can't fit them on the back, then they should throw a few on the front for easy access. More would be nice, but just don't give us fewer ports—and whatever you do, please don't dump the headphone jack.
A more portable design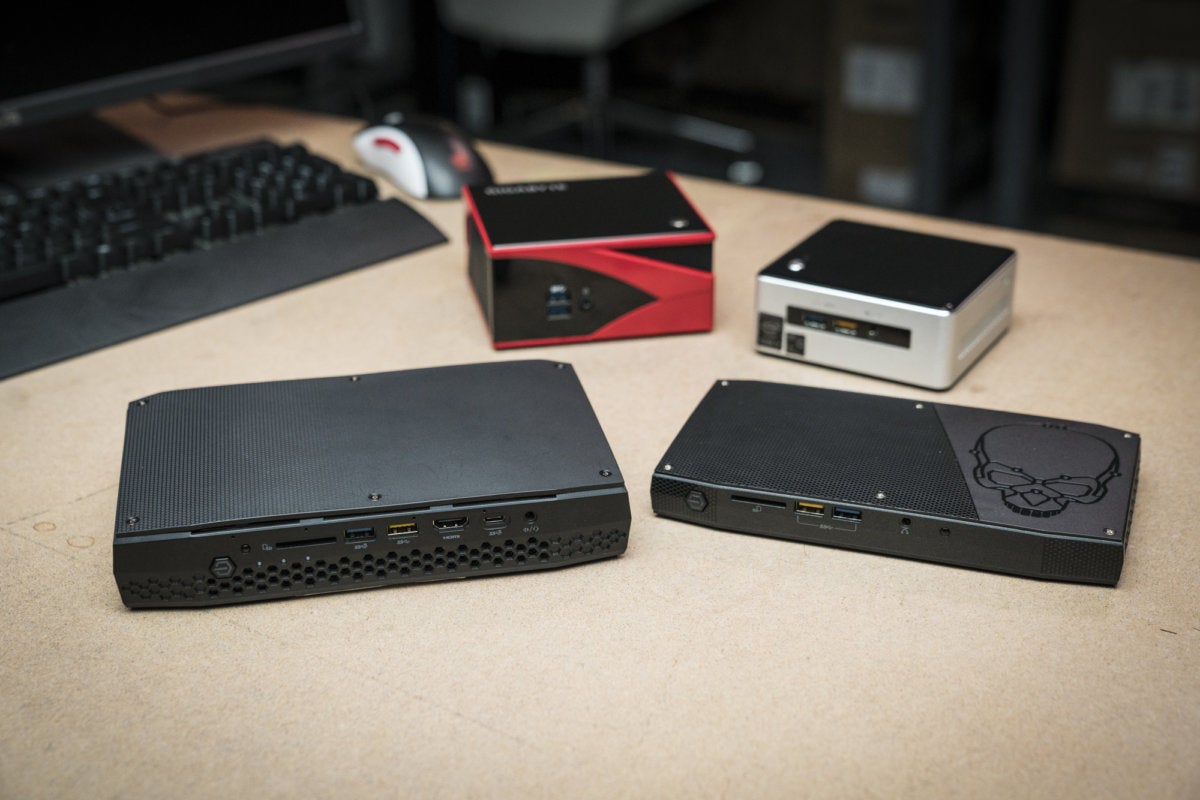 Back when it released in 2005, the Mac mini was a marvel of minuscule minimalism, but in 2018, its 7.7-inch square footprint is no longer impressive. The current Mac mini is easy enough to fit into a bag, but compared to the Apple TV, it's a downright monster. So if Apple is going to redesign the inside of the Mac mini, the case could use a facelift too. Intel has done some interesting things with its 4X4-inch Next Unit of Computing (NUC) mini PCs, and a Mac mini with a similar slimmed-down form factor would be the ultra portable machine we always wanted to it to be. It's not just about getting thinner or even smaller. With a new Mac mini, Apple has an opportunity to wow us again by breaking new ground.
Expandability
When the Mac mini launched in 2005, it had a neat trick. There was a tiny door on the bottom that could be opened to install more RAM. Like the rest of its products, Apple took user upgradability that away with the 2014 refresh. But if Apple is going to make the Mac mini a true pro machine, it really needs to bring it back.
And not just RAM, but storage too. Apple could take a cue from Intel's NUC boxes for inspiration, selling the bare minimum that users need and letting them easily upgrade after the fact. While I don't expect Apple to let users swap out the processor or graphics card (we have the Blackmagic eGPU for that), letting users add more RAM and storage would make the mini much more attractive to pros and tinkerers than it is now.