Fitness tracking doesn't begin and end with step counts, calorie burn estimates, and annoying nudges to keep moving (Sorry, Fitbit). Some people don't need any coercion to hit the gym, but they're still looking for data to quantify their workouts, and push themselves harder. That's the mission behind Nexus, a CrossFit-tracking platform based on the existing PUSH wearable designed for pro athletes.
Strap the PUSH band to your forearm, load up a workout program in your Nexus app, then hit the big, green Ready button in the app. Nexus will tap into the band's three-axis accelerometer/gyroscope to automatically record every single rep across your workout, as well as report on a wealth of performance data directly relevant to CrossFit diehards.
Now, I'm not a CrossFit nut. Haven't yet joined that cult, found that religion, or plummeted down that rabbit hole. My gym routines are more oriented toward traditional strength training.
However, my workouts often do include CrossFit-style AMRAP routines—that's "as many rounds as possible" (or "as many reps as possible") across a fixed time span. So, tapping into the Nexus database of 140+ exercise movements, I created a workout that alternated 5-rep sets of squats and bench presses across 12 minutes.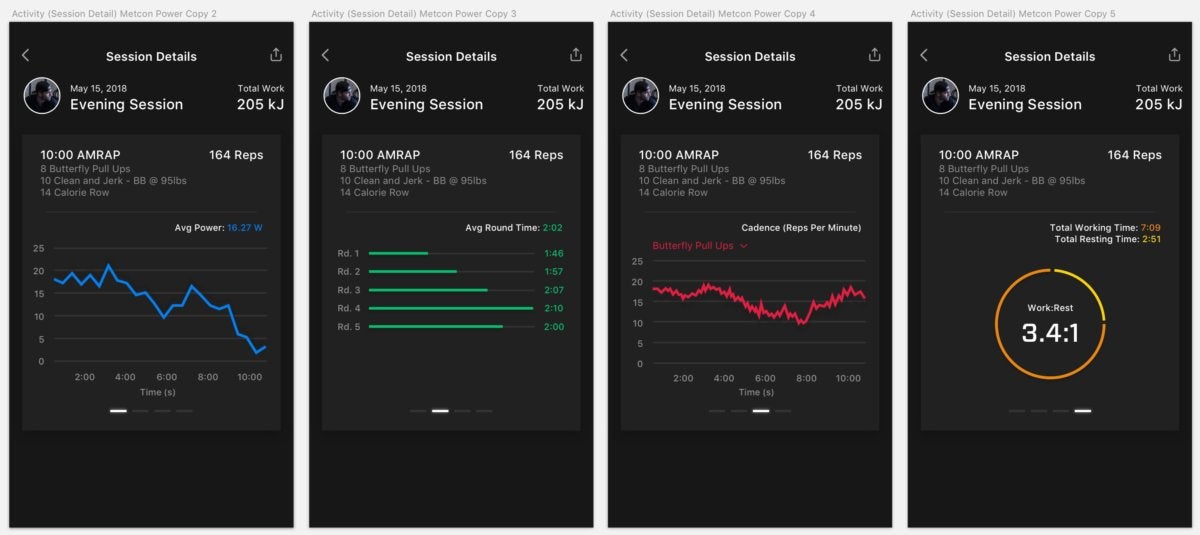 The PUSH band doesn't have a display, so I couldn't see my performance data in real time unless I glanced at my phone. (Not a wise idea, especially during a timed workout.) But once the AMRAP timer was up, I could see a gold mine of data in the Nexus app, like the duration of each squat/bench press round in my 12-minute workout, and the explosive power I exerted during each round. Click on the screenshots above for a vivid illustration.
At a baseline level, the PUSH/Nexus combo can record every single rep in a set, and every single set in a workout. That's awesome in its own right, especially because competing products that purport to do the same thing suffer withering reviews on Amazon (the Atlas Wristband 2, for example, currently has 2.5 stars across 89 user reviews).
But Nexus also goes where competing workout wearables don't, automatically recognizing the exercises employed in CrossFit routines—those fearsome "Workouts of the Day." It also provides the data of specific interest to CrossFit nerds, like work-to-rest ratios and the pacing across round splits.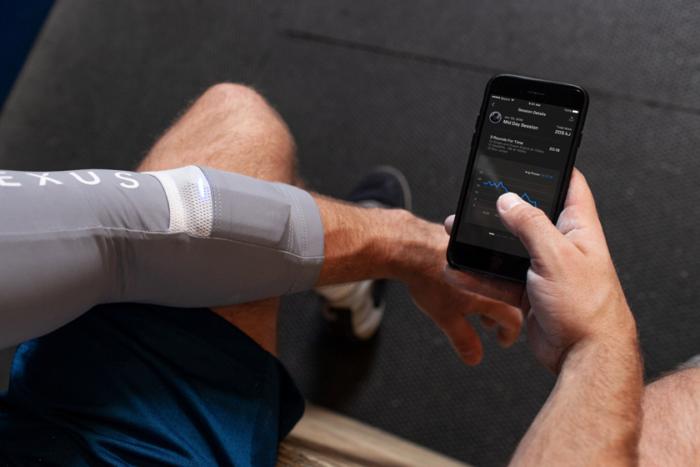 What I liked
The PUSH band has been collecting data on pro athletes' workout data for a few years now. That platform can measure the velocity of, say, a deadlift rep, or the height of a jump. But Nexus is currently a Kickstarter project aimed at amateur—though quite focused—fitness nerds. I tried a rough beta version of the Nexus app, and here's what I liked the most.
It's easy to get started. Maybe because the PUSH wearable doesn't have a display, the whole system is easy to understand. Makes sense, right? It's so much easier to build a generous, grokable user interface on an app than on a tiny display. The band pairs to the app without fail, and once you're ready to start working out, you simply push a button, and the band/app combo records all your exercise automatically.
It's easy to create workout routines. I've used traditional workout logging apps like FitNotes, and building out set and rep progress in a multi-exercise routine is sort of a pain in the ass. But I found it relatively easy to build routines in Nexus, first finding the applicable exercises, and then defining sets and reps. Bottom line: The interface is simple, and doesn't require a lot of clicks.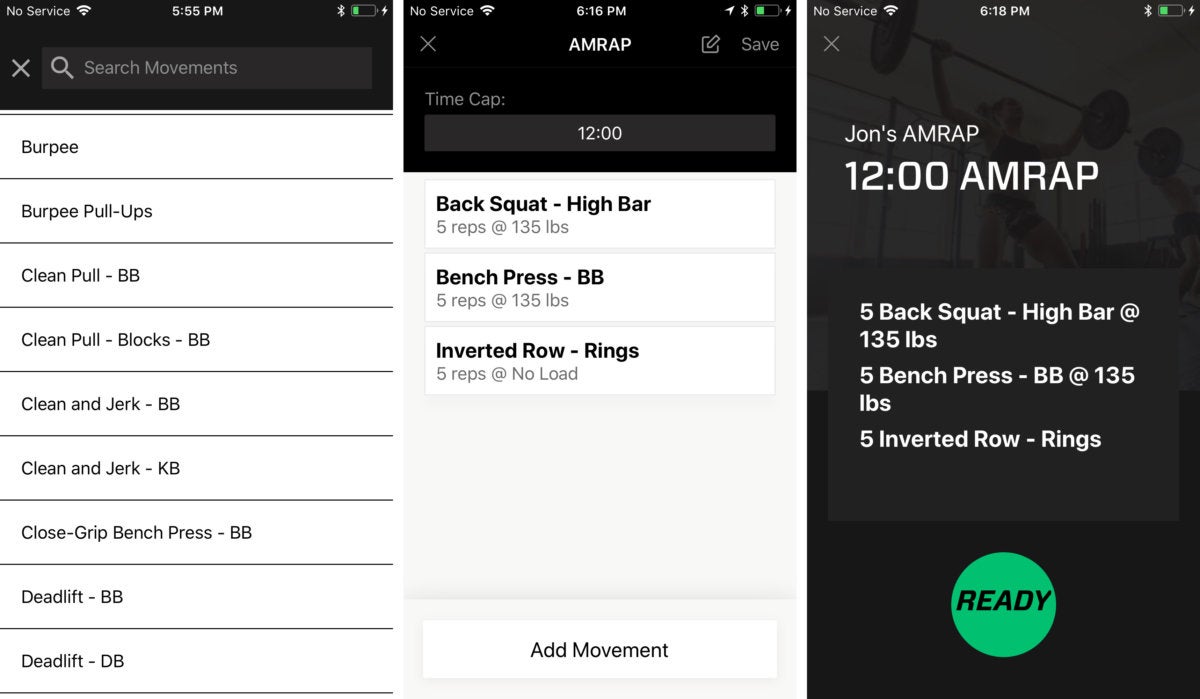 The automatic rep recording seem accurate. Granted, I didn't use Nexus extensively, but in my short experience with it, it appeared to record every single rep I executed. The band's accelerometer/gyroscope samples data at 1000Hz, and Nexus CEO Mike Dawson tells me this IMU (Inertial Measurement Unit) is medical grade.
The data is deep. As you can see from the screenshots in this article, the platform can provide nitty-gritty details on your CrossFit workouts. If you're trying to properly pace yourself during an AMRAP routine, you can use the Nexus round-split data to fine-tune that goal. Or if your mission is to improve the sheer explosiveness of your push-press, Nexus will let you know exactly how you're performing. Then there's the Work:Rest ratio report, which shines a brutal spotlight on your entire routine.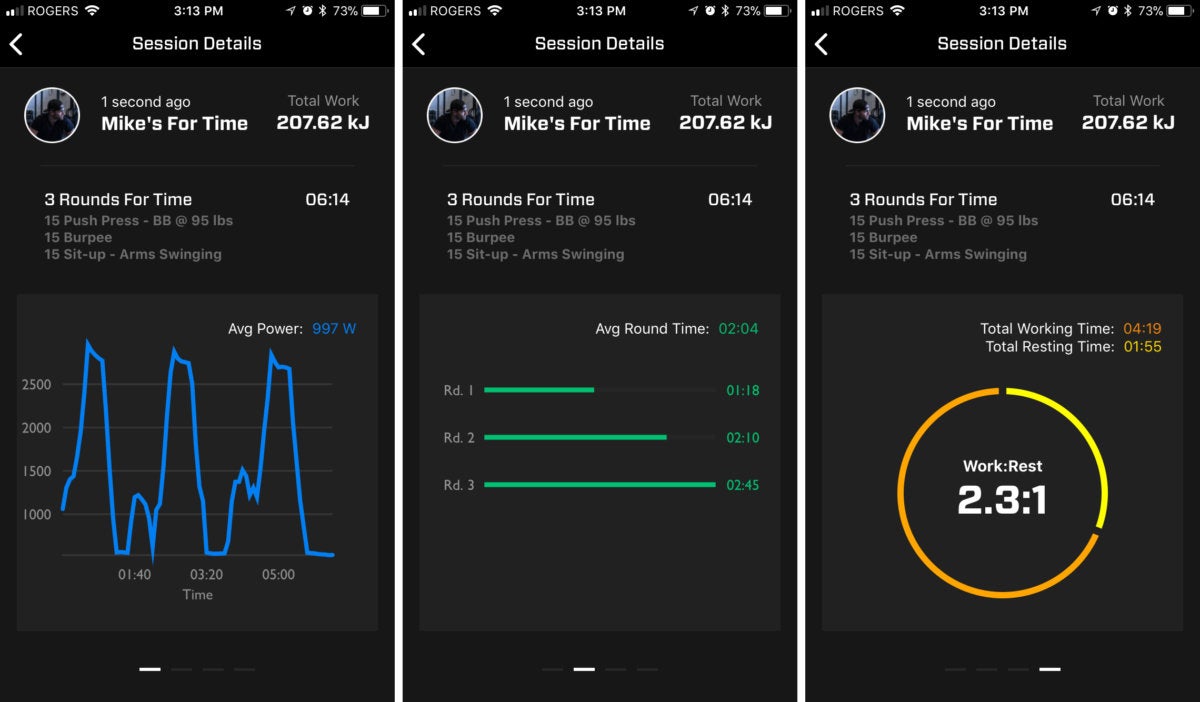 What I didn't like
It's impossible to pass a final referendum on Nexus because the beta app I've been using is decidedly incomplete. That said, I'm still comfortable pointing out some concerns.
Limited exercise options. Nexus is being launched to serve the CrossFit community, and not old-school, strength-training gym rats, and certainly not body builders. As such, the current library of available exercises—those movements that Nexus will automatically recognize—is limited to less than 150 exercises, and they're all geared toward CrossFit. This made it impossible for me to map my workout regimen into the app.
Dawson, however, told me that as Nexus matures, it will add traditional strength training movements to the exercise library, and, in fact, a grayed-out Lift icon is already in the app, right beside CrossFit programs like AMRAP and For Time. As for creating workouts that involve esoteric ladder sets, those too are missing from the app, but could be built into a future Lift section, Dawson says.
The PUSH/Nexus disconnect. PUSH is an existing product for professional athletes. It's been used by the San Francisco 49ers, Texas Rangers, and Detroit Tigers. Nexus, meanwhile, is an app designed for consumer-enthusiasts, but it uses the PUSH band. Are the two product lines from exactly the same company? Yes. But this isn't very clear. The Kickstarter merely says that Nexus is "powered" by the PUSH wearable.
When a stranger asked about my PUSH band at the gym (he was well aware of its pro pedigree), I had to launch into an extended explanation of how, yes, this was the vaunted PUSH band, but, no, I'm not using PUSH. I hope that when the Nexus app goes live, its accompanying wearable will also be branded Nexus.
And I do think the app will go live, and Nexus will become a shipping product. Dawson set an extremely low funding target of $24.5K, and that target was achieved days ago. (Like many Kickstarters, the campaign was mostly designed to build awareness, not investment.) The campaign ends Aug 23 at 7:35 AM Pacific time (that's tomorrow morning), so you can still get early bird pricing of $200 (full retail will be $299). The estimated ship date is this Oct. But, again, the hardware is real and proven.