I swiped right for Daenerys Targaryen. This isn't Tinder (although I would have swiped right for her in that case, too); it's the upcoming iOS and Mac game Reigns: Game of Thrones, set for release sometime in October. In this case I'm swiping right to send her off to help Jon Snow slay the undead horde with her Texas-sized dragon, and I see no reason to worry. At last, after so long, she's on the Iron Throne. She has what she wants in her grasp, and I figure it's safe to ignore the whimpering cautions of Tyrion Lannister. But her long saga comes to an end barely moments after, her newborn reign cut short by a gruesome mishap on my part.
But it's not the end of the tale. My failure leads less likely folks to sit upon the throne, whether it's Tyrion himself or even the humble blacksmith Gendry. With them in the hottest seat of all, I find that some things turn out differently.
Long live the kings
This isn't some third-person action game or convoluted RTS. It's a branded tie-in for the original Reigns game from 2016, which won acclaim by making you rule a kingdom by swiping left or right on a series of cards peppered with questions. Each answer affected your relationship with four major powers and resources, and you had to keep them balanced or suffer the ignominy of defeat. Occasionally a major decision will come up, and you'll have to decide between up to four choices. Every choice risks the danger of dashing the precarious house of cards you've built.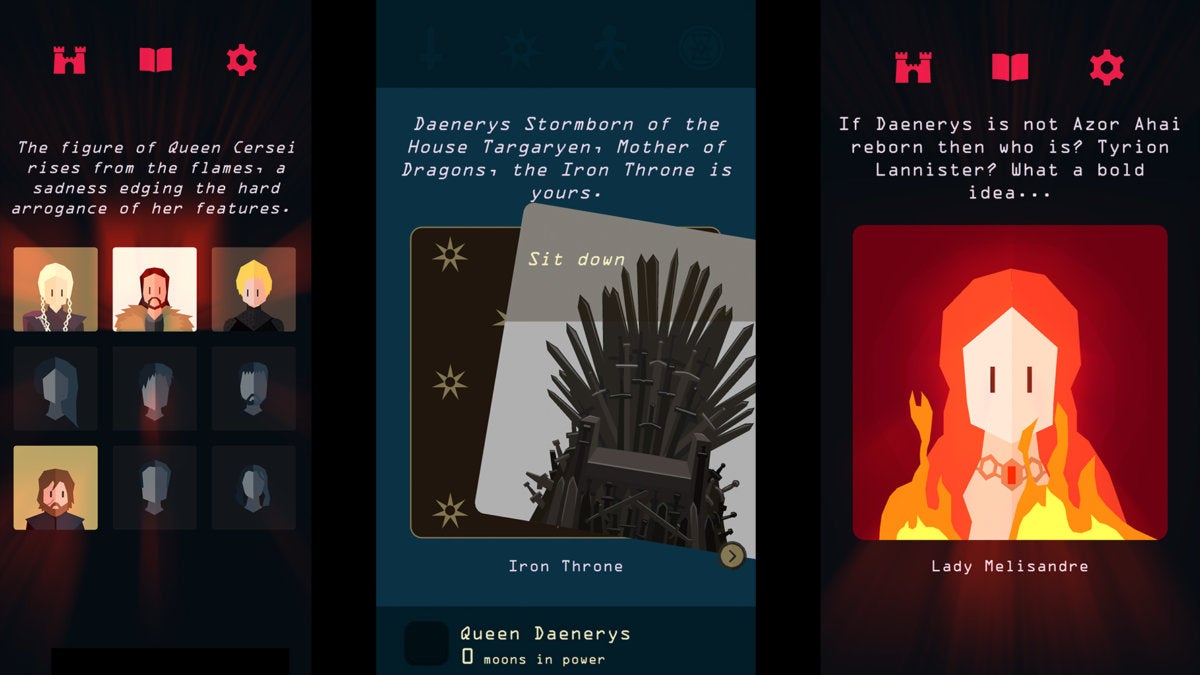 Rarely has a branded spin off worked so well for a game as Game of Thrones works with Reigns. It elevates an already great game into something wonderful, and in fact, I now half wonder if Reigns was originally made with George R.R. Martin's world in mind. Few other series do such a good job of illustrating the fabled Sword of Damocles that hovers over the world's rulers, threatening to end promising reigns through bumbling misstep or even accident or rotten luck.
That was the idea behind Reigns itself, which was so intuitive that it never really told you the meaning of the four powers you had to balance aside from readily interpretable symbols. You swipe. You win or lose. It was accessibly simple, told mainly in a Courier-like font and with highly stylized NPCs. Above all, it was a harsh reminder that the "game of thrones" doesn't end just because you're on the throne; in fact, that's where the true game begins.
Familiar faces
All that carries over to this version: But longer are the people of the court abstract folks with names we don't recognize: They're Lord Varys, Ser Jorah, and Gendry. This gives more meaning to the action. If you're as invested in the books and HBO series as I am, you know their motivations and why it might not be such a hot idea to let the Unsullied run off on a vacation. And because you know these motivations, it makes it a little easier to figure out how each decision will affect the might of the church, the military, your standing with the people, and your coffers.
In some ways that means it's not such a friendly game for the uninitiated, but the stakes are such that even someone who thinks the Red Wedding is a wine festival can understand why it's important not too get too indebted to the Bank of Braavos.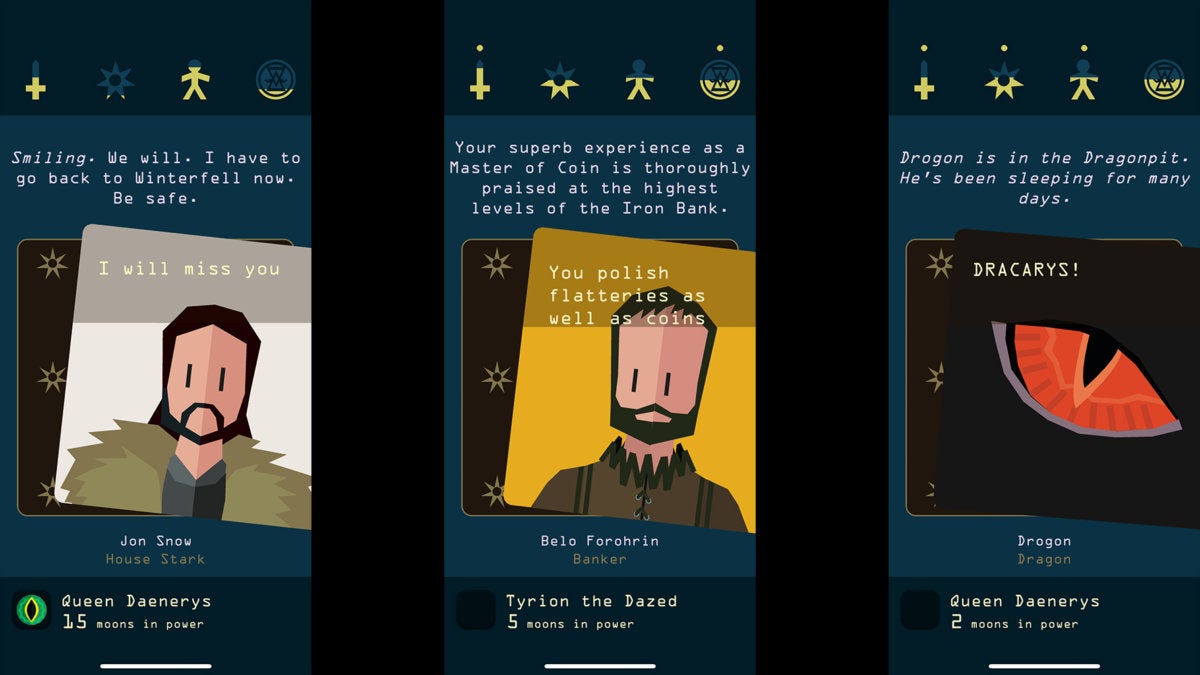 We've seen other Westeros-focused games that focus on either strategy or ridiculously tragic stories, but Reigns: Games of Thrones' simplicity highlights the precariousness of power that's always been at the center of George R.R. Martin's work.
It's an especially powerful game because it isn't all choices and business. Consider the moment when Tyrion ascends to the throne in the wake of my failure with Daenerys. Naturally, his brother Jaime Lannister becomes his Hand of the King (but not without a quip about not having a hand to spare).
"Is this a joke," Jaime asks? Swipe left.
"A good one, though," it makes me say.
"Your wit will get you killed one day" Jaime says. And spoiler alert: He was right.
This intimate understanding of what makes Martin's universe of great is woven into almost every aspect of Reigns: Game of Thrones. I saw it in the artwork itself, which builds off the abstract artwork of the original Reigns but updates it in such a way that you recognize each member of Martin's tragic cast at a glance. There's Tyrion with the slashed face. There's Varys with his bald pate. And there's Melisandre with her crimson hair, staring into the flames after each failure of wondering who could be the next Azor Ahai.
Occasionally big decisions will come up, and the screen will swipe over to full-screen outlines of hardened soldiers when battles breaks out or to that of a mob gathering before the gates of the Red Keep. It's a masterful game that communicates a lot with very little.
What would Davos do?
Part of the fun of watching or reading Game of Thrones or A Song of Ice and Fire is wondering how we would have handled certain choices, and Reigns: Game of Thrones lets us see how our choices would play out in real time. (If you're anything like me, we're apparently not as smart as we think we are.) As such, if you're sick of waiting for Martin to finish his books, it's a fun way to see how the stories would end if someone else was on the Iron Throne, especially since each throne-sitter has unique interactions that give them strengths or weaknesses.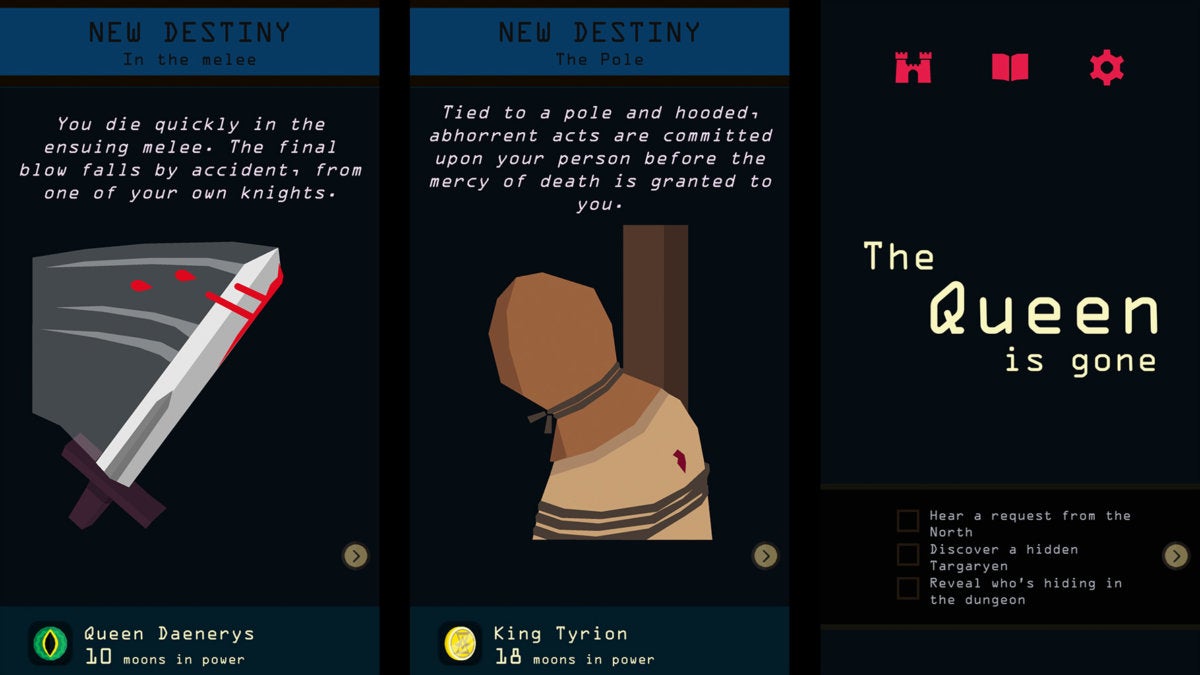 Though told only with a deck of cards, it's a tale stuffed with Game of Thrones' signature gruesome endings, whether it's getting accidentally whacked into the head by the sword of your own soldier or getting beaten to death in the streets by your own subjects. As in Martin's world, death comes cruelly and swift for the foolish and impulsive, leading to 29 different destinies (and from what I can tell, very few will leave you wish a smile). Even so, somehow I can't get enough of it.
All these years later, we at last have the perfect Game of Thrones game. Technically, it was there in front of us all along.