I initially scoffed at the name of Saddleback Leather's "Boot Leather" case for the iPhone X. The phrasing sounded a little too precious, especially when so many other leather Mac and iPhone accessories get long fine with no such flashy descriptors, but I see what the deal is now that I have it in my hands.
Put simply, it's a toughie. It's probably best displayed to the accompaniment of an Ennio Morricone soundtrack. The thick, full-grain leather (which sometimes intentionally still shows the scars and nicks of the beast it came from) looks far better suited to deflecting scorpion stings in West Texas deserts than hugging the briefcases of hedge fund managers on Wall Street. If Billy the Kid had owned an iPhone, this is probably the case he would have used.
In the tradition of the best leather products, it's handcrafted and it looks like it. Apple itself makes leather cases, of course, but they sacrifice a bit of their personality in their perfection. For that matter, they look a lot like Apple's silicone cases from a distance, and they display a uniformity that evokes machines more than artisans.
In all the right ways, there's little question about the Boot Leather Case's origins. Rather than perfectly molded buttons for volume and side buttons, you'll find three notches that look as though they were nicked out with a Bowie knife (and in precisely the right spots where they need to be). A bit surprisingly, they feel comfortable and natural, and better yet, they double as a grip.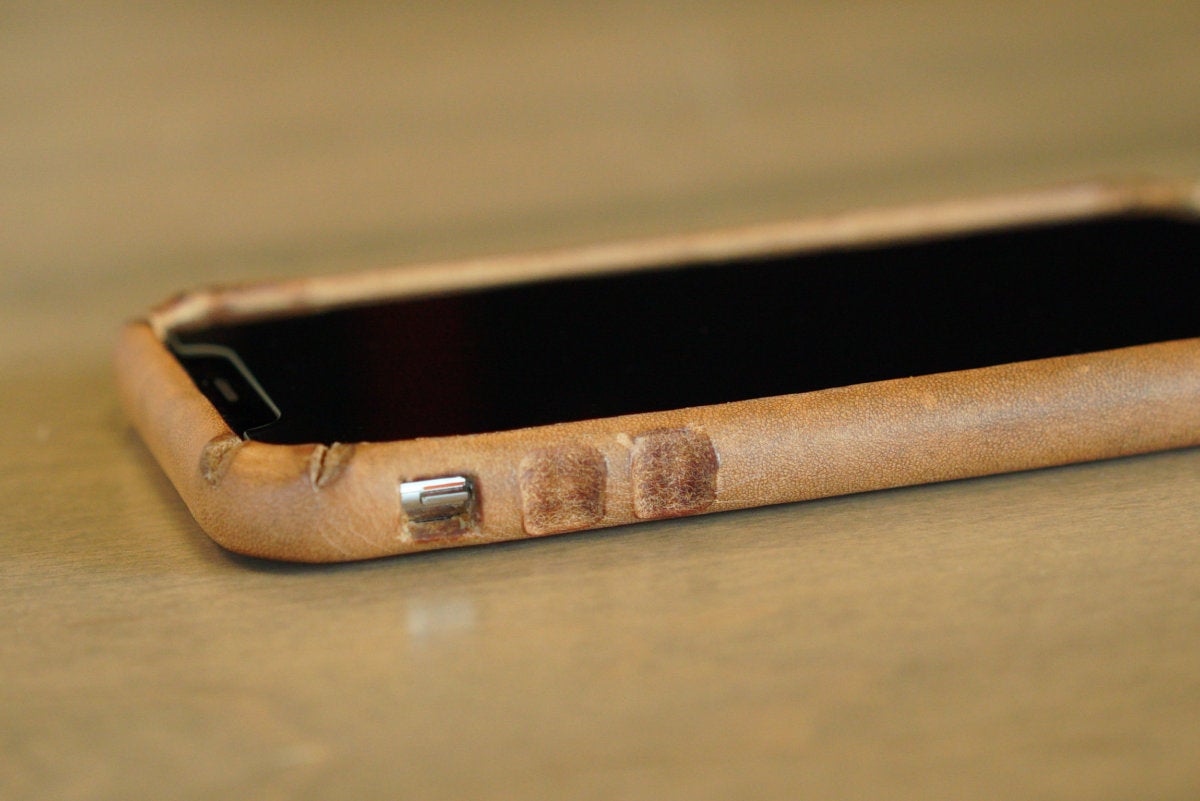 Rather than perfectly formed edges hugging the corners, you'll find carefully curled edges that came to rest in their current shape only after a 10-hour curing process. You won't even find any seams. Saddleback knows how to work with leather, and few products demonstrate that skill so effectively as this simple case.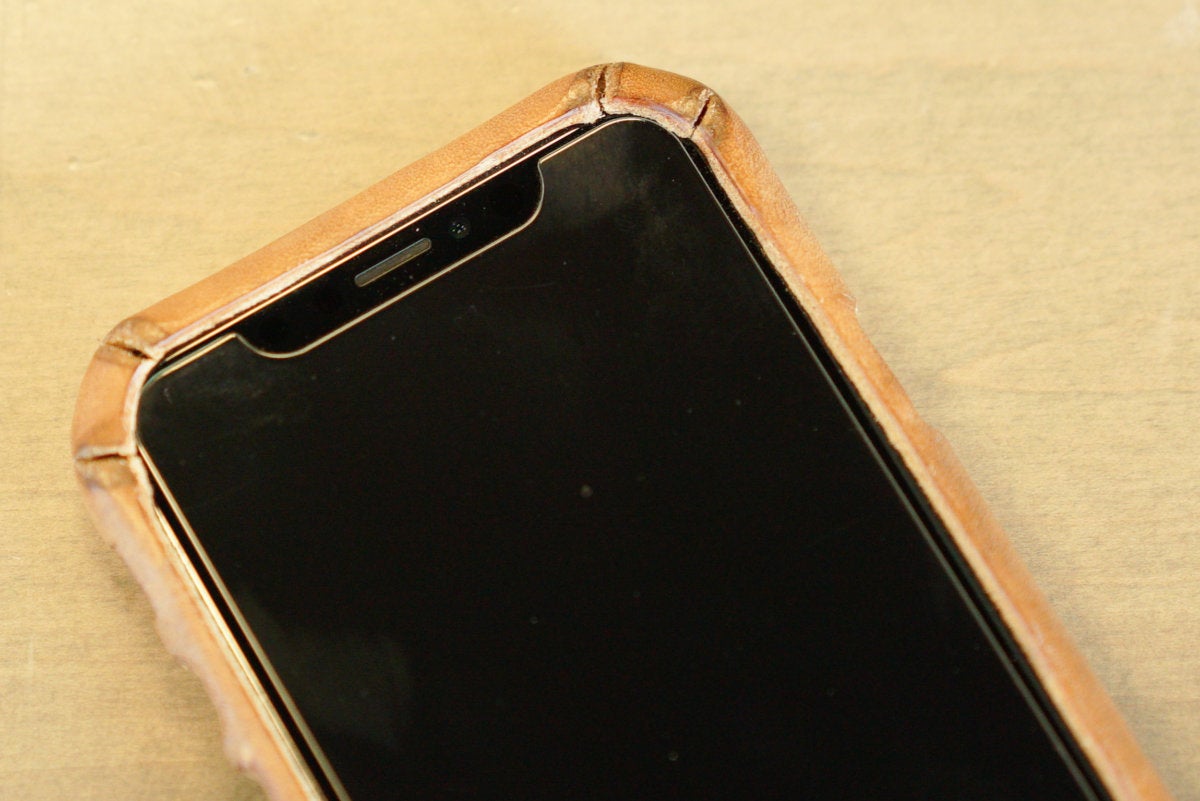 Frankly, I worried that these edges would unwind quickly after a couple of weeks of use, but they continued to hold their shape, keeping the iPhone secure in a loving death grip. Considering that the case is covered by Saddleback's usual 100-year warranty, there's little reason to worry that you'll need to upgrade if you somehow put off buying a new iPhone until 2118.
My only frustration with these handcrafted touches is that the tiny cutout for the Ring/Silent button feels a little cramped, as I sometimes had to struggle to fit my gigantic fingers in there to toggle it off. Fortunately, it's the button I use the least.
Slimming down
Here's a confession: Lately I've started drifting away from super-tough cases as I realized I admired the thin feel of the iPhone in my hand, and I like the way slim cases allow my phone to glide into my pocket. (Sorry, Jony Ive, but I don't yet have the guts to let it go naked.) Even I, admirer of leather that I am, initially frowned at Saddleback's case as I worried it'd feel like stuffing a heifer in my jeans.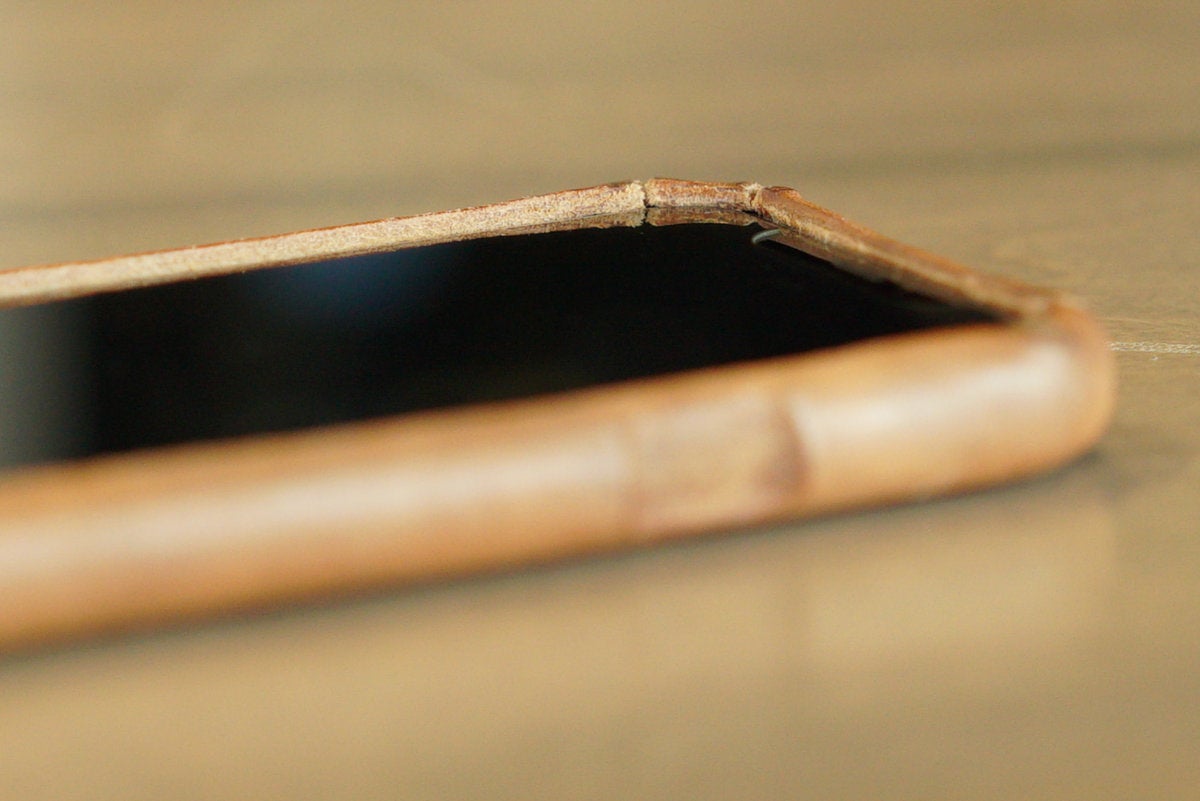 But bless my boots, that's not the case. Somehow, even with the hand-rolling, even with the thick leather, Saddleback's new case feels only slightly thicker than Apple's own leather and silicone cases. It slips into my pockets easily. It hasn't frayed. I'd say I forget it's there half the time, but the compliments I get from passersby keep that from happening.
Speaking of Apple's cases, Saddleback's boot leather case shares a minor shortcoming with them. While most of the edges are protected, the one exception is the area surrounding the bottom speakers and the Lightning jack, where you'll find no little strip of leather bracing across the front.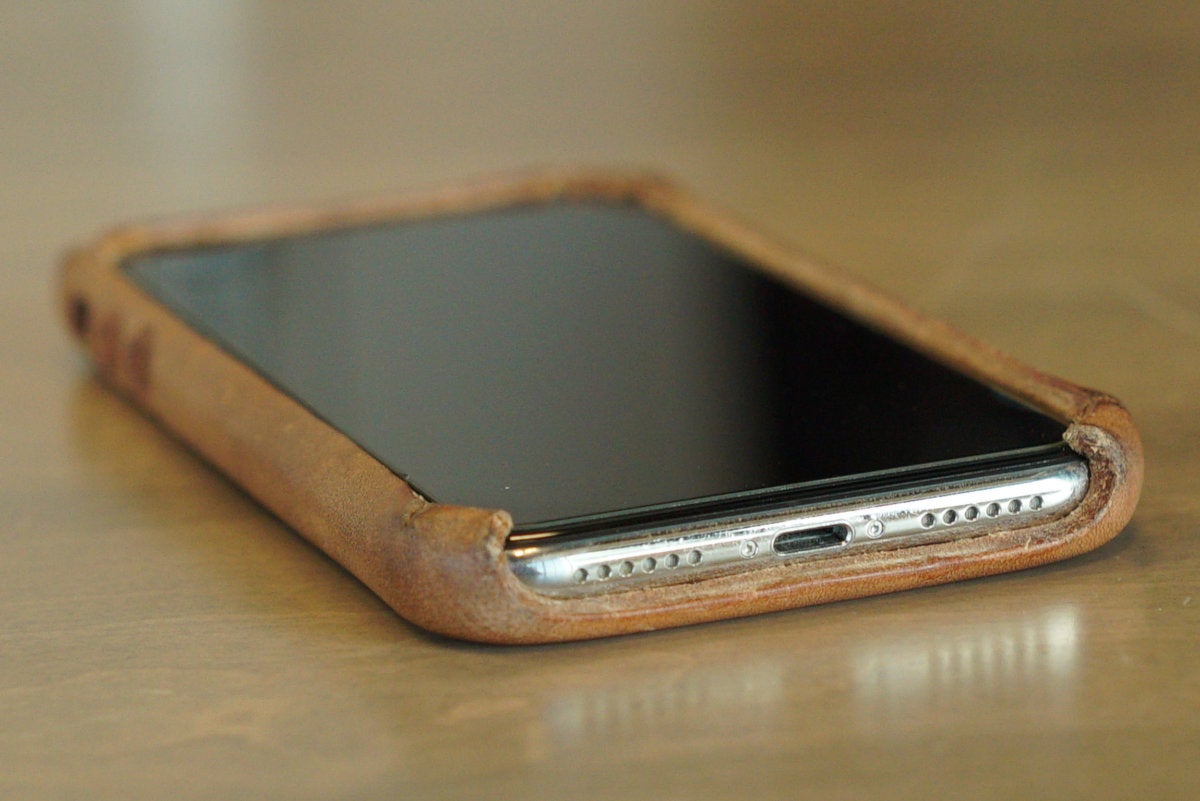 That means if it falls and hits the cement at just the right angle—just below where the Home bottom would sit on an older model—there's a good chance your screen will shatter despite all that other protection. My not-so-scientific reckoning puts the chances of this happening at around one in 100, but it's something to keep in mind. On the bright side, I keep a similar "lipless" case on my iPhone 8 Plus, and thus far it's fought off all the dangers brought on by my chronic clumsiness.
Booting up
The Saddleback Boot Leather iPhone X Case is a conversation piece that doesn't scream its presence. It's stylish rather than fashionable. It gets its job done without exuding a quiet charm. In that respect, it's much like an Apple product itself, but one with enough handcrafting to retain a touch of humanity.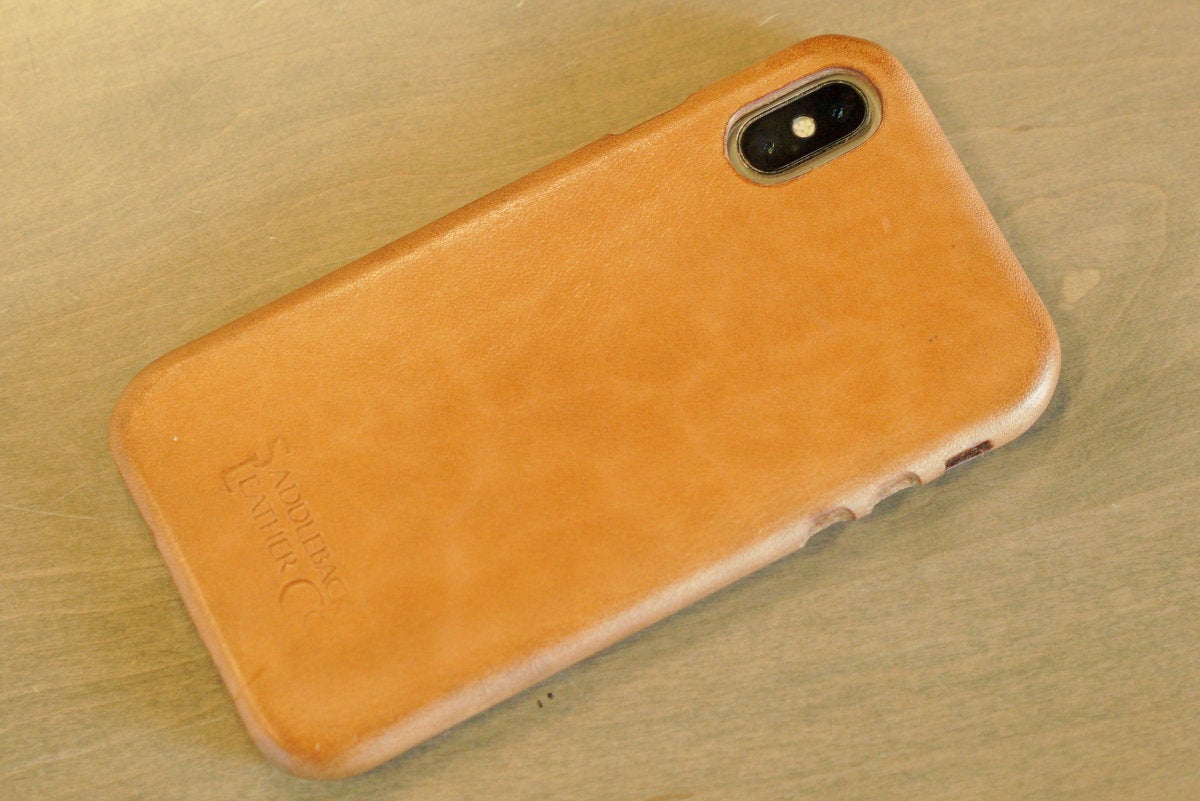 Just don't spend too much time wondering about whether to buy it. I missed the chance to review the case when it first came out a couple of months ago as it sold out before I could post my review.
That's the "problem" with handcrafted stuff: It takes a while to make. But considering what it is, its $79 price tag isn't bad at all. Apple's own mass-produced leather cases only cost $50, but for an extra $29 you're getting something that's as individualized as a leather product should be.
And who knows? Maybe you can use it with the next iPhone, to boot.
Boot Leather iPhone X Case
Price When Reviewed:
$79.00