Microsoft just launched Xbox All Access, a novel way to buy an Xbox console together with its related services without putting down any up-front money. For a single monthly fee you get an Xbox console, two years of Xbox Game Pass (more than 100 games, including Microsoft Studios' big hits), and two years of Xbox Live Gold (the multiplayer gameplay service and a couple of free older games each month).
The costs are reasonable: you pay $22 a month for an Xbox One S, or $35 a month for an Xbox One X. The One S bundle saves you a decent chunk of change, the One X saves you only a little. But the big advantage is that it gets people into the Xbox ecosystem, hardware and services, with no upfront cost.
Apple is in a unique position to offer a similar bundle. Perhaps no other company integrates hardware and services as deeply, or benefits as much with future sales from customers who are invested in its own services. What's more, Apple has both the retail footprint and financial services infrastructure in place to make it work for tens of millions of new customers.
An add-on for the iPhone Upgrade Program
Microsoft, particularly in the Xbox division, doesn't have a whole lot of services to offer, but the services it includes in All Access are basically must-haves. Apple, on the other hand, offers a lot of different hardware and several services on a variety of levels. Trying to create an "Apple All Access" that covers nearly all of it would get confusing, fast.
Apple already has the iPhone Upgrade Program, and the simplest way to bring about a sort of Apple All Access plan is to think of it as a premium upgrade to that. The Upgrade Program lets you pick a new iPhone and pay it off in 24 installments with no upfront cost. After 12 payments, you can trade it in for a newer iPhone (with a potentially adjusted monthly price), or just continue to pay it off for another year and you own it.
It doesn't really save you much money, and you don't own the phone if you keep trading it in, but it gets you the latest iPhone with AppleCare+ with no up-front cost, on the carrier of your choice.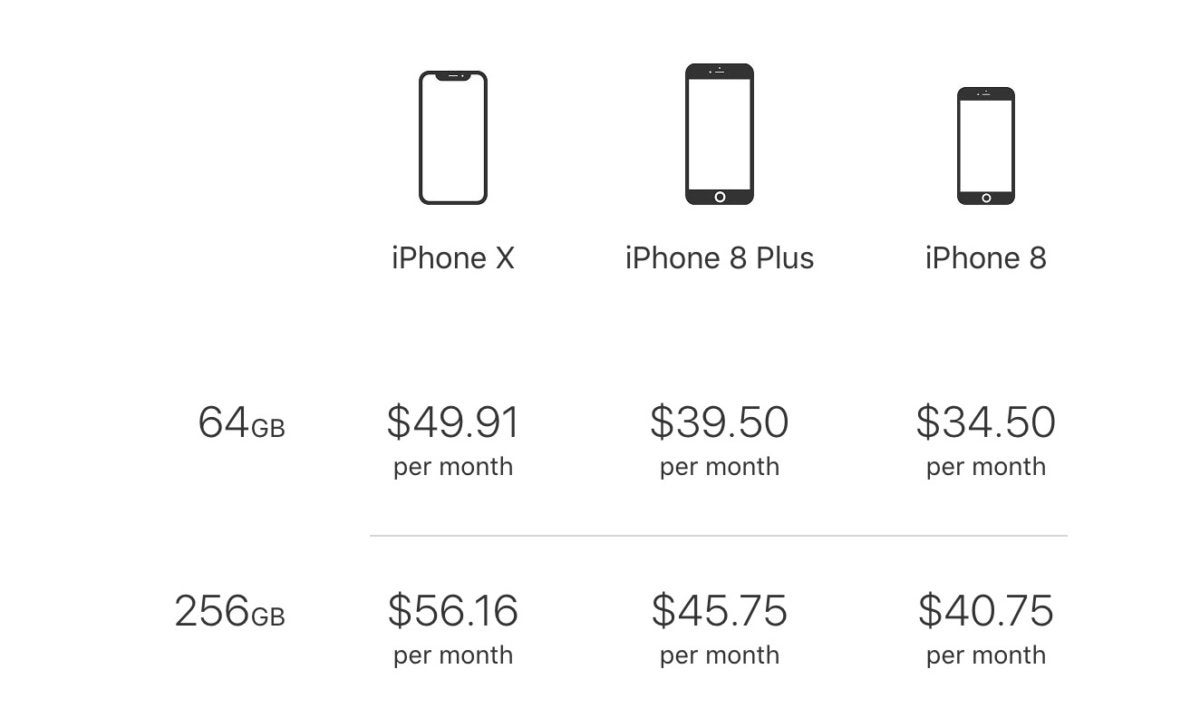 So what should Apple add to that, and what should it cost?
The basic plan
Apple has enough services and products, with enough different price points, that it makes sense to break up our hypothetical Apple All Access plan into two tiers. The basic plan could look something like this.
iCloud storage: The most important service for any Apple customer is expanded iCloud storage space. The free 5GB Apple gives you free with your Apple ID is small enough to be essentially useless. Apple offers a 50GB plan for $0.99 a month, a 200GB plan for $2.99, and a 2TB plan for $9.99. 50GB is OK, but not enough for a full iPhone backup and lots of high-res photos and videos, and 2TB starts to make the plan too expensive. So let's pick the 200GB plan, which normally costs $2.99 per month.
Apple Music: Ten bucks a month for Apple's big-and-growing premium music service. Of course it's going to be part of the bundle!
Apple Video: Apple has over two dozen TV shows and series in development for its streaming video service, which hasn't even been announced yet. In fact, we only know of these shows because of all the casting and production deals; Apple hasn't officially announced any of them yet. We don't know how these shows will be delivered or what the service might cost, but let's presume another $10 to $15 monthly for a service like Netflix or Hulu. We want that in our bundle, too.
Apple TV 4K: Apple's going to want you to experience those TV shows on the big screen, and it's keen to offer deals to give away Apple TV units (like DirecTV's deal to give one away with three months of DirecTV Now). It also serves as a HomeKit hub and is a great AirPlay 2 device. The whole point of this bundle, after all, is to get more people into the Apple ecosystem.
We've now got around $25 a month worth of services, along with a piece of hardware that retails for $180 (but which costs Apple a lot less to manufacture). If Apple wanted to be aggressive, and considering that the Apple TV 4K will probably pay for itself with all the movies you buy, it could price the basic level of Apple All Access at an additional $25 a month on top of the iPhone Upgrade Program cost. It's a cost savings (roughly the $180 cost of the Apple TV 4K) but it won't lose money for Apple and it locks you in to Apple's services for two years, which means you're likely to get really invested in the Apple ecosystem and start eyeing Macs and iPads and HomePods and…
The Premium/Family Plan
Apple would probably sell a whole lot of All Access plans at $25 (once its video service rolls out), but Apple shouldn't stop there. It should offer a Premium All Access plan for those that really want to live the Apple lifestyle, and who have families they want to share services with.
The Premium version of the plan would include the same services as the Basic plan, but bump up iCloud storage to the 2TB tier. That's enough to share in a family plan, keeping everyone's phones backed up and their photos and videos safely in the cloud.
Apple Music, too, jumps up to the $15 per month family plan.
And while you still get an Apple TV 4K, you also get one other piece of premium hardware, of your choice: A HomePod, an Apple Watch (aluminum models only), or an iPad (9.7-inch, 32GB model). Any of those carry a retail price in the mid-$300 range, so rather than quibble over a few bucks here and there or create a bunch of different-priced plans, Apple should just let you pick whichever one you want. This hardware would be just paid off over 24 months, with no trade-in option like the iPhone Upgrade Program. This is meant to be simple, after all.
The retail price of the Premium plan is roughly $35 worth of services per month and just over $500 worth of hardware, amortized over two years. But again, those are retail prices and the point of these plans is to get people really invested in the Apple ecosystem without big upfront costs. So let's say the Premium plan costs $50 per month over and above whatever you pay for your iPhone Upgrade Program.
That might seem like a lot, but remember, this gives you family plans of the services and fills in a gap in your family's Apple ecosystem with a HomePod, Watch, or iPad.
The Apple advantage
To take advantage of the Xbox All Access program is kind of a pain. You have to go in person to an actual brick-and-mortar Microsoft store (many states have just one or two, some have none). Then you have to apply for a Dell Preferred Account, as the loan is handled through Dell Financial Services. That can be a bit of a chore in itself. It's also only available for a limited time (through December 31 or while supplies last) and only in the U.S.
Apple, on the other hand, can make buying into its All Access plan a lot smoother. It already has a deal with Citizens Bank to handle the financial end of the iPhone Upgrade Program, and has made signing up really quick and easy to do either in-store, on the web, or through the Apple Store app. And Apple has lots of retail stores. It even offers the iPhone Upgrade Program in the U.K. and China, and could extend its All Access programs there.
The one catch is this: Building a services-and-hardware bundle doesn't make a whole lot of sense for Apple until it launches its video service. That's not expected to happen until next year, well after the launch of the new iPhones this fall.