Over the last year we've seen several rumors from reliable sources stating that Apple plans to introduce a new low-cost MacBook. Basically, it's aiming to replace the beloved (but aging) MacBook Air, and probably make the MacBook obsolete in the process.
This makes a lot of sense: both the MacBook and MacBook Air are in need of an update. The rumors say the new product will launch this year; we think that's likely to happen at an as-yet unannounced October event. There are our predictions as to what we can expect from a low-cost (for Apple) MacBook Air replacement.
The name: MacBook (no Air)
From a product positioning standpoint, Apple has dropped the "Air" moniker from its core products. AirPorts are gone, the iPad Air is gone, and the current "Air" products are accessories that emphasize wireless capabilities (AirPods, AirPower) rather than "look how thin and light this is."
We think there will be a single product that replaces the current 12-inch MacBook and the old MacBook Air, and it will probably just be called the "MacBook." (Apple may call it the "All-new MacBook!" on stage.) This streamlines the Mac, MacBook, iPad, and iPhone product lines into two tiers each: everyday and pro. You've got the iMac and iMac Pro, MacBook and MacBook Pro, iPhone (6.1-inch LCD model) and iPhone XS (5.8 or 6.5-inch OLED model), iPad and iPad Pro.
The display: 13-inch, 2560×1600 pixel Retina
The big upgrade to the new MacBook is supposed to be the jump to a Retina display. Certainly, the 1440×900 resolution of the current MacBook Air is way behind the times, especially for a thousand-dollar notebook.
It probably makes sense for Apple to upgrade its last remaining non-retina product. Even the $329 iPad has a display resolution of 2048×1536!
The most cost-effective thing for Apple to do is probably to take the exact display used in the 13-inch MacBook Pro (without Touch Bar) and use that in this lower-cost laptop. That means it'll be 13.3 inches, 2560×1600, up to 500 nits of brightness, and DCI-P3 color gamut—but no True Tone.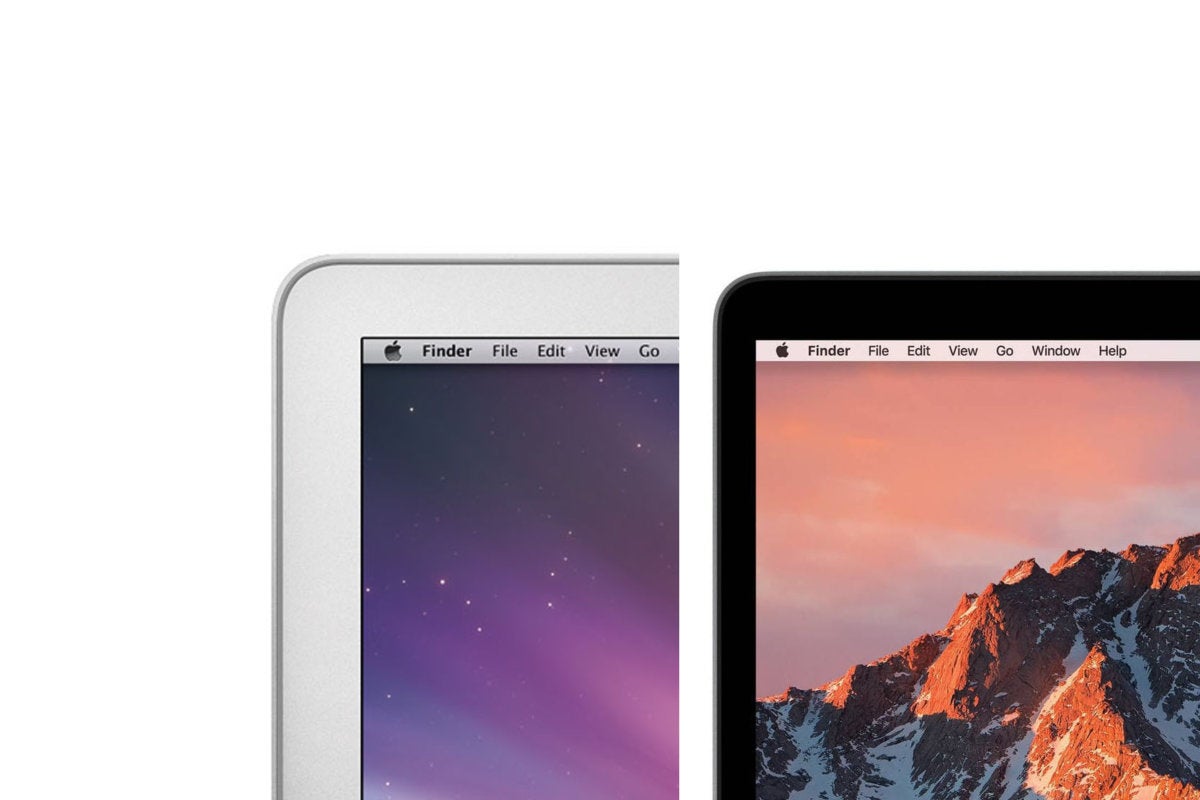 Those big silver bezels around the display on the MacBook Air would go, too. Expect black bezels, roughly the size as those on the MacBook or 13-inch MacBook Pro.
The processors: Whiskey Lake and/or Amber Lake
Intel just recently announced its new 8th-generation U-series and Y-series processors, code-named Whiskey Lake and Amber Lake, respectively.
Compared to the existing MacBook Air, Whiskey Lake would be a huge improvement. The current base model features a Core i5-5350U, with an optional Core i7-5650U upgrade. Those are fifth-generation Core processors with a 15-watt TDP (thermal design power). The eighth generation, by comparison, doubles the core count (to 4 cores, 8 threads) and greatly increases graphics performance, all at the same TDP.
Amber Lake, the Y-series processors, are made for smaller machines that have stricter thermal constraints and tougher battery life considerations. They have a TDP of just 5 watts, cut the cores/threads back down to 2/4, and reduce clock speeds compared to Whiskey Lake. If Apple introduces an 11-inch MacBook, it is likely to only be available with Amber Lake (Y-series) processors.
But even the 13-inch model might start with something like a Core i5-8200Y as the base model, with the more powerful Core i5-8265U as an upgrade. This wouldn't be a cost-saving measure, as Intel lists the former with a "recommended customer price" of $291 while the latter is only $297. Apple almost certainly doesn't pay those prices, but the relative difference is still small. Rather, shipping a 13-inch thin and light laptop with a Y-series Intel processor will allow Apple to offer extremely long battery life.
The wireless: 802.11ac, Bluetooth 5
One of the advantages of Intel's new Amber Lake and Whiskey Lake processors is a new integrated gigabit-class 802.11ac modem with support for 2×2 MIMO. Apple may drop the Broadcom networking module in favor of using Intel's integrated one, if it's fast enough, both to save costs and reduce complexity.
However, Apple's big into Bluetooth 5, and that means it either needs to use a third-party chip (perhaps again from Broadcom) or its own W2 wireless chip. The W2 also provides Wi-Fi connectivity, but tops out at 802.11n, giving speed and reliability that would be sort of lackluster for a laptop in 2018.
Apple's about to ship its new Apple Watch Series 4…what are the odds that it includes a new W3 wireless chip with even better energy efficiency and support for dual-band 802.11ac? And if so, could the company also use that in the new MacBook?
No matter how it gets there, you can almost certainly expect 802.11ac dual-band networking with 2×2 MIMO and Bluetooth 5 in the new MacBook.
The size and shape: Like a thinner, tapered 13-inch MacBook Pro
The 13-inch MacBook Air is 12.8 inches wide by 9 inches deep. The 13-inch MacBook Pro shaves about eight tenths of an inch of the width and six tenths of an inch off the depth—it's got a much smaller footprint, despite the screen being the same size. It's all about those smaller bezels, and we expect the new MacBook to have similar dimensions.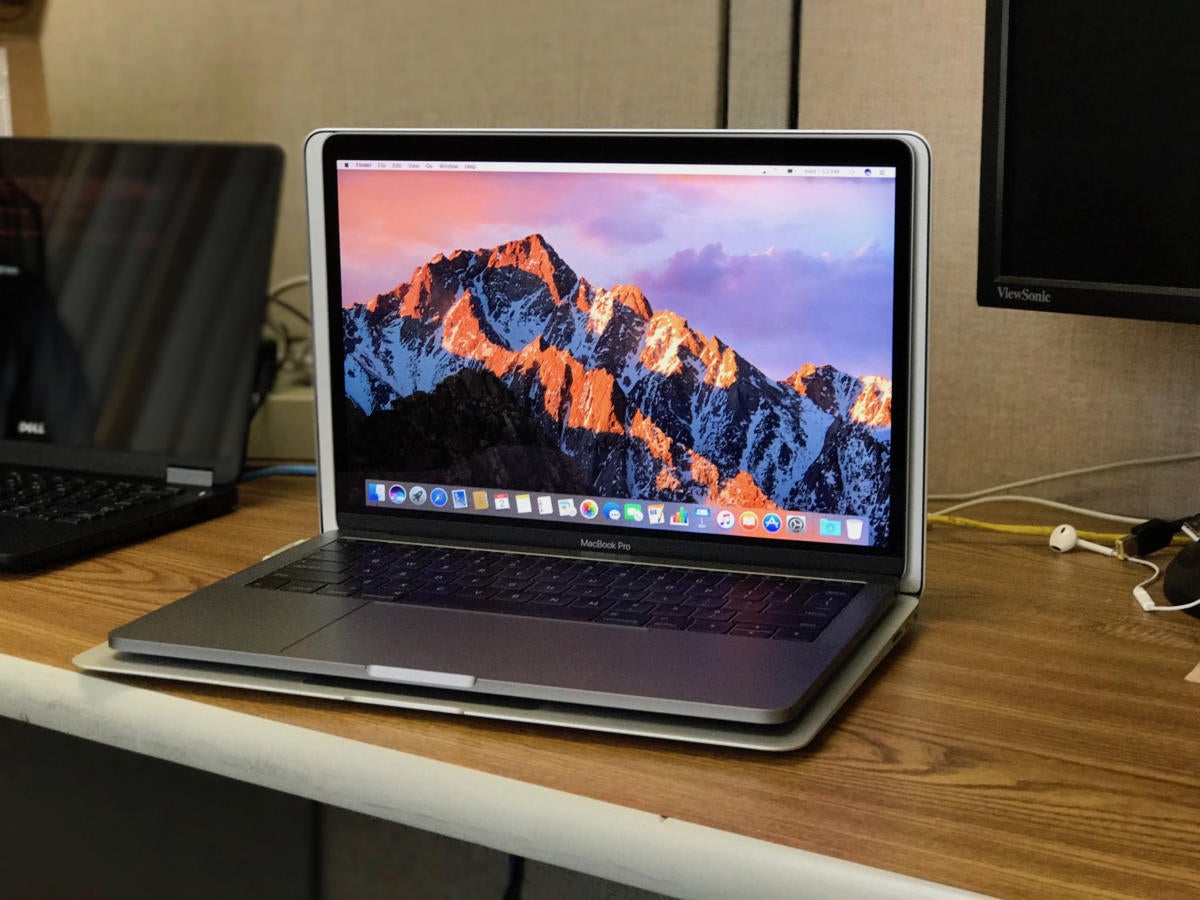 However, it won't be shaped like the MacBook Pro, with equal thickness all around. We think Apple will stick with the distinctive tapered front edge of the MacBook Air and 12-inch MacBook, to reduce weight and make the laptop feel much thinner.
The keyboard and ports: 2nd-generation Butterfly, USB-C only
People love the old chiclet keyboard still in use on the MacBook Air. The odds of seeing it on a newly design laptop are next to zero, we're afraid. It's all about the thinner, low-travel "butterfly" keyboard now, and you can expect the typing experience of the new MacBook to be just like that of the new 13-inch MacBook Pro. Apple will essentially use the same keyboard, complete with silicone dust membrane.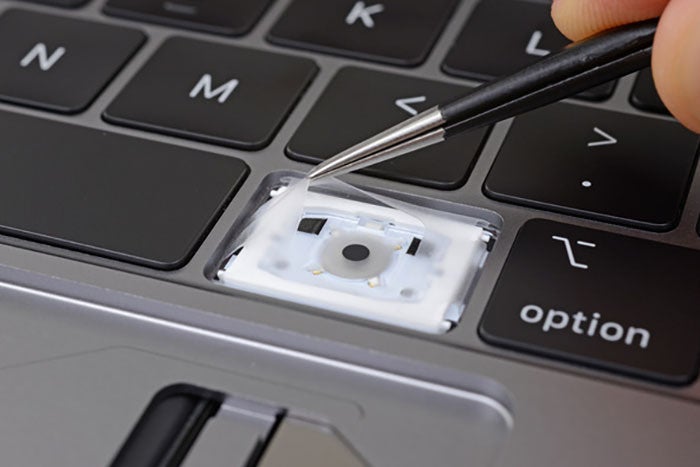 The clickable trackpad is going away too, in favor of the new Force Touch trackpad. Fortunately, that has been better-received by Apple fans.
Hoping for a MagSafe connector and USB-A ports? So are we, but realistically we have to admit that Apple is just plain done with those technologies. The new MacBook will have USB-C ports and only USB-C ports, more's the pity. We can only hope that Apple will include at least two ports, because the single USB-C port on the current 12-inch MacBook is a huge pain the butt.
The price: Starting at $899
Time and again, the rumors say that the new MacBook will be a "low cost" laptop. For Apple, "low cost" means something different than it does for other laptop makers. Apple just isn't going to make a $599 laptop, as much as we may want it to.
However, given the technology we're probably looking at here, it seems like Apple can still make plenty of money at a starting price of $899, $100 less than the current MacBook Air. Such a configuration would have 8GB of RAM, and Apple might even slim down to a 64GB SSD to help reduce costs, though that won't leave a lot of free space (maybe 40GB or so on a fresh new laptop). If so, it will be the only laptop Apple offers that doesn't start at 128GB.
Apple really needs to do something to shake up MacBook sales, and pricing is perhaps its biggest opportunity to drive demand. Configurations with added RAM, storage, or faster processors would ramp up the price quickly, and most new MacBooks would sell in the more profitable $1,100 to $1,300 price range, but being able to advertise a slim, modern, faster, Retina MacBook for $899 would get a lot of on-the-fence buyers into the Apple Store.
Unknown: T-series chip, cellular, and Touch ID
Apple is keen to include biometric identification on its products. Still, adding Touch ID to a low-cost laptop is a pretty tough hill to climb. It requires the inclusion of an T-series processor (like the T1 found in the original MacBook Pro with Touch Bar or the T2 found in the iMac Pro). Touch ID or Face ID require the secure enclave in those chips, at a minimum. And Face ID would require a TrueDepth Module, which is even more expensive than a Touch ID sensor. Apple didn't even see fit to add it to its expensive new MacBook Pro this year.
We think, eventually, including something like T-series co-processing and security chips is going to be standard on all Macs, but they currently add too much cost to be considered for a sub-$1,000 MacBook.
Apple has also been remiss to add cellular connectivity options to Mac laptops, despite Windows machines having those options for years. The new Whiskey Lake and Amber Lake Intel chips work together with Intel cellular modems and eSIMs for cellular connectivity, and it would be a really neat option to offer as a higher-priced upgrade. Historically, Apple seems content to let MacBook users easily connect to their iPhones if they need access on the go.