According to Rolling Stone, Apple will push out a software update on Friday, September 7, that will add 116 new "top 100" charts to Apple Music.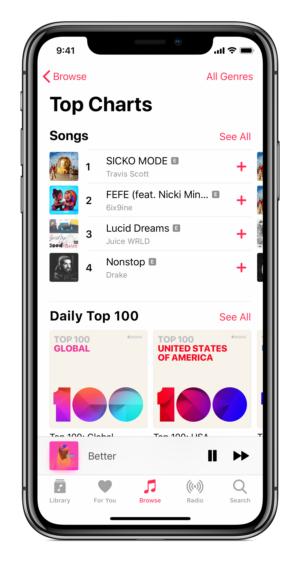 Currently, in the Browse tab of Apple Music, there is a Top Charts section that contains an extensive list of top songs (which can be sorted by genre), a list of top Playlists, to Albums, top Videos, and top Songs and Videos on Connect.
To this, Rolling Stone says, Apple will add a single global "top 100" list and a "top 100" list for each country in which Apple Music is available. Each chart will list the most-streamed songs on Apple Music, and be updated daily at 12 a.m. Pacific time.
Rolling Stone says, "Apple Music gave all of its subscribers access to the new charts feature on Friday," and The Verge further reports that it is coming as an update to the iOS 12 and macOS Mojave betas. As the time of this report, we haven't yet seen an update to either Apple Music nor the iOS 12 beta.